Subway
Subway Routes and Map
> View interactive subway map (provides information such as the train fare, time to destination, and more).
※Click the map below to see it in further detail.
Seoul has an extensive network of public transportation and taxis. Consistently voted as one of the best in the world for its ease of use, cleanliness, and frequency of service, the Seoul subway system is one of the most efficient ways to travel around the city. Trains run non-stop from approximately 5:30 am until midnight. All subway lines are color coded and stations display signs in Korean, English, and Chinese. To ride the subway, you must use a single or multiple journey pass. Single-journey passes can be purchased in the subway stations, and require exact fare to your destination plus a 500-won refundable deposit. Multiple journey passes called Tmoney can be purchased at most convenience stores. Transfers between subway lines are free, and Tmoney users can transfer for free between bus and subway lines.
Smartphone and tablet users can download a variety of apps that give routes, times, and transfer information in English, including Seoul Subway, Metroid Korea Subway Info, and Subway Navigation by Kakao.
Subway Fare

| Passenger | Tmoney | Ticket |
| --- | --- | --- |
| Regular (19 years old and up) | 1,250 won | 1,350 won |
| Youth (13-18 years old) | 720 won | 1,350 won |
| Child (6-12 years old) | 450 won | 450 won |
※ The Airport Railroad Line and Sinbundang Line charge higher fares
※ 10 - 40 km: 100 won for every 5 km
※ After 50 km: 100 won for every 8 km
※ Tmoney card users receive a 100 won discount off the adult fare per ride.
Riding the Subway
1. Subway stations are clearly marked with color coded signs written in Korean and English, and each exit is numbered.
2. You can purchase single journey tickets at ticket vending machines located within the station. A 500 won deposit is required, which you get back at your destination when returning the card. (Skip this step if you have purchased a Tmoney transit card).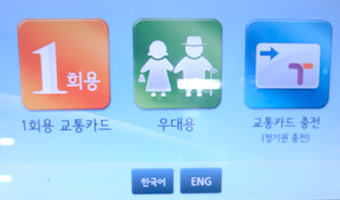 Choose the English menu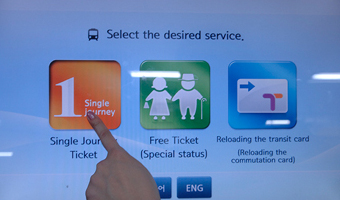 Select "Single Journey Ticket"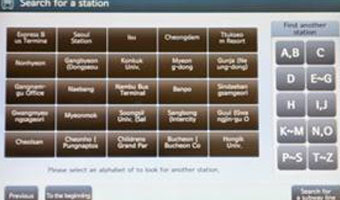 Choose your Destination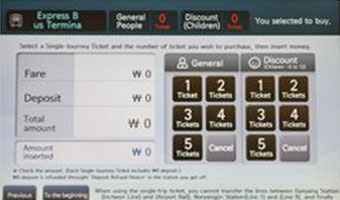 Select the member of passenger, then insert money into the machine
3. As you go through the turnstile, place your card over the Tmoney scanner.
4. Transferring lines take place within the station. Follow the signs (color coded) to your desired line.
5. After reaching your destination, place your card over the Tmoney scanner at the turnstile. If you've used a single-journey ticket, claim your 500 won deposit by returning the card to any "Deposit Refund Device."
6. If you have insufficient funds on your Tmoney card or single journey ticket, you can add money by using the fare adjustment machines located near the turnstiles.