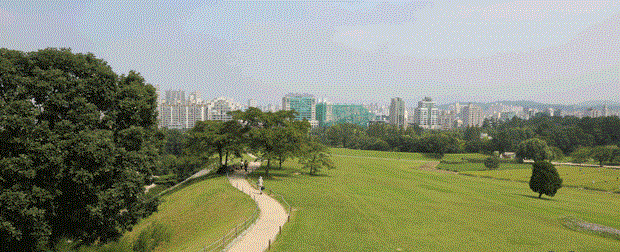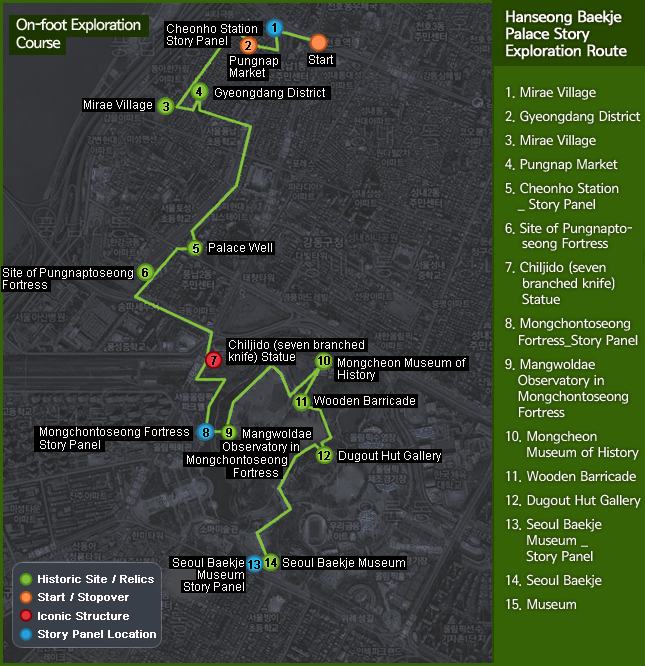 Pungnaptoseong Fortress and Mongchontoseong Fortress in Songpa-gu, are wonderful places to take a walk, perhaps the most beautiful in all of Seoul. They are very close to the Hangang (River), making them easily accessible by bicycle. The open grassy fields and green scenery are perfect for picnics with family, friends, or a date. Why not drop by if you are nearby and take a leisurely stroll around the park. Despite its popularity, very few people know that the park was once the center of Baekje, an ancient Korean dynasty. The Hanseong Baekje Palace Road was built to raise public awareness of this fact. Let's learn more about the Baekje Dynasty, a kingdom that flourished over 2,000 years ago.

The most important sector of the path, and the longest, follows the two earthen fortresses through an area widely known as Monchontoseong Fortress, which is also called Pungnaptoseong Fortress or Olympic Park, situated right outside Cheonho Subway Station. The two earthen fortresses were built during the Baekje Dynasty, an ancient kingdom that flourished on the Korea Peninsula from approximately 18BC to 660AD. The Hanseong Baekje Palace Road takes you to both the fortresses, telling the tale of a magnificent ancient kingdom.
Are you ready to go?
Hanseong Baekje Palace Road – Face to Face with King Geunchogo Picture

Hanseong Baekje Palace Road Guide (Take a Tour)
It is estimated that Pungnaptoseong Fortress was first built sometime between BCE 1 and CE 3, while Mongchontoseong Fortress was built between AD 3 and AD 4. They were built in different eras and show very different characteristics, despite the fact they were both built in the early days of the Baekje Dynasty. Pungnaptoseong Fortress is humble and inviting while Mongchontoseong Fortress is surrounded by a well-polished park in contrast.

Pungnaptoseong Fortress is now a small mound that surrounds a quiet residential area in Pungnap-dong. The fortress is a cozy and quaint path that looks somewhat neglected. On the other hand, Mongchontoseong Fortress is part of Olympic Park, which has been immaculately tended to rival some of Korea's most beautiful parks. Have you wondered why the fortresses are in such different states? We must hark back to Korea's modern history to find out why. There are bits and pieces of history left along the road for you to discover.

They say, "You can see as much as you know." Once you walk along Hanseong Baekje Palace Road, you will realize there is more to it than first meets the eye. Pungnaptoseong Fortress may look humble and small compared to Mongchontoseong Fortress, but the truth of the matter is, the former was what you might call the pinnacle of Baekje's construction techniques. What's more, the excavation work is ongoing to this day. Relics dating back 2,000 years in Korean history are still being unearthed one by one.

Mongchontoseong Fortress

Mongchontoseong Fortress is part of the beautiful Olympic Park, a great place to visit on a sunny weekend. You will find the wooden barricade erected by the Baekje army as a defensive barrier on your tour around the fortress. You can also visit the Mongchon Museum of History and the Dugout Hut Museum while you walk along the path. On the last leg of the path you will come across the Seoul Baekje Museum. Don't forget to take a break to look at the grassy fields and wild flowers and the magnificent sunset against Seoul's skyline.
Mongchontoseong Fortress

>Another great feature of Hanseong Baekje Palace Road is the various historic stories that you will come across during your walk. Seoul Metropolitan Government and Songpa-gu have placed information boards containing interesting historic facts on Hanseong Baekje along the path. A tall Chiljido (seven branched knife) Statue standing where Mongchontoseong Fortress meets Pungnaptoseong Fortress represents the Baekje Dynasty's advanced steel manufacturing techniques and the friendly ties between Baekje and Japan. The story panels placed along the road will help you learn more about the people, culture, and history of Baekje.

Browse Major Courses (routes are marked by numbers)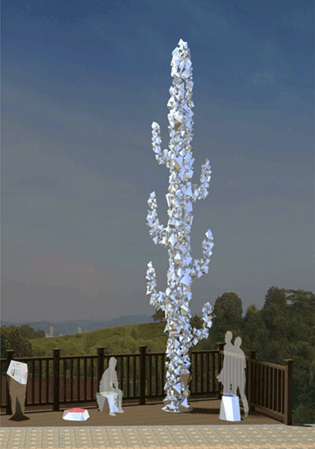 Location
Under Seongdonggyo Bridge in front of Songpa District Soccer Field

Introduction
Chiljido (seven branched knife), the Epitome of Baekje Dynasty's Iron Making Technology
The Chiljido (seven branched knife), thought to be holy at the time, was presented as a gift from the Baekje Dynasty to Japan in the 4th century. It is now designated as one of Japan's national treasures. What makes this decorative sword more interesting is the controversy that surrounds it. Korean and Japanese historians have yet to agree on whether the sword was sent to Japan's king as tribute or bestowed to Japan as a gift.
Korean historians are confident that, based on the Baekje Dynasty and Japan's past relationship and royal documents, Baekje had the upper hand in the diplomatic sphere of influence. They believe the sixty-one characters engraved on the sword prove that the sword was bestowed to Japan's king by the crown prince of the Baekje Dynasty. Would you like to see for yourself? Find out by observing the Chiljido (seven branched knife) erected on Hanseong Baekje Palace Road. You will be astonished by the technology of the Baekje Dynasty's people.



Location 424, Olympic-ro, Songpa-gu, Seoul

Introduction
Dedicated to Seoul's ancient history and culture, the Mongchon Museum of History is an annex of the Hanseong Baekje Museum and an education facility for children. Situated within the walls of Mongchontoseong Fortress (Historic Site No. 297), the museum was opened in January 1992 to exhibit historic relics from the Bronze Age, historic artifacts recovered from Pungnaptoseong Fortress and Mongchontoseong Fortress, and other important pieces collected from old tombs dating back to the Baekje Dynasty. The museum offers all manner of interesting programs for children as well as events designed to teach children that history is fun.

Open Hours 09:00 – 18:00



Location 424, Olympic-ro, Songpa-gu, Seoul

Introduction
The Dugout Hut Gallery can be found by the east gate near the southern part of the fortress wall. The gallery features photographs taken during excavation work conducted in 1988 when four dugout hut sites and storage holes were found during the construction of Olympic Park. The first dugout hole is barely recognizable because a second dugout hole was built right over it. The same goes for dugout hut sites three and four. They are typical examples of a peasant home from the Baekje Dynasty; shaped like a hexagon with a brazier in the northeast corner of the hut. Take a closer look into the everyday life of a commoner during the Baekje Dynasty.

Open Hours 09:00 – 18:00



Location 71, Uiseong-daero, Songpa-gu (88-20, Bangi-dong)

Introduction
The Seoul Baekje Museum was established to display excavated historic relics from Pungnaptoseong Fortress among many other artifacts dating back to the Hanseong Baekje period. The building consists of two basements below ground and two floors above ground. Visitors can see a cross-sectional view of Pungnaptoseong Fortress and artifacts ranging from prehistoric times to Hanseong Baekje that were found in the Seoul area. The museum organizes special exhibitions and educational programs in its clean and modern facilities. Hanseong Baekje Museum is on the last stretch of the Pungnaptoseong Fortress/Mongchontoseong Fortress course, which is dedicated to the history, culture, attire, and food culture of Hanseong Baekje. Learn about the actual size of Pungnaptoseong Fortress and the architectural techniques behind its construction as well as Baekje's advanced shipbuilding techniques. (If you are lucky, you may be able to catch a performance of Yidohansando musical on weekends.)

Open Hours 09:00 – 21:00 (09:00 – 19:00 on weekends and holidays, 09:00 – 18:00 from November to February)
Closing

We hope this information helped you decide on a path you'd like to walk. What we have introduced is but a fraction of all the road has to offer. Please feel free to explore the trail to your heart's content.
See you again soon!