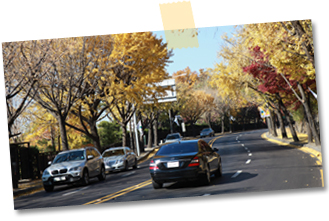 The area around Mt. Namsan was designated Namsan Park in 1989, when authorities began a program to rejuvenate and
protect the mountain and its environment.
The fortress walls, which had fallen into
ruin despite centuries of service, were
rebuilt and nearby historical relics restored. With its thick pine forests and beds of wild
flowers, Mt. Namsan is a favored strolling
place for Seoul residents. The mountain is
crisscrossed by footpaths that allow walkers to stroll amidst history and nature. Running
along the mountain is Sowon-gil Road, one of Seoul's most scenic driving courses thanks
to its views of the Hangang River. Crowning the summit of Mt. Namsan is the iconic
Namsan Seoul Tower, which offers some of the finest views of the city. On the cultural
side, Namsangol Hanok Village, a collection of historic Korean homes nestled in a valley
on the north side of the mountain, is a great place to experience the rustic charm of
Korean traditional architecture.