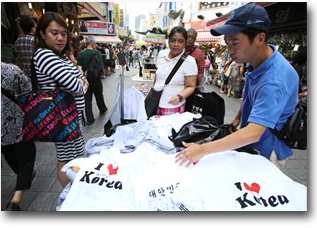 Namdaemun is a market complex with just about everything, from seafood, women's
clothing, children's clothing and accessories to imported kitchenware, cameras and
military surplus supply stores. All told, it's
home to about 10,200 shops selling a total of 1,700 kinds of goods. From the days of
old, Namdaemun Market has been Seoul's
largest traditional market, combining both retailers and wholesalers. It's still a
shopping paradise, and is now even a
tourist hotspot. The market's biggest draw
is its low prices. This doesn't necessarily
mean the quality of the merchandise
suffers, though. If you're prepared to do a
bit of legwork, you can find a wide range of high-quality products at prices much lower than those found at department stores.
Getting its name from the nearby Sungnyemun Gate, which is also widely known as
Namdaemun ("Great South Gate"), Namdaemun Market got its start as the Chilpae
Market, one of Seoul's three great markets of the late Joseon Dynasty period. Located near the old Mapo ferry on the Hangang River, the Chilpae Market had many unlicensed
merchants who sold fish brought to the royal capital from the provinces. Namdaemun
Market, too, was formed by the many unlicensed merchants who sprung up after the
Korean War. Rebuilding slowly after a massive fire destroyed the market in 1953, it has
developed into what it is today-Seoul's most representative market.