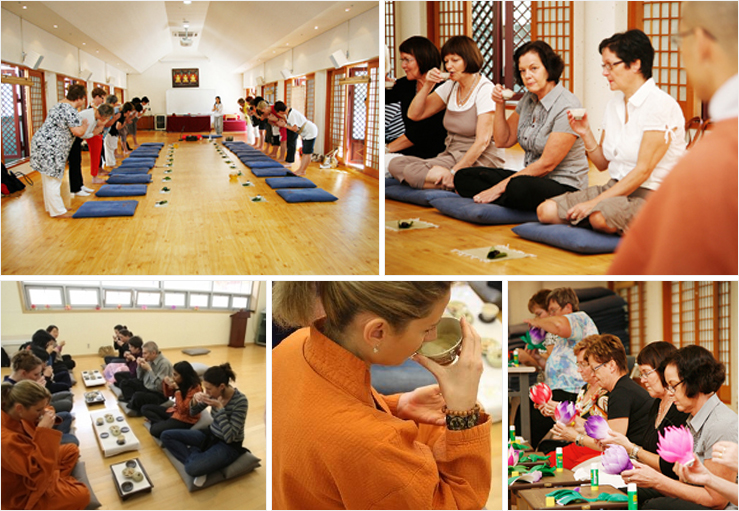 Temple Stay
Since arriving in Korea via China in the fourth century, Buddhism has flourished and is today one of the nation's largest religions. Korea's mountains are dotted with picturesque Buddhist temples, some of which are home to its most important cultural treasures.
Begun in 2002, Korea's "temple stay" program has established itself as one of the country's most successful initiatives. The temple stay program allows ordinary people, Koreans and foreigners alike, to experience - for a night or longer, if they like - life as a monk at some of Korea's most captivating temples. A spiritually and culturally enriching experience, the program remains a singular opportunity to gain a deeper appreciation of Korean culture as well as the beauty of Korean Buddhism. The temple stay program not only brings you closer to nature, but also to yourself.
As a temple stay participant, you'll experience a number of practices, including waking up at the crack of dawn to perform group chanting, having communal meals, performing prostrations, practicing Seon (Zen) meditation and participating in tea ceremonies. However, if waking up at odd hours don't appeal to you, you have the option to simply enjoy the serenity of the temple as an observer.
There are a total of nine temples in Seoul which offer the temple stay program, four of which (Geumseonsa, Myogaksa, Bongeunsa, and the International Seon Center) are open to foreigners 365 days a year. Below are some of the more popular temples that people like to visit for a temple stay experience.


Bongeunsa Temple
Hours of Operation : Times vary according to scheduled ceremonies, services, and prayers
Address : 531 Bongeunsa-ro, (Samseong-dong) Gangnam-gu, Seoul
Telephone : +82-2-3218-4800

Jogyesa Temple
Hours of Operation : Times vary according to scheduled ceremonies, services, and prayers
Address : 55 Ujeongguk-ro, (Gyeongji-dong) Jongno-gu, Seoul
Telephone : +82-2-768-8600

Jinkwansa Temple
Hours of Operation : Times vary according to scheduled ceremonies, services, and prayers
Address : 73 Jingwan-gil, (Jingwan-dong) Eunpyeong-gu, Seoul
Telephone : +82-2-359-8410

Gilsangsa Temple (Former Daewongak)
Hours of Operation : Times vary according to scheduled ceremonies, services, and prayers
Address : 68 Seonjam-ro 5-gil, (Seongbuk-dong) Seongbuk-gu, Seoul
Telephone : +82-2-3672-5945

Check out this link for more information:
Look Inside Buddhist Temples and Travel Through Time
[Dec. 31, 2015 17:56 Input / Sep. 11, 2015 00:00 Publish]