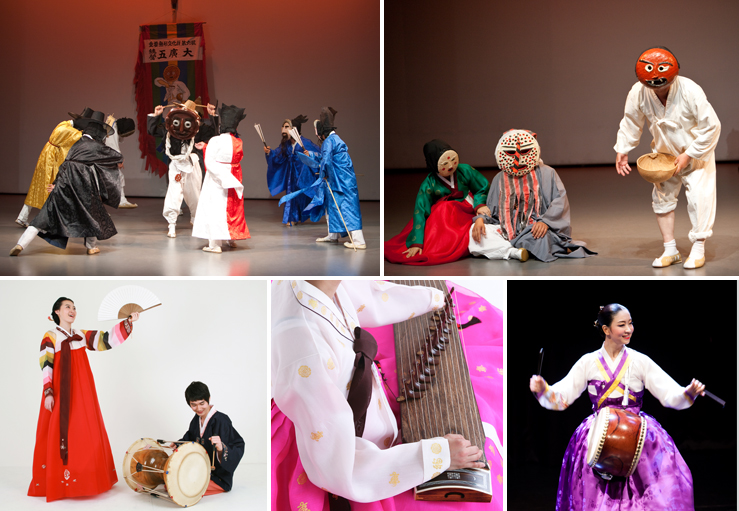 Traditional Music: Listen to or Learn Pansori, Samulnori
Pansori and samulnori are considered to be the main traditional music types of Korea.
Pansori consists of one singer and one drummer while samulnori uses 4 different types of traditional instruments (Kwanggari, Janggu, Jing, and Buk) and movement in a performance. Pansori and samulnori are unique because of its "open stage" concept.
Unlike Western music performances where you are not allowed to clap in the middle of a performance, one of the three essential components of Pansori invites audience participation and to move in response to the singer's passionate singing.
"Nori", the latter portion of "samulnori", means "to play", which is actually very fitting because audience members are encouraged to freely start dancing along to the music. With this in mind, the most charming aspect of Korean traditional music may be the fact that it brings the audience to its feet and engages them in a deeper way. Head to the locations listed below and let the traditional tunes make your hands and feet come alive!
Namsangol Hanok Village
Hours : April to October: 9 a.m. - 9 p.m. November to March: 9 a.m. - 8 p.m.
Tel : +82-2-2264-4412
Address : 28 Toegye-ro 34-gil, Jung-gu, Seoul
Jeongdong Theatre
Hours : Tuesday to Sunday, 06:00/20:00
Te : +82-2-751-1500
Address : 43 Jeongdong-gil, Jung-gu, Seoul

Check out these links for more information:
Sejong Center for the Performing Arts
The Korea House
National Gugak Center