About the Course
- Completed in October 2012, the newly built Seoul City Hall embodies the eaves of Korea's centuries-old houses, known as Hanok. The city hall serves two main purposes: The chief administrative building of Seoul, and a place for citizens and visitors to enjoy and relax. Recently, Seoul City Hall appeared in the music video of Korea's pop singer Psy and on the Running Man, a popular TV show in Korea. It is also popular as a venue of various concerts. Additionally, it provides an opportunity for visitors to see the Bullanggijapo, the breech of a portable cannon, first hand, which was discovered during the construction of the new Seoul City Hall, and designated as a National Treasures.
- 'Tong Tong'*tour features several courses that last for 60-90 minutes. The guided tours takes participants to various spots around Seoul City Hall, including the Vertical Garden (which has been listed as the largest vertical garden in the Guinness Book of World Records), the former Mayor's office, Gungisi (a military weapons depot during the Joseon Dynasty (1392-1910)) Relics Exhibition Hall, Citizen's Hall, and the Seoul Metropolitan Library.
Duration
: 70 minutes for the general course, 60 minutes for the family course, 90 minutes for the tour for persons with disabilities.
Meeting Place
: Start in front of the City Gallery in the 1st basement level of Seoul City Hall * It is connected to the exit #4 of City Hall Station on the subway line 1, or the exit #1 of Euljiro 1-ga Station on the line 2.
Closed
: Mondays, January 1st, Seollal, Chuseok
Guided Tong Tong(Plump) Tour Time Schedule
Category
Tue. ~ Fri.
Sat.
Sun.
Online Reservation
Korean : 10:00, 14:00 (Tue. & Fri)
English : 10:00(Tue)
Chinese : 14:00(Thu)
Japanese : 10:00(Fri)
Korean : 10:00, 14:00
English : 10:30,15:00
Chinese : 11:00
Japanese : 14:30
Korean : 10:00, 14:00
English : 10:30,14:30

On-Site in Korean (only)

‧11:30, 15:30
‧12:00, 12:30
‧16:00, 16:30
‧12:00
‧16:00
※ The Family Course is only open at 14:00 on Saturday and only the guided tour in Korean is available for those who register on the spot.
※ Seoul Metropolitan Library is closed in legal holidays. Former Mayor's office will be excluded from the guided tour
Major Tourist Attractions
Vertical Garden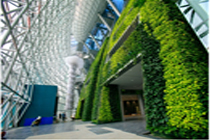 As of February 2013, the Vertical Garden of Seoul City Hall has been listed in the Guinness Book of World Records as the largest vertical garden. It starts on the first floor and ascends all the way up to the 7th floor. Approximately 6,500 plants of 14 species including ivy and scindapsus grow free in this indoor Eden.
Metaseosa Seobeol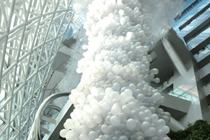 Designed by Korean artist Jeon Su-cheon, Metaseosa Seobeol is an allegorical visualization of the 2000-year-old capital city, Seoul, throughout the ages. Its 'Roads of Myth' describes the dynamic and enduring myth of Seoul, 'Lights of Hope' represents the energy and optimism of Seoul citizens and 'Whirlwind of Life' symbolizes the constant communication between citizens and the city government
Former Mayor's Office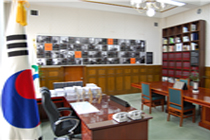 The Former Mayor's Office is emblematic of 20th century style architecture. Their original building materials were never damaged, and have been left exactly as they were. Visitors are allowed to sit at the old desk where many former mayors of Seoul carried out their official duties. It's especially fun for kids who may have a dream of becoming the mayor one day. 20 different documents that track turning points in the history of Seoul are displayed on the table of the former policy planning room, offering visitors a window on the process of steering the capital city through historic change.
Gungisi Relics Exhibition Hall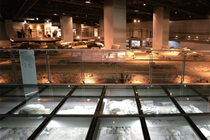 This exhibition hall was once a military weapons depot, or 'Gungisi' in Korean , during the Joseon Dynasty. The ancient armaments were discovered during the construction of new City Hall, and visitors are welcome to view both the historic relics and the excavation site.
Front of the Mayor's Office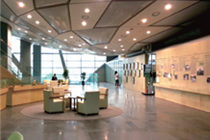 In front of the Mayor's Office, there are zones for displaying gifts from overseas city officials, 'Story of the Mayor's Office' that explains the inside the Office, and exhibition of Documents that Changed the World, which has changed Seoul. Photo zone is also available
Seoul Plaza & Library Clock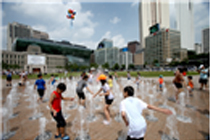 Seoul Plaza, the open-air public lawn in front of Seoul City Hall, has been the site of countless massive gatherings: from frenzied public cheering during World Cup competitions to candlelight vigils. A digital clock was mounted on the City Hall exterior from 1975 and then reassigned as a countdown clock to the beginning of the 2002 World Cup. After that, it was replaced with an analog clock donated by Swatch in 2003. Now it is replaced by a Romanson-made clock, colored in Dancheong(traditional Korean multicolored paintwork on wooden buildings)* red and Goryeo celadon blue.
Citizens' Hall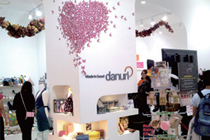 The Citizens' Hall, located in the 1st and 2nd basement level of Seoul City Hall, Seoul Metropolitan Government's unwavering pledge to listen to the voices of the citizens and communicate with them transparently. Citizens are allowed and encouraged to use the space as venues for concerts, sharing housekeeping markets, wedding ceremonies, lectures, discussions, workshops, and any other gatherings.
Seoul Metropolitan Library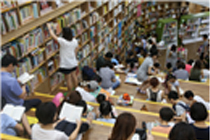 As of October 26, 2012, the former City Hall building was transformed into the Seoul Metropolitan Library and is open for everyone. The building's original exterior, the hall, and stairs have been restored as they were when it was built in 1926. Seoul Metropolitan Library has about 240,000 books in total, and features a 5 meter-high bookshelves, special collections for with disabilities, and Seoul Documents Collection. The library is the most representative public library in Seoul, and serves as an organization that develops and implements broader library-related policies for all libraries in Seoul.
Souvenir Shop 'Danuri' & Places to Relax
At the Citizens' Hall, there are several shops and places that the visitors are able to enjoy and relax. Souvenir shop 'Danuri' displays and sells goods designed and produced by small companies, and a café serves fresh coffee and all sorts of refreshments in a relaxing environment. Fair trade shop 'Villages of the World' offers visitors a chance to make small but important buying choices leading to a fairer world. It sells fair trade coffee, chocolates, and other goods. In addition, visitors are able to enjoy the world class, reasonably priced coffee that baristas with disabilities make at Sky Plaza, located on the 9th floor with scenic views. Seoul Metropolitan Library also offers a space to relax on its 5th floor.