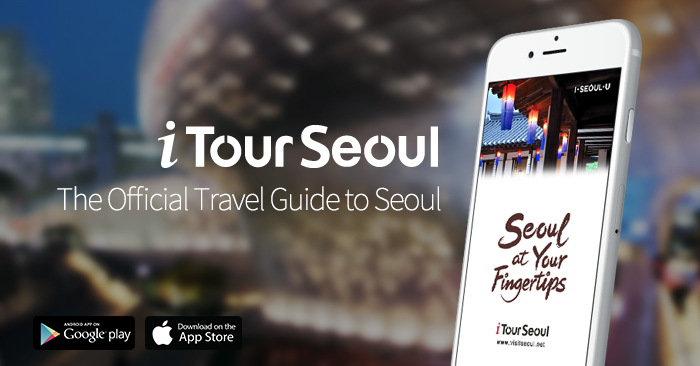 When the mobile app, i Tour Seoul app was first launched in 2009, it quickly became a must-have app for tourists to Seoul. i Tour Seoul is essential for traveling in Seoul and features great information like tourism top 10 lists, recommended attractions, events and festivals, performance & hotel reservations, real-time bus information, a subway map, and much more.
Main Features
Comprehensive Travel Information
i Tour Seoul offers information on every aspect of Seoul travel. Browse directories of tourist attractions, stores, restaurants, hotels, and more. Furthermore, there is weather information, transit information, locations for tourist information centers, and great tips on where to go and what to do in Seoul.
Seoul Top 10 Lists
What is the best that Seoul has to offer? The app's top 10 lists are a great way to see what the best of Seoul is, in a convenient and easy to read format. Read about the city's best attractions, restaurants, festivals, and events.
Recommended Attractions & Specialized Sightseeing
Have trouble making a schedule? Not sure where to go? Don't worry, i Tour Seoul is here to help. Our travel specialists have gathered information on the best places to go and special attraction according to your personal preferences.
Real Reviews from Real Travelers
When you're unsure of whether or not to go to a certain attraction or restaurant, turn to Trip Advisor to get real reviews from real travelers. When in doubt, check the reviews on Trip Advisor; you won't regret it.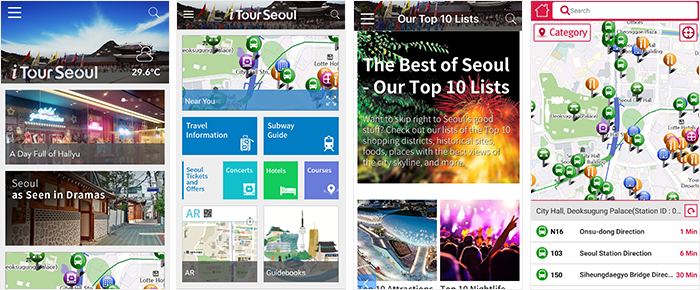 Modern and Convenient
Real-Time Info; Reservation Services
i Tour Seoul is a web-based app that is connected to the official Seoul travel site, VisitSeoul.net and offers valuable real-time information. In addition, users use the app to make reservations for everything from hotels and walking tours, to musicals and exhibitions.
Augmented Reality: Experience the Future, Today
i Tour Seoul contains an augmented reality (AR) feature. AR creates an enriched travel experience by utilizing your smartphone's camera feed. Get one of Seoul's official guidebooks (available for free at Incheon and Gimpo airports; all tourist information centers in Seoul) and scan one of the AR capable pages. You'll have an experience that's not possible with a regular guidebook.
Location-Based Services
i Tour Seoul now comes equipped with location-based services. The app is perfect for visitors who are new to Seoul! Users can see their real-time location on a map and get see nearby places of interest such as attractions, restaurants, stores, hotels, bus stops and more.
Intuitive User Interface
i Tour Seoul has a concise, intuitive user interface that offers uncluttered screen viewing and allows users to easily read the content available from the app.
Service in 5 Languages; Download from the App Store
i Tour Seoul offers service in five different languages: Korean, English, Simplified Chinese, Traditional Chinese, and Japanese. i Tour Seoul is available for download at the Google Play Store and the Apple App Store.

Download



[Jul. 06, 2016 09:58 Input / Jul. 07, 2016 00:00 Publish]