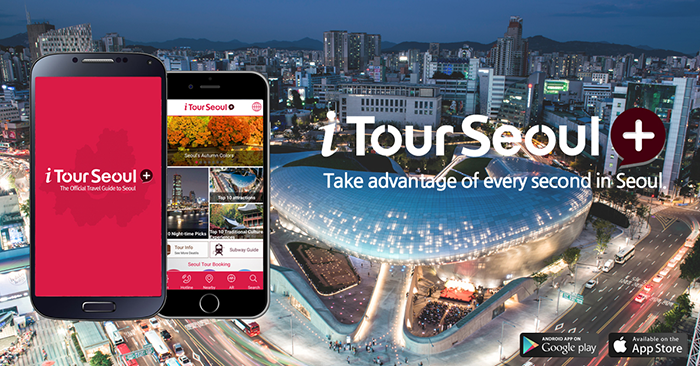 The i Tour Seoul+ app is a new and improved version of the Seoul Metropolitan Government's official travel guide app, the i Tour Seoul app, which has been a hit with the users, having recorded nearly 3 million downloads since its launch in 2009. Using the latest in mobile technology, the lightweight, easy-to-use app provides a wealth of information on sightseeing, dining, accommodation, transportation, events, and more.
Featured Content
Comprehensive Travel Information
i Tour Seoul+'s expansive directory features thousands of tourist attractions, shopping destinations, hotels, restaurants, and more. Basic travel information is covered, too, with lots of helpful tips regarding banks, currency exchange rates, useful numbers, tourist information centers, and more.
Seoul's Best
Want to know the very best Seoul has to offer? Look no further than the app's expertly compiled lists of the city's top sights, flavors, festivals, and events. You'll become an expert in no time.
Recommended Tours & Itineraries
On a schedule? No idea what to see? Don't worry—i Tour Seoul+ is here to help. Seoul's crack team of travel experts has put together itineraries for every kind of traveler, as well as a list of government-recommended tours.
Popular Areas
Seoul's top 10 tourist areas, along with recommendations.
Real Tourist Reviews
Get the real lowdown on Seoul from tourists who've been here.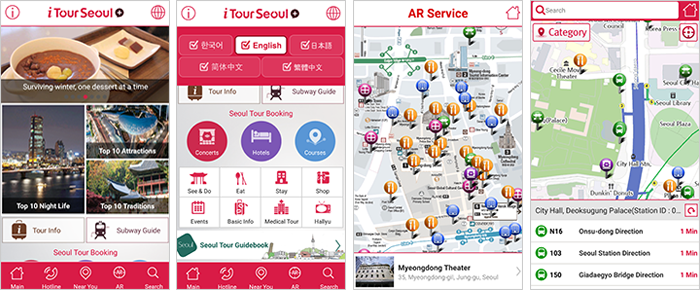 Elegant and User-Friendly
More and more tourists rely exclusively on mobile devices for their travel information. The latest version of the i Tour Seoul+ app, released in November 2015, features a sophisticated design utilizing the latest mobile technology to provide an easier and faster user experience.
Smaller, Faster, and Better
At 25mb, the i Tour Seoul+ app is super lightweight, making it easier to download and allowing it to function faster than the 250mb i Tour Seoul.
Intuitive User Interface
The app's elegant design allows users to browse information by category, area, current location, or favorites. If you're feeling ambitious, you can also conduct your own advanced search.
Real-Time Info, Reservation Services
The app works in conjunction with Seoul's official tourism website (Visitseoul.net) to provide real-time information. Working through Visitseoul.net also allows you to make reservations for musicals, exhibits, and other events as well as book hotels and other accommodations using your mobile device.
Augmented Reality: Tomorrow's Travel Technology Today
The i Tour Seoul+ app incorporates so-called "augmented reality" technology, which uses your mobile device's video recognition functionality. When you point your device at a particular page in the "Seoul Tour Guide Book," the app provides useful tourist information to the user in real time, providing an even more enjoyable experience.
Location-Based Services
The app also offers location-based tourist information for visitors who are unfamiliar with the lay of the land or who need neighborhood information quickly. You can search nearby tourist destinations, restaurants, and transportation with a single click.
Five Languages, for Google and Apple
Available in 5 languages (Korean, English, Chinese—simplified and traditional—and Japanese), the i Tour Seoul+ app can be downloaded from Google Play and Apple's App Store.