Hallyu
Seoul as Seen in Dramas
Published Date : May 17, 2016 / Edited Date : Feb 13, 2019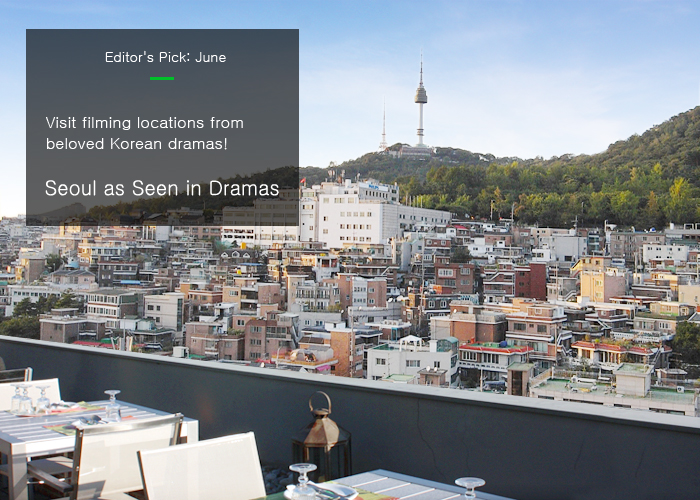 When it comes to Korean dramas, there are many kinds of drama genres. Among the many genres, romance and romantic comedy dramas may be the most popular of them all. Dramas appeal to emotions that exist across cultures, and viewers across the world often end up crying and laughing along with their favorite characters. Dramas can be hugely influential in pop culture and they may even start trends. Locations that appear in dramas, the foods and brands that are featured usually end up gaining attention post-broadcast. Let's see some of the charming locales and cool items that have featured in some beloved dramas.
Descendants of the Sun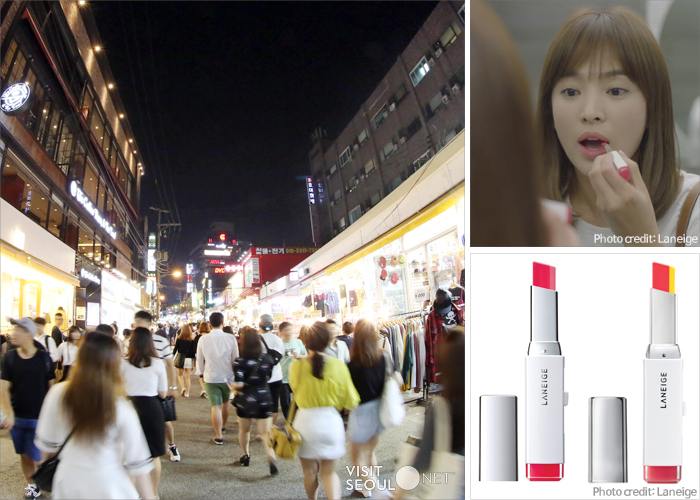 "Descendants of the Sun" is Korea's latest hit drama. The love stories, fun dialogue and incredible actors made the drama a huge hit with viewers both in Korea and abroad. The romance between handsome and talented captain, Yoo Sijin (Song Joong Ki) and the brilliant, beautiful doctor, Kang Moyeon (Song Hye Kyo) was the main focus of the drama. However the secondary love story between Sergeant Major Suh Daeyeong (Jin Goo) and First Lieutenant Yoon Myeongju (Kim Ji Won) was no less riveting, and viewers ended up cheering for both couples.

Song Hye Kyo has been modeling for the cosmetics brand Laneige for years now and her character in "Descendants of the Sun" could often be seen applying Laneige lipstick. To get Song Hye Kyo's fresh-faced look, shop for Laneige products in Seoul. Following the drama's broadcast, Laneige lipstick became very popular with young Korean women.


There is a memorable scene in the drama where Sijin and Daeyeong join forces and attempt to cook samgye-tang (ginseng chicken soup) for their girlfriends, Moyeon and Myeongju. Samgye-tang is a well-known dish and it's famously eaten on hot days in order to reinvigorate the body. Thanks to "Descendants of the Sun," this well-known dish has become even more famous, especially overseas. In May, 2016 the Joymain Group chose Seoul as the destination for their employee incentive tour. 8,000 executives and staff from the Joymain Group visited Seoul. As part of their tour, and because of the drama's popularity in China, a samgye-tang party was held for the visitors by the Han River. Another memorable scene took place with Sijin giving a gift of chocopie. Chocopies are a popular snack in Korea. The classic flavor is chocolate but recently a new flavor, banana, was released and it's been growing in popularity since its release.




My Love from the Star

"My Love from the Star" is a romantic comedy about a top Hallyu star, Chun Song-yi (Jun Ji-hyun) and an alien, Do Min-joon (Kim Soo Hyun) who fall in love. The show's run started off with relatively low viewer ratings, but the drama's popularity soared and reached a high of 28.1% nationwide. "My Love from the Star" proved to be hugely influential force in pop culture. Foods, fashions, and places that appeared in the drama saw huge boosts in sales, popularity, and visits. One of the most memorable locations from the drama is without a doubt the iconic Namsan Seoul Tower. The tower is famous in its own right, and thanks to its location atop Namsan Mountain, the views are incredibly beautiful. Fans of the drama will find Namsan Seoul Tower especially romantic and memorable, given the scenes between Min-joon and Song-yi that took place here.

The classic and elegant Deoksugung Stonewall Walkway was the filming location for a scene with Min-joon and his friend, the lawyer Mr. Jang. The two are chatting and strolling along the walkway when Min-joon suddenly gets an unexpected phone call from Song-yi. The Seoul Museum of Art is located along the Deoksugung Stonewall Walkway. When you visit the walkway, you should also take time to stop by the museum. The museum's classic façade and well-tended garden are just the place relax, enjoy the art, and clear your mind, just like Min-joon did in the drama.

In the drama's last episode, Song-yi and Min-joon share a romantic kiss. Their kiss scene was filmed at the National Theater of Korea. The theater is over 60 years old and it is central to the performing arts in Korea. The performances held at the National Theater of Korea are diverse in nature and every month you will be able to see a new performance. In addition to the three locations in this article, there are many other filming locations from the drama in Seoul. If you want to spend time at one of the cafés seen in the drama or visit the udon noodle shop that Min-joon took Song-yi to, come and visit Seoul!



Twenty Again


"Twenty Again" is romantic comedy about a woman who lost her chance to attend college in her youth. Years later, after devoting her life to her husband and child, she decides to take a leap and enroll in college. Choi Jiwoo plays the lead role, Ha Nora. Nora had lived life for her husband and son, but after her husband tells her he wants a divorce, she feels lost in the world. On the heels of this declaration from her husband, Nora decides to experience college. As a college student, Nora finds herself, develops new friendships and experiences new love. The college campus that is seen in the drama is the real-life Konkuk University campus in Seoul. The large lake and footpaths that Choi Jiwoo walked with her love interest in the drama, Lee Sang Yun are all located inside the Konkuk campus.

In the drama, Nora's grandmother ran a tteok-bokki (stir-fried rice cake) restaurant called Granny's Flower Tteok-Bokki. The actual storefront from the drama exists, but in real-life it's not a restaurant, but a small shop that sells goods like snacks, drinks, cigarettes, and so on. The quaint storefront is a striking contrast to the tall, modern buildings that surround it. Though you can't buy tteok-bokki here, you can see the restaurant sign used in the drama and other props!

A major turning point in the drama occurred here at L'Amuse de Yeonhui. When Nora's husband, Kim Woo-chul (Choi Won Young) declared his intention to divorce her at the start of the drama, Nora had fought against it. But as she experiences life independently of her husband, she realizes that the love between them faded long ago. Thus, after having fought the divorce proceedings, Nora decides to take life by the horns and tells her husband she wants a divorce. This scene took place at the restaurant L'Amuse de Yeonhui. Even before the filming took place, the eatery was well known and popular among young Seoulites and had been featured on food-related TV shows. "Twenty Again" filmed in Yeonnam-dong, Mangwon-dong, and Konkuk University. Get in touch with your inner college student and visit these filming spots.




She Was Pretty


"She Was Pretty" is a light-hearted romantic comedy. Hyejin (Hwang Jung Eum) was beautiful as a young girl, but grew up to become an "unattractive" woman. Hyejin's childhood best friend and first love, Seongjun (Park Seo Jun) was an ugly duckling as a child, but grew up to become a handsome and stylish man. The main cast is rounded out with Min Hari (Go Joon Hee) who seems perfect on the outside but is masking many imperfections, and Shinhyuk, (Choi SiWon) a man who wears his boldness like a shield. Aired in 2015, this fun and sweet drama was a huge hit in Korea.

In the drama, the ever-plucky Hyejin's home was located in the Seochon neighborhood. Hyejin's adorable and cozy two-story house was the scene of many heart-to-heart conversations. There is a small table just outside the front door, and this is where Hyejin and Shinhyuk had many late-night, heartfelt conversations. The table is the perfect spot to take some photos and re-enact scenes from the drama. However, in real-life, the house is actually a store that sells vintage and handmade music boxes.

Yeonghwaru is a Chinese restaurant where two of the supporting characters in "She Was Pretty" had their first date. Junwu (Park Yu Hwan) and Han Seol (Shin Hae Sun) are co-workers at Most magazine and they eat fire jjamppong (extra spicy seafood noodle soup) here. The restaurant has been a Seochon fixture for over 30 years. Though the restaurant is small in size, the many celebrity autographs on display can attest to the establishment's popularity.

Poet's Hill is where Shinhyuk (Choi SiWon) went to clear his mind and organize his thoughts. The hill is known as Poet's Hill because of the famed poet Yun Dong-Ju. He would frequently walk on the hill in order to get inspiration for his poetry. Poet's Hill is especially beautiful at night as you can see great views of Seoul. An evening here would be a great way to finish off a day of sightseeing.

예약은 관광일 기준 최소 3일 전 까지 가능합니다.
개인예약 : 최대 10명
※경복궁,창경궁,창덕궁: 20명 예약가능합니다.
기존 등록된 예약 중 그룹별 정원을 초과하지 않는 예약에 한하여 1일 전 17시 까지 추가 예약 가능합니다.
다음달 예약은 전달 15일 이 후부터 가능합니다.
해설 프로그램 참여 시에는 반드시 마스크를 착용하여 주시기 바랍니다.
발열 또는 호흡기 증상(열, 기침, 가래, 근육통, 코막힘, 인후통 등)이 있는 경우 프로그램 참여를 삼가하여 주시기 바랍니다.
보호자가 동반하지 않는 만 14세 미만의 하동 관광객의 경우 현장에서 취소됩니다.
미세먼지 비상저감조치 발령 및 기타 기상악화(폭염, 태풍, 폭우 등)로 인해 도보관광 운영이 어려운 경우 모든 예약은 일괄 취소됩니다. (관광일 전날 기준)
해설 진행 시 발생하는 안전사고에 대해서 서울도보해설관광 사무국과 서울문화관광해설사는 책임을 지지 않습니다.
한국어를 모국어로 사용하는 대한민국 국민의 경우, 외국어 해설 신청이 불가능합니다.
예약은 관광일 기준 최대 6개월 전부터 최소 5일 전 까지 신청 가능합니다.
단체예약 : 11명 이상
※경복궁,창경궁,창덕궁: 21명 이상 예약가능합니다.
희망하시는 날짜 및 코스에 활동가능한 해설사가 없는 경우 예약은 취소될 수 있습니다.
특히 주말 및 공휴일, 봄(4~5월) 가을(9~11월) 성수기에는 예약이 조기마감 되오니 이 점 유의하여 주시기 바랍니다.
예약확인을 위해 도보관광 사무국(02-6925-0777)에서 확인 연락이 진행됩니다.
(최소 5일~한달 전)3회 이상 전화통화가 이뤄지지 않을 시 예약이 취소될 수 있습니다.
경복궁, 창덕궁, 창경궁, 덕수궁 35인 이상 관람 시, 해당 궁궐 사이트에서 15일 전 단체 입장신청이 필요합니다. (2014.1.1.부터 시행)
해설 진행 시 발생하는 안전사고에 대해서 도보관광 사무국과 서울문화관광해설사는 책임을 지지 않습니다.
보호자가 동반하지 않는 만 14세 미만의 하동 관광객의 경우 현장에서 취소됩니다.
미세먼지 비상저감조치 발령 및 기타 기상악화(폭염, 태풍, 폭우 등)로 인해 도보관광 운영이 어려운 경우 모든 예약은 일괄 취소됩니다. (관광일 전날 기준)
예약은 관광일 기준 최소 1주일 전까지 가능합니다.
덕수궁의 경우 복지카드를 지참한 관광객에 한하여 무료입장이 가능합니다.
※ 중증(1~3급) 동반인 포함 2명 무료※ 경증(4~6급) 장애인 본인 1인만 무료
보호자 또는 보조자가 동반하지 않을 경우 이용이 불가능 합니다.※ 별도의 보조자가 없는 경우 사무국으로 문의 바랍니다. (02-6925-0777)
희망하시는 날짜 및 코스에 활동가능한 해설사가 없는 경우 예약은 취소될 수 있습니다.
예약확인을 위해 도보관광 사무국(02-6925-0777)에서 확인 연락이 진행됩니다.(최소 5일~한달 전)3회 이상 전화통화가 이뤄지지 않을 시 예약이 취소될 수 있습니다.
해설 진행 시 발생하는 안전사고에 대해서 도보관광 사무국과 서울문화관광해설사는 책임을 지지 않습니다.
미세먼지 비상저감조치 발령 및 기타 기상악화(폭염, 태풍, 폭우 등)로 인해 도보관광 운영이 어려운 경우 모든 예약은 일괄 취소됩니다. (관광일 전날 기준)
예약은 관광일 기준 최소 1주일 전까지 가능합니다.
덕수궁의 경우 복지카드를 지참한 관광객에 한하여 무료입장이 가능합니다.
※ 중증(1~3급) 동반인 포함 2명 무료
※ 경증(4~6급) 장애인 본인 1인만 무료
본 프로그램은 수화해설 중심으로 진행되며, 수화가 불가능한 경우 이용이 불가합니다.
희망하시는 날짜 및 코스에 활동가능한 해설사가 없는 경우 예약은 취소될 수 있습니다.
예약확인을 위해 도보관광 사무국(02-6925-0777)에서 확인 연락이 진행됩니다.
(최소 5일~한달 전)3회 이상 전화통화가 이뤄지지 않을 시 예약이 취소될 수 있습니다.
해설 진행 시 발생하는 안전사고에 대해서 도보관광 사무국과 서울문화관광해설사는 책임을 지지 않습니다.
미세먼지 비상저감조치 발령 및 기타 기상악화(폭염, 태풍, 폭우 등)로 인해 도보관광 운영이 어려운 경우 모든 예약은 일괄 취소됩니다. (관광일 전날 기준)
예약은 관광일 기준 최소 1주일 전까지 가능합니다.
본 코스는 보행약자(거동이 불편한 고령자, 장애인, 유모차 이용자 등)를 위한 코스입니다.
보호자를 동반하지 않을 시 이용이 불가능 합니다.※ 보행약자 1명당 보호자 최소 1인 이상 동반
※ 전동보장구(전동휠체어, 전동스쿠터 등) 사용자의 경우 보호자 1인당 보행약자 최대 4인까지 동반 가능
희망하시는 날짜 및 코스에 활동가능한 해설사가 없는 경우 예약은 취소될 수 있습니다.
예약확인을 위해 도보관광 사무국(02-6925-0777)에서 확인 연락이 진행됩니다.(최소 5일~한달 전)3회 이상 전화통화가 이뤄지지 않을 시 예약이 취소될 수 있습니다.
해설 진행 시 발생하는 안전사고에 대해서 도보관광 사무국과 서울문화관광해설사는 책임을 지지 않습니다.
미세먼지 비상저감조치 발령 및 기타 기상악화(폭염, 태풍, 폭우 등)로 인해 도보관광 운영이 어려운 경우 모든 예약은 일괄 취소됩니다. (관광일 전날 기준)
Reservations must be made at least three days prior to the tour date.
Group reservations up to 3people are being accepted on the line.
Additional reservations are?permitted for pre-existing reservations that do not exceed the limited number of three people per group and may be made one day prior to the tour date by 5 PM.
Reservations for the following month are available from the 15th of the current month.
Masks are required for participation in all tour programs.
Please refrain from participating in any tour programs should you be experiencing any symptoms, including fever, coughing, congestion, muscle pain, stuffy nose, and/or sore throat.
Reservations for tourists 14 years & under without an accompanying adult or guardian shall be canceled on site.
[As of one day prior to the tour date] All reservations shall be canceled in the event of emergency particulate matter reduction measures taken and/or inclement weather conditions, including excessive heat waves, typhoons, heavy rain, and more, that may impede Seoul Guided Walking Tour operations.
The Seoul Guided Walking Tour administration office and tour guide affiliates are not responsible for any accidents that happen to occur during the tour program.
Reservation shall be made at least 1 week before the tour day.
The course is for tourists with mobility problems (Senior, people with disability, stroller user).
You may not use the course without an assistant (or companion)
※ At least one assistant shall accompany a tourist with mobility problem
※ In case of electric assisting device users (electric wheelchair, electric scooter users), one assistant may accompany up to 4 tourists with mobility problem
Reservation may be canceled when a guide is unavailable on the desired date and course.
Seoul Guided Walking Tour Office (02-6925-0777) will contact you to confirm reservation.
(At least 5 days~1 month before tour day) Reservation may be canceled when Seoul Guided Walking Tour Office cannot reach you for more than 3 times.
Seoul Guided Walking Tour Office and Seoul culture and tourism guide are not liable for the safety accidents during the Seoul Guided Walking Tour.
All reservations are canceled when Seoul Guided Walking Tour is unavailable due to Particulate Matter Reduction Measure or other weather conditions (heat wave, typhoon, heavy rain). (As of the date before the tour day)
观光日基准最少3日前方可进行预约。
最多可以预约3个人。
在已登记的预约团体中,只接待不超过预约人数的团体,可在前一天17时前追加预约。
下个月的预约可从前一月15日开始。
参加徒步观光解说活动时必须佩戴口罩。
如有发热或呼吸道症状(发烧、咳嗽、痰液、肌肉痛、鼻塞、咽喉痛等),请避免参与解说活动。
无保护者随同的未满14岁儿童游客,会在现场取消解说活动。
因发布微尘紧急低减措施及其他气象恶化(暴热、台风、暴雨等)无法运营徒步观光解说活动时,所有预约会批量取消。(观光前日基准)
对于解说活动中发生的安全事故,首尔徒步解说旅游事务局和首尔文化观光解说社不予负责。
观光日基准最少1日前方可进行预约。
本线路是为了行动不便者(行动不便的高龄者、残疾人、婴儿车利用者等)的路线。
无辅助人员(或同行人)伴随时,不可利用。
※ 步行不便者1名至少需要1名以上的辅助人员陪同。
※ 电动辅助器具(电动轮椅、电动独轮车等)使用者时,每一位辅助人员最多可陪同 4名步行不便者。
希望观光的日期及线路上无解说员时,预约有可能被取消。
为了确认预约,徒步观光事务局(02-6925-0777)会致电进行确认。
(最少5日~一个月前) 3次以上无法连接时,预约将被取消。
进行解说时,对于有可能发生的安全事故,徒步观光事务局和首尔文化观光解说员概不负责。
因发布微尘紧急低减措施及其他气象恶化(暴热、台风、暴雨等),无法运营 徒步观光时,所有预约会批量取消。
(观光前日基准)
最晚請於預約日期3天前完成預約。
最多可以预约3个人。
已完成預約的團體若人數超過限制,可於前一天下午5點前追加預約。
每月15日將開放下個月的預約。
參與解說觀光時請務必佩戴口罩。
若有發燒或呼吸道症狀(發燒、咳嗽、咳痰、肌肉酸痛、鼻塞、喉嚨痛),請避免參與本活動。
未有保護者同行的未滿14歲兒童遊客,會在現場取消參與資格。
因發布微塵緊急降低措施及其他天氣惡化(暴熱、台風、豪雨等),無法進行徒步觀光時,所有預約將取消。(預約日期前日基準)
進行解說時,對於有可能發生的安全事故,首爾徒步解說觀光事務局和首爾文化觀光解說員概不負責。
觀光日基準最少1日前方可進行預約。
本線路是為了行動不便者(行動不便的高齡者、殘疾人、嬰兒車利用者等)的路線。
無輔助人員(或同行人)伴隨時,不可利用。
※ 步行不便者1名至少需要1名以上的輔助人員陪同。
※ 電動輔助器具(電動輪椅、電動獨輪車等)使用者時,每壹位輔助人員最多可陪同 4名步行不便者。
希望觀光的日期及線路上無解說員時,預約有可能被取消。
為了確認預約,徒步觀光事務局(02-6925-0777)會致電進行確認。
(最少5日~壹個月前) 3次以上無法連接時,預約將被取消。
進行解說時,對於有可能發生的安全事故,徒步觀光事務局和首爾文化觀光 解說員概不負責。
因發布微塵緊急低減措施及其他氣象惡化(暴熱、臺風、暴雨等),無法運營 徒步觀光時,所有預約會批量取消。 (觀光前日基準)