Hallyu
Small Detours to Take While Waiting for the Subway
Published Date : Apr 26, 2019 / Edited Date : Dec 20, 2019
Small Detours to Take
While Waiting for the Subway
Utilized by millions of commuters on a daily basis, Seoul Metro is sprawling network of 320 subway stations (according to data from Dec 2016.) While some stations are major transfer points with a large number of traffic daily, there are also some stations that receives almost little to no traffic. Once thought of as simply a mean of transportation, many subway stations have recently been transformed as cultural spaces representing their respective area.
If you suddenly feel like taking a short trip or have extra time to spare, there are several subway stations you can visit to make the most of your time here in Seoul.
Line 2, Sindap Station

'Park'
Most people probably have never heard of Sindap Station. Taking "Sin" from Sinseol-dong and "dap" from Yongdap-dong, Sindap Station is located in an obscure spot between Sinseol-dong Station and Seongsu Station which can only be accessed by transferring cars. It's also a station known for receiving the least amount of traffic in Seoul. Located between Yongdap Park and Gunja Park with Cheonggyecheon Stream flowing behind it, Sindap Station can be called an eco-friendly station.

Sindap Station is especially unique in that there's a park within the station platform. Although small, it's a perfect place to sit and unwind surrounded by greenery. The station is located inside a park and a portion of the park has crossed over into the station platform, creating a eco-friendly look. Unlike those stations with multiple exits, there's only one exit in this small subway station that may remind onlookers of an outdoor train platform. Surrounded by plants, it's the perfect spot to sit and take a breather as you wait for the next train.
Line 3, Gyeongbokgung Station

'Seoul Metro Art Center'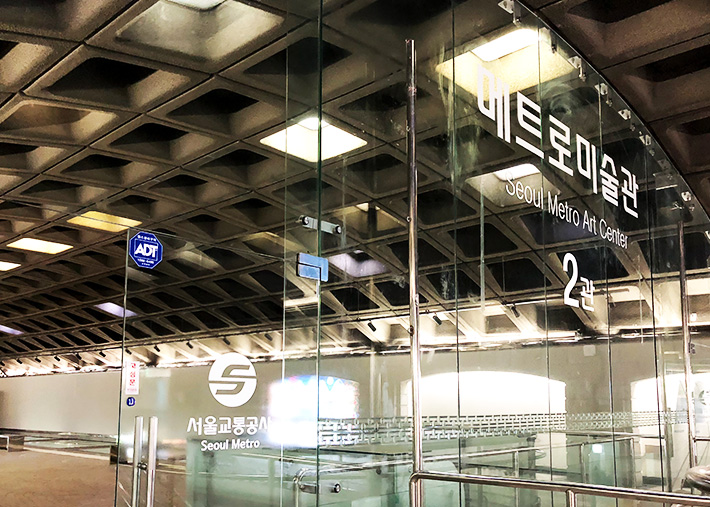 As expected of a historical and cultural site, Gyeongbokgung Station has its own gallery inside the station called Seoul Metro Art Center. Simultaneously with the opening of subway line 3 in 1986, this facility was opened with the aim of providing more content regarding art and culture to the public. Tens of thousands of people pass through this station daily. Due to the ease of access by visitors and tourists, this station has been a beloved attraction for the past 30 years.
years. Seoul Metro Art Center is divided into two spaces, allowing it to showcase various exhibitions of all sizes to the public. Additionally, there are no admission fee which allows people to freely look around during their spare time. In fact, most people have been seen to browse through the area as they wait for their friends.

There aren't any current exhibitions (as of Apr. 30, 2019) but as this gallery showcases many different exhibitions frequently, it might be worth it to stop by and visit when you're in the area. In fact, some art enthusiast are known to always put this place in their itinerary whenever they have to stop by Gyeongbokgung Station.
Line 6, Noksapyeong Station

'Underground Art Garden'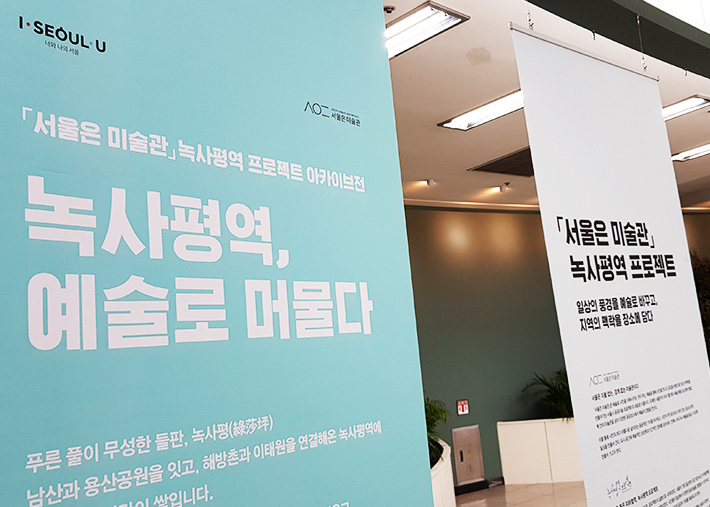 On March 2019, Noksapyeong Station (subway line 6) was transformed into an underground art garden. Noksapyeong Station was originally built to house city hall facilities before the plan fell through. And it is for this very reason that the ceiling of this station was made of a glass dome, allowing natural light to filter in all the way to the 4 basement floors. Due to its unusual structure, this place was used as a set for many different dramas and music videos but was never really utilized to its full potential for a long time. That is until "Noksapyeong Station Public Art Project" transformed this station into a free public space for people to rest and enjoy beautiful artworks.

Basically, "Noksapyeong Station Public Art Project" turned this ordinary station into a global cultural space for the arts. While visitors can find small pieces of artwork displayed throughout the station, the main art piece representing this station is the thin curtain of metal hanging from the ceiling in the main hall. The curtain of metal reflect the sunlight from the dome into many different colors, letting visitors feel a sense of wonder as they stare at it as they ride the escalators. Because this station connects Namsan, Itaewon, Haebangchon, and Gyeongnidan-gil, it's a great place to stop by to take a break from the fast pace of the city.
Line 4, Chungmuro Station

'Oh!Zemidong'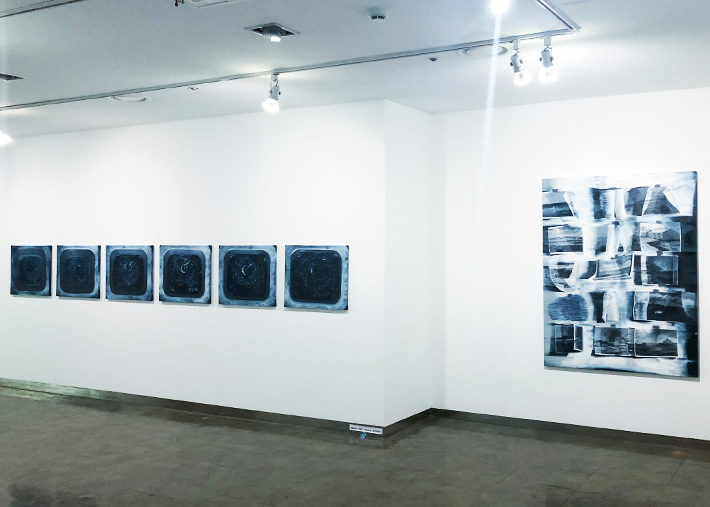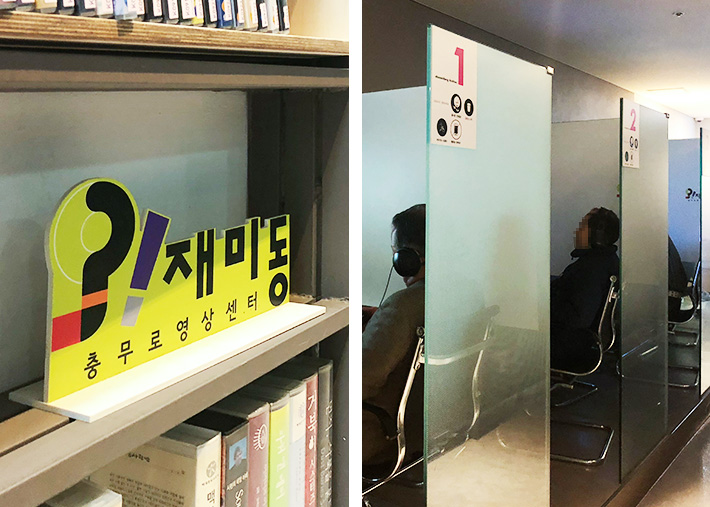 A mecca for the Korean film industry, Chungmuro is often endearingly called "Korea's Hollywood". Located on the basement floor of this station is cultural space for movie lovers and fanatics called Oh!Zemidong. Equipped with an archive, gallery, theater, education hall, editing room, and a film equipment rental station, Oh!Zemidong is a cultural playground for movie fans.

Sponsored by Seoul Metropolitan Government and operated by Seoul Film Commission, this place is a public media center where visitors can enjoy all kind of things for free with the exception of renting out film equipment. Equipped with various film projects, art books, editing rooms, and film equipment, this area is often frequented by aspiring film makers. Although small and not well known among regular people, this place is so famous among people in the film industry that it's super difficult to reserve spots on the weekends. It's a must visit place for people who are interested in working with videos and film.
예약은 관광일 기준 최소 3일 전 까지 가능합니다.
백신접종 완료자 포함시, 최대 7명까지 전화로 예약가능합니다.
(ex. 4인 예약시 백신접종자 1명 포함, 그 이상의 인원은 백신접종자로 충원되어야 합니다.)
기존 등록된 예약 중 그룹별 정원을 초과하지 않는 예약에 한하여 1일 전 17시 까지 추가 예약 가능합니다.
다음달 예약은 전달 15일 이 후부터 가능합니다.
해설 프로그램 참여 시에는 반드시 마스크를 착용하여 주시기 바랍니다.
발열 또는 호흡기 증상(열, 기침, 가래, 근육통, 코막힘, 인후통 등)이 있는 경우 프로그램 참여를 삼가하여 주시기 바랍니다.
프로그램 시작 전 온도 체크가 진행됩니다. 체온이 37.5도 이상일 경우 이용이 제한됩니다.
보호자가 동반하지 않는 만 14세 미만의 하동 관광객의 경우 현장에서 취소됩니다.
미세먼지 비상저감조치 발령 및 기타 기상악화(폭염, 태풍, 폭우 등)로 인해 도보관광 운영이 어려운 경우 모든 예약은 일괄 취소됩니다. (관광일 전날 기준)
해설 진행 시 발생하는 안전사고에 대해서 서울도보해설관광 사무국과 서울문화관광해설사는 책임을 지지 않습니다.
한국어를 모국어로 사용하는 대한민국 국민의 경우, 외국어 해설 신청이 불가능합니다.
예약은 관광일 기준 최대 6개월 전부터 최소 5일 전 까지 신청 가능합니다.
희망하시는 날짜 및 코스에 활동가능한 해설사가 없는 경우 예약은 취소될 수 있습니다.
특히 주말 및 공휴일, 봄(4~5월) 가을(9~11월) 성수기에는 예약이 조기마감 되오니 이 점 유의하여 주시기 바랍니다.
예약확인을 위해 도보관광 사무국(02-6925-0777)에서 확인 연락이 진행됩니다.
(최소 5일~한달 전)3회 이상 전화통화가 이뤄지지 않을 시 예약이 취소될 수 있습니다.
경복궁, 창덕궁, 창경궁, 덕수궁 35인 이상 관람 시, 해당 궁궐 사이트에서 15일 전 단체 입장신청이 필요합니다. (2014.1.1.부터 시행)
해설 진행 시 발생하는 안전사고에 대해서 도보관광 사무국과 서울문화관광해설사는 책임을 지지 않습니다.
보호자가 동반하지 않는 만 14세 미만의 하동 관광객의 경우 현장에서 취소됩니다.
미세먼지 비상저감조치 발령 및 기타 기상악화(폭염, 태풍, 폭우 등)로 인해 도보관광 운영이 어려운 경우 모든 예약은 일괄 취소됩니다. (관광일 전날 기준)
예약은 관광일 기준 최소 1주일 전까지 가능합니다.
덕수궁의 경우 복지카드를 지참한 관광객에 한하여 무료입장이 가능합니다.
※ 중증(1~3급) 동반인 포함 2명 무료※ 경증(4~6급) 장애인 본인 1인만 무료
보호자 또는 보조자가 동반하지 않을 경우 이용이 불가능 합니다.※ 별도의 보조자가 없는 경우 사무국으로 문의 바랍니다. (02-6925-0777)
희망하시는 날짜 및 코스에 활동가능한 해설사가 없는 경우 예약은 취소될 수 있습니다.
예약확인을 위해 도보관광 사무국(02-6925-0777)에서 확인 연락이 진행됩니다.(최소 5일~한달 전)3회 이상 전화통화가 이뤄지지 않을 시 예약이 취소될 수 있습니다.
해설 진행 시 발생하는 안전사고에 대해서 도보관광 사무국과 서울문화관광해설사는 책임을 지지 않습니다.
미세먼지 비상저감조치 발령 및 기타 기상악화(폭염, 태풍, 폭우 등)로 인해 도보관광 운영이 어려운 경우 모든 예약은 일괄 취소됩니다. (관광일 전날 기준)
예약은 관광일 기준 최소 1주일 전까지 가능합니다.
덕수궁의 경우 복지카드를 지참한 관광객에 한하여 무료입장이 가능합니다.
※ 중증(1~3급) 동반인 포함 2명 무료
※ 경증(4~6급) 장애인 본인 1인만 무료
본 프로그램은 수화해설 중심으로 진행되며, 수화가 불가능한 경우 이용이 불가합니다.
희망하시는 날짜 및 코스에 활동가능한 해설사가 없는 경우 예약은 취소될 수 있습니다.
예약확인을 위해 도보관광 사무국(02-6925-0777)에서 확인 연락이 진행됩니다.
(최소 5일~한달 전)3회 이상 전화통화가 이뤄지지 않을 시 예약이 취소될 수 있습니다.
해설 진행 시 발생하는 안전사고에 대해서 도보관광 사무국과 서울문화관광해설사는 책임을 지지 않습니다.
미세먼지 비상저감조치 발령 및 기타 기상악화(폭염, 태풍, 폭우 등)로 인해 도보관광 운영이 어려운 경우 모든 예약은 일괄 취소됩니다. (관광일 전날 기준)
예약은 관광일 기준 최소 1주일 전까지 가능합니다.
본 코스는 보행약자(거동이 불편한 고령자, 장애인, 유모차 이용자 등)를 위한 코스입니다.
보호자를 동반하지 않을 시 이용이 불가능 합니다.※ 보행약자 1명당 보호자 최소 1인 이상 동반
※ 전동보장구(전동휠체어, 전동스쿠터 등) 사용자의 경우 보호자 1인당 보행약자 최대 4인까지 동반 가능
희망하시는 날짜 및 코스에 활동가능한 해설사가 없는 경우 예약은 취소될 수 있습니다.
예약확인을 위해 도보관광 사무국(02-6925-0777)에서 확인 연락이 진행됩니다.(최소 5일~한달 전)3회 이상 전화통화가 이뤄지지 않을 시 예약이 취소될 수 있습니다.
해설 진행 시 발생하는 안전사고에 대해서 도보관광 사무국과 서울문화관광해설사는 책임을 지지 않습니다.
미세먼지 비상저감조치 발령 및 기타 기상악화(폭염, 태풍, 폭우 등)로 인해 도보관광 운영이 어려운 경우 모든 예약은 일괄 취소됩니다. (관광일 전날 기준)
Reservations must be made at least three days prior to the tour date.
In case of including fully vaccinated people, group reservations up to 7 people are being accepted on the line.
(ex. 4-member group must have one fully-vaccinated person. the more number added, the more vaccinated numbers must be also added.)
Additional reservations are?permitted for pre-existing reservations that do not exceed the limited number of three people per group and may be made one day prior to the tour date by 5 PM.
Reservations for the following month are available from the 15th of the current month.
Masks are required for participation in all tour programs.
Please refrain from participating in any tour programs should you be experiencing any symptoms, including fever, coughing, congestion, muscle pain, stuffy nose, and/or sore throat.
Temperature readings will be conducted for all participants prior to the tour. Those with a reading over 37.5°C are prohibited from tour participation.
Reservations for tourists 14 years & under without an accompanying adult or guardian shall be canceled on site.
[As of one day prior to the tour date] All reservations shall be canceled in the event of emergency particulate matter reduction measures taken and/or inclement weather conditions, including excessive heat waves, typhoons, heavy rain, and more, that may impede Seoul Guided Walking Tour operations.
The Seoul Guided Walking Tour administration office and tour guide affiliates are not responsible for any accidents that happen to occur during the tour program.
Reservation shall be made at least 1 week before the tour day.
The course is for tourists with mobility problems (Senior, people with disability, stroller user).
You may not use the course without an assistant (or companion)
※ At least one assistant shall accompany a tourist with mobility problem
※ In case of electric assisting device users (electric wheelchair, electric scooter users), one assistant may accompany up to 4 tourists with mobility problem
Reservation may be canceled when a guide is unavailable on the desired date and course.
Seoul Guided Walking Tour Office (02-6925-0777) will contact you to confirm reservation.
(At least 5 days~1 month before tour day) Reservation may be canceled when Seoul Guided Walking Tour Office cannot reach you for more than 3 times.
Seoul Guided Walking Tour Office and Seoul culture and tourism guide are not liable for the safety accidents during the Seoul Guided Walking Tour.
All reservations are canceled when Seoul Guided Walking Tour is unavailable due to Particulate Matter Reduction Measure or other weather conditions (heat wave, typhoon, heavy rain). (As of the date before the tour day)
观光日基准最少3日前方可进行预约。
4人以上团体预约时, 请联系到我们 - walkingtours@sto.or.kr / 02-6925-0777)
例如, 七位想参加活动的时候七位内就要有四位的新冠疫苗接种者
在已登记的预约团体中,只接待不超过预约人数的团体,可在前一天17时前追加预约。
下个月的预约可从前一月15日开始。
参加徒步观光解说活动时必须佩戴口罩。
如有发热或呼吸道症状(发烧、咳嗽、痰液、肌肉痛、鼻塞、咽喉痛等),请避免参与解说活动。
活动开始前将进行体温测试,超过37.5度者将被限制参与解说活动。
无保护者随同的未满14岁儿童游客,会在现场取消解说活动。
因发布微尘紧急低减措施及其他气象恶化(暴热、台风、暴雨等)无法运营徒步观光解说活动时,所有预约会批量取消。(观光前日基准)
对于解说活动中发生的安全事故,首尔徒步解说旅游事务局和首尔文化观光解说社不予负责。
观光日基准最少1日前方可进行预约。
本线路是为了行动不便者(行动不便的高龄者、残疾人、婴儿车利用者等)的路线。
无辅助人员(或同行人)伴随时,不可利用。
※ 步行不便者1名至少需要1名以上的辅助人员陪同。
※ 电动辅助器具(电动轮椅、电动独轮车等)使用者时,每一位辅助人员最多可陪同 4名步行不便者。
希望观光的日期及线路上无解说员时,预约有可能被取消。
为了确认预约,徒步观光事务局(02-6925-0777)会致电进行确认。
(最少5日~一个月前) 3次以上无法连接时,预约将被取消。
进行解说时,对于有可能发生的安全事故,徒步观光事务局和首尔文化观光解说员概不负责。
因发布微尘紧急低减措施及其他气象恶化(暴热、台风、暴雨等),无法运营 徒步观光时,所有预约会批量取消。
(观光前日基准)
最晚請於預約日期3天前完成預約。
為防止新冠肺炎疫情擴散,導覽人數最少1人、最多4人。
已完成預約的團體若人數超過限制,可於前一天下午5點前追加預約。
每月15日將開放下個月的預約。
參與解說觀光時請務必佩戴口罩。
若有發燒或呼吸道症狀(發燒、咳嗽、咳痰、肌肉酸痛、鼻塞、喉嚨痛),請避免參與本活動。
活動開始前將進行體溫測量。若體溫超過37.5度,將無法參與本活動。
未有保護者同行的未滿14歲兒童遊客,會在現場取消參與資格。
因發布微塵緊急降低措施及其他天氣惡化(暴熱、台風、豪雨等),無法進行徒步觀光時,所有預約將取消。(預約日期前日基準)
進行解說時,對於有可能發生的安全事故,首爾徒步解說觀光事務局和首爾文化觀光解說員概不負責。
觀光日基準最少1日前方可進行預約。
本線路是為了行動不便者(行動不便的高齡者、殘疾人、嬰兒車利用者等)的路線。
無輔助人員(或同行人)伴隨時,不可利用。
※ 步行不便者1名至少需要1名以上的輔助人員陪同。
※ 電動輔助器具(電動輪椅、電動獨輪車等)使用者時,每壹位輔助人員最多可陪同 4名步行不便者。
希望觀光的日期及線路上無解說員時,預約有可能被取消。
為了確認預約,徒步觀光事務局(02-6925-0777)會致電進行確認。
(最少5日~壹個月前) 3次以上無法連接時,預約將被取消。
進行解說時,對於有可能發生的安全事故,徒步觀光事務局和首爾文化觀光 解說員概不負責。
因發布微塵緊急低減措施及其他氣象惡化(暴熱、臺風、暴雨等),無法運營 徒步觀光時,所有預約會批量取消。 (觀光前日基準)