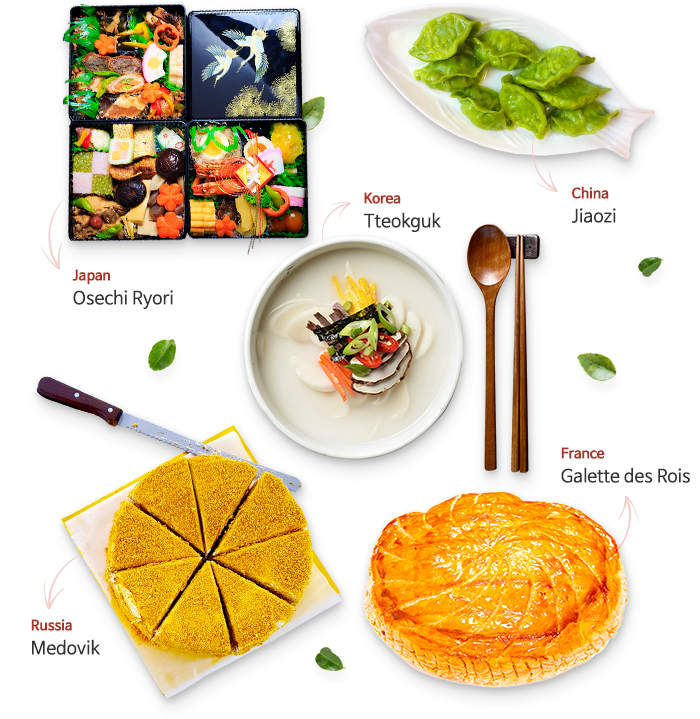 How do you welcome in the new year? Different people will have different ways to celebrate the new year based on their country's custom and tradition. However, regardless of where you're from, you'll find that everyone has one thing in common in regards to celebrating the new year.
And that is sharing delicious food with loved ones!
Food is an absolute necessity in any social function regarding celebration and festivities. After all, what better way is there to greet the beginning of the new year than to be surrounded by delicious food, each containing its own special meaning and story?
If you're interested in unique ways to start off 2019, come try out some of these very special food right here in Seoul as you welcome in the new year.
Tteokguk (Korea)
'Wishing for Longevity', 'Chicken instead of pheasant'
The long shape of the tteok (rice cake) signifies longevity while the cut coin-shaped tteok (cake) represents wealth. Originally, Tteokguk (Sliced Rice Cake Soup) was enjoyed with pheasant, but is now enjoyed with chicken instead.
Gaeseong Mandu Koong
11-3 Insadong 10-gil, Jongno-gu, Seoul
+82-2-733-9240
Selected as a Michelin Guide Bib Gourmand restaurant, this place serves high-quality Tteokguk and allows customers to customize their dish with different rice cakes according to their preference.
Osechi Ryori (Japan)
'For prosperity and longevity'
Osechi Ryori is a New Year's buffet. Prepared to be eaten on the first 3 days of the new year, the dishes are usually of dishes that preserve well. This was done to avoid cooking with fire so as not to anger the deities by working at the beginning of the new year. Packed and served in 3-5 tiered lacquer boxes, one can enjoy a range of taste (sweet, sour, spicy, bitter, salty) and colors (green, red, black, yellow, white).
Murasaki in The Plaza
119 Sogong-ro, Jung-gu, Seoul
+82-2-310-7100
Located within The Plaza hotel, Murasaki prepares a luxurious Osechi Ryori every January.
Jiaozi (China)
'Fortune and good luck (交子: Jiaozi)'
A dish where chopped beef, pork, or vegetables are stuffed in dough, Jiaozi is very similar in shape to Korean dumplings. From noodles representing longevity, coins representing wealth, to dates representing children, the fillings of the dumplings vary greatly and are oftentimes used to predict one's fortune.
Hongbokwon (Hongdae)
36-6 Wausan-ro 21-gil, Mapo-gu, Seoul
+82-2-336-8189
Owned and operated by a Chinese chef, visitors can sample a variety of dim sum dishes here.
Medovik (Russia)
'The tsar of Russian cakes'
Called the "king of desserts" in Russia, Medovik is a type of honey cake. The layers of honey and biscuit crumbs bring out the crispness of the Medovik cake. According to Russian tradition, the cake was first created in the 18th century by an unknown chef during the reign of Alexander I.
Megobuk (Gwanghui-dong)
159 Mareunnae-ro, Jung-gu, Seoul
+82-2-2285-4700
A Russian bakery which also sells Russian ingredients and alcohol, Megobuk sells not only Medovik, but Napoleon cake as well.
Galette des Rois (France)
'King Cake'
Galette des Rois is a pie-like dessert eaten on the twelfth night. A small ceramic doll is hidden inside this dish and whoever receives a slice with it receives the blessing to be king for an entire day.
Ruelle de Paris
18 Seochojungang-ro, Seocho-gu, Seoul
+82-2-322-0939
A bakery famous for their croissant, Ruelle de Paris is also a very good place for galettes.