Locations of Peace Around Seoul
From Olympic Park to DDP! Learn about the many peace locations existent within Seoul!
Taste of Seoul : Discover Seoul Food
Discover new kinds of food in Seoul! This November, warm up your body and mind with these North Korean dishes!
This Month's Recommended Events
Seoul Lantern Festival 2018
Nov 2 - Nov 18
Light up your nights with Seoul's biggest lantern festival!
5th Seoul Kimchi Festival
Nov 2 - Nov 4
Come celebrate everything to do with kimchi!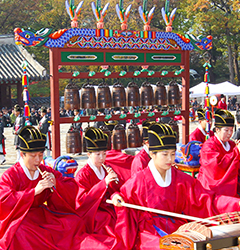 Jongmyo Daeje (Autumn) 2018
Nov 3
An ancestral ritual honoring the past Joseon kings.
Recommended Courses
Oregage Pt. 6 – My Type of Old Stores
The perfect places to go for buying customized goods!
Seoul Food Tour with EXO
Follow EXO on a food tour around Seoul!