Seoul Through Film
Photos are true. Films are truer. Explore and experience a truer version of Seoul through film.
Desserts to Sweeten Up Your Holidays
Sweeten up your holidays with these unique and modern rice cake desserts!
This Month's Recommended Events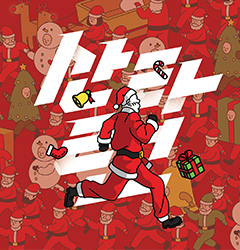 Santa Run 2018
Dec 8
Put on your Santa gears for the annual Christmas marathon!
Seoul Illustration Fair W 2018
Dec 28 - Dec 31
Korea's biggest illustration fair.
Keith Haring - Art is Life. Life is Art
Nov 24 - Mar 17
Haring's pop art exhibition.
Recommended Courses
Oraegage Pt. 7 – Stores Which Once Dominated an Era
Old stores which continue to flourish in the present.
Seven Colored Seoul Introduced by BTS
BTS members recommend 7 different ways on how to enjoy Seoul their way.