What is the Certification Program?
>
Business & Partners
>
Seoul Tourism Certification Program
>
What is the Certification Program?

Purpose of introduction


Operation direction of the Quality Tourism Package Certification Program


Quality Tourism


Package Certification and


Support


The agencies are evaluated for their accommodation, meals,


cultural experience, qualified guides, and itinerary in Seoul.


And, only the certified Excellent Tourism Packages are


to receive supports in development of the Packages


and promotion/marketing.


Designation of the


Quality Tour Agencies of


Seoul


The participants in the certification program of 2019 are to be


evaluated for the selection of the 'Quality Travel Agencies


of Seoul.'


The selected tourism Packages are to receive reinforce


promotion and marketing supports.


PR Marketing for


Seoul Tourism


Certification Program


Local promotion in connection to SMG-sponsored overseas info session and preview and hosting of a tour policy info session for in-bound travel agencies


Identify new tourism


contents and provide


information


Provide information on the latest trends and tourism Packages for developing Quality Tourism Packages


Continued quality


management of the


Quality


Tourism Packages


Hot line to the travel agencies for receiving complaints on the


travel agencies (online)


Maintain the quality of the certified Packages through the


'Review on the Quality Tourism Packages' in which the


tourists who actually used the Packages participate.


Certification marks and certificates



The certification mark by the City of Seoul 

to guarantee the reliability of the Package when the consumers choose their Packages.. If the Package has our certification mark, you know you can trust the Package.


Certification mark


color system


Seoul sky blue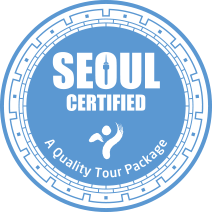 pantone : 279c


cmyk : 3/30/0/0


rgb : 93/153/210


hexa : 5b98d2


color system variations



Excellent Tourism Package Certificate