>
Business & Partners
>
Seoul Tourism Certification Program
>
Newsletter(Seoul Tour+)
>
Seoul Tour+ articles
Seoul Tour+
Happiness for a Dollar - Tour de Seoul on Two Wheels
Published Date : May 27, 2020 / Edited Date : Aug 24, 2020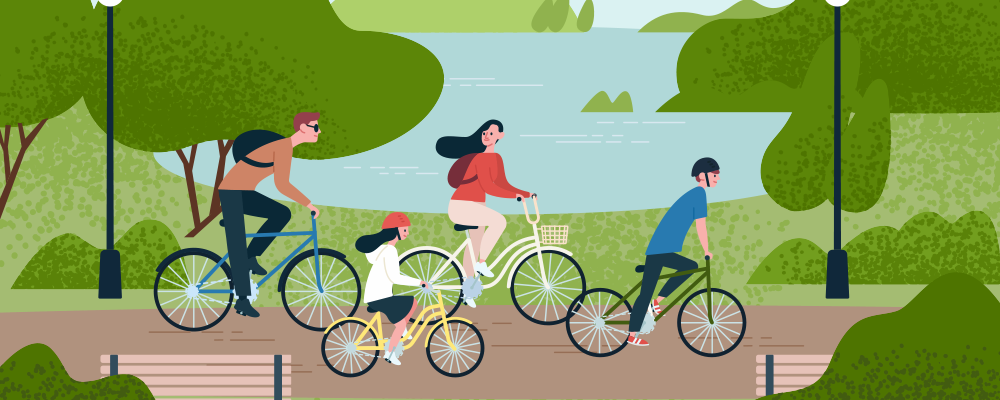 Happiness for a dollar
Tour de Seoul on Two Wheels
Forget driving or walking. It's finally bicycle season! Let's take a trip around Seoul at a leisurely pace. But how do you ask? Seoul Public Bicycle, or Ddareungi, is available all across Seoul! You can see it all around with green wheels in every neighborhood, such as at the entrances of subway stations, near bus stops and schools, residential areas, banks, and more. And you don't even need a membership! It costs only KRW 1,000 per hour, making it the best way to travel around Seoul for foreign tourists, as well. If you have a Discover Seoul Pass, you can rent a bike for 24 hours using the Ddareungi mobile app called Seoul Public Bike. Themed trips always make trips even better, don't you think? Let's go on an adventure and explore Seoul's history or just relax by the Hangang River, on two wheels across the city.
The past and present of Seoul
Hanyang Palace Course
Hanyang Temple Course
Start pedaling from present-day, dynamic Seoul at Gwanghwamun Gate. Ride along the bike lane from Gwanghwamun Square, where the statutes of King Sejong and Admiral Yi Sun-sin stand, down to City Hall Station and you can simultaneously experience the past and present vibes of Seoul. You will feel as if you've gone back in time to the Joseon Dynasty. When you turn at Deoksugung Palace, the former residence of King Gojong, you will find a stretch of Deoksugung Stone Wall Path, a famous dating spot for Seoulite couples. Designated as the first "pedestrian-friendly street" by the city of Seoul, Jeongdong-gil is also cyclist-friendly as it has bicycle lanes along one side of the street. The street has a unique atmosphere with extraordinary buildings from when Western culture was introduced to Korea in the form of architecture back in the 19th century, such as Ewha School, the nation's first modern all-girls' school, as well as Paichai School and Chungdong First Methodist Church, the nation's first protestant church.
When you come out from Jeongdong-gil and go toward Seodaemun Station, you will see another palace - Gyeonghuigung Palace. It is where kings of the Joseon dynasty took shelter in emergency situations. After spending some time to unwind around the palace, you may want to wrap up your trip by taking a tour of the Seoul Museum of History. You will be able to look into the history in which the city of Seoul was formed through the city's artifacts and traces of the past such as old houses.
Recommended Course Gwanghwamun Square → Deoksugung Palace → Jeongdong-gil → Gyeonghuigung Palace
Distance 1.8 km
Duration 10-15 mins
Ddareungi Dock Subway Line 5, Gwanghwamun Station, Exit 6
Riverside leisure
Yeouido Trail Course
Yeouido Trail Course
This is the perfect time to go on a trip to the Hangang River. You'll only need the help of two bicycle wheels to enjoy a scenic ride through Hangang Parks bypassing some of Seoul's major bridges. Start from Yeouido, the center of Seoul's politics, media and finance, and you'll reach Yeouido Hangang Park in no time. It's cyclists' much-loved course as it offers a blend of Seoul's skyline, including 63 Building in harmony with the serene Hangang River. Keep riding through Cascade Square by the floating stage to Yeouido Station and you'll arrive at Saetgang Ecological Park and be greeted by thick bushes. It is Korea's first ecological park, established in 1997, and maintains a natural ecosystem environment rather than neatly trimmed. The pedestrian trail and bicycle lanes are divided in the park that runs along the Saetgang River in Yeouido.
Now, let's run from Saetgang Ecological Park along the riverside of Yeouinaru Station to Banpodaegyo Bridge, which comes into sight after Wonhyodaegyo Bridge and Hangangdaegyo Bridge. The southern end of Banpodaegyo Bridge is known among cyclists as the easiest route across the river. Banpo Hangang Park is often less crowded than Yeouido Park. Look around Sebitseom Island, a complex cultural space floating on the river beside Banpodaegyo Bridge, and have a snack at Mini Stop with an extraordinary view of the Hangang River.
Recommended Course Yeouido Hangang Park (Yeouinaru Station) → Saetgang Ecological Park → Banpo Hangang Park
Distance 11.5 km
Duration Approx. 50 mins
Ddareungi Dock Subway Line 5, Yeouinaru Station, Exit 1
Run through downtown
Jongno Course
Jongno Downtown Course
Jongno shows us how simplicity and complexity can coexist, while also it is also where the history and culture of Korea remain intact. Cycle through the urban center via the 2.6-kilometer-long bicycle lane along Jongno that was established in April, 2018, from Jongno 1(il)-ga to Jongno 5(o)-ga starting in front of Gwanghwamun Post Office. The meter-wide dark red lane is used exclusively by cyclists, and you can join in on the fun with the help from Ddareungi. The closest Ddareungi dock is located by exit 5 of Gwanghwamun Station. Keep pedaling and you will reach Dongdaemun Gate, the end point of the cycling course, in approximately 15 minutes. Have fun while looking for some snacks in the market street stretched across Jongno. If you find the Jongno cycling course a bit too short, pass Dongdaemun Gate and head to the cycling course along Jungnangcheon Stream. A walking trail is connected from Sangwangsimni through Jungnangcheon Stream to Yongdap Station. You will be able to ride your bike without worries of traffic as no cars are allowed to enter this section. Though, keep in mind that the Jongno cycling course disconnects and reconnects here and there, and you might have to swerve at times to avoid pedestrians when it gets too narrow. Therefore, it is better to go slowly and pay special attention. Be careful not to speed as accidents often occur as more number of merchants ride motorcycles near Dongdaemun Gate.
Recommended Course Gwanghwamun Post Office → Jongno 1(il)-, 2(i)-, 3(sam)-, 4(sa)-, 5(o)-ga → Dongdaemun Gate
Distance 2.7 km
Duration 10-15 mins
Ddareungi Dock Subway Line 5, Gwanghwamun Station, Exit 5
Alongside the Hangang
Gwangnaru Hangang Park Course
Gwangnaru Hangang River Park Course
Located between Gangdongdaegyo Bridge and Jamsilcheolgyo Railroad Bridge, Gwangnaru Hangang Park is a place that keeps the original nature of the Hangang River, including wetlands and reeds. As Seoul's only water source protection area, it is also a habitat for migratory birds as its water is clean and clear. Another name for Gwangnaru Hangang Park is Gwangnaru Bicycle Park. It offers excellent bicycle lanes and there are various cultural heritages around the park, including Prehistoric Dwelling Site in Amsa-dong and Earthen Fortification in Pungnap-dong. If you want to feel a more cozy neighborhood atmosphere, start from the Ddareungi rental dock at exit 3 of Amsa Station and follow Cheonho Bicycle Street, which is a 433-meter-long lane that goes from in front of Gangbyeon Apt. to Gongwon Junction in Cheonho-dong. It is the only street in Korea with an array of bike stores and the start point of Hangang Bicycle Street and Gwangnaru Bicycle Park. Then, let's head to Gwangjingyo Bridge. It is the bridge that connects Gwangjang-dong and Cheonho-dong, and is the oldest bridge over the Hangang River together with the Hangangdaegyo Bridge before its reconstruction. Gwangjingyo Bridge reopened in November, 2003, with Korea's first-ever 2-meter-wide bicycle lanes on both directions of the roads and three balcony-type overhanging observatories. If you cross the bridge toward the direction that allows you to see Jamsil Tower, you can overlook the landscape of Gwangnaru Hangang Park at a glance.
Recommended Course: Amsa Station → Cheongho Bicycle Street → Gwangnaru Hangang Park → Gwangjingyo Bridge
Distance 2.6 km
Duration 10-15 mins
Ddareungi Dock Subway Line 8, Amsa Station, Exit 3
Delectable ride through the city
Yongsan Mukbang Course
Most cyclists starting from Ichon Station take the direction toward Hangang Park. That said, if you are a cyclist who loves to eat, we recommend the Yongsan-gu Mukbang Riding Course! From exit 4 of Ichon Station, it takes only five minutes on foot to reach the Ddareungi rental dock behind Ichon 1-dong Community Service Center. Ride until you reach the vicinity of exit 3-1 of Ichon Station, the small, so-called "Japanese Town" of Seoul, where you can find a cluster of bars, restaurants, and cafes. You can also spend some time at the National Museum of Korea located on the way to Itaewon. If the restless pedaling has made you hot and sweaty, stop by Dongbinggo, where you can enjoy some delicious patbingsu (shaved ice with sweetened red beans and other toppings), located near Seobinggo Station. Dongbinggo became well-known after being broadcast on the hit TV show, Wednesday Food Talk, and is famous for its not too sweet, yet refreshing red beans. Gyeongnidan-gil has no particular bicycle lane so it would be better for you to ride slower than usual. If you are confident about your stamina, take up the challenge of riding uphill along Gyeongnidan-gil. When you reach the top, you can look down at the panoramic view of Itaewon from under N Seoul Tower.
Recommended Course: Ichon Station → National Museum of Korea → Itaewon → Gyeongnidan-gil
Distance 4.2 km
Duration 15-20 mins
Ddareungi Dock Behind Ichon 1-dong Community Service Center
- National Museum of Korea Exhibition Hall
Address 137, Seobinggo-ro, Yongsan-gu, Seoul
Hours Daily 10:00 – 18:00 * Last entry at 17:30
(Closed New Year's Day, Seollal, Chuseok, and on first Monday of April & November)
Website www.museum.go.kr
Tel +82-2-2077-9000
Admissions (Permanent exhibition hall) Free
Capacity Approx. 3,000
- Dongbinggo
Address 319, Ichon-ro, Yongsan-gu, Seoul
Hours Daily 10:30 – 23:00
Website www.museum.go.kr
Tel +82-2-764-7171
Menu Patbingsu KRW 7,000 / Danpat Juk (Sweet red bean porridge) KRW 7,000
Capacity Approx. 14 to 18
Rider's Choice
Bicycle-themed Cafes in Seoul
Bicycle-themed cafes in a city serve as places for exchange where you can experience the cycling culture of a country. There's no doubt that you will be guaranteed safe bicycle parking there! You can also find what you want while browsing through a wide array of bicycle gear hand-selected by cycling enthusiasts. You can talk with and learn from other cyclists while fueling your body with a cup of coffee served with some energy-boosting food.
Pitstop for bicycle enthusiasts
BA
"BA"
BA, short for "Break Away from Ordinary," is a cafe situated in a corner of a quiet neighborhood. As it is by the entrance of Yeomchang Underpass, cyclists who ride along the Hangang River stop by to use it as a resting place. Bicycle racks in a spacious parking lot at the entrance of the cafe allow cyclists to leave their bicycles conveniently and relax for a while. Separate from the cafe, there is underground space for bicycle repair service. This doesn't mean the cafe is all exclusively for cyclists. Quite opposite from the active outdoor nature of cycling, it has rather a calm atmosphere, drawing in non-cyclist customers from all around the neighborhood. BA uses Dukes coffee beans, trendy coffee beans from Australia to satisfy even the top coffee aficionados, living up to its sign boasting, "COFFEE & CYCLE."
Address 93-23, Yangcheon-ro 67-gil, Gangseo-gu, Seoul
Hours Daily 09:00 – 22:00
Instagram @bafromordinary
Tel +82-10-9143-0879
Menu Cafe Latte KRW 4,500 / Americano KRW 4,000
Capacity Approx. 20 (including outdoor table seats)
Classic bicycles & coffee
Veloccino
Veloccino is a franchise cafe where visitors can enjoy premium barista-brewed coffee and gaze at some hand-made classic bicycles on display. It has branch stores across the country, including in Hyundai City Mall's Garden Five near Jangji Station and Shinsegae Department Store Gangnam Branch. By combining velo ("bicycle" in French) and cappuccino, Veloccino shows elements—tables with glass resembling a bicycle wheel, wall interior design, and a photo zone—related to bicycles. Visitors can enjoy their tea time while casually observing classic bicycles in the cafe that are on display and even for sale. The cafe serves ordinary menus like coffee and tea, as well as simple desserts such as cake and muffins, plus healthy detox juices.
Address 66, Chungmin-ro, Songpa-gu, Seoul
Hours Daily 10:30 – 21:00
Facebook veloccinocafe
Tel +82-2-2673-2359
Menu Americano KRW 4,000 / Cafe Latte KRW 4,500 / Detox Juice KRW 6,500
Capacity Approx. 30
Customized cafe for cyclists
Most-frequented pitstop
Thirsty after passing Seobinggo Station by Jamsugyo Bridge? As you look for a cafe to lock up your bicycle and wet your mouth, you will almost instantly see BIDON near Seobinggo Station. BIDON is not exclusive for cyclists; it is a comfortable space where anyone who loves bicycles can drop by and relax. The interior of the cafe is very neat, and except for the tables in one corner, there are long benches everywhere on which you can perch. Quench your thirst while you take a break after a long bike ride, and you can even make yourself comfortable at the cafe. Have fun gazing at some cool bicycle gear ensconced in a neat interior. Everything is stylish from the bike-saddle chairs to the wheel-shaped lamps made from chain gear sprockets. The underground space is operated as a gallery and market. Make sure to try out their banana and chocolate energy bars that taste like brownie and goes well with coffee. You can take it to go and eat it while you ride.
Address 1F, 38, Noksapyeong-daero 11-gil, Yongsan-gu, Seoul
Hours 11:00 – 22:30 / Sundays 11:00 – 21:00
Website https://firstbidon.modoo.at/
Tel +82-2-6398-5879
Menu Americano KRW 3,500 / Jamsugyo Sparkling KRW 5,500 / Namsan Brownie KRW 3,500
Capacity Approx. 20 to 25 (including outdoor seats)
A cup of coffee & Brompton bike test ride
Wecle (Yangjae Branch)
Among the various types of bicycles, small bicycles with 20" wheels or smaller are called "minivelos." Men and women of all ages love riding minivelos as they are small, portable and attractive. Three major brands of minivelos are Brompton, Birdy, and Tikit. At WECLE, you can take any model of a Brompton bike on a test ride down the bicycle lane along Yangjaecheon Stream, as well as browse and shop for bicycles, such as Cannondale and Strida, along with other bicycle-related gear. Oh, and of course with a cup of coffee. The inside walls of the cafe are filled with folded Bromptom bikes and various items, including helmets and saddles. While most store-slash-cafes focus on one primary sales, either coffee or merchandise, WECLE is successful at handling both aspects. Outdoor seating with greenery behind through the wide window is the cafe's most popular seating. Most seats are decorated with camping (aka Bromping: Brompton+camping) items. You can receive a KRW 1,000 discount when visiting with your bike!
Address 2F, Sojeong Building, 117, Nonhyeon-ro, Seocho-gu, Seoul
Hours 11:00 – 20:00 / Holidays 11:00 – 19:00 (Closed Mondays)
Website http://wecle-yangjae.com/
Tel +82-2-577-2261
Menu Americano KRW 4,000 / Daegukmin Apple Latte KRW 5,500
Capacity Approx. 25 to 30 (including outdoor seats)
Bike-themed cafe upstream
Velomano (Gwangjang Branch)
As you go from Gwangnaru Station and cross Gwangjingyo Bridge, you will come across Velomano right before you reach Gwangnaru Hangang Park. Velomano is a portmanteau word that combines velo ("bicycle" in French) and mano ("hand" in Italian). Even its facade is unique in that its signboard is made from bicycle wheels. When you go inside, a flat-coated retriever named Mano, the cafe mascot, will be the first to welcome you. There are three bicycles under the spotlights displayed on the wall. The lamps made using bicycle wheels emit soft orange light, giving out a warm feeling. The cafe owner makes his so-called "cycling drinks," which are a hit among cyclist customers because of their thirst-quenching and energy-boosting effect as they contain natural protein and chia seeds. They are available in three flavors: Pantani (grapefruit), Coppi (grape), and Armstrong (mango) named after world-famous cyclists. Also be sure to try the sweet and savory combination of shaved ice with peanuts and some Kaya toast. Everyone who visits Velomano wearing a helmet can get KRW 500 discount for all menus.
Address 13, Gucheonmyeon-ro, Gwangjin-gu, Seoul
Hours 10:00 – 22:00 (Closed Mondays)
Tel +82-2-6497-0045
Menu Americano KRW 4,000 / Cycling Drink KRW 5,500 / Ttangkongbingsu (Shaved ice with peanuts) KRW 6,000
Capacity Approx. 20 to 25 (including outdoor seats)
예약 전 안내사항
예약은 관광일 기준 최소 3일 전까지 가능합니다.
기존 등록된 예약 중 그룹별 정원을 초과하지 않는 예약에 한하여 1일 전 17시까지 추가예약 가능합니다.
최소 출발 인원은 3인부터 입니다. 관광일 2일 전 17시까지 누적예약인원이 3인 미만일 경우 예약은 자동 취소되며, 출발 및 취소 여부는 문자와 메일로 안내드립니다.
다음달 예약은 전달 15일 이후부터 가능합니다.
주말 및 공휴일, 봄 가을 성수기에는 예약이 조기 마감될 수 있습니다.
해설 진행 시 발생하는 안전사고에 대해서 도보관광 사무국과 서울문화관광해설사는 책임을 지지 않습니다.
보호자가 동반하지 않는 만 14세 미만의 하동 관광객의 경우 현장에서 취소됩니다.
미세먼지 비상저감조치 발령 및 기타 기상악화(폭염, 태풍, 폭우 등)로 인해 도보관광 운영이 어려운 경우 모든 예약은 일괄 취소됩니다. (관광일 전날 기준)
예약 전 안내사항
예약은 관광일 기준 최대 6개월 전부터 최소 5일 전 까지 신청 가능합니다.
희망하시는 날짜 및 코스에 활동가능한 해설사가 없는 경우 예약은 취소될 수 있습니다.
특히 주말 및 공휴일, 봄(4~5월) 가을(9~11월) 성수기에는 예약이 조기마감 되오니 이 점 유의하여 주시기 바랍니다.
예약확인을 위해 도보관광 사무국(02-6025-0777)에서 확인 연락이 진행됩니다.
(최소 5일~한달 전)3회 이상 전화통화가 이뤄지지 않을 시 예약이 취소될 수 있습니다.
경복궁, 창덕궁, 창경궁, 덕수궁 35인 이상 관람 시, 해당 궁궐 사이트에서 15일 전 단체 입장신청이 필요합니다. (2014.1.1.부터 시행)
해설 진행 시 발생하는 안전사고에 대해서 도보관광 사무국과 서울문화관광해설사는 책임을 지지 않습니다.
보호자가 동반하지 않는 만 14세 미만의 하동 관광객의 경우 현장에서 취소됩니다.
미세먼지 비상저감조치 발령 및 기타 기상악화(폭염, 태풍, 폭우 등)로 인해 도보관광 운영이 어려운 경우 모든 예약은 일괄 취소됩니다. (관광일 전날 기준)
예약 전 안내사항
예약은 관광일 기준 최소 1주일 전까지 가능합니다.
덕수궁의 경우 복지카드를 지참한 관광객에 한하여 무료입장이 가능합니다.
※ 중증(1~3급) 동반인 포함 2명 무료※ 경증(4~6급) 장애인 본인 1인만 무료
보호자 또는 보조자가 동반하지 않을 경우 이용이 불가능 합니다.※ 별도의 보조자가 없는 경우 사무국으로 문의 바랍니다. (02-6025-0777)
희망하시는 날짜 및 코스에 활동가능한 해설사가 없는 경우 예약은 취소될 수 있습니다.
예약확인을 위해 도보관광 사무국(02-6025-0777)에서 확인 연락이 진행됩니다.(최소 5일~한달 전)3회 이상 전화통화가 이뤄지지 않을 시 예약이 취소될 수 있습니다.
해설 진행 시 발생하는 안전사고에 대해서 도보관광 사무국과 서울문화관광해설사는 책임을 지지 않습니다.
미세먼지 비상저감조치 발령 및 기타 기상악화(폭염, 태풍, 폭우 등)로 인해 도보관광 운영이 어려운 경우 모든 예약은 일괄 취소됩니다. (관광일 전날 기준)
예약 전 안내사항
예약은 관광일 기준 최소 1주일 전까지 가능합니다.
덕수궁의 경우 복지카드를 지참한 관광객에 한하여 무료입장이 가능합니다.
※ 중증(1~3급) 동반인 포함 2명 무료
※ 경증(4~6급) 장애인 본인 1인만 무료
본 프로그램은 수화해설 중심으로 진행되며, 수화가 불가능한 경우 이용이 불가합니다.
희망하시는 날짜 및 코스에 활동가능한 해설사가 없는 경우 예약은 취소될 수 있습니다.
예약확인을 위해 도보관광 사무국(02-6025-0777)에서 확인 연락이 진행됩니다.
(최소 5일~한달 전)3회 이상 전화통화가 이뤄지지 않을 시 예약이 취소될 수 있습니다.
해설 진행 시 발생하는 안전사고에 대해서 도보관광 사무국과 서울문화관광해설사는 책임을 지지 않습니다.
미세먼지 비상저감조치 발령 및 기타 기상악화(폭염, 태풍, 폭우 등)로 인해 도보관광 운영이 어려운 경우 모든 예약은 일괄 취소됩니다. (관광일 전날 기준)
예약 전 안내사항
예약은 관광일 기준 최소 1주일 전까지 가능합니다.
본 코스는 보행약자(거동이 불편한 고령자, 장애인, 유모차 이용자 등)를 위한 코스입니다.
보호자를 동반하지 않을 시 이용이 불가능 합니다.※ 보행약자 1명당 보호자 최소 1인 이상 동반
※ 전동보장구(전동휠체어, 전동스쿠터 등) 사용자의 경우 보호자 1인당 보행약자 최대 4인까지 동반 가능
희망하시는 날짜 및 코스에 활동가능한 해설사가 없는 경우 예약은 취소될 수 있습니다.
예약확인을 위해 도보관광 사무국(02-6025-0777)에서 확인 연락이 진행됩니다.(최소 5일~한달 전)3회 이상 전화통화가 이뤄지지 않을 시 예약이 취소될 수 있습니다.
해설 진행 시 발생하는 안전사고에 대해서 도보관광 사무국과 서울문화관광해설사는 책임을 지지 않습니다.
미세먼지 비상저감조치 발령 및 기타 기상악화(폭염, 태풍, 폭우 등)로 인해 도보관광 운영이 어려운 경우 모든 예약은 일괄 취소됩니다. (관광일 전날 기준)
Read before Reservation
Reservation shall be made at least 3 days before the tour day.
Reservation for the next month is available after 15th of the previous month.
Reservation may be closed early during weekend, holiday, and peak season in spring and fall.
Seoul Guided Walking Tour Office and Seoul culture and tourism guide are not liable for the safety accidents during the Seoul Guided Walking Tour.
Reservation for unaccompanied tourist under 14 will be canceled on site.
All reservations are canceled when Seoul Guided Walking Tour is unavailable due to Particulate Matter Reduction Measure or other weather conditions (heat wave, typhoon, heavy rain). (As of the date before the tour day)
Read before Reservation
Reservation shall be made at least 1 week before the tour day.
The course is for tourists with mobility problems (Senior, people with disability, stroller user).
You may not use the course without an assistant (or companion)
※ At least one assistant shall accompany a tourist with mobility problem
※ In case of electric assisting device users (electric wheelchair, electric scooter users), one assistant may accompany up to 4 tourists with mobility problem
Reservation may be canceled when a guide is unavailable on the desired date and course.
Seoul Guided Walking Tour Office (02-6025-0777) will contact you to confirm reservation.
(At least 5 days~1 month before tour day) Reservation may be canceled when Seoul Guided Walking Tour Office cannot reach you for more than 3 times.
Seoul Guided Walking Tour Office and Seoul culture and tourism guide are not liable for the safety accidents during the Seoul Guided Walking Tour.
All reservations are canceled when Seoul Guided Walking Tour is unavailable due to Particulate Matter Reduction Measure or other weather conditions (heat wave, typhoon, heavy rain). (As of the date before the tour day)
预约前说明事项
观光日基准最少3日前方可进行预约。
下个月的预约可从前月15日开始。
周末及公休日、春秋旺季的预约可早期结束。
进行解说时,对于有可能发生的安全事故,徒步观光事务局和首尔文化观光
解说员概不负责。
未伴随保护者的未满14岁儿童游客,会在现场取消观光。
因发布微尘紧急低减措施及其他气象恶化(暴热、台风、暴雨等),无法运营 徒步观光时,所有预约会批量取消。
(观光前日基准)
预约前说明事项
观光日基准最少1日前方可进行预约。
本线路是为了行动不便者(行动不便的高龄者、残疾人、婴儿车利用者等)的路线。
无辅助人员(或同行人)伴随时,不可利用。
※ 步行不便者1名至少需要1名以上的辅助人员陪同。
※ 电动辅助器具(电动轮椅、电动独轮车等)使用者时,每一位辅助人员最多可陪同 4名步行不便者。
希望观光的日期及线路上无解说员时,预约有可能被取消。
为了确认预约,徒步观光事务局(02-6025-0777)会致电进行确认。
(最少5日~一个月前) 3次以上无法连接时,预约将被取消。
进行解说时,对于有可能发生的安全事故,徒步观光事务局和首尔文化观光解说员概不负责。
因发布微尘紧急低减措施及其他气象恶化(暴热、台风、暴雨等),无法运营 徒步观光时,所有预约会批量取消。
(观光前日基准)
預約前說明事項
觀光日基準最少3日前方可進行預約。
下個月的預約可從前月15日開始。
周末及公休日、春秋旺季的預約可早期結束。
希望观光的日期及线路上无解说员时,预约有可能被取消。
進行解說時,對於有可能發生的安全事故,徒步觀光事務局和首爾文化觀光解說員概不負責。
未伴隨保護者的未滿14歲兒童遊客,會在現場取消觀光。
因發布微塵緊急低減措施及其他氣象惡化(暴熱、臺風、暴雨等),無法運營 徒步觀光時,所有預約會批量取消。(觀光前日基準)
預約前說明事項
觀光日基準最少1日前方可進行預約。
本線路是為了行動不便者(行動不便的高齡者、殘疾人、嬰兒車利用者等)的路線。
無輔助人員(或同行人)伴隨時,不可利用。
※ 步行不便者1名至少需要1名以上的輔助人員陪同。
※ 電動輔助器具(電動輪椅、電動獨輪車等)使用者時,每壹位輔助人員最多可陪同 4名步行不便者。
希望觀光的日期及線路上無解說員時,預約有可能被取消。
為了確認預約,徒步觀光事務局(02-6025-0777)會致電進行確認。
(最少5日~壹個月前) 3次以上無法連接時,預約將被取消。
進行解說時,對於有可能發生的安全事故,徒步觀光事務局和首爾文化觀光 解說員概不負責。
因發布微塵緊急低減措施及其他氣象惡化(暴熱、臺風、暴雨等),無法運營 徒步觀光時,所有預約會批量取消。 (觀光前日基準)