>
Business & Partners
>
Seoul Tourism Certification Program
>
Newsletter(Seoul Tour+)
>
Seoul Tour+ articles
Seoul Tour+
Seoul's Top 10 Forest Trails for a Quiet Retreat
Published Date : Oct 05, 2020 / Edited Date : Oct 12, 2020
Seoul's Top 10 Forest Trails for a Quiet Retreat
If you lead a hectic life while only moving forward, maybe it is time to take a break for a while and find your own coordinates. If you look for them, there are forests that are ideal for spending some quiet time throughout Seoul. You do not need to prepare much other than some snacks and a book to read. Take a stroll in the forest or sit on a bench to rest. Now that it is autumn, the cool shade under the large trees is another gift from the forest.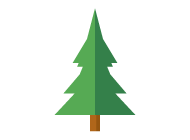 Metasequoia Forest Path on Ansan Jarak-gil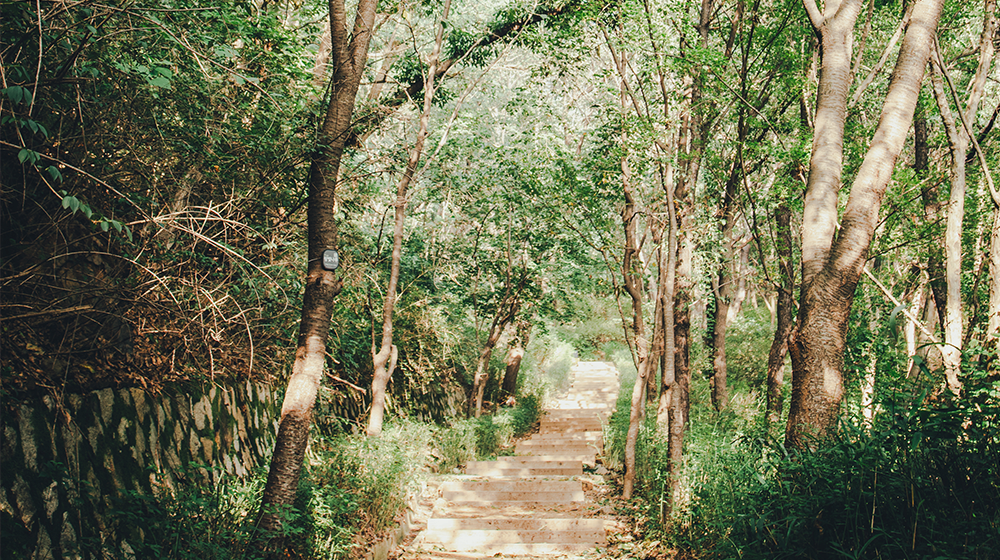 Green cast from overhead Ansan Jarak-gil is one of the places that best embodies the concept of "a forest in the city" as it is easily accessible from the center of the city and surrounded by a lush forest. There are various paths that lead to Ansan Jarak-gil, such as one starting at Dongnimmun Station, but if you want to go directly to the Metasequoia Forest Path, it is better to get started near the Seodaemun Museum of Natural History. Getting to the Metasequoia Forest Path involves a 15-minute climb up a gentle slope from the entrance to the trail. There are no signs to guide the way, but you will know you have reached the Metasequoia Forest Path when the green, leafy branches extending towards the sky cast shade from overhead. The colonies of metasequoia that have grown tall on both sides of wooden path exude a refreshing energy. If your physical strength permits, go up to the beacon fire station from the Metasequoia Forest Path through Muakjeong Pavilion. The panoramic view of Seoul spreading out from under your feet is quite the reward.
#Metasequoia #Relaxation #CityForestTrails #Green #BarrierFreeTrail

Address San 1, Bongwon-dong, Seodaemun-gu, Seoul

Tel +82-2-3140-8383 (Ansan Park Management Office)

Parking Seodaemun-gu Office Parking Lot 2 (Free for first 30 mins / KRW 500 every 5 mins after)
Bamboo Forest at Ichon Hangang Park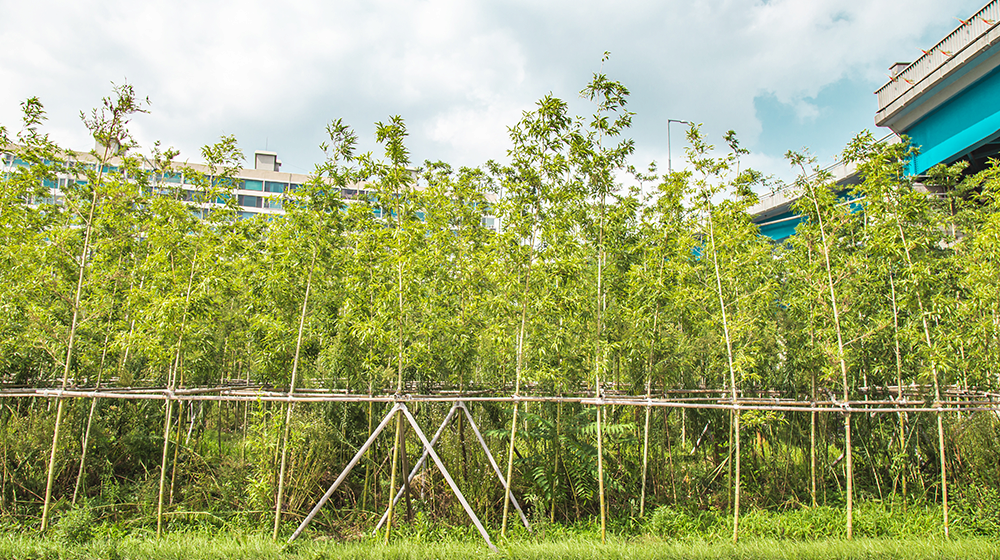 Reinvigorating energy for the body Seoul has recently created its first forest trail under the theme of bamboo. Last year, with a budget of KRW 4.6 billion invested in five Hangang Parks, the city planted a total of 11,707 trees, 5,471 of which were bamboo planted in Ichon Hangang Park. Bamboo and various shrubs grown in the southern part of Korea were planted to form a 1-kilometer forest path in the park. This path connecting Dongjakdaegyo Bridge and the Nature Exploration Area is often called Daetbaram Forest. It always offers green scenery, regardless of the season, and is adored as a lovely place to take a walk by the residents of nearby apartment complexes. One of little-known facts is that bamboo emits phytoncide at a concentration as high as that of cypress trees, providing a healing effect. As you walk through the dense bamboo forest, your whole body is filled with refreshing energy.
#SeoulBambooForest #IchonHangangPark #DaetbaramForest

Address 62, Ichon-ro 72-gil, Yongsan-gu, Seoul

Tel +82-2-3780-0551~4 (Ichon Information Center)

Parking Ichon Parking Lot 2 under Dongjakdaegyo Brige (KRW 1,000 for first 30 mins / KRW 200 every 10 mins after / Daily charge limit of KRW 10,000)
Nut Pine Tree Forest Park Path at Hoamsan Mountain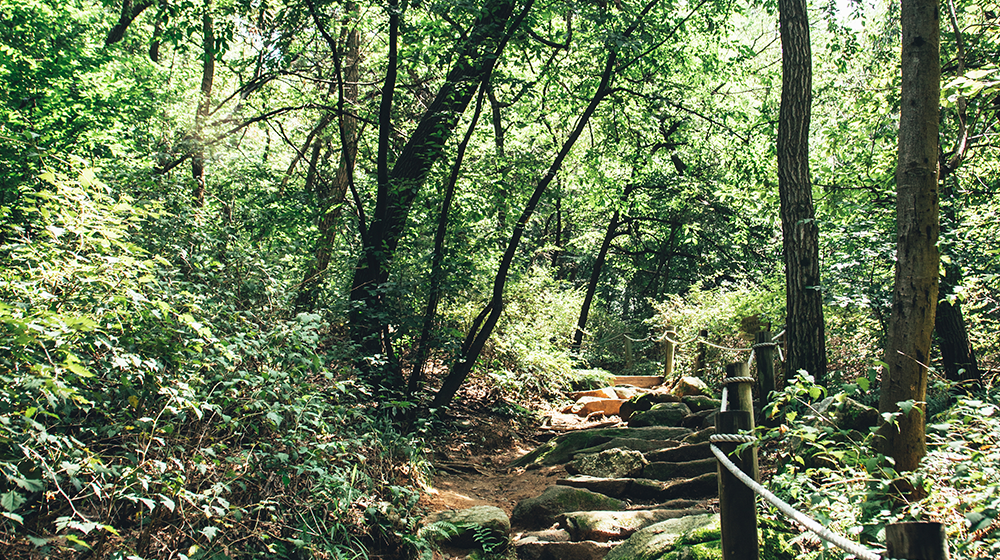 A phytoncide picnic "To walk in a forest or to expose the whole body to the forest to absorb its energy." Nut Pine Tree Forest Park Path in Hoamsan Mountain provides an experience that lives up to this definition. To have this experience, you first need to find the entrance to Hoapsa Temple. Hoam Neulsol Trail (meaning "a trail where pine-scented wind always blows") extends over 1.2 km from the Hoapsa Temple parking lot to the Hoamsan Mountain Waterfall. The Nut Pine Tree Forest Park Path in Hoamsan Mountain is located within a section of this trail. The Nut Pine Tree Forest Park Path in Hoamsan Mountain, which is composed of 50,000 square meters of nut pine colonies, is brimming with substances that are good for the health, such as phytoncides, anions, and terpenes (organic compounds that are found in the forest, enhance the activity of the human body, and have a sterilization effect). Taking a stroll through a forest promotes stress relief, stabilizes the mind and body, and helps improve blood circulation. In addition, as the phytoncide of the nut pine trees have the effect of repelling pests such as mosquitoes, many people enjoy outdoor picnics in the forest even during the summer. Hoam Neulsol-gil, which is also connected to Seoul Dulle-gil, is a barrier-free forest trail through which wheelchairs can pass. The trail is also well-equipped with convenience facilities such as restrooms and rest areas.
#ForestStroll #Phytoncide #Healing #NutPine #BarrierFreeTrail #HoamNeulsolgil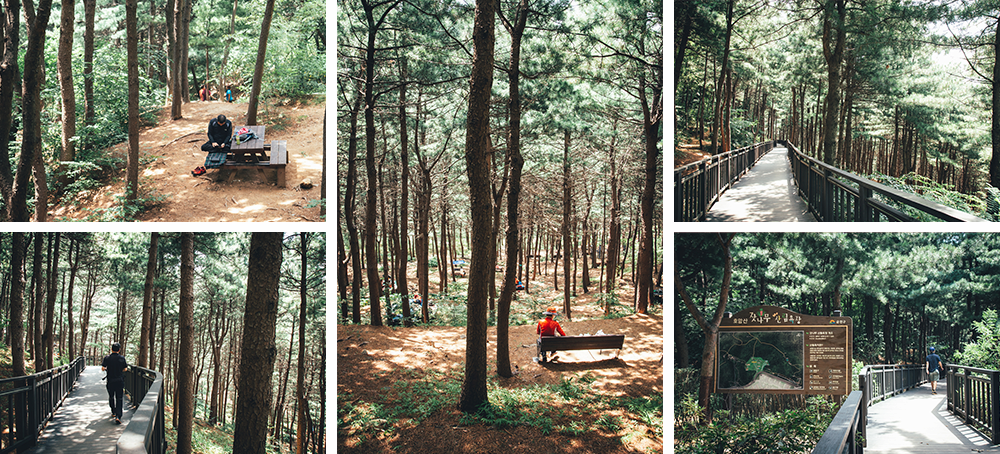 Address San 93-1, Siheung-dong, Geumcheon-gu, Seoul

Hours All lights of Hoam Neulsol-gil are turned off at 20:00 (All visitors must descend the mountain 10 minutes prior to the lights turning off)

Tel +82-2-2627-1662 (Geumcheon-gu Office Park & Greenery Division)

Parking Parking lot located on the way to Hoapsa Temple
Ui-dong Solbat Neighborhood Park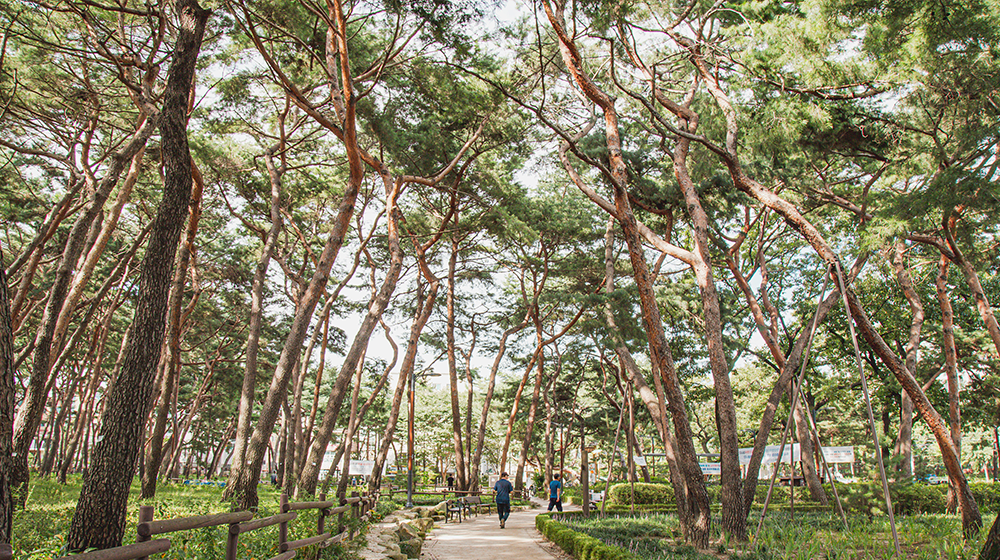 Home to wondrous pines The first section of Bukhansan Dulle-gil, which has more pine trees than any other species, is called the Pine Forest Trail. At the end of the pine trail is the Solbat Neighborhood Park. Located across from Duksung Women's University in a quiet residential area, this park has as many as 971 pine trees. Once you know the background story of the creation of this park, the pine trees become even more meaningful. In the past, this park was a part of the privately-owned land. When it was selected as an apartment development site in 1990 and the pine trees faced the threat of death, residents and local governments campaigned to preserve the forest of pine trees. The city of Seoul and Gangbuk-gu purchased the land in 1997 and opened Solbat Neighborhood Park in 2004. The park, with a total area of 34,955 square meters, is home not only to the pine tree forest, but also benches, playground, trails, and ponds, offering endless fun to strollers. Of course, the highlights are the pine trees that offer cool shade and the view of Bukhansan Mountain seen through the branches.
#PineTrees #LocalVibes #DuksungWomensUniversity #PlacesInUi-dong #DowntownRestArea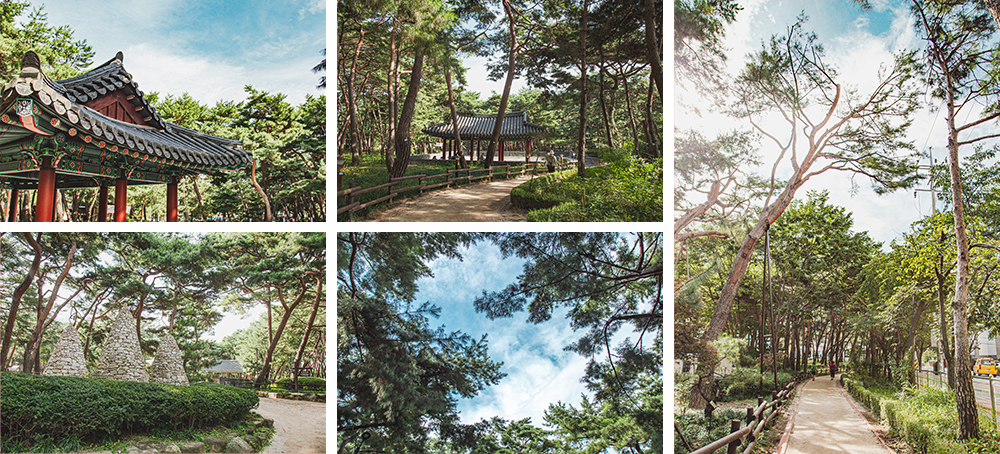 Address 561, Samyang-ro, Gangbuk-gu, Seoul

Tel +82-2-901-6939 (Solbat Neighborhood Park Management Office)

Parking N/A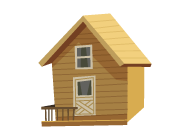 Samtaegi Forest in Sangwolgok-dong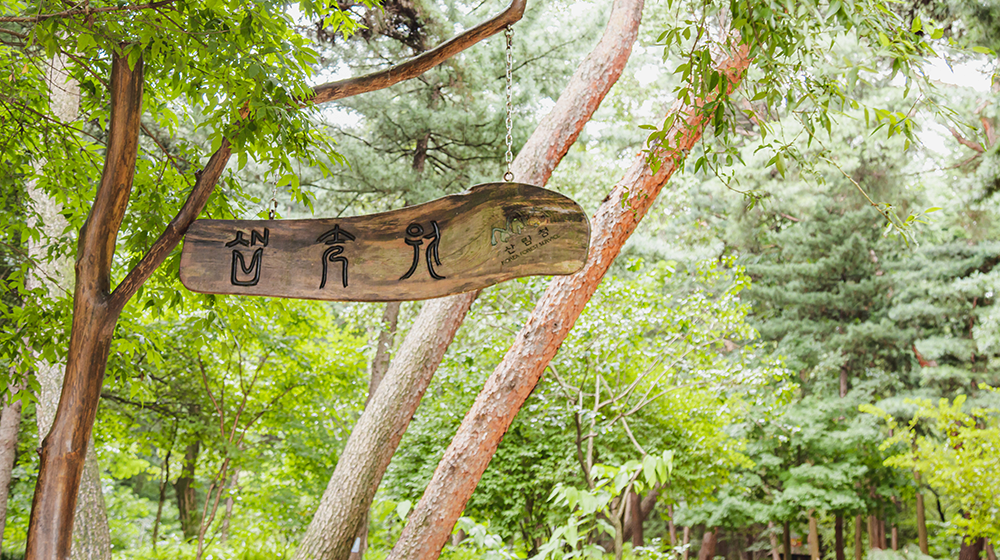 Big little forest The area around Sangwolgok-dong in Seoul has been called Samtaegi Village as it is the shape of a samtaegi (a traditional Korean farming tool used to carry soil and grain). This is why the small forest located in Sangwolgok-dong was named Samtaegi Forest, as well. The forest is found within the site of the Seoul National Forest Estate Management Office. This forest, which is owned by Korea Forest Service, opened to the public in 2015. Currently, the forest is open only on weekdays under the management of the Korea Forest Service. As you pass through the entrance to the Seoul National Forest Estate Management Office, you can see the path leading to the forest behind the building. By following the signs that say, "Route to Forest Trail," you can go around the entire forest. Though it is a well-managed artificial forest, you will feel like you are in nature if you keep walking along the soil path. Charming elements such as the pond, huts, and suspension bridge are popular with families with children.
#SamtaegiForest #NatureGetaway #Sangwolgokdong #BreakFromLife #FamilyRecreationalArea

Address 30, Hwarang-ro 18ga-gil, Seongbuk-gu, Seoul (Seoul National Forest Estate Management Office)

Hours Daily 09:00 – 17:00 (Children's Forest 10:00 – 12:00 & 13:00 - 15:00)

Tel +82-2-969-2003 (Seoul National Forest Estate Management Office)

Parking N/A (Parking lot is not open to the public)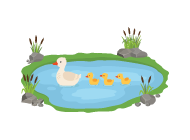 Gil-dong Ecological Park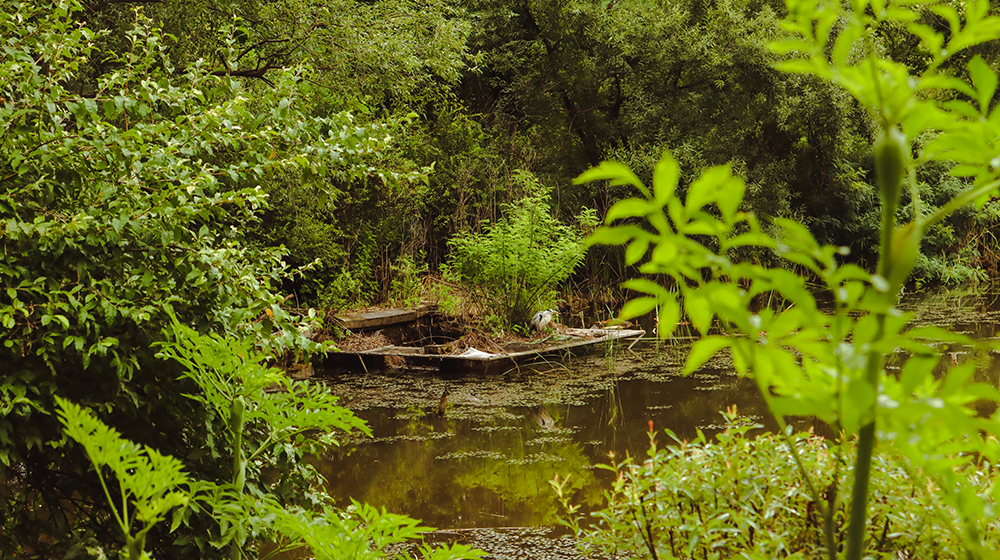 A Getaway from Seoul in Seoul You don't know how many car horns I heard before I traversed the long crosswalk to cross the street and entered Gil-dong Ecological Park. After I passed through the entrance and walked for about three minutes, Seoul had already slipped out of my mind. The sounds of tree leaves, branches, and bugs filled my ears. Even though it was a very hot day, the fresh, cool fragrances of the forest surrounded my entire body. Gil-dong Ecological Park is an eco-friendly ecological park created by Seoul as part of its 5-year plan to expand the green areas of parks. As the park was completed in 1998, the trees here have now grown tall and leafy. Nature doesn't age over time. The park stretches over about 79,000 square meters, consisting of a variety of theme zones such as the Square, Reservoir, Grassland, Swamp, Forest, and Farming. Two hours is enough to take a leisurely tour of the park. The most charming zone of Gil-dong Ecological Park is the Forest Zone. The wooden path that seems to stretch out endlessly refreshes the eyes. The temperature is always cool in the lush green forest as if it is autumn throughout the year. On the way to the forest, I saw a kingfisher and a heron in the pond and met an earthworm and the caterpillar of an old world swallowtail. This place was the perfect getaway from Seoul in Seoul.
#Cheonhodong #GildongEcologicalPark #ForestZone #DateSpot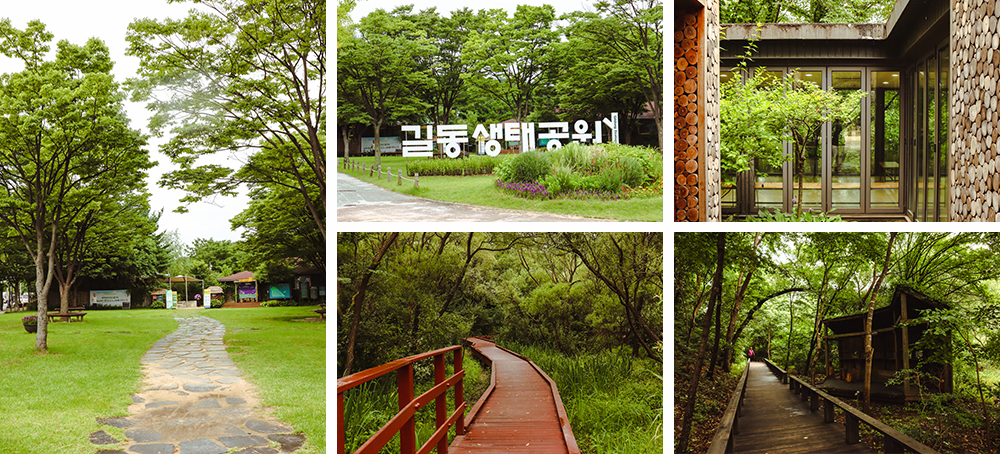 Address 1291, Cheonho-daero, Gangdong-gu, Seoul

Hours Daily 10:00 - 17:30 (Closed Mondays & Closes at 5:00 p.m. during winter) * Online reservations required

Website https://blog.naver.com/sdmstory

Tel +82-2-472-2770 (Gil-dong Ecological Park Information Center)

Capacity 30-60 per tour during pre-booked tour entrance hours (10:00 – 16:00) / 15-30 per program & Up to 400 per day

Parking Gil-dong Ecological Park parking lot (Accommodates up to 26 vehicles)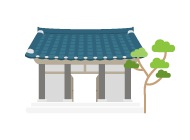 Nadeul-gil in Seonjeongneung Royal Tombs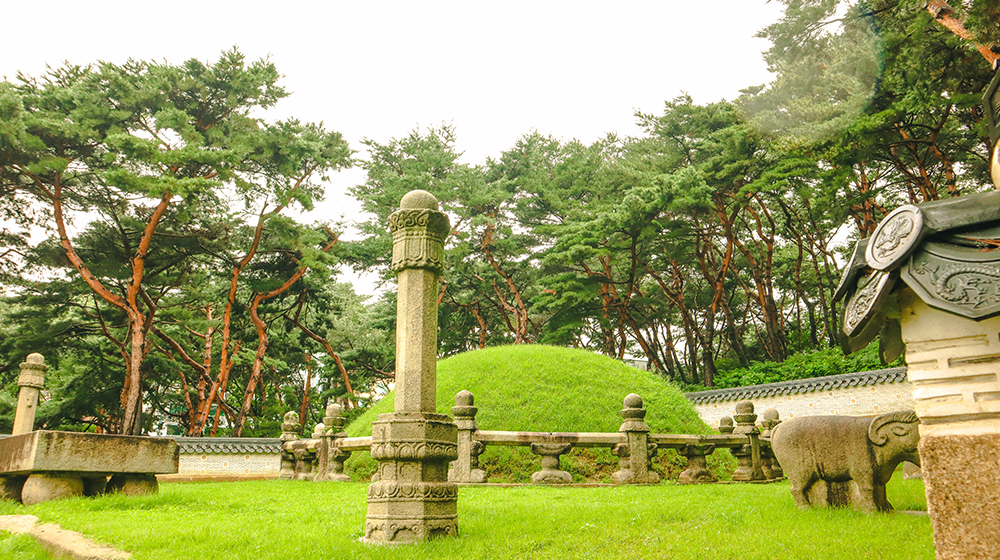 A green island in Gangnam From a bird's-eye view, Seonjeongneung Royal Tombs look like a remote island. In the tightly packed, gray city center, it is the only space that is green in color. A 5-minute walk from Exit 8 of Seolleung Station takes you to the entrance to Seonjeongneung Royal Tombs. As it is so close to the city center, the royal tombs have become ordinary paths for office workers in the area. Designated as a UNESCO World Heritage Site on June 2009, Seonjeongneung Royal Tombs consist of three royal tombs: Seolleung Royal Tomb, a Tomb of King Seongjong who laid the ground work for the royal politics based on the Confucianism; Joengneung Royal Tomb, a Tomb of King Jungjong; and a Tomb of Queen Jeonghyeon, a second wife of King Seongjong. It is also a place that witnessed the tragic history in which the royal tombs were destroyed and the coffins of the kings and queens laid to rest here were burned by the Japanese troops during the Japanese Invasion of Korea in 1592. Nature comforts history in its own way. Wild cherry trees extend their branches far to shield the tombs from the sun. The splendid curves of the oak and pine trees are dynamic like the piece of work of a great master of calligraphy. The path from Jeongneung Royal Tomb to Seolleung Royal Tomb presents a particularly beautiful scenery. Walking along the soft soil path, you feel as if you are in an oriental painting.
#SeonjeongneungRoyalTombs #SeolleungStationExit8 #Nadeulgil #UNESCO #WorldHeritageSite

Address 1, Seolleung-ro 100-gil, Gangnam-gu, Seoul

Hours Daily 06:00 – 21:00 (March – October 06:00 – 18:00 / February 06:30 – 17:30 / November – January Closed Mondays)

Website royaltombs.cha.go.kr

Tel +82-2-568-1291 (Seolleung Management Office)

Admission KRW 1,000 per Korean national / KRW 800 per Korean group visitor / KRW 1,000 per foreign visitor (KRW 500 for minors 18 & under) / KRW 800 per foreign group visitor (KRW 400 for minors 18 & under) / * Pets not permitted

Parking Seonjeongneung Royal Tombs parking lot (Capacity: Approx. 50 / KRW 400 every 5 mins / KRW 600 every 5 mins after the first 2 hours)

Regular Guided Tour Provided on regular basis regardless of number of participants (Reservation required for groups of 10 or more)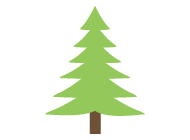 Metasequoia Path in Yangjae Citizen's Forest
Nature's perfect autumn path in Seoul The waterways that run through Seoul are largely divided into Cheonggyecheon Stream, Hangang River, and Yangjaecheon Stream. Yangjaecheon Stream rises from Gwanaksan Mountain, comes down around the south of Seocho-gu and Gangnam-gu, and flows into the Tancheon Stream to join the Hangang River. Yangjae Citizen's Forest is Korea's first park designed with a forest concept. In other words, the park is literally a forest filled with innumerable trees, rather being just a few trees throughout the city center. Trees are everywhere, boasting their lushness. As you walk in this forest, you often come across metasequoia paths. Of all these paths, the most popular is the Philosopher's Path within Seocho Culture and Arts Park that is located next to Yangjae Citizen's Forest. As there are various sculptures on display in the woods, you feel as if you are taking a tour of an art gallery in nature while strolling along the paths. The Metasequoia path creates the most beautiful scenery in autumn. As their leaves turn red, they fall to the ground, creating a red carpet. The richer colors of autumn harmonize with the high, blue sky.
#AutumnHotSpot #FoliagePhotoHotSpot #YangjaeCitizensForest #BestPhotoSpots #SeochoPhilosophersPath
Address 99, Maeheon-ro, Seocho-gu, Seoul

Hours Always open

Tel +82-2-575-3895 (Yangjae Citizen's Forest Office) & +82-2-2181-1184 (Park and Leisure Department)

Parking Yangjae Citizen's Forest Public Parking Lots (Daily 08:00 - 21:00 / KRW 1,500 for 30 mins & KRW 3,000 for 1 hour)
Pine Nut Forest on Opaesan Mountain Nadeul-gil (Trail)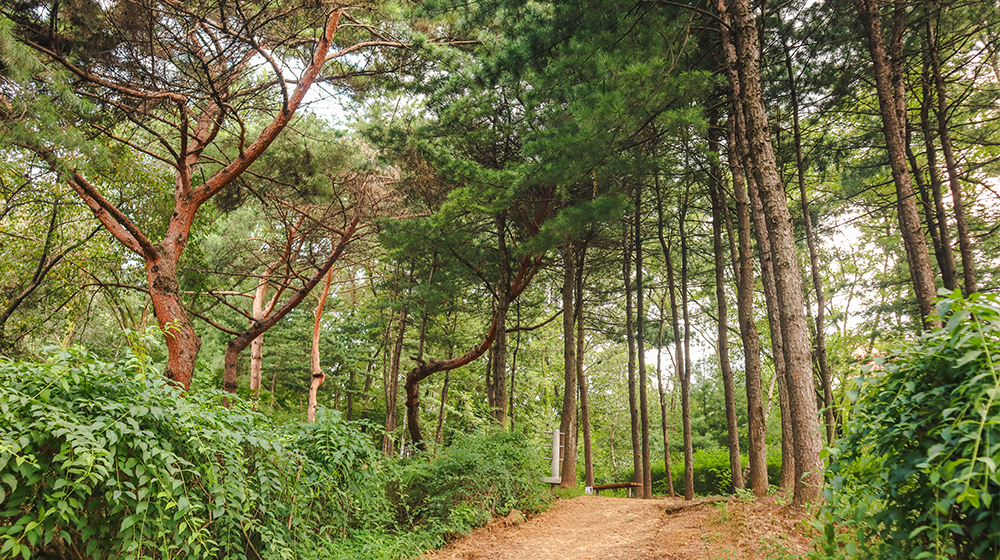 A breath of nature After a 10-minute walk from exit 2 of Suyu Station, Opaesan Tunnel comes into sight although Seoul is still covered in gray. As you climb the stairs avoiding the lines of cars pouring out of the tunnel, the entrance to Opaesan Mountain Nadeul-gil reveals itself. You are truly lucky to be able to encounter such well-preserved nature in the middle of the city. Opaesan Mountain Nadeul-gil is a hilly road formed by the two peaks of Opaesan Mountain (115 meters) and Byeogosan Mountain (135 meters). Along this trail that stretches a total length of about 2 kilometers, you can take a leisurely tour of the areas surrounding the trail in an hour. The foot of the mountain is embraced by plum trees that bloom in spring. When the flowers fall, sweet plums appear where the flowers once were. Walking slowly along the trail, you feel your breathing become much easier at some point. This is thanks to numerous pine trees that surround you. Phytoncides are generated in much larger quantities by needleleaf trees, such as pine and nut pine trees, compared to broad-leaved trees. The end of Opaesan Mountain Nadeul-gil(Trail) is the beginning of Kkotsaem-gil Trail, a flower garden created by photographer Kim Yeong-san in 1994 while he was battling cancer. Like its name "Kkotsaem" (spring of flowers), flowers bloom here as steadily as spring water.
#OpaesanMountainTrail #NutPineForest #PlumTrees #NearbyMountains

Address b> [Vicinity of] San 17-3, Beon-dong, Gangbuk-gu, Seoul

Hours Always open

Parking N/A
Hongneung Forest of the National Institute of Forest Science
A forest with traces of history The Korea Forest Service has designated and managed "National Forest Cultural Assets" that retain the traces of the lives of ancient Koreans who pursued coexistence with the forest and have great preservation value in historical, ecological, and scenic aspects. Currently, the title of National Forest Cultural Asset No. 1 is held by Hongneung Forest located in Hoegi-dong, Dongdaemun-gu. Hongneung Forest, which is Korea's first arboretum, was created in the establishment of a forestry test site in Hongneung, the tomb of Empress Myeongseong, the wife of Emperor Gojong, in 1922. The test site was changed to the National Institute of Forest Science in 2004. The oldest tree in this Hongneung Forest, which is over 100 years old, is probably the pine tree standing on the lawn in front of the Forest Conservation Research Building. This tree, born in 1892, is about 130 years old. If you take a walk along the forest trail behind the Forestry and Conservation Research Building by starting from this tree, you will reach the site of Hongneung Royal Tomb (Tomb of Emperor Gojong). In the center of the site stands an extremely twisted pine tree. Behind the tree is Eojeong, which is well-known as the place where Emperor Gojong drank water when he visited the tomb of Empress Myeongseong. There are also five different trails, including the Millenary Forest Trail, the Empress's Trail, the Forest Exploration Trail, the Cheonjangmaru Trail, and the Munbaenamu Trail . Walking through a forest that holds the history of Seoul in the heart of the city is true romance.
#HongneungForest #KoreasFirstArboretum #EmpressMyeongseong #130YearPine #NationalForestCulturalAsset

Address 57, Hoegi-ro, Dongdaemun-gu, Seoul

Hours Forest Tour [March to November]
* Tuesday – Friday 10:30, 13:30 & 16:30
(Online reservations required / Closed Mondays / Only forest tours are available on weekdays / * Saturday – Sunday 10:30, 14:00)
(Reservations not required / Tours start from the Korean flowering cherry rest area in front of the Forest Science Hall / Closed on national holidays) Non-guided Tours (Weekends) [March to October] 09:00 - 18:00 & [November to February] 09:00 – 17:00

Website https://www.forest.go.kr/newkfsweb/html/HtmlPage.do?pg=/rest/rest_0701.html&mn=KFS_14_01_10_02_08

Tel +82-2-961-2777 (Hongneung Experimental Forest)

Capacity Up to a group of 60 with reservations

Parking N/A
예약 전 안내사항
예약은 관광일 기준 최소 3일 전까지 가능합니다.
기존 등록된 예약 중 그룹별 정원을 초과하지 않는 예약에 한하여 1일 전 17시까지 추가예약 가능합니다.
최소 출발 인원은 3인부터 입니다. 관광일 2일 전 17시까지 누적예약인원이 3인 미만일 경우 예약은 자동 취소되며, 출발 및 취소 여부는 문자와 메일로 안내드립니다.
다음달 예약은 전달 15일 이후부터 가능합니다.
주말 및 공휴일, 봄 가을 성수기에는 예약이 조기 마감될 수 있습니다.
해설 진행 시 발생하는 안전사고에 대해서 도보관광 사무국과 서울문화관광해설사는 책임을 지지 않습니다.
보호자가 동반하지 않는 만 14세 미만의 하동 관광객의 경우 현장에서 취소됩니다.
미세먼지 비상저감조치 발령 및 기타 기상악화(폭염, 태풍, 폭우 등)로 인해 도보관광 운영이 어려운 경우 모든 예약은 일괄 취소됩니다. (관광일 전날 기준)
예약 전 안내사항
예약은 관광일 기준 최대 6개월 전부터 최소 5일 전 까지 신청 가능합니다.
희망하시는 날짜 및 코스에 활동가능한 해설사가 없는 경우 예약은 취소될 수 있습니다.
특히 주말 및 공휴일, 봄(4~5월) 가을(9~11월) 성수기에는 예약이 조기마감 되오니 이 점 유의하여 주시기 바랍니다.
예약확인을 위해 도보관광 사무국(02-6025-0777)에서 확인 연락이 진행됩니다.
(최소 5일~한달 전)3회 이상 전화통화가 이뤄지지 않을 시 예약이 취소될 수 있습니다.
경복궁, 창덕궁, 창경궁, 덕수궁 35인 이상 관람 시, 해당 궁궐 사이트에서 15일 전 단체 입장신청이 필요합니다. (2014.1.1.부터 시행)
해설 진행 시 발생하는 안전사고에 대해서 도보관광 사무국과 서울문화관광해설사는 책임을 지지 않습니다.
보호자가 동반하지 않는 만 14세 미만의 하동 관광객의 경우 현장에서 취소됩니다.
미세먼지 비상저감조치 발령 및 기타 기상악화(폭염, 태풍, 폭우 등)로 인해 도보관광 운영이 어려운 경우 모든 예약은 일괄 취소됩니다. (관광일 전날 기준)
예약 전 안내사항
예약은 관광일 기준 최소 1주일 전까지 가능합니다.
덕수궁의 경우 복지카드를 지참한 관광객에 한하여 무료입장이 가능합니다.
※ 중증(1~3급) 동반인 포함 2명 무료※ 경증(4~6급) 장애인 본인 1인만 무료
보호자 또는 보조자가 동반하지 않을 경우 이용이 불가능 합니다.※ 별도의 보조자가 없는 경우 사무국으로 문의 바랍니다. (02-6025-0777)
희망하시는 날짜 및 코스에 활동가능한 해설사가 없는 경우 예약은 취소될 수 있습니다.
예약확인을 위해 도보관광 사무국(02-6025-0777)에서 확인 연락이 진행됩니다.(최소 5일~한달 전)3회 이상 전화통화가 이뤄지지 않을 시 예약이 취소될 수 있습니다.
해설 진행 시 발생하는 안전사고에 대해서 도보관광 사무국과 서울문화관광해설사는 책임을 지지 않습니다.
미세먼지 비상저감조치 발령 및 기타 기상악화(폭염, 태풍, 폭우 등)로 인해 도보관광 운영이 어려운 경우 모든 예약은 일괄 취소됩니다. (관광일 전날 기준)
예약 전 안내사항
예약은 관광일 기준 최소 1주일 전까지 가능합니다.
덕수궁의 경우 복지카드를 지참한 관광객에 한하여 무료입장이 가능합니다.
※ 중증(1~3급) 동반인 포함 2명 무료
※ 경증(4~6급) 장애인 본인 1인만 무료
본 프로그램은 수화해설 중심으로 진행되며, 수화가 불가능한 경우 이용이 불가합니다.
희망하시는 날짜 및 코스에 활동가능한 해설사가 없는 경우 예약은 취소될 수 있습니다.
예약확인을 위해 도보관광 사무국(02-6025-0777)에서 확인 연락이 진행됩니다.
(최소 5일~한달 전)3회 이상 전화통화가 이뤄지지 않을 시 예약이 취소될 수 있습니다.
해설 진행 시 발생하는 안전사고에 대해서 도보관광 사무국과 서울문화관광해설사는 책임을 지지 않습니다.
미세먼지 비상저감조치 발령 및 기타 기상악화(폭염, 태풍, 폭우 등)로 인해 도보관광 운영이 어려운 경우 모든 예약은 일괄 취소됩니다. (관광일 전날 기준)
예약 전 안내사항
예약은 관광일 기준 최소 1주일 전까지 가능합니다.
본 코스는 보행약자(거동이 불편한 고령자, 장애인, 유모차 이용자 등)를 위한 코스입니다.
보호자를 동반하지 않을 시 이용이 불가능 합니다.※ 보행약자 1명당 보호자 최소 1인 이상 동반
※ 전동보장구(전동휠체어, 전동스쿠터 등) 사용자의 경우 보호자 1인당 보행약자 최대 4인까지 동반 가능
희망하시는 날짜 및 코스에 활동가능한 해설사가 없는 경우 예약은 취소될 수 있습니다.
예약확인을 위해 도보관광 사무국(02-6025-0777)에서 확인 연락이 진행됩니다.(최소 5일~한달 전)3회 이상 전화통화가 이뤄지지 않을 시 예약이 취소될 수 있습니다.
해설 진행 시 발생하는 안전사고에 대해서 도보관광 사무국과 서울문화관광해설사는 책임을 지지 않습니다.
미세먼지 비상저감조치 발령 및 기타 기상악화(폭염, 태풍, 폭우 등)로 인해 도보관광 운영이 어려운 경우 모든 예약은 일괄 취소됩니다. (관광일 전날 기준)
Read before Reservation
Reservation shall be made at least 3 days before the tour day.
Reservation for the next month is available after 15th of the previous month.
Reservation may be closed early during weekend, holiday, and peak season in spring and fall.
Seoul Guided Walking Tour Office and Seoul culture and tourism guide are not liable for the safety accidents during the Seoul Guided Walking Tour.
Reservation for unaccompanied tourist under 14 will be canceled on site.
All reservations are canceled when Seoul Guided Walking Tour is unavailable due to Particulate Matter Reduction Measure or other weather conditions (heat wave, typhoon, heavy rain). (As of the date before the tour day)
Read before Reservation
Reservation shall be made at least 1 week before the tour day.
The course is for tourists with mobility problems (Senior, people with disability, stroller user).
You may not use the course without an assistant (or companion)
※ At least one assistant shall accompany a tourist with mobility problem
※ In case of electric assisting device users (electric wheelchair, electric scooter users), one assistant may accompany up to 4 tourists with mobility problem
Reservation may be canceled when a guide is unavailable on the desired date and course.
Seoul Guided Walking Tour Office (02-6025-0777) will contact you to confirm reservation.
(At least 5 days~1 month before tour day) Reservation may be canceled when Seoul Guided Walking Tour Office cannot reach you for more than 3 times.
Seoul Guided Walking Tour Office and Seoul culture and tourism guide are not liable for the safety accidents during the Seoul Guided Walking Tour.
All reservations are canceled when Seoul Guided Walking Tour is unavailable due to Particulate Matter Reduction Measure or other weather conditions (heat wave, typhoon, heavy rain). (As of the date before the tour day)
预约前说明事项
观光日基准最少3日前方可进行预约。
下个月的预约可从前月15日开始。
周末及公休日、春秋旺季的预约可早期结束。
进行解说时,对于有可能发生的安全事故,徒步观光事务局和首尔文化观光
解说员概不负责。
未伴随保护者的未满14岁儿童游客,会在现场取消观光。
因发布微尘紧急低减措施及其他气象恶化(暴热、台风、暴雨等),无法运营 徒步观光时,所有预约会批量取消。
(观光前日基准)
预约前说明事项
观光日基准最少1日前方可进行预约。
本线路是为了行动不便者(行动不便的高龄者、残疾人、婴儿车利用者等)的路线。
无辅助人员(或同行人)伴随时,不可利用。
※ 步行不便者1名至少需要1名以上的辅助人员陪同。
※ 电动辅助器具(电动轮椅、电动独轮车等)使用者时,每一位辅助人员最多可陪同 4名步行不便者。
希望观光的日期及线路上无解说员时,预约有可能被取消。
为了确认预约,徒步观光事务局(02-6025-0777)会致电进行确认。
(最少5日~一个月前) 3次以上无法连接时,预约将被取消。
进行解说时,对于有可能发生的安全事故,徒步观光事务局和首尔文化观光解说员概不负责。
因发布微尘紧急低减措施及其他气象恶化(暴热、台风、暴雨等),无法运营 徒步观光时,所有预约会批量取消。
(观光前日基准)
預約前說明事項
觀光日基準最少3日前方可進行預約。
下個月的預約可從前月15日開始。
周末及公休日、春秋旺季的預約可早期結束。
希望观光的日期及线路上无解说员时,预约有可能被取消。
進行解說時,對於有可能發生的安全事故,徒步觀光事務局和首爾文化觀光解說員概不負責。
未伴隨保護者的未滿14歲兒童遊客,會在現場取消觀光。
因發布微塵緊急低減措施及其他氣象惡化(暴熱、臺風、暴雨等),無法運營 徒步觀光時,所有預約會批量取消。(觀光前日基準)
預約前說明事項
觀光日基準最少1日前方可進行預約。
本線路是為了行動不便者(行動不便的高齡者、殘疾人、嬰兒車利用者等)的路線。
無輔助人員(或同行人)伴隨時,不可利用。
※ 步行不便者1名至少需要1名以上的輔助人員陪同。
※ 電動輔助器具(電動輪椅、電動獨輪車等)使用者時,每壹位輔助人員最多可陪同 4名步行不便者。
希望觀光的日期及線路上無解說員時,預約有可能被取消。
為了確認預約,徒步觀光事務局(02-6025-0777)會致電進行確認。
(最少5日~壹個月前) 3次以上無法連接時,預約將被取消。
進行解說時,對於有可能發生的安全事故,徒步觀光事務局和首爾文化觀光 解說員概不負責。
因發布微塵緊急低減措施及其他氣象惡化(暴熱、臺風、暴雨等),無法運營 徒步觀光時,所有預約會批量取消。 (觀光前日基準)