>
Business & Partners
>
Seoul Tourism Certification Program
>
Newsletter(Seoul Tour+)
>
Seoul Tour+ articles
Seoul Tour+
Freshly-brewed Beer on Site: Brewpubs in Seoul
Published Date : Jul 28, 2020 / Edited Date : Oct 20, 2020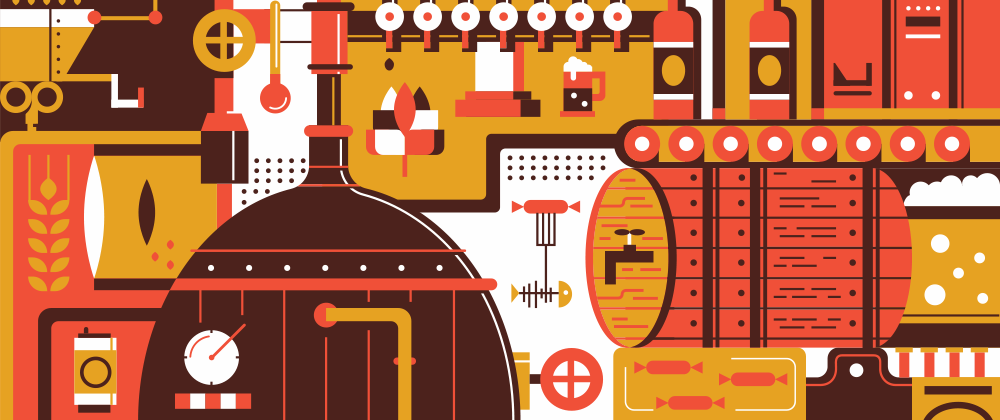 Made in Seoul
Freshly-brewed Beer on Site: Brewpubs in Seoul
Brewpubs refers to pubs that serve beer brewed on the premises. Did you know that there are 19 brewpubs in Seoul? Brewpubs are different from tap houses that sell craft beer supplied by different brands. The recent revision of alcoholic beverage laws has opened a new era of alcohol consumption where people can choose and purchase from a wide array of craft beer even at convenience stores—but nothing beats the fresh taste of draft beer from brewery tanks. However, as demand for craft beer increases, breweries are moving to other regions for bigger plants. This means that Seoul has now less than 20 places where you can get a fresh taste of craft beer and take photos against the background of brewing tanks. Here is a list of brewpubs in Seoul that produces the most refreshingly delectable beer.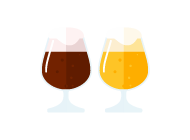 Seoul Brewery
Best ingredients guaranteed
What is most attractive about Seoul Brewery is its location at a secluded area. Renovated from an old house near the Dangilli Power Plant in Hapjeong, the brewery has a quaint atmosphere with an interior design emphasizing dark wood patterns and an outdoor terrace. Seoul Brewery's craft beer menu, put together by a Canadian head brewer and Korean brewers, is filled with IPAs and porters, as well as seasonal beers flavored with unique ingredients, such as Night Bloom Gose and Irish Coffee Red Ale. The secret to Seoul Brewery's excellent beer is that it always uses the best ingredients without cutting corners. Although it is a relatively new brewery that was established in 2017 and introduced its first beer in March 2018, it is ranked the highest among domestic breweries, receiving over 1,300 evaluations from the beer rating app Untappd. The food menu, put together by professional chefs, includes salads, tacos, burgers, and chicken, making the brewery a perfect place to dine as well. Seoul Brewery in Hannam is more specialized in dining than the main brewery in Hapjeong, and all the chefs are from the Culinary Institute of America, a prestigious culinary school. What's surprising is that while the menu seems to be Western-influenced, it still epitomizes Korean drinking culture by serving snacks, including peanuts and anchovies with red pepper paste to go with the drinks.

Address

10, Tojeong-ro 3an-gil, Mapo-gu, Seoul

Hours

Weekdays 18:00 – 24:00 / Saturdays 13:00 – 24:00 / Sundays 13:00 – 23:00

Website www.seoulbrewery.com

Instagram

@dotori_brothers

Tel

+82-70-7756-0915

Menu

Robust Porter KRW 8,000 / Fish and Chips KRW 15,000

Capacity

Approx 50 (Hapjeong branch)

Parking

N/A

Languages

ENG
Beervana
A hot rooftop pub in Mullae-dong
Beervana is a combination of "beer" and "nirvana," meaning "beer paradise." The name also connotes Portland, the home of craft beer. Located in an alley of Seoul Art Space Mullae, Beervana was renovated from a former steelworks building. The first floor of the three-story building operates as a brewery, and the second and third floor rooftops serve as pubs for customers to enjoy its fresh beer. If you're worried about which beer to choose at your first visit, look no further than its award-winning beers: Yeongdeung Porter, Savana IPA, and Viva Lager won gold, silver, and bronze medals, respectively, at the 2019 Asia Beer Championship. If you're feeling a bit frisky and want to try something out of the ordinary, you can try these beer with exotic names, such as Glowing Clouds Pale Ale and Grapefruit Chruuup Sour Ale. If you're still not sure what to choose, you can order their Beervana sampler that allows you to taste a variety of beer at once. The food menu focuses on snacks that go well with beer, such as barbecued pork ribs and grilled pork belly. A brewery tour is available if you make a reservation in advance that includes anywhere from 6 – 20 people; however, availability depends on the brewing schedule.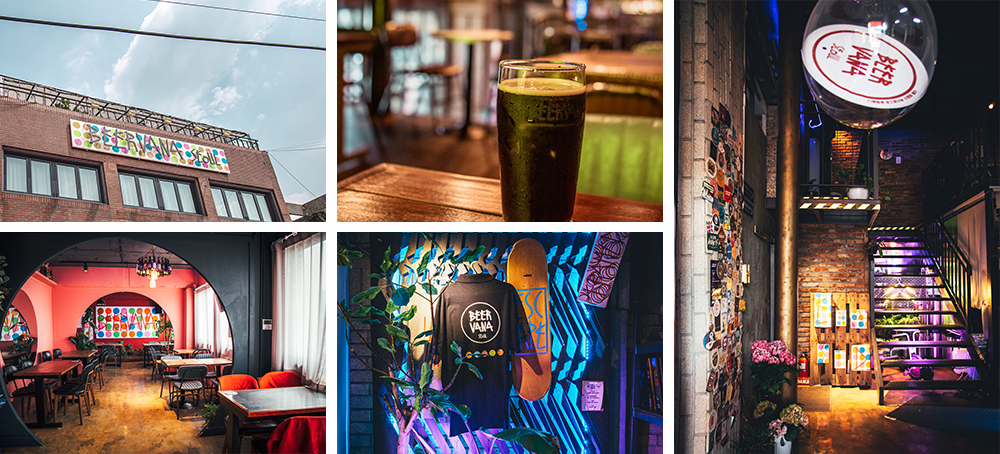 Address

5-1, Dorim-ro 129-gil, Yeongdeungpo-gu, Seoul

Hours

Weekdays 17:00 – 01:00 / Saturdays 15:00 – 01:00 / Sundays 15:00 – 24:00

Instagram

@beervana_brewery_seoul

Tel

+82-2-2634-6277

Menu

Beervana Sampler KRW 21,000 / BBQ Pork Ribs KRW 22,000

Capacity

Approx 140 - 160

Parking

N/A

Languages

ENG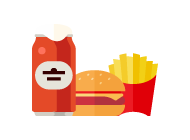 Mysterlee Brewing Company
A cozy daytime nook for beer fanatics
Mysterlee Brewing Company is located near Gongdeok Station where the Gyeongui Line Forest Park Trail passes through. This brewery, founded by two Korean beer aficionados, is much-loved by locals and nearby office workers. As it offers a wide range of beer, including IPA, pale ale, pilsner, weizen, and stout, it may take a long time for you to go through the entire menu. The two owners who studied and built up their careers in the US showcase new beer of their own style. They also put much care into their food menu, serving fine Italian dishes, such as pizza made with handmade dough and fresh pasta. During lunchtime, from 11:30 am to 2 pm, customers can order three kinds of burgers made with handmade beef patties and Richmond Bakery's buns. The pub, contrary to the popular notion of dark-lit pubs, is well lit with natural sunlight shining through tall glass windows. Although the tables aren't well spaced out, it doesn't feel stuffy inside as the dining hall has a high ceiling.

Address

311, Dongmak-ro, Mapo-gu, Seoul

Hours

Daily 11:30 – 24:00

Instagram @mysterlee_brewing_company

Tel

+82-2-3272-6337

Menu

Sampler (6 kinds of beer) KRW 26,900 / Pizza Margherita KRW 19,000

Capacity

Approx 80

Parking

Ground/underground parking on premises (Free for first hour / KRW 500 per extra 10 mins)

Languages

ENG
Indie Beer Factory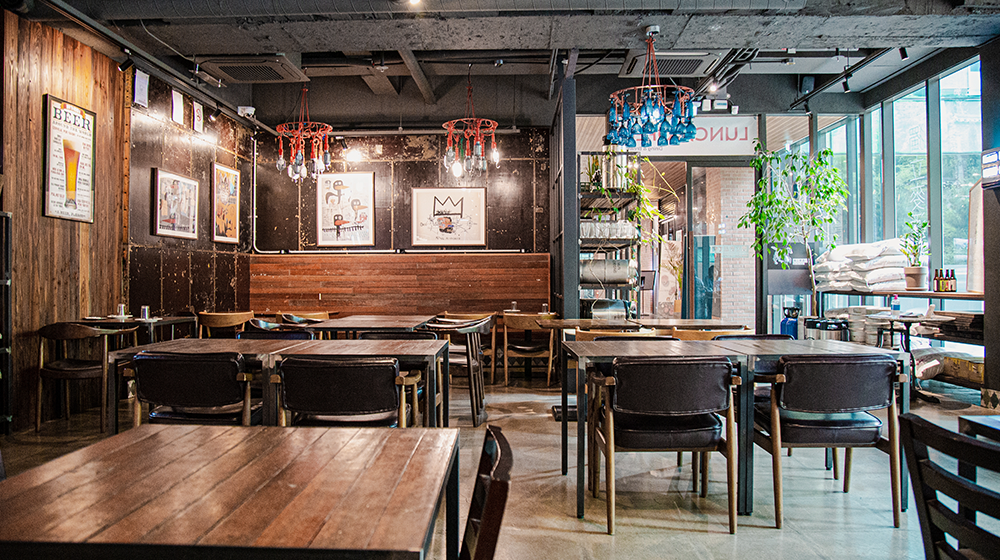 Enjoy a pint during lunch
Owned by a perfect duo of former chef and young, trendy brewer, Indie Beer Factory has become a popular beer pub at Jeongdong-gil in only about two years after its opening. Showcasing a beer lineup based on the identity of Jeongdong-gil, such as Jeongdong IPA and Ihwa Saison, as well as delectable dishes, including pasta, risotto, and sous vide steak, the pub went viral among local office workers. Another pro is that the pub offers set menus of beer and food for parties of two to four persons, relieving customers from their indecisiveness. Indie Beer Factory's Lunch Beer, served in a 320-ml glass, is a perfect refreshment during a short lunch break. While most breweries have their brewing facilities in separate spaces, Indie Beer Factory very unusually has its brewing tanks on the other side of the pub past the glass walls. Maybe that's why a glass of beer in your hand feels much fresher here. A brewery tour is available with advanced reservation.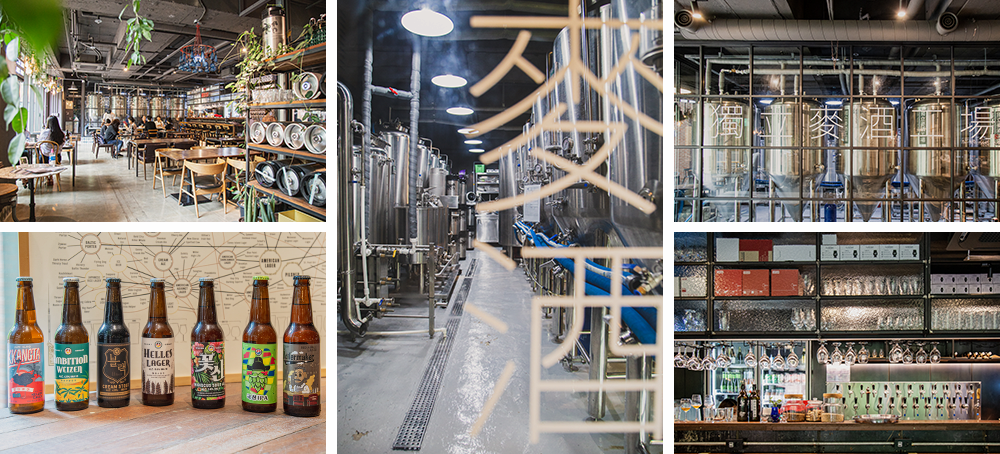 Address

17, Jeongdong-gil, Jung-gu, Seoul

Hours

Weekdays 11:30 – 23:00 (Break Time 14:30 – 17:00) / Saturdays 14:30 – 23:00




* Closed Sundays

Website indiebeerfactory.co.kr

Instagram

@indiebeer_factory

Tel +82-2-3789-2890

Menu

Indie Brewery Lunch Beer (IPA, Saison & Stout) KRW 25,000 / Risotto with Shrimp and Glutinous Barley (Lunch) KRW 14,500

Capacity

Approx 60

Parking

Parking on premises (Free for 2 hours)

Languages

ENG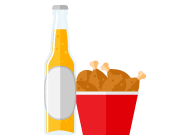 Brewery 304
Communicating through beer
Brewery 304, which started as a small brewery in Asan, Chungcheongnam-do, moved to Seoul last July to "communicate" with more people. It settled in the present location, next to Yeongcheon Market near Seodaemun Gate. The brewery was built by remodeling a concrete building from the 1960s over the course of a year from 2018 to 2019. Did you know that Brewery 304 has a separate "tap room" created especially for beer aficionados? The menu features so many experimental beers, including Pluto Blonde Ale, Mint Chocolate Stout, Raspberry Pink Saison, and the recently released Tropical Nepa, that show an adventurous spirit in food pairing. Previously, it served chicken dishes in collaboration with Hyodo Chicken in Nonhyeon-dong, which is famous for its fried chicken with anchovies and shishito peppers. Currently, it serves unique dishes, such as Jjamppongtang (spicy seafood soup) with tomatoes and udon salad in collaboration with the Japanese homemade food restaurant Salon de Ikkoi. Brewery 304's 304 Studio on the third floor is operated as a "no-purpose space" that is open to any cultural activities, including exhibitions and cultural classes. The space can be rented for six to 15 people, and they can relish beer and food provided by 304 Tap Room in their own private area.
Address

7, Tongil-ro 11-gil, Seodaemun-gu, Seoul

Hours

Tap Room: Daily 17:00 – 23:00




* Closed Sundays

Website www.brewery304.com

Instagram

@brewery304

Tel

+82-2-363-7304

Menu

Pluto Blonde Ale KRW 5,900 / Hellen Pale Ale KRW 6,500 / Jjamppongtang (Spicy Seafood Soup) with Tomatoes KRW 25,000

Capacity

Approx 60

Parking

N/A

Languages

ENG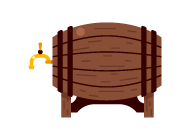 Goose Island Brew House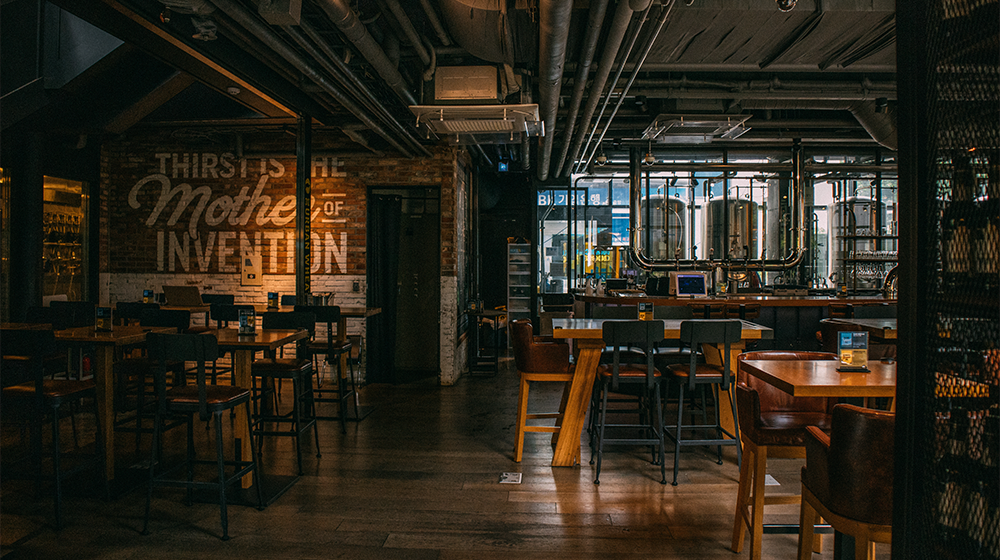 1st generation beer brand
Goose Island, founded in Chicago in 1988, has grown into a beer brand that is favored by beer lovers around the world. In December 2016, Goose Island opened a brew house in the middle of Gangnam, Seoul. The first floor has a brewpub where people can enjoy cold beer casually, and the second floor has an open kitchen and dining space. The rooftop on the third floor is a place where people can enjoy a glass of beer in the city center while enjoying the cool outdoor breeze. As their beer is brewed directly at the brewing facility located inside the brew house, customers can taste the freshest draft beer every day. The beer is also used as an ingredient for various dishes and seasonings. Goose Island's flagship beer Sofie is used for the dough in Sofie Battered Fried Calamari. For an amateur beer drinker, British Pub Ale and Honkers Ale, which have a good balance of hops and malt, are recommended most. 312 Urban Wheat Ale, named after the Chicago area code, is also a good choice. Goose Island's beer is characterized by a soft taste followed by an aftertaste with a hint of lemon. Spacious enough for up to 200 people, the pub can accommodate a private gathering or even a wedding party.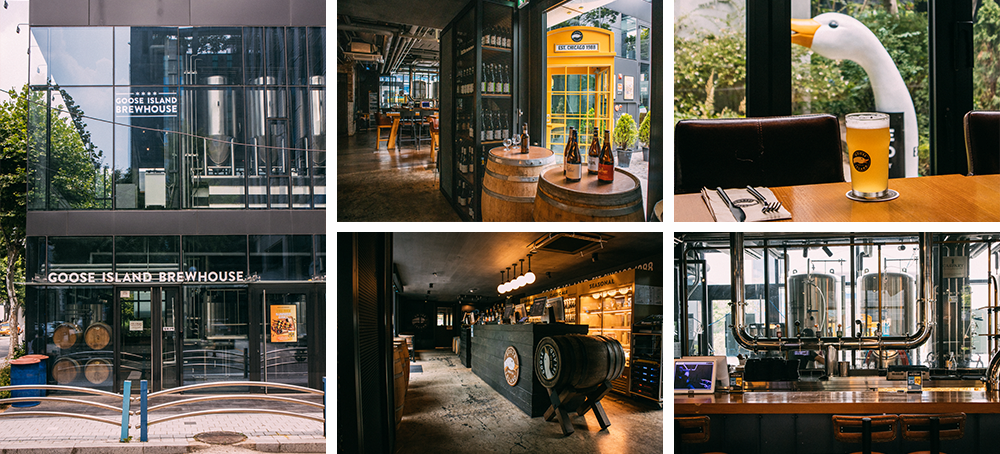 Address

118, Yeoksam-ro, Gangnam-gu, Seoul

Hours

Monday – Wednesday 11:30 – 24:00 / Thursday – Saturday 11:30 – 01:00 / Sundays 11:30 – 22:00

Website www.gooseisland.kr

Tel +82-2-6205-1785

Menu

312 Urban Wheat Ale (355 ml) KRW 7,000 / Duck Duck Goose (500 ml) KRW 6,500 / Iberico Steak (200 g) KRW 24,000

Capacity

Over 200

Parking

Underground parking on premises with approx. 20 spots (Free for customers / Valet parking available)

Languages

ENG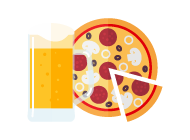 SteinDorf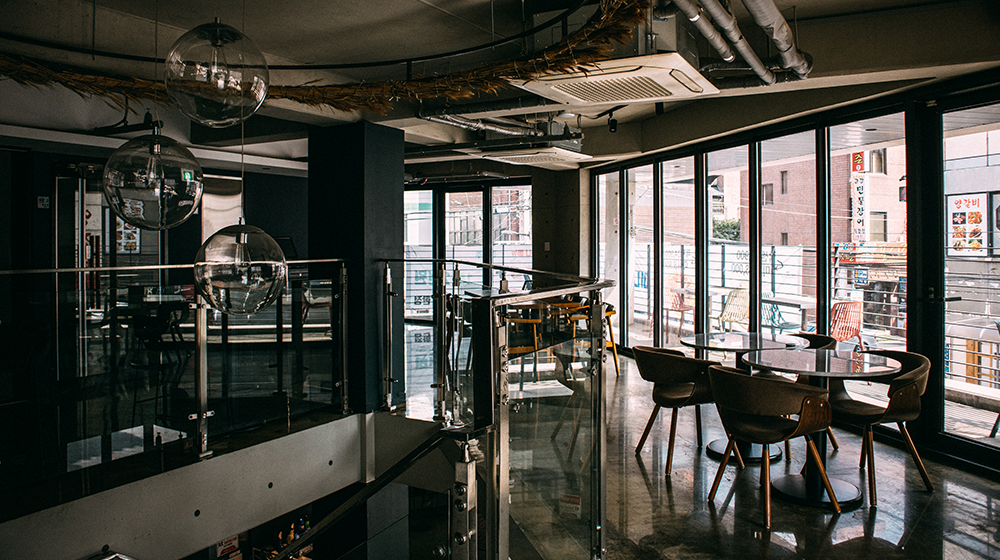 A brewery in "Stone Village"
SteinDorf is a German translation of Seokchon (lit. stone village) Lake in Jamsil, Seoul, so this brewery is also nicknamed "stone village brewery." The brewery adheres to authentic German style beer and still follows the principles of the Reinheitsgebot ("Purity Order"), which was proclaimed by Duke Wilhelm IV of Bavaria in the early 16th century to ban the production of low-quality beer. The brewery uses only four ingredients for producing beer: malt, water, hops and yeast. Its building consists of three stories underground and 6 stories above ground, boasting the largest scale among Korean craft breweries. Its brewing facility, pub, dining area, event rooms and rooftop exist for beer only. At your first visit to the pub, you can't go wrong trying their stout, pale ale, IPA or weizen. Especially, their stout is popular for a subtle coffee flavor created without any additives. For snacks to accompany your glass of beer, how about some thin-crust pepperoni pizza or haxe, an authentic German pork dish? On Thursday, Friday, and Saturday evenings, you can drink beer while touring the brewery located in the basement.

Address

11, Ogeum-ro 15-gil, Songpa-gu, Seoul

Hours

Monday – Wednesday 15:00 – 00:00 / Thursday – Saturday 15:00 – 01:00

Facebook www.facebook.com/SteinDorfkorea

Tel

+82-2-422-9000

Menu

Signature Beer KRW 6,500 / Beer Sampler KRW 16,000 / Schweinshaxe KRW 36,900

Capacity

Over 100

Parking

Parking on premises with approx 12 spots

Languages

ENG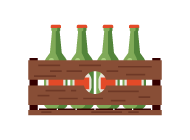 Amazing Brewing Company
Where your first love awaits you
Amazing Brewing Company, where there is always a long queue of customers on weekends and even weekdays, is the hottest brewpub in Seongsu-dong. It opened in April 2016 jointly by internationally certified Cicerone beer sommelier Tae-kyung Kim and Korean beer contest grand slam winner Steven Park. Right next to the pub is its own brewery. Its signature beer is Cheotsarang ("First Love"), a New England IPA characterized by its heavily dry hopped haze and bittersweet taste, the taste of first love. If you want to taste a typical IPA, Amazing IPA is a better choice. Shocking Stout is a bittersweet dark beer with a fuller body. As the brewpub provides a wide selection of beer, it may take a long time for you to pick one from the menu. More than 30 kinds of beer, including those from other breweries, makes up the menu, with their names filling the wall above the house taps. You can feel the leisurely mood of Seongsu-dong at the outdoor terrace.
Address

4, Seongsuil-ro 4-gil, Seongdong-gu, Seoul

Hours

Weekdays 16:00 – 01:00 / Saturdays 16:00 – 01:00 / Sundays 16:00 – 24:00

Website www.amazingbrewing.co.kr

Tel

+82-2-465-5208

Menu

Cheotsarang ("First Love") KRW 4,900 / Seongsudong Pale Ale KRW 4,900 / Truffle Parmesan Fries KRW 11,000

Capacity

Approx 70

Parking

Seongsu Parking Lot with 50 spots (10 mins on foot / KRW 4,000 per hour)

Languages

ENG
Kabrew Brew Pub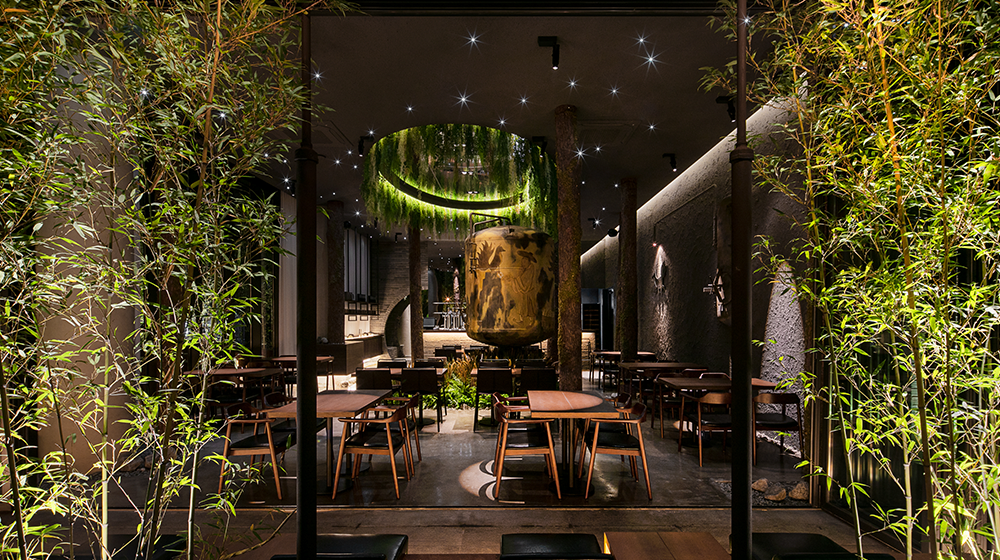 Bewitched by a Nine-tailed Fox
Kabrew is a first generation brewery in Korea. With its start in brewing beer in Gapyeong, Gyeonggi-do in 2000, the brewery is Korea's first to produce pale ale. Kabrew Brew Pub opened in 2019 at the current location in Cheongdam-dong. The handle of the front door to the pub is shaped like a gumiho, the nine-tailed legendary fox of Korea. The animal, talented in transformation, symbolizes the spirit of Kabrew to create beer with a variety of taste. Next to the entrance is a brewing facility surrounded by full glass walls. The brewing space occupies 20% of the total space (approx. 330 m²) of the building. The path to the pub is reminiscent of a passage to a secret cave. Stretched vines, tree trunks and mirrors on the ceiling give this space a mysterious mood. In the center of the store is a brewing tank that was used in its formative years. The brewery's signature beer is Mosaic IPA, which has a refreshing citrus flavor. It can be enjoyed refreshingly by anyone because it doesn't have a bitter taste..

Address

19, Apgujeong-ro 79-gil, Gangnam-gu, Seoul

Hours

Weekdays 17:00 – 01:00 & Saturdays 17:00 – 01:00




* Closed Sundays & Holidays

Website www.kabrew.co.kr

Tel

+82-2-511-4082

Menu

Weizen KRW 7,000 / Mosaic IPA KRW 10,000 / Burrata with Strawberry Salsa KRW 27,000

Capacity

Approx 50

Parking

N/A

Languages

ENG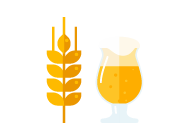 The Hand and Malt Brew Lab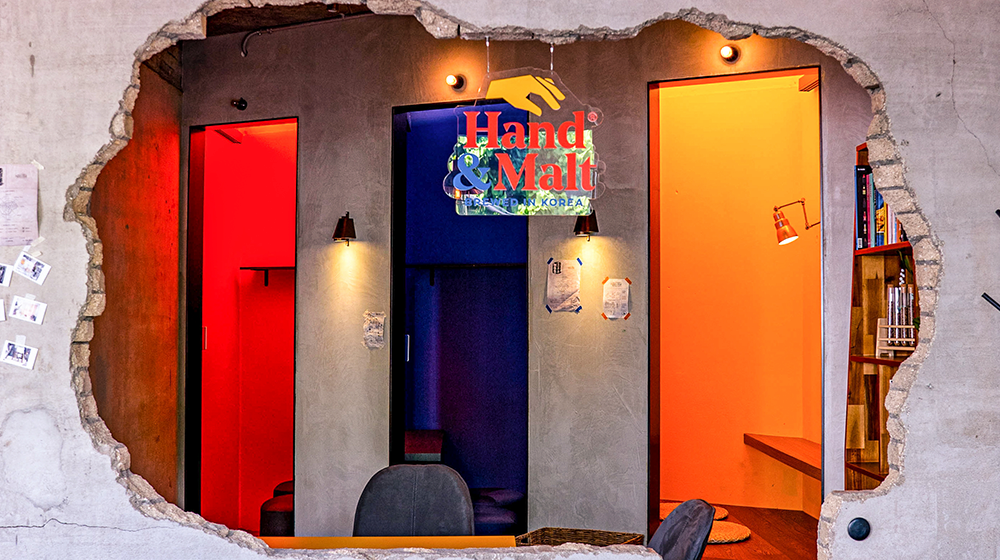 Beer laboratory
The Hand and Malt Brew Lab is a craft brewery founded in Namyangju in 2014. The owner runs a hop farm in Gapyeong, Gyeonggi-do, to cultivate hops for his beer on his own. The Hand and Malt Brew Lab in Yongsan is a tap room with the concept of a beer laboratory that harmonizes imagination and experimentation. The entire building has a unique structure to send beer produced at the underground brewery directly to the pub on the first floor. It has retro vibes, being renovated from a western-style old house of about 220 m². The building is equipped with various spaces, cozy rooms where customers can enjoy beer alone, a lounge, group rooms, an outdoor terrace on the second floor, as well as large tables for groups. The pub serves a variety of signature beer, including IPA and stout, as well as various Korean fusion dishes. The food menu combines American-style dining with casual Korean food, such as bulgogi, sundae and fried chicken. Brew Lab Sampler is recommended to first-time visitors; the five beer that makes up the sampler change every time. Relatively popular beer and specialty beer are evenly mixed in the sampler!

Address

19, Hangang-daero 38ga-gil, Yongsan-gu, Seoul

Hours

Monday – Thursday 11:30 – 23:00 / Fridays 11:30 – 24:00 / Saturdays 16:00 – 24:00




(Daily Break Time 15:00 – 17:00) * Closed Sundays

Instagram www.instagram.com/handandmalt

Tel

+82-70-7178-4011

Menu

Hey, Honey KRW 7,000 / Slow IPA KRW 8,500 / Original Cider KRW 9,000

Capacity

Approx 60

Parking

N/A

Languages

ENG
예약 전 안내사항
예약은 관광일 기준 최소 3일 전까지 가능합니다.
기존 등록된 예약 중 그룹별 정원을 초과하지 않는 예약에 한하여 1일 전 17시까지 추가예약 가능합니다.
최소 출발 인원은 3인부터 입니다. 관광일 2일 전 17시까지 누적예약인원이 3인 미만일 경우 예약은 자동 취소되며, 출발 및 취소 여부는 문자와 메일로 안내드립니다.
다음달 예약은 전달 15일 이후부터 가능합니다.
주말 및 공휴일, 봄 가을 성수기에는 예약이 조기 마감될 수 있습니다.
해설 진행 시 발생하는 안전사고에 대해서 도보관광 사무국과 서울문화관광해설사는 책임을 지지 않습니다.
보호자가 동반하지 않는 만 14세 미만의 하동 관광객의 경우 현장에서 취소됩니다.
미세먼지 비상저감조치 발령 및 기타 기상악화(폭염, 태풍, 폭우 등)로 인해 도보관광 운영이 어려운 경우 모든 예약은 일괄 취소됩니다. (관광일 전날 기준)
예약 전 안내사항
예약은 관광일 기준 최대 6개월 전부터 최소 5일 전 까지 신청 가능합니다.
희망하시는 날짜 및 코스에 활동가능한 해설사가 없는 경우 예약은 취소될 수 있습니다.
특히 주말 및 공휴일, 봄(4~5월) 가을(9~11월) 성수기에는 예약이 조기마감 되오니 이 점 유의하여 주시기 바랍니다.
예약확인을 위해 도보관광 사무국(02-6025-0777)에서 확인 연락이 진행됩니다.
(최소 5일~한달 전)3회 이상 전화통화가 이뤄지지 않을 시 예약이 취소될 수 있습니다.
경복궁, 창덕궁, 창경궁, 덕수궁 35인 이상 관람 시, 해당 궁궐 사이트에서 15일 전 단체 입장신청이 필요합니다. (2014.1.1.부터 시행)
해설 진행 시 발생하는 안전사고에 대해서 도보관광 사무국과 서울문화관광해설사는 책임을 지지 않습니다.
보호자가 동반하지 않는 만 14세 미만의 하동 관광객의 경우 현장에서 취소됩니다.
미세먼지 비상저감조치 발령 및 기타 기상악화(폭염, 태풍, 폭우 등)로 인해 도보관광 운영이 어려운 경우 모든 예약은 일괄 취소됩니다. (관광일 전날 기준)
예약 전 안내사항
예약은 관광일 기준 최소 1주일 전까지 가능합니다.
덕수궁의 경우 복지카드를 지참한 관광객에 한하여 무료입장이 가능합니다.
※ 중증(1~3급) 동반인 포함 2명 무료※ 경증(4~6급) 장애인 본인 1인만 무료
보호자 또는 보조자가 동반하지 않을 경우 이용이 불가능 합니다.※ 별도의 보조자가 없는 경우 사무국으로 문의 바랍니다. (02-6025-0777)
희망하시는 날짜 및 코스에 활동가능한 해설사가 없는 경우 예약은 취소될 수 있습니다.
예약확인을 위해 도보관광 사무국(02-6025-0777)에서 확인 연락이 진행됩니다.(최소 5일~한달 전)3회 이상 전화통화가 이뤄지지 않을 시 예약이 취소될 수 있습니다.
해설 진행 시 발생하는 안전사고에 대해서 도보관광 사무국과 서울문화관광해설사는 책임을 지지 않습니다.
미세먼지 비상저감조치 발령 및 기타 기상악화(폭염, 태풍, 폭우 등)로 인해 도보관광 운영이 어려운 경우 모든 예약은 일괄 취소됩니다. (관광일 전날 기준)
예약 전 안내사항
예약은 관광일 기준 최소 1주일 전까지 가능합니다.
덕수궁의 경우 복지카드를 지참한 관광객에 한하여 무료입장이 가능합니다.
※ 중증(1~3급) 동반인 포함 2명 무료
※ 경증(4~6급) 장애인 본인 1인만 무료
본 프로그램은 수화해설 중심으로 진행되며, 수화가 불가능한 경우 이용이 불가합니다.
희망하시는 날짜 및 코스에 활동가능한 해설사가 없는 경우 예약은 취소될 수 있습니다.
예약확인을 위해 도보관광 사무국(02-6025-0777)에서 확인 연락이 진행됩니다.
(최소 5일~한달 전)3회 이상 전화통화가 이뤄지지 않을 시 예약이 취소될 수 있습니다.
해설 진행 시 발생하는 안전사고에 대해서 도보관광 사무국과 서울문화관광해설사는 책임을 지지 않습니다.
미세먼지 비상저감조치 발령 및 기타 기상악화(폭염, 태풍, 폭우 등)로 인해 도보관광 운영이 어려운 경우 모든 예약은 일괄 취소됩니다. (관광일 전날 기준)
예약 전 안내사항
예약은 관광일 기준 최소 1주일 전까지 가능합니다.
본 코스는 보행약자(거동이 불편한 고령자, 장애인, 유모차 이용자 등)를 위한 코스입니다.
보호자를 동반하지 않을 시 이용이 불가능 합니다.※ 보행약자 1명당 보호자 최소 1인 이상 동반
※ 전동보장구(전동휠체어, 전동스쿠터 등) 사용자의 경우 보호자 1인당 보행약자 최대 4인까지 동반 가능
희망하시는 날짜 및 코스에 활동가능한 해설사가 없는 경우 예약은 취소될 수 있습니다.
예약확인을 위해 도보관광 사무국(02-6025-0777)에서 확인 연락이 진행됩니다.(최소 5일~한달 전)3회 이상 전화통화가 이뤄지지 않을 시 예약이 취소될 수 있습니다.
해설 진행 시 발생하는 안전사고에 대해서 도보관광 사무국과 서울문화관광해설사는 책임을 지지 않습니다.
미세먼지 비상저감조치 발령 및 기타 기상악화(폭염, 태풍, 폭우 등)로 인해 도보관광 운영이 어려운 경우 모든 예약은 일괄 취소됩니다. (관광일 전날 기준)
Read before Reservation
Reservation shall be made at least 3 days before the tour day.
Reservation for the next month is available after 15th of the previous month.
Reservation may be closed early during weekend, holiday, and peak season in spring and fall.
Seoul Guided Walking Tour Office and Seoul culture and tourism guide are not liable for the safety accidents during the Seoul Guided Walking Tour.
Reservation for unaccompanied tourist under 14 will be canceled on site.
All reservations are canceled when Seoul Guided Walking Tour is unavailable due to Particulate Matter Reduction Measure or other weather conditions (heat wave, typhoon, heavy rain). (As of the date before the tour day)
Read before Reservation
Reservation shall be made at least 1 week before the tour day.
The course is for tourists with mobility problems (Senior, people with disability, stroller user).
You may not use the course without an assistant (or companion)
※ At least one assistant shall accompany a tourist with mobility problem
※ In case of electric assisting device users (electric wheelchair, electric scooter users), one assistant may accompany up to 4 tourists with mobility problem
Reservation may be canceled when a guide is unavailable on the desired date and course.
Seoul Guided Walking Tour Office (02-6025-0777) will contact you to confirm reservation.
(At least 5 days~1 month before tour day) Reservation may be canceled when Seoul Guided Walking Tour Office cannot reach you for more than 3 times.
Seoul Guided Walking Tour Office and Seoul culture and tourism guide are not liable for the safety accidents during the Seoul Guided Walking Tour.
All reservations are canceled when Seoul Guided Walking Tour is unavailable due to Particulate Matter Reduction Measure or other weather conditions (heat wave, typhoon, heavy rain). (As of the date before the tour day)
预约前说明事项
观光日基准最少3日前方可进行预约。
下个月的预约可从前月15日开始。
周末及公休日、春秋旺季的预约可早期结束。
进行解说时,对于有可能发生的安全事故,徒步观光事务局和首尔文化观光
解说员概不负责。
未伴随保护者的未满14岁儿童游客,会在现场取消观光。
因发布微尘紧急低减措施及其他气象恶化(暴热、台风、暴雨等),无法运营 徒步观光时,所有预约会批量取消。
(观光前日基准)
预约前说明事项
观光日基准最少1日前方可进行预约。
本线路是为了行动不便者(行动不便的高龄者、残疾人、婴儿车利用者等)的路线。
无辅助人员(或同行人)伴随时,不可利用。
※ 步行不便者1名至少需要1名以上的辅助人员陪同。
※ 电动辅助器具(电动轮椅、电动独轮车等)使用者时,每一位辅助人员最多可陪同 4名步行不便者。
希望观光的日期及线路上无解说员时,预约有可能被取消。
为了确认预约,徒步观光事务局(02-6025-0777)会致电进行确认。
(最少5日~一个月前) 3次以上无法连接时,预约将被取消。
进行解说时,对于有可能发生的安全事故,徒步观光事务局和首尔文化观光解说员概不负责。
因发布微尘紧急低减措施及其他气象恶化(暴热、台风、暴雨等),无法运营 徒步观光时,所有预约会批量取消。
(观光前日基准)
預約前說明事項
觀光日基準最少3日前方可進行預約。
下個月的預約可從前月15日開始。
周末及公休日、春秋旺季的預約可早期結束。
希望观光的日期及线路上无解说员时,预约有可能被取消。
進行解說時,對於有可能發生的安全事故,徒步觀光事務局和首爾文化觀光解說員概不負責。
未伴隨保護者的未滿14歲兒童遊客,會在現場取消觀光。
因發布微塵緊急低減措施及其他氣象惡化(暴熱、臺風、暴雨等),無法運營 徒步觀光時,所有預約會批量取消。(觀光前日基準)
預約前說明事項
觀光日基準最少1日前方可進行預約。
本線路是為了行動不便者(行動不便的高齡者、殘疾人、嬰兒車利用者等)的路線。
無輔助人員(或同行人)伴隨時,不可利用。
※ 步行不便者1名至少需要1名以上的輔助人員陪同。
※ 電動輔助器具(電動輪椅、電動獨輪車等)使用者時,每壹位輔助人員最多可陪同 4名步行不便者。
希望觀光的日期及線路上無解說員時,預約有可能被取消。
為了確認預約,徒步觀光事務局(02-6025-0777)會致電進行確認。
(最少5日~壹個月前) 3次以上無法連接時,預約將被取消。
進行解說時,對於有可能發生的安全事故,徒步觀光事務局和首爾文化觀光 解說員概不負責。
因發布微塵緊急低減措施及其他氣象惡化(暴熱、臺風、暴雨等),無法運營 徒步觀光時,所有預約會批量取消。 (觀光前日基準)