>
Visit Seoul Service
>
See & Do
>
Tours
[Seoul] Cooling Off the Natural Way
Published Date : Jul 04, 2017 / Edited Date : Feb 13, 2019
Written and photographed by Robert Koehler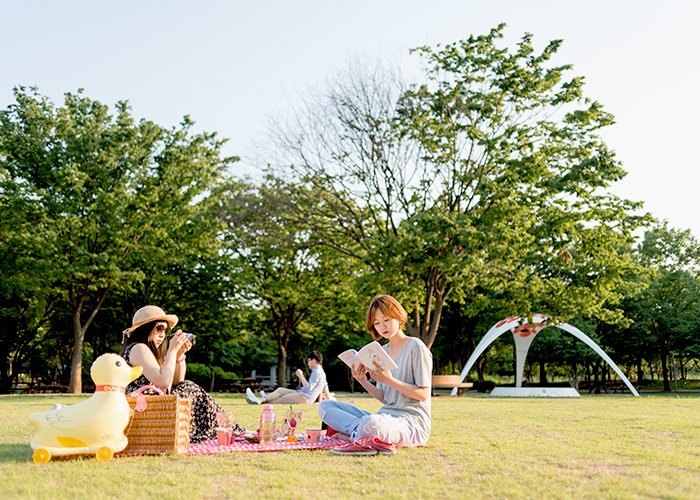 Midsummer marks the hottest time of the year. Temperatures surge and the humidity rises, the brief monsoonal rains providing but a brief respite from the heat. Sundown offers little reprieve, with nighttime temperatures of 25 degrees Celsius or more producing a phenomenon Koreans call "tropical nights," or yeoldaeya, when the heat and humidity can make it difficult to sleep.
In an age of ubiquitous air conditioning, many people beat the heat by staying indoors and cranking up the the AC. Others, however, choose more environmentally friendly methods to endure. In fact, the dog days of summer are the best time to break out a mat and head to the Hangang River or the nearest green space to sit back, crack open a beverage, order some fried chicken and gaze at the midsummer's night sky.
Tropical Seoul
Since 2009, the National Meteorological Agency of Korea has defined a "tropical night" as a night with a nighttime low temperature of 25 degrees Celsius or above. Hot, humid high pressure systems from the North Pacific bring sweltering daytime temperatures. At night, the high humidity suppresses radiant cooling, keeping nighttime temperatures high.
In Korea, like elsewhere, the phenomenon is especially acute in major metropolises, where a combination of factors – building materials like concrete and asphalt, lack of vegetation and the so-called urban canyon effect, in which tall buildings reflect and radiate heat in multiple directions – turn cities into urban heat islands, with temperatures significantly higher than their surroundings. In the first half of the 20 th century, tropical nights were exceedingly rare in Seoul. Last year, the city saw 32 such nights.
Luckily, Seoul is blessed with plenty of green spaces where residents can find sanctuary from the microwave of the asphalt jungle. You can find pocket parks in the midst of even the densest concrete forest. Of course, there's also the Hangang River, where the flowing water brings with it a welcome breeze that cools and refreshes those camped out on the grassy parks that flank the great waterway.
Seoul Forest
In the days of Joseon (1392-1910), Ttukseom, the marshy "island" where the Jungnangcheon Stream empties into the Hangang River, was a royal hunting ground and a military inspection facility. In 1908, two American businessmen opened Korea's first water purification plant on the site; the old brick machine building and the concrete cisterns, with their graceful arched ceilings, still stand as museums. After the Korean War, Ttukseom became home to a horse racing track, a golf course, a sports park and a riverside resort, complete with pleasure boats.
In later 2003, however, Seoul Metropolitan Government began work on transforming the site into an ecological park, a sprawling green space that planners likened to London's Hyde Park and New York's Central Park. The new park opened to the public in June 2015. Seoul Forest is 595,000 square meters of mostly green space that includes wide grass lawns, pleasure ponds, bike paths, outdoor stages, sculpture gardens and, as the name of the park would suggest, picturesque forests that provide plenty of welcome shade in the summer. The park is even home to a community of sika deer and water deer, which visitors can feed, albeit from behind a fence. The forst is very popular on weekends, especially in autumn, when the trees turn red and gold.
The park is divided into five themed sections. At 220,000 square meters, the Culture and Arts Park, located in the center of the forest, is the largest by far. It's also the most popular spot in which to lay out a mat in summer. Its spacious grass field makes the perfect picnic spot, especially in the late afternoon, when the low sun bathes rather than boils. The field also has plenty of forested corners, including a scenic row of metasequoia trees, which provide plenty of shade from the midday sun. Young children, as well as the young at heart, love playing in the fountain at the entrance of the park.
Also near the entrance of Seoul Forest is Under Stand Avenue, which bills itself as a "creative culture hub for the public." The mall, which is composed of 116 colorful containers, has shops, restaurants, cafes, exhibit spaces and learning centers. It's a popular Instagram spot that immediately brings to mind Common Ground, another photogenic container mall near Konguk University. Seoul Forest also benefits from being near Seongsu-dong, an industrial districtturned-hipster haven that is now one of the city's hottest destinations.
Gyeongui Line Forest Park
Not so long ago, the Yongsan branch of the historical Seoul-Sinuiju railway line ran through what is now the narrow, 6.3 kilometer thread of green that runs from around Hyochang Park in the east to Yeonnam-dong in the west. When the line was electrified and moved underground several years ago, however, the city began transforming the space along the old tracks into a park.
The first section of Gyeongui Line Forest Park opened in 2012 in the Daeheung-dong neighborhood. The second stretch, including the popular Yeonnam-dong section, opened in 2015. The last part, which runs along Sinsudong and Donggyo-dong, was completed last summer. To many Seoulites, Gyeongui Line Forest Park is synonymous with the stretch that runs through the trendy Yeonnam-dong neighborhood. Formerly a quiet residential neighborhood, Yeonnam-dong began gentrifying into the greater Hongdae area's latest thing when young chefs, artists and entrepreneurs started moving in. Now its charming alleyways are lined with chic restaurants, cafes, boutiques, bookshops and guest houses, most of which brim with personality.
Gyeongui Line Forest Park is, in the words of The Dude from "The Big Lebowski," the rug that ties the room that is Yeonnam-dong together. Called Yeontral Park by cheeky locals (see what they did there?), the green space has plenty of grass fields on which to spread a picnic mat and open up a can or bottle of your favorite adult beverage. Being a popular food and nightlife destination, Yeonnam-dong really comes alive at night, and outdoor lights illuminate the park for the convenience of visitors.
Rather than bringing their own sustenance, many mat-toting visitors choose to order food, especially fried chicken. Indeed, around the park, delivery mopeds are almost as common a sight as young couples walking impeccably groomed toy dogs. Of course, if you wanted something a bit more upscale, you're in the right neighborhood – you can't walk 10 meters in Yeonnamdong without passing a restaurant, cafe or pub that's trending on Instagram. This writer was pleasantly surprised by Yeonnam Hyugyeso, a simple eatery next to the park serving, among other things, Korean-style chicken nuggets and rice cakes in cream sauce, washed down with highballs made with Suntory whiskey.
World Cup Park
In a city defined by its endless transformations, World Cup Park may be Seoul's most jaw-dropping metamorphosis. From 1978 to 1993, the riverside island of Nanjido was Seoul's designated landfill. By the time it was closed, the landfill was a mountain of trash 2.7 million square meters in area and 90 meters high, 34 times larger than The Great Pyramid of Giza. The landfill's notorious stench filled the surrounding neighborhoods.
After the landfill was closed in 1993, the city went to work stabilizing the giant massif of trash. In 1997, when the authorities decided to build a stadium for the upcoming 2002 Korea-Japan FIFA World Cup on nearby land, the city began transforming the old landfill into an ecological park. The sprawling new park opened to the public on May 1, 2002, just before the World Cup's opening whistle.
At 449,000 square meters, World Cup Park is divided into several distinct zones. Noeul Park and Haneul Park, formerly Nanjido Landfill 1 and 2, are two plateaus that stand nearly 100 meters high. Nanjicheon Park, which runs along the Nanjicheon Stream, is a lowland park with bike paths, forests, fields and a large pond. Finally, there is Nanji Hangang Park, a grassy area along the Hangang River. This last area is a popular camping spot and regularly hosts concerts and other events.
With its wide, grassy spaces and riverside location, Nanji Hangang Park is the best spot to place a picnic mat, especially at night, when the river offers a refreshing breeze. The site also boasts romantic sunsets. The camping site can accommodate over 2,000 people – bring you're own tent if you have one, or you could rent a tent on sight.
[Getting There]
- Seoul Forest: Seoul Forest Station (Bundang Line), exit 3
-Gyeongui Line Forest Park in Yeonnam-dong: Hongik Univ. Station (subway line 2), exit 3
- World Cup Park: World Cup Stadium Station (subway line 6)
예약은 관광일 기준 최소 3일 전 까지 가능합니다.
개인예약 : 최대 10명
※경복궁,창경궁,창덕궁: 20명 예약가능합니다.
기존 등록된 예약 중 그룹별 정원을 초과하지 않는 예약에 한하여 1일 전 17시 까지 추가 예약 가능합니다.
다음달 예약은 전달 15일 이 후부터 가능합니다.
해설 프로그램 참여 시에는 반드시 마스크를 착용하여 주시기 바랍니다.
발열 또는 호흡기 증상(열, 기침, 가래, 근육통, 코막힘, 인후통 등)이 있는 경우 프로그램 참여를 삼가하여 주시기 바랍니다.
보호자가 동반하지 않는 만 14세 미만의 하동 관광객의 경우 현장에서 취소됩니다.
미세먼지 비상저감조치 발령 및 기타 기상악화(폭염, 태풍, 폭우 등)로 인해 도보관광 운영이 어려운 경우 모든 예약은 일괄 취소됩니다. (관광일 전날 기준)
해설 진행 시 발생하는 안전사고에 대해서 서울도보해설관광 사무국과 서울문화관광해설사는 책임을 지지 않습니다.
한국어를 모국어로 사용하는 대한민국 국민의 경우, 외국어 해설 신청이 불가능합니다.
예약은 관광일 기준 최대 6개월 전부터 최소 5일 전 까지 신청 가능합니다.
단체예약 : 11명 이상
※경복궁,창경궁,창덕궁: 21명 이상 예약가능합니다.
희망하시는 날짜 및 코스에 활동가능한 해설사가 없는 경우 예약은 취소될 수 있습니다.
특히 주말 및 공휴일, 봄(4~5월) 가을(9~11월) 성수기에는 예약이 조기마감 되오니 이 점 유의하여 주시기 바랍니다.
예약확인을 위해 도보관광 사무국(02-6925-0777)에서 확인 연락이 진행됩니다.
(최소 5일~한달 전)3회 이상 전화통화가 이뤄지지 않을 시 예약이 취소될 수 있습니다.
경복궁, 창덕궁, 창경궁, 덕수궁 35인 이상 관람 시, 해당 궁궐 사이트에서 15일 전 단체 입장신청이 필요합니다. (2014.1.1.부터 시행)
해설 진행 시 발생하는 안전사고에 대해서 도보관광 사무국과 서울문화관광해설사는 책임을 지지 않습니다.
보호자가 동반하지 않는 만 14세 미만의 하동 관광객의 경우 현장에서 취소됩니다.
미세먼지 비상저감조치 발령 및 기타 기상악화(폭염, 태풍, 폭우 등)로 인해 도보관광 운영이 어려운 경우 모든 예약은 일괄 취소됩니다. (관광일 전날 기준)
예약은 관광일 기준 최소 1주일 전까지 가능합니다.
덕수궁의 경우 복지카드를 지참한 관광객에 한하여 무료입장이 가능합니다.
※ 중증(1~3급) 동반인 포함 2명 무료※ 경증(4~6급) 장애인 본인 1인만 무료
보호자 또는 보조자가 동반하지 않을 경우 이용이 불가능 합니다.※ 별도의 보조자가 없는 경우 사무국으로 문의 바랍니다. (02-6925-0777)
희망하시는 날짜 및 코스에 활동가능한 해설사가 없는 경우 예약은 취소될 수 있습니다.
예약확인을 위해 도보관광 사무국(02-6925-0777)에서 확인 연락이 진행됩니다.(최소 5일~한달 전)3회 이상 전화통화가 이뤄지지 않을 시 예약이 취소될 수 있습니다.
해설 진행 시 발생하는 안전사고에 대해서 도보관광 사무국과 서울문화관광해설사는 책임을 지지 않습니다.
미세먼지 비상저감조치 발령 및 기타 기상악화(폭염, 태풍, 폭우 등)로 인해 도보관광 운영이 어려운 경우 모든 예약은 일괄 취소됩니다. (관광일 전날 기준)
예약은 관광일 기준 최소 1주일 전까지 가능합니다.
덕수궁의 경우 복지카드를 지참한 관광객에 한하여 무료입장이 가능합니다.
※ 중증(1~3급) 동반인 포함 2명 무료
※ 경증(4~6급) 장애인 본인 1인만 무료
본 프로그램은 수화해설 중심으로 진행되며, 수화가 불가능한 경우 이용이 불가합니다.
희망하시는 날짜 및 코스에 활동가능한 해설사가 없는 경우 예약은 취소될 수 있습니다.
예약확인을 위해 도보관광 사무국(02-6925-0777)에서 확인 연락이 진행됩니다.
(최소 5일~한달 전)3회 이상 전화통화가 이뤄지지 않을 시 예약이 취소될 수 있습니다.
해설 진행 시 발생하는 안전사고에 대해서 도보관광 사무국과 서울문화관광해설사는 책임을 지지 않습니다.
미세먼지 비상저감조치 발령 및 기타 기상악화(폭염, 태풍, 폭우 등)로 인해 도보관광 운영이 어려운 경우 모든 예약은 일괄 취소됩니다. (관광일 전날 기준)
예약은 관광일 기준 최소 1주일 전까지 가능합니다.
본 코스는 보행약자(거동이 불편한 고령자, 장애인, 유모차 이용자 등)를 위한 코스입니다.
보호자를 동반하지 않을 시 이용이 불가능 합니다.※ 보행약자 1명당 보호자 최소 1인 이상 동반
※ 전동보장구(전동휠체어, 전동스쿠터 등) 사용자의 경우 보호자 1인당 보행약자 최대 4인까지 동반 가능
희망하시는 날짜 및 코스에 활동가능한 해설사가 없는 경우 예약은 취소될 수 있습니다.
예약확인을 위해 도보관광 사무국(02-6925-0777)에서 확인 연락이 진행됩니다.(최소 5일~한달 전)3회 이상 전화통화가 이뤄지지 않을 시 예약이 취소될 수 있습니다.
해설 진행 시 발생하는 안전사고에 대해서 도보관광 사무국과 서울문화관광해설사는 책임을 지지 않습니다.
미세먼지 비상저감조치 발령 및 기타 기상악화(폭염, 태풍, 폭우 등)로 인해 도보관광 운영이 어려운 경우 모든 예약은 일괄 취소됩니다. (관광일 전날 기준)
Reservations must be made at least three days prior to the tour date.
Group reservations up to 3people are being accepted on the line.
Additional reservations are?permitted for pre-existing reservations that do not exceed the limited number of three people per group and may be made one day prior to the tour date by 5 PM.
Reservations for the following month are available from the 15th of the current month.
Masks are required for participation in all tour programs.
Please refrain from participating in any tour programs should you be experiencing any symptoms, including fever, coughing, congestion, muscle pain, stuffy nose, and/or sore throat.
Reservations for tourists 14 years & under without an accompanying adult or guardian shall be canceled on site.
[As of one day prior to the tour date] All reservations shall be canceled in the event of emergency particulate matter reduction measures taken and/or inclement weather conditions, including excessive heat waves, typhoons, heavy rain, and more, that may impede Seoul Guided Walking Tour operations.
The Seoul Guided Walking Tour administration office and tour guide affiliates are not responsible for any accidents that happen to occur during the tour program.
Reservation shall be made at least 1 week before the tour day.
The course is for tourists with mobility problems (Senior, people with disability, stroller user).
You may not use the course without an assistant (or companion)
※ At least one assistant shall accompany a tourist with mobility problem
※ In case of electric assisting device users (electric wheelchair, electric scooter users), one assistant may accompany up to 4 tourists with mobility problem
Reservation may be canceled when a guide is unavailable on the desired date and course.
Seoul Guided Walking Tour Office (02-6925-0777) will contact you to confirm reservation.
(At least 5 days~1 month before tour day) Reservation may be canceled when Seoul Guided Walking Tour Office cannot reach you for more than 3 times.
Seoul Guided Walking Tour Office and Seoul culture and tourism guide are not liable for the safety accidents during the Seoul Guided Walking Tour.
All reservations are canceled when Seoul Guided Walking Tour is unavailable due to Particulate Matter Reduction Measure or other weather conditions (heat wave, typhoon, heavy rain). (As of the date before the tour day)
观光日基准最少3日前方可进行预约。
最多可以预约3个人。
在已登记的预约团体中,只接待不超过预约人数的团体,可在前一天17时前追加预约。
下个月的预约可从前一月15日开始。
参加徒步观光解说活动时必须佩戴口罩。
如有发热或呼吸道症状(发烧、咳嗽、痰液、肌肉痛、鼻塞、咽喉痛等),请避免参与解说活动。
无保护者随同的未满14岁儿童游客,会在现场取消解说活动。
因发布微尘紧急低减措施及其他气象恶化(暴热、台风、暴雨等)无法运营徒步观光解说活动时,所有预约会批量取消。(观光前日基准)
对于解说活动中发生的安全事故,首尔徒步解说旅游事务局和首尔文化观光解说社不予负责。
观光日基准最少1日前方可进行预约。
本线路是为了行动不便者(行动不便的高龄者、残疾人、婴儿车利用者等)的路线。
无辅助人员(或同行人)伴随时,不可利用。
※ 步行不便者1名至少需要1名以上的辅助人员陪同。
※ 电动辅助器具(电动轮椅、电动独轮车等)使用者时,每一位辅助人员最多可陪同 4名步行不便者。
希望观光的日期及线路上无解说员时,预约有可能被取消。
为了确认预约,徒步观光事务局(02-6925-0777)会致电进行确认。
(最少5日~一个月前) 3次以上无法连接时,预约将被取消。
进行解说时,对于有可能发生的安全事故,徒步观光事务局和首尔文化观光解说员概不负责。
因发布微尘紧急低减措施及其他气象恶化(暴热、台风、暴雨等),无法运营 徒步观光时,所有预约会批量取消。
(观光前日基准)
最晚請於預約日期3天前完成預約。
最多可以预约3个人。
已完成預約的團體若人數超過限制,可於前一天下午5點前追加預約。
每月15日將開放下個月的預約。
參與解說觀光時請務必佩戴口罩。
若有發燒或呼吸道症狀(發燒、咳嗽、咳痰、肌肉酸痛、鼻塞、喉嚨痛),請避免參與本活動。
未有保護者同行的未滿14歲兒童遊客,會在現場取消參與資格。
因發布微塵緊急降低措施及其他天氣惡化(暴熱、台風、豪雨等),無法進行徒步觀光時,所有預約將取消。(預約日期前日基準)
進行解說時,對於有可能發生的安全事故,首爾徒步解說觀光事務局和首爾文化觀光解說員概不負責。
觀光日基準最少1日前方可進行預約。
本線路是為了行動不便者(行動不便的高齡者、殘疾人、嬰兒車利用者等)的路線。
無輔助人員(或同行人)伴隨時,不可利用。
※ 步行不便者1名至少需要1名以上的輔助人員陪同。
※ 電動輔助器具(電動輪椅、電動獨輪車等)使用者時,每壹位輔助人員最多可陪同 4名步行不便者。
希望觀光的日期及線路上無解說員時,預約有可能被取消。
為了確認預約,徒步觀光事務局(02-6925-0777)會致電進行確認。
(最少5日~壹個月前) 3次以上無法連接時,預約將被取消。
進行解說時,對於有可能發生的安全事故,徒步觀光事務局和首爾文化觀光 解說員概不負責。
因發布微塵緊急低減措施及其他氣象惡化(暴熱、臺風、暴雨等),無法運營 徒步觀光時,所有預約會批量取消。 (觀光前日基準)