>
Visit Seoul Service
>
See & Do
>
Tours
Tour the Beloved Hangouts of the "I Live Alone" Cast
Published Date : Feb. 11, 2016 / Edited Date : Mar. 04, 2019
"I Live Alone" is a reality show that began airing in 2013, and it shows the daily lives of popular celebrities who are unmarried and live alone. The fixed cast members are referred to as belonging to the Rainbow club and they sometimes refer to themselves as Rainbow members. The show became a hit because it showed viewers the "normal" side of celebrity life and it appealed to the many Seoulites who live alone. For the first time, people could see what a day in the life of a Korean celebrity was, unvarnished and as is. Viewers could watch celebrities wake up, and carrying on with their daily lives by traveling, shopping, relaxing by themselves. It's possible to spend time in the places featured on the show. Explore the beloved hangouts of the cast members!
I Live Alone
Channel : MBC
PD : Kim Yeongjin
Direction : Choi Haengho, Lee Jihyeon
Appearance : Jeon Hyeonmu, Yuk Jungwan, Gangnam, Kim Dong Wan, Hwang Seokjeong, Kim Yongchul, et al.
Air Date : March 22nd, 2013 ~ Present
Official Site (Korean) :
http://www.imbc.com/broad/tv/ent/singlelife/
Summary: A reality show about the daily lives of the celebrities who live alone. In Seoul there is a growing number of single households and the show reflects this social trend while also taking viewers behind the veil of celebrity.
Course 1: Yuk Jungwan's Hangouts in Mangwon-Dong
Tour Course
Mangwon Hangang Park – Mangwon Market
Yuk Jungwan is best known as being the main singer of the rock band Rose Motel. Yuk also is well-known locally as a fixture of the Mangwon-dong neighborhood. He's resided in Mangwon-dong for years in a rooftop apartment and it popular with both his neighbors and other area residents. Mangwon Hangang Park is quite close to his home and in one episode of "I Live Alone," he headed out there with his guitar to get inspiration for songs. He ended up busking and drew a small crowd of locals with his impromptu performance. Yuk Jungwan frequents the park whenever he needs to clear his mind or when he's in need of creative inspiration for one of his songs. If you're very luck you may end up running into him during a trip to the park.
Mangwon Hangang Park
Address : 467 Maponaru-gil, Mapo-gu, Seoul, Korea
Telephone : +82-2-3780-0601
Official Site (Kor) :
http://hangang.seoul.go.kr/archives/46737
Directions : Mangwon Station (subway line 6) exit 1, take bus No. 9 and get off at the Mangwon Region (bus trip duration 5 min)
The park is a great place to see the Han River and go on a leisurely walk. If you feel hungry after your time in the park, head to Mangwon Market. The market is located past Seongsan alley and Yuk Jungwan also frequents Mangwon Market. After his shopping trips to the market were aired on "I Live Alone" some people made jokes and referred to the market as Yuk Jungwan Market. Although Mangwon Market became better known after "I Live Alone" feature it several times, many other TV shows have filmed at this traditional market. Kang Minhyuk from CNBlue and the entertainer Kim Jongmin have also shopped here or filmed for TV at the market, but Yuk Jungwan probably frequents this market the most. Mangwon market sells goods of all sorts but there are also many small, low-priced and tasty eateries here. 3,000 won is enough to buy a meal at some of the eateries. Queues Chicken is famous for their dak gangjeong (sweet and sour Chicken) and Hongdukke Kalguksu is a famous kal-guksu (noodle soup) shop. Both places are well known and popular so you may experience a long wait before you're served. A trip to Mangwon Market is a great way to experience a traditional Korean market and to eat great good at even better prices.
Mangwon Market
Address : 14,Poeun-ro 8-gil, Mapo-gu, Seoul, Korea
Telephone : +82-2-335-3591
Website :
https://mangwonsijang.modoo.at
Directions : Mangwon Station (subway line 6) exit 2, roughly 10 minutes away on foot
More Info
Most shops in Mangwon Market now except Tmoney and credit cards for payment.
Course 2: Kim Dong Wan's Hangouts
Tour Course
Ansan Mountain (Muak East Beacon Mound) - Ilhwasung Restaurant
Kim Dong Wan is famous as a member of the band Shinhwa. Shinhwa's fame in Korea is difficult to overstate and it is the longest-running boy band in the history of Korea. Kim has always had a humorous and reliable image, and this image was further strengthened when he joined the cast of "I Live Alone." He may be the epitome of the saying, "alone, but not lonely." Kim has many hobbies, one of them is mountain biking. He often heads to Ansan Mountain in Seodaemun-gu and takes to the trails with his mountain bike.
Ansan Mountain is the smallest of Soeul's mountains and it is just 295.9m high. You could easily walk the mountain in about 2 or 3 hours as there is a convenient trail, Ansan Jarak-gil. The trail was constructed so as to allow people onto the mountain with strollers or wheelchairs. The start of the Jarak-gil trail is located near many tourist sites. You could spend time at Muakje, Dongnimmun Gate, or the Seodaemun Museum of National History, and head up Ansan afterwards. While walking the mountain you'll see beautiful views and the sites like dawn redwood trees. It's enough to make you forget you're in the middle of Seoul.
At the peak, Muak East Beacon Mound, you'll get 360 degree views of Seoul and famous sites like Namsan Mountain and Gyeongbokgung Palace are visible from atop Ansan. One of the first episodes of the drama "Misaeng" featured a panorama of Seoul; it filmed right here on the mountain.
After a walk on the mountain, head to Ilhwasung Restaurant. The restaurant serves Chinese food. Kim Dong Wan was shown dining here on "I Live Alone," after riding his bike on the mountain. The restaurant is located in Yeonhui-dong, not far from Ansan Mountain. Kim frequents this restaurant and if you visit you can even seen autographs from other Shinhwa members of display here. On "I Live Alone," Kim Dong Wan was seen selecting the honghap jjamppong (spicy noodle soup with mussels). The restaurant is famous for its honghap jjamppong and lovers of spicy food will want to try this food. Ilhwasung doesn't skimp of the mussels either so you're sure to end up with a full stomach.
Ilhwasung
Address: 26 Yeonhui-ro 36-gil, Seodaemun-gu, Seoul, Korea
Telephone : +82-2-333-2011
Hours : Mon~Sun 10:00~22:00, Closed on Tuesdays
Directions : 5 min. from the Seodaemun-gu Office / Seodaemun-gu Community Health Center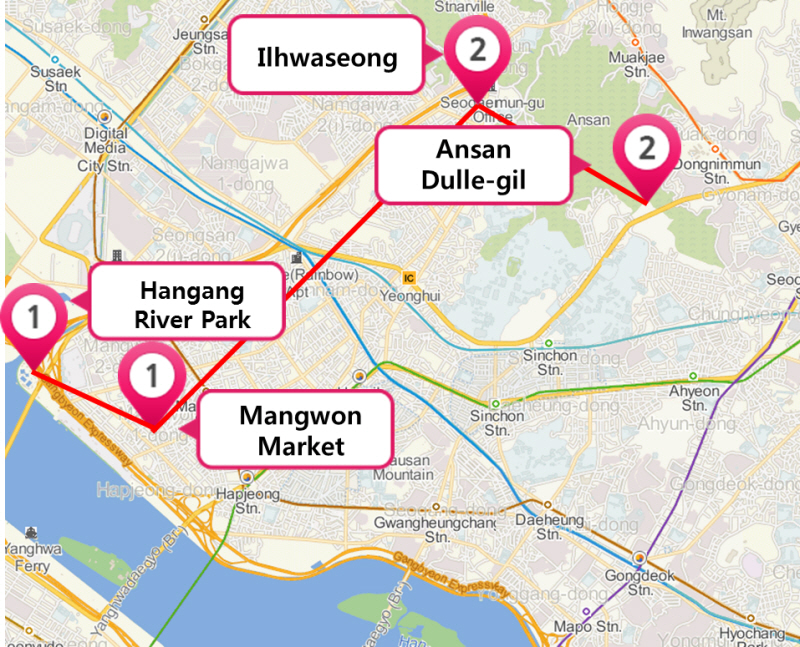 예약 전 안내사항
예약은 관광일 기준 최소 3일 전까지 가능합니다.
기존 등록된 예약 중 그룹별 정원을 초과하지 않는 예약에 한하여 1일 전 17시까지 추가예약 가능합니다.
최소 출발 인원은 3인부터 입니다. 관광일 2일 전 17시까지 누적예약인원이 3인 미만일 경우 예약은 자동 취소되며, 출발 및 취소 여부는 문자와 메일로 안내드립니다.
다음달 예약은 전달 15일 이후부터 가능합니다.
주말 및 공휴일, 봄 가을 성수기에는 예약이 조기 마감될 수 있습니다.
해설 진행 시 발생하는 안전사고에 대해서 도보관광 사무국과 서울문화관광해설사는 책임을 지지 않습니다.
보호자가 동반하지 않는 만 14세 미만의 하동 관광객의 경우 현장에서 취소됩니다.
미세먼지 비상저감조치 발령 및 기타 기상악화(폭염, 태풍, 폭우 등)로 인해 도보관광 운영이 어려운 경우 모든 예약은 일괄 취소됩니다. (관광일 전날 기준)
예약 전 안내사항
예약은 관광일 기준 최대 6개월 전부터 최소 5일 전 까지 신청 가능합니다.
희망하시는 날짜 및 코스에 활동가능한 해설사가 없는 경우 예약은 취소될 수 있습니다.
특히 주말 및 공휴일, 봄(4~5월) 가을(9~11월) 성수기에는 예약이 조기마감 되오니 이 점 유의하여 주시기 바랍니다.
예약확인을 위해 도보관광 사무국(02-6925-0777)에서 확인 연락이 진행됩니다.
(최소 5일~한달 전)3회 이상 전화통화가 이뤄지지 않을 시 예약이 취소될 수 있습니다.
경복궁, 창덕궁, 창경궁, 덕수궁 35인 이상 관람 시, 해당 궁궐 사이트에서 15일 전 단체 입장신청이 필요합니다. (2014.1.1.부터 시행)
해설 진행 시 발생하는 안전사고에 대해서 도보관광 사무국과 서울문화관광해설사는 책임을 지지 않습니다.
보호자가 동반하지 않는 만 14세 미만의 하동 관광객의 경우 현장에서 취소됩니다.
미세먼지 비상저감조치 발령 및 기타 기상악화(폭염, 태풍, 폭우 등)로 인해 도보관광 운영이 어려운 경우 모든 예약은 일괄 취소됩니다. (관광일 전날 기준)
예약 전 안내사항
예약은 관광일 기준 최소 1주일 전까지 가능합니다.
덕수궁의 경우 복지카드를 지참한 관광객에 한하여 무료입장이 가능합니다.
※ 중증(1~3급) 동반인 포함 2명 무료※ 경증(4~6급) 장애인 본인 1인만 무료
보호자 또는 보조자가 동반하지 않을 경우 이용이 불가능 합니다.※ 별도의 보조자가 없는 경우 사무국으로 문의 바랍니다. (02-6925-0777)
희망하시는 날짜 및 코스에 활동가능한 해설사가 없는 경우 예약은 취소될 수 있습니다.
예약확인을 위해 도보관광 사무국(02-6925-0777)에서 확인 연락이 진행됩니다.(최소 5일~한달 전)3회 이상 전화통화가 이뤄지지 않을 시 예약이 취소될 수 있습니다.
해설 진행 시 발생하는 안전사고에 대해서 도보관광 사무국과 서울문화관광해설사는 책임을 지지 않습니다.
미세먼지 비상저감조치 발령 및 기타 기상악화(폭염, 태풍, 폭우 등)로 인해 도보관광 운영이 어려운 경우 모든 예약은 일괄 취소됩니다. (관광일 전날 기준)
예약 전 안내사항
예약은 관광일 기준 최소 1주일 전까지 가능합니다.
덕수궁의 경우 복지카드를 지참한 관광객에 한하여 무료입장이 가능합니다.
※ 중증(1~3급) 동반인 포함 2명 무료
※ 경증(4~6급) 장애인 본인 1인만 무료
본 프로그램은 수화해설 중심으로 진행되며, 수화가 불가능한 경우 이용이 불가합니다.
희망하시는 날짜 및 코스에 활동가능한 해설사가 없는 경우 예약은 취소될 수 있습니다.
예약확인을 위해 도보관광 사무국(02-6925-0777)에서 확인 연락이 진행됩니다.
(최소 5일~한달 전)3회 이상 전화통화가 이뤄지지 않을 시 예약이 취소될 수 있습니다.
해설 진행 시 발생하는 안전사고에 대해서 도보관광 사무국과 서울문화관광해설사는 책임을 지지 않습니다.
미세먼지 비상저감조치 발령 및 기타 기상악화(폭염, 태풍, 폭우 등)로 인해 도보관광 운영이 어려운 경우 모든 예약은 일괄 취소됩니다. (관광일 전날 기준)
예약 전 안내사항
예약은 관광일 기준 최소 1주일 전까지 가능합니다.
본 코스는 보행약자(거동이 불편한 고령자, 장애인, 유모차 이용자 등)를 위한 코스입니다.
보호자를 동반하지 않을 시 이용이 불가능 합니다.※ 보행약자 1명당 보호자 최소 1인 이상 동반
※ 전동보장구(전동휠체어, 전동스쿠터 등) 사용자의 경우 보호자 1인당 보행약자 최대 4인까지 동반 가능
희망하시는 날짜 및 코스에 활동가능한 해설사가 없는 경우 예약은 취소될 수 있습니다.
예약확인을 위해 도보관광 사무국(02-6925-0777)에서 확인 연락이 진행됩니다.(최소 5일~한달 전)3회 이상 전화통화가 이뤄지지 않을 시 예약이 취소될 수 있습니다.
해설 진행 시 발생하는 안전사고에 대해서 도보관광 사무국과 서울문화관광해설사는 책임을 지지 않습니다.
미세먼지 비상저감조치 발령 및 기타 기상악화(폭염, 태풍, 폭우 등)로 인해 도보관광 운영이 어려운 경우 모든 예약은 일괄 취소됩니다. (관광일 전날 기준)
Read before Reservation
Reservation shall be made at least 3 days before the tour day.
Reservation for the next month is available after 15th of the previous month.
Reservation may be closed early during weekend, holiday, and peak season in spring and fall.
Seoul Guided Walking Tour Office and Seoul culture and tourism guide are not liable for the safety accidents during the Seoul Guided Walking Tour.
Reservation for unaccompanied tourist under 14 will be canceled on site.
All reservations are canceled when Seoul Guided Walking Tour is unavailable due to Particulate Matter Reduction Measure or other weather conditions (heat wave, typhoon, heavy rain). (As of the date before the tour day)
Read before Reservation
Reservation shall be made at least 1 week before the tour day.
The course is for tourists with mobility problems (Senior, people with disability, stroller user).
You may not use the course without an assistant (or companion)
※ At least one assistant shall accompany a tourist with mobility problem
※ In case of electric assisting device users (electric wheelchair, electric scooter users), one assistant may accompany up to 4 tourists with mobility problem
Reservation may be canceled when a guide is unavailable on the desired date and course.
Seoul Guided Walking Tour Office (02-6925-0777) will contact you to confirm reservation.
(At least 5 days~1 month before tour day) Reservation may be canceled when Seoul Guided Walking Tour Office cannot reach you for more than 3 times.
Seoul Guided Walking Tour Office and Seoul culture and tourism guide are not liable for the safety accidents during the Seoul Guided Walking Tour.
All reservations are canceled when Seoul Guided Walking Tour is unavailable due to Particulate Matter Reduction Measure or other weather conditions (heat wave, typhoon, heavy rain). (As of the date before the tour day)
预约前说明事项
观光日基准最少3日前方可进行预约。
下个月的预约可从前月15日开始。
周末及公休日、春秋旺季的预约可早期结束。
进行解说时,对于有可能发生的安全事故,徒步观光事务局和首尔文化观光
解说员概不负责。
未伴随保护者的未满14岁儿童游客,会在现场取消观光。
因发布微尘紧急低减措施及其他气象恶化(暴热、台风、暴雨等),无法运营 徒步观光时,所有预约会批量取消。
(观光前日基准)
预约前说明事项
观光日基准最少1日前方可进行预约。
本线路是为了行动不便者(行动不便的高龄者、残疾人、婴儿车利用者等)的路线。
无辅助人员(或同行人)伴随时,不可利用。
※ 步行不便者1名至少需要1名以上的辅助人员陪同。
※ 电动辅助器具(电动轮椅、电动独轮车等)使用者时,每一位辅助人员最多可陪同 4名步行不便者。
希望观光的日期及线路上无解说员时,预约有可能被取消。
为了确认预约,徒步观光事务局(02-6925-0777)会致电进行确认。
(最少5日~一个月前) 3次以上无法连接时,预约将被取消。
进行解说时,对于有可能发生的安全事故,徒步观光事务局和首尔文化观光解说员概不负责。
因发布微尘紧急低减措施及其他气象恶化(暴热、台风、暴雨等),无法运营 徒步观光时,所有预约会批量取消。
(观光前日基准)
預約前說明事項
觀光日基準最少3日前方可進行預約。
下個月的預約可從前月15日開始。
周末及公休日、春秋旺季的預約可早期結束。
希望观光的日期及线路上无解说员时,预约有可能被取消。
進行解說時,對於有可能發生的安全事故,徒步觀光事務局和首爾文化觀光解說員概不負責。
未伴隨保護者的未滿14歲兒童遊客,會在現場取消觀光。
因發布微塵緊急低減措施及其他氣象惡化(暴熱、臺風、暴雨等),無法運營 徒步觀光時,所有預約會批量取消。(觀光前日基準)
預約前說明事項
觀光日基準最少1日前方可進行預約。
本線路是為了行動不便者(行動不便的高齡者、殘疾人、嬰兒車利用者等)的路線。
無輔助人員(或同行人)伴隨時,不可利用。
※ 步行不便者1名至少需要1名以上的輔助人員陪同。
※ 電動輔助器具(電動輪椅、電動獨輪車等)使用者時,每壹位輔助人員最多可陪同 4名步行不便者。
希望觀光的日期及線路上無解說員時,預約有可能被取消。
為了確認預約,徒步觀光事務局(02-6925-0777)會致電進行確認。
(最少5日~壹個月前) 3次以上無法連接時,預約將被取消。
進行解說時,對於有可能發生的安全事故,徒步觀光事務局和首爾文化觀光 解說員概不負責。
因發布微塵緊急低減措施及其他氣象惡化(暴熱、臺風、暴雨等),無法運營 徒步觀光時,所有預約會批量取消。 (觀光前日基準)