>
Visit Seoul Service
>
See & Do
>
Tours
K-TV SHOW
Where Are the Top 10 Hallyu Hot Spots in Seoul Voted by Visitors?
Published Date : Dec. 14, 2016 / Edited Date : Nov. 19, 2019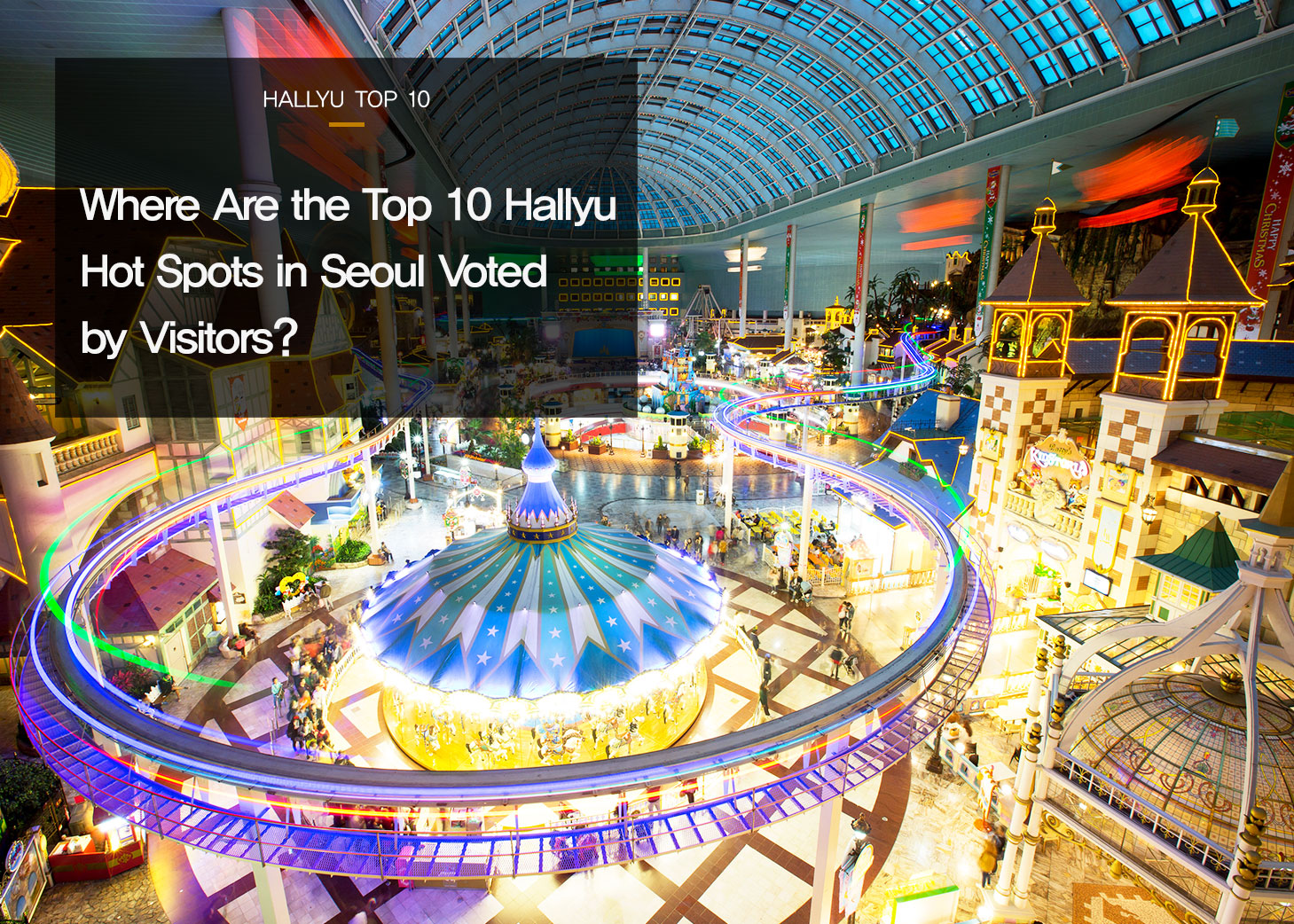 From the spot where Do Min Joon and Cheon Song Yi swore their love in "My Love from the Star" to the neighborhoods where the hallyu stars frequent- here is the top ten Hallyu hot spot list as revealed by 12,000 K-pop and K-drama fans from abroad. These are the top ten sites that hallyu fans won´t want to miss!
1. Filming site for <My Love Who Came From the Stars>
'Namsan Seoul Tower' Where Romance Blossoms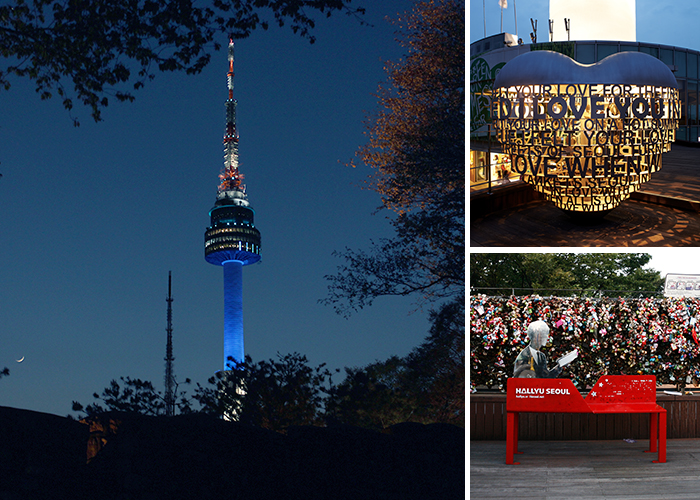 The 236.7m Namsan Seoul Tower sits atop the 497.7m tall Namsan. The restaurant on the 7th tower slowly rotates a full 360 degrees, allowing one to take in excellent views of the city. In particular, the night views are spectacular making the restaurant a popular choice for romantic couples on dates.
In 'My Love Who Came From the Stars', Do Min Joon (Kim Soo Hyun) was a man from space who possessed exceptional features and mysterious powers. He came to fall in love with the actress Cheon Song Yi (Jeon Ji Hyun). Despite the differences in the background and personality of the two, they were like any romantic couple in love as they sought out tasty places to eat and explored neighborhoods together. One of the romantic spots the couple visited was the restaurant inside the Namsan Seoul Tower as well as the tower´s base where they put up their lock of love together. The two left viewers breathless as they took the express elevator up the Namsan Seoul Tower to the observatory with panoramic views of the city and also writing their names and the message, "Let´s love each other more", on a lock and locking it up. There are few things more precious than love and in that respect the atmosphere of the Namsan Seoul Tower is brimming with love.
Namsan Seoul Tower
Address : 105, Namsangongwon-gil, Yongsan-gu, Seoul, Republic of Korea
Contact : 02-3455-9277
Operating hours : Everyday 10:00-22:00
Homepage : www.namsanseoultower.com
2. Filming location of <Moon Embracing the Sun>, <Love in the Moonlight>
The Administrative Palace of the Joseon Dynasty, 'Gyeongbokgung Palace'
Palaces are synonymous with the age of kingdoms and in Korea the Gyeongbokgung Palace is perhaps most familiar to Koreans. This administrative palace has been the center of Korea´s final royal kingdom, the Joseon Dynasty, since the dynasty´s first year under King Taejo (in 1392) and through Sunjong in 1920. In total, 27 kings have ruled and governed Korea from this palace. As the administrative palace, Gyeongbokgung Palace has been the official palace taking precedence over all the other palaces.
It has also been the filming location for a number of popular television dramas. In , the palace was where Kim Soo Hyun (Lee Hwon) received much attention for his role as the king who protected the woman he loved. Recently Park Bo Gum (who played Lee Young) and Kim Yoo Jung (who played Hong Ra On) held a autograph session in the enclosure within Heungnyemun to show their appreciation for the fans of their drama <Love in the Moonlight>.
Additionally a recent trend, to wear hanbok and visit the royal palaces, has emerged among the young adults of Korea. The colors of a hanbok look particularly exquisite in the natural daylight. Luckily, there are plenty of hanbok rental shops around the palace. Why not try experiencing the regal atmosphere of Gyeongbokgung Palace while wearing a hanbok outfit and imagining you are the star of your popular royal drama?
Gyeongbokgung Palace
Address : 81, Jong-ro, Jongno-gu, Seoul, Republic of Korea
Contact : 02-3700-3900
Operating hours : Everyday 09:00-18:00(Last entry 17:00)
Closed : Tuesdays
Homepage : www.royalpalace.go.kr
3. Filming location for <We Got Married>
Shall We Take a Walk Together? 'Cheonggyecheon Stream'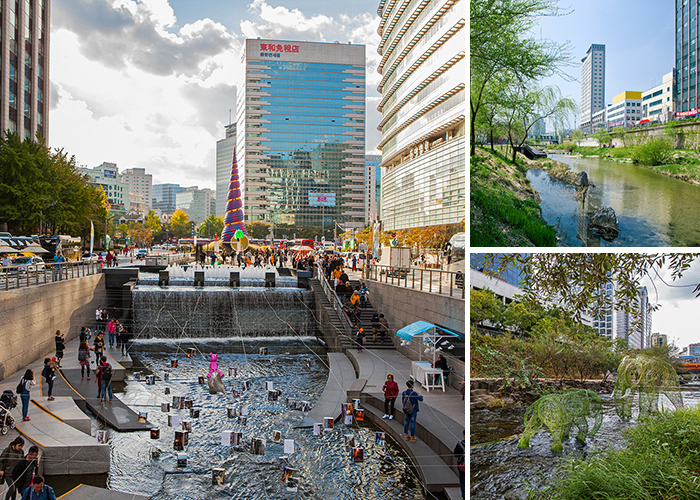 This natural stream underwent construction on its waterways during the Joseon Dynasty to prevent the surrounding homes from being flooded and it played a major role in keeping the city clean. The Cheonggyecheon today underwent major restoration work for 2 years beginning in 2003 to become a natural oasis for citizens.
When one takes a stroll along the bubbling stream, the fast-paced city life suddenly feels more romantic. There´s a Korean saying that goes, "tap twice when even crossing a stone bridge", meaning to always be precautious in any situation. Actor and singer Yook Sungjae shared this expression to his make-believe spouse, singer Joy, on while the two enjoyed a date here.
Crossing the districts of Jongno and Jung, the 10.84km Cheonggycheon features a number of stone bridge which anyone of all ages can cross. You´ll spot a range of people here including couples tightly holding hands together while crossing the stream´s stone bridges, children dipping their feet into the stream, and nearby office workers enjoying a bit of a stroll during their lunch hours. A number of festivals takes place on the stream throughout the year and the biggest is the annual Seoul Lantern Festival that takes place in November. The colorful lanterns shining bright above the stream will naturally make you take out your camera for a picture.
4. Filming location for <Infinite Challenge>
Back to the Past at 'Namsangol Hanok Village'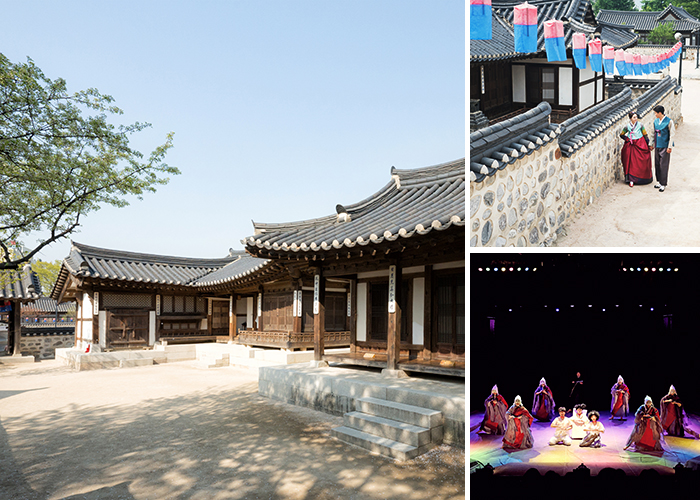 At Namsangol Hanok Village, you can hear the sweet melody from a gayageum between stone brick walls and take in the earthy scents emanating from the glossy wooden hanok floors and be transported back to the days of the Joseon Dynasty right in the heart of the city. Here the gardens, ponds, trees and traditional homes of five hanoks, including one that belonged to a queen´s family, have been transported and carefully restored.
The popular television variety program has established itself to be more than just an entertainment program but one which, through its deep preparation, both amuses and moves viewers. In the 'Infinite Tour´ episode, the members were seen organizing and personally leading tours for foreign visitors to the city and the Namsangol Hanok Village was the first stop of Yoo Jae Suk and Hwang Gwanghee´s <Midnight in Seoul> course. It received a positive response from the participants for its deep history and traditions and the variety of activities offered.
Within the traditional homes are the furniture and everyday tools and items that belonged to the class of the people that once lived there. Cultural activities are also plentiful including activities to learn to write hangeul, hanji folding, tea classes, and more. If you´re looking for a momentary place to rest, stop by the tea house to enjoy a delicious cup of traditional Korean tea. If you want to experience Seoul´s history and life of the past, you won´t want to leave out the Namsangol Hanok Village from your itinerary!
Namsangol Hanok Village
Address : 28, Toegye-ro 34-gil, Jung-gu, Seoul, Republic of Korea
Contact : 02-2261-0517
Operating hours : 09:00 ~ 21:00 in summer season (April through October) / 09:00 ~ 20:00 in winter season (November through March)
Closed : Mondays
Homepage : www.hanokmaeul.or.kr
5. Filming Location of <Running Man>, <You Who Came from the Stars>
The Popular Date Spots of 'Yeouido Hangang Park and the Hangang Ferry'
Some 100 guests comprised of idol stars, actors, and announcers engaged in a thrilling chase with the <Running Man> members at Yeouido Park on a memorable episode. This riverside park is located in Yeouido, the center of Korea´s politics and economy, and is where many popular annual events takes place including the cherry blossom festival and the International Fireworks Festival. The Hangang Ferry, which you can board at the Yeouido Dock, takes you all the way to Seongsan Bridge on a romantic cruise, making it a popular option for dates.
In a memorable time-stopping scene from , Do Min Joon (Kim Soo Hyun) was seen stopping time to rescue Cheon Song Yi (Jeon Ji Hyun) who was in danger of falling overboard a wedding cruise.
You can choose to board a ferry that plays live music with a themed show. You can also enjoy a performance with your dinner on board with the city nightscape in view, making it a popular option for romantic couples. There are also various themed cruises throughout the year that are tailored to the seasons and other events so keep that in mind.
Yeouido Hangang Park
Address : 330, Yeouidong-ro, Yeongdeungpo-gu, Seoul, Republic of Korea
Contact : 02-3780-0561
Hangang Ferry Port
Address : Hangang Ferry Port, Yeouido-dong, Yeongdeungpo-gu, Seoul, Republic of Korea
Homepage : www.elandcruise.com
6. Filming location for<Infinite Challenge> 촬영지
The Korean Empire´s History at 'Deoksugung Palace'
Throughout the year, the Jeongdong neighborhood´s art museum, theater, royal palace, and modern structures draws in various visitors. The walkway along the stone walls of Deoksugung Palace is also known as Jeongdong road and is particularly beautiful in autumn when the many gingko trees along the road turns yellow and begins dropping its leaves or in winter when the white snow stacks atop the stone walls.
In an <Infinite Challenge> episode, Deoksugung Palace was the setting of the story of Emperor Gojong and his love for coffee. That same episode was remembered in the 500th special episode, 'Mudori Go', that aired in October of 2016. In it, the members were scattered among various places in the city. Yoo Jae Suk andYang Se Hyeong came to Deoksugung Palace where Yang Se Hyeong discovered the coffee cup first and acquired the official Infinite Challenge mascot. The palace was featured yet again in the 'Infinite Tour' episode, when Yoo Jae Suk and Hwang Gwanghee included the royal palace´s night tour in their itinerary. Unlike the evening courses of the city´s other royal palaces that are offered on occasion, Deoksugung Palace´s evening tour course is available throughout the year (with the exception of Mondays when the palace is closed).
During the days of the Korean Empire, when Deoksugung Palace was the official royal palace, Seokjojeon, constructed with architectural elements of both traditional and western styles, was constructed. After having been restored, Seokjojeon is now a history museum offering a recreated look and rich details of the age of the Korean Empire. Its first and second floors are only viewable through a guided tour which you can reserve online.
Deoksugung Palace
Address : 99, Sejong-daero, Jung-gu, Seoul, Republic of Korea
Contact : 02-771-9951
Operating hours : 09:00 ~ 21:00 daily
Closed : Mondays
Homepage : www.deoksugung.go.kr
7. <Where you can meet the artists of SM Entertainment>
'SMTOWN Coex Artium' a Place as Glamorous as the Stars
Head out exit 5 or 6 of Samsung Station and walk just a bit and you´ll soon notice a building as flashy as the K-Pop stars. This is 'SMTOWN Coex Artium' where you can meet K-Pop´s top acts such as SHINee, Girls´ Generation, EXO, f(x), Red Velvet, and others. This venue is an all-comprehensive culture center where fans can participate in a number of activities and draw closer to their favorite SM Entertainment artists. The 'Welcome Stage' on the first floor has a media wall which airs various videos of the artists and gets visitors excited from the beginning of their visit. On the second floor is the celebrity shop 'SUM' where you can purchase memorabilia worn by artists, producted selected by them, and even limited edition items released in collaboration with global brand designers. The SMTOWN studio on the third floor is where one can receive singing and dancing training, record in a record room, and even film on a music video set. The fourth floor has a library cafe with drinks and desserts themed after the stars while the theater, on the fifth floor, has a 40m long large screen that stretches around for 270 degrees and plays hologram musicals, concert footage, and more. The occasional fan meeting and showcase is also held here. Like the opening of a mystery gift box, SMTOWN Coex Artium is filled with wonders.
SMTOWN Coex artium
Address : 513, Yeongdong-daero, Gangnam-gu, Seoul, Republic of Korea
Contact : 1644-0180
Homepage : www.smtownland.com
8. <Meet the 'art toys' of hallyu stars>
K-Star Road Where Stars are Made
Super Junior, SHINee, Exo... where can you meet these stars all at once? It's 'K-Star Road' where the art toys of these and many other idol groups are on display. Beginning at exit 2 of Abgujeong Rodeo Street station and stretching 1km all the way to Cheongdam 4-way Intersection, this street is also known as 'Gangnam Dol' with various art toys of artists installed along the road.
installed along the road. The word 'Gangnam Dol' is a combination of the surrounding Gangnam neighborhood name with the 'dol' referring to both hallyu idols and figure dolls. They are embodied through the various life-sized hallyu star dolls that can be found here. Various stars such as Super Junior's Leeteuk, EXO´s Suho, Girls´ Generations´ Yuri and many others have shared their photos from here in the past. You can even purchase and take home a mini-sized figurine version of these dolls at the 'Gangnam Dol' house just by exit 7 of Apgujeong Rodeo Street station.
Behind the EXO Gangnam Dols is the SM Global Training Center of SM Entertainment while behind the Block B Gangnam Dol is JYP Entertainment, the agency home of 2PM, GOT7, Twice, and others. A five minute walk from JYP Entertainment will take you to the FNC Entertainment headquarter, home to FT Island, CN Blue, Yoo Jae Suk and others. Plenty of agencies of hallyu actors such as BH Entertainment- entertainment agency home to Lee Byeong Hun and Jingu-and Artist Company- home to Jeong Woo Sung and Lee Jung Jae- are also found in this area.
Gangnam Dols
① 4Minute ② Super Junior ③ 2PM ④ FT Island
⑤ SHINee ⑥ miss A ⑦ CNBLUE ⑧ TVXQ!
⑨ Girls´ Generation ⑩ EXO ⑪ AOA
⑫ BTS ⑬ B1A4 ⑭ VIXX
⑮ INFINITE ⑯ KARA ⑰ Block B
강남 한류스타거리
Address : 서울특별시 강남구 압구정동 KstarROAD
9. Filming location of <Infinite Challenge>, <We Got Married>
Seoul´ s Newest Landmark 'Lotte World & Lotte World Tower'
In the <Chain Letter> special of <Infinite Challenge>, Park Myung Soo was seen hiding his mailbox from Jung Joon Ha by placing it on the 118th floor of the Lotte World Tower. Jung Joon Ha, who has a fear of heights, was able to obtain the mail box in the still in-construction Lotte World Tower while nearly on the verge of tears.
The 123-story Lotte World Tower stands 555m tall and is in its final construction stage with an aim to finish by the end of November.
Additionally Lotte World Mall and Lotte World has risen in popularity in recent years as a drama and variety program filming location. The Lotte World Mall has options for shopping, movie watching, dining, and more. It was the setting of the date for the Gong Seung Yeon and Lee Jong Hyun couple from <We Got Married> who enjoyed bungeobbang pastry here and played in the 'Fun It' arcade center. Lotte World is also a must-visit place for romantic couples and has been featured on various television programs. The theme park is divided into an indoors and outdoors section to offer a wide variety of attractions throughout the year. You can also go skating at the ice rink located on the B3 level.
Lotte World
Address : 240, Olympic-ro, Songpa-gu, Seoul, Republic of Korea
Contact : 1661-2000
Operating hours : Sun-Fri 09:30 ~ 22:00 / Sat 09:30 ~ 23:00
Homepage : www.lotteworld.com
Lotte World Tower
Address : 300, Olympic-ro, Songpa-gu, Seoul, Republic of Korea
Contact : 02-3213-5000
Operating hours : 09:30 ~ 20:30
Homepage : www.lwt.co.kr
10. Filming location for <She Was Pretty>
Where the Nightscape is Even More Beautiful 'Sevit Some & he Banpo Bridge Moonlight Rainbow Fountain
Sevit Some is comprised of three floating island structures that floats on the Han River. Named Gavit Seom, Chevit Seom, and Solvit Seom,the three floating structures contains a variety of cultural centers including restaurants, buffet, cafe, exhibition space, convention hall, and more.
As a particularly beautiful setting in the evenings, Sevit Some has been featured as the drama filming location for a number of television programs. Rising hallyu star Park Seo Joon and Super Junior´s Choi Siwon filmed a scene here at Sevit Some for the popular drama <She Was Pretty>. In the scene, Hwang Jung Eum (Kim Hye Jin) came here after being humiliated by Park Seo Joon (Ji Seong Joon) where she was comforted by Sevit Some´s illuminating lights and the beautiful show from the Banpo Bridge Moonlight Rainbow Fountain. .
The fountains of Banpo Bridge draws water from the Han River and sprays the water in coordination with the background music and fountain lights to create a dazzling show. It has even been featured in the Guinness Book of World Records as the world´s longest fountain bridge.
Sevit Some
Address : 683, Olympic-daero, Seocho-gu, Seoul, Republic of Korea
Contact : 1566-3433
Operating hours : Daily 09:00 ~ 23:00
Homepage : www.somesevit.co.kr
Banpo Bridge Rainbow Fountain
Address : Banpo-dong, Seocho-gu, Seoul, Republic of Korea
Contact : 02-3780-0578
Operating hours : 4.1 ~ 10.31
(Low Season Apr - Jun, Sept - Oct)
- 12:00, 19:30 (15 min)
- 20:00, 20:30, 21:00 (20 min)
(Peak Season Jul - Aug)
- 12:00, 19:30 (15 min)
- 20:00, 20:30, 21:00, 21:30 (20 min)
* Each performance lasts approximately 15-20 minutes
* The fountain show may be cancelled due to weather or other large-scale events
예약 전 안내사항
예약은 관광일 기준 최소 3일 전까지 가능합니다.
기존 등록된 예약 중 그룹별 정원을 초과하지 않는 예약에 한하여 1일 전 17시까지 추가예약 가능합니다.
최소 출발 인원은 3인부터 입니다. 관광일 2일 전 17시까지 누적예약인원이 3인 미만일 경우 예약은 자동 취소되며, 출발 및 취소 여부는 문자와 메일로 안내드립니다.
다음달 예약은 전달 15일 이후부터 가능합니다.
주말 및 공휴일, 봄 가을 성수기에는 예약이 조기 마감될 수 있습니다.
해설 진행 시 발생하는 안전사고에 대해서 도보관광 사무국과 서울문화관광해설사는 책임을 지지 않습니다.
보호자가 동반하지 않는 만 14세 미만의 하동 관광객의 경우 현장에서 취소됩니다.
미세먼지 비상저감조치 발령 및 기타 기상악화(폭염, 태풍, 폭우 등)로 인해 도보관광 운영이 어려운 경우 모든 예약은 일괄 취소됩니다. (관광일 전날 기준)
예약 전 안내사항
예약은 관광일 기준 최대 6개월 전부터 최소 5일 전 까지 신청 가능합니다.
희망하시는 날짜 및 코스에 활동가능한 해설사가 없는 경우 예약은 취소될 수 있습니다.
특히 주말 및 공휴일, 봄(4~5월) 가을(9~11월) 성수기에는 예약이 조기마감 되오니 이 점 유의하여 주시기 바랍니다.
예약확인을 위해 도보관광 사무국(02-6925-0777)에서 확인 연락이 진행됩니다.
(최소 5일~한달 전)3회 이상 전화통화가 이뤄지지 않을 시 예약이 취소될 수 있습니다.
경복궁, 창덕궁, 창경궁, 덕수궁 35인 이상 관람 시, 해당 궁궐 사이트에서 15일 전 단체 입장신청이 필요합니다. (2014.1.1.부터 시행)
해설 진행 시 발생하는 안전사고에 대해서 도보관광 사무국과 서울문화관광해설사는 책임을 지지 않습니다.
보호자가 동반하지 않는 만 14세 미만의 하동 관광객의 경우 현장에서 취소됩니다.
미세먼지 비상저감조치 발령 및 기타 기상악화(폭염, 태풍, 폭우 등)로 인해 도보관광 운영이 어려운 경우 모든 예약은 일괄 취소됩니다. (관광일 전날 기준)
예약 전 안내사항
예약은 관광일 기준 최소 1주일 전까지 가능합니다.
덕수궁의 경우 복지카드를 지참한 관광객에 한하여 무료입장이 가능합니다.
※ 중증(1~3급) 동반인 포함 2명 무료※ 경증(4~6급) 장애인 본인 1인만 무료
보호자 또는 보조자가 동반하지 않을 경우 이용이 불가능 합니다.※ 별도의 보조자가 없는 경우 사무국으로 문의 바랍니다. (02-6925-0777)
희망하시는 날짜 및 코스에 활동가능한 해설사가 없는 경우 예약은 취소될 수 있습니다.
예약확인을 위해 도보관광 사무국(02-6925-0777)에서 확인 연락이 진행됩니다.(최소 5일~한달 전)3회 이상 전화통화가 이뤄지지 않을 시 예약이 취소될 수 있습니다.
해설 진행 시 발생하는 안전사고에 대해서 도보관광 사무국과 서울문화관광해설사는 책임을 지지 않습니다.
미세먼지 비상저감조치 발령 및 기타 기상악화(폭염, 태풍, 폭우 등)로 인해 도보관광 운영이 어려운 경우 모든 예약은 일괄 취소됩니다. (관광일 전날 기준)
예약 전 안내사항
예약은 관광일 기준 최소 1주일 전까지 가능합니다.
덕수궁의 경우 복지카드를 지참한 관광객에 한하여 무료입장이 가능합니다.
※ 중증(1~3급) 동반인 포함 2명 무료
※ 경증(4~6급) 장애인 본인 1인만 무료
본 프로그램은 수화해설 중심으로 진행되며, 수화가 불가능한 경우 이용이 불가합니다.
희망하시는 날짜 및 코스에 활동가능한 해설사가 없는 경우 예약은 취소될 수 있습니다.
예약확인을 위해 도보관광 사무국(02-6925-0777)에서 확인 연락이 진행됩니다.
(최소 5일~한달 전)3회 이상 전화통화가 이뤄지지 않을 시 예약이 취소될 수 있습니다.
해설 진행 시 발생하는 안전사고에 대해서 도보관광 사무국과 서울문화관광해설사는 책임을 지지 않습니다.
미세먼지 비상저감조치 발령 및 기타 기상악화(폭염, 태풍, 폭우 등)로 인해 도보관광 운영이 어려운 경우 모든 예약은 일괄 취소됩니다. (관광일 전날 기준)
예약 전 안내사항
예약은 관광일 기준 최소 1주일 전까지 가능합니다.
본 코스는 보행약자(거동이 불편한 고령자, 장애인, 유모차 이용자 등)를 위한 코스입니다.
보호자를 동반하지 않을 시 이용이 불가능 합니다.※ 보행약자 1명당 보호자 최소 1인 이상 동반
※ 전동보장구(전동휠체어, 전동스쿠터 등) 사용자의 경우 보호자 1인당 보행약자 최대 4인까지 동반 가능
희망하시는 날짜 및 코스에 활동가능한 해설사가 없는 경우 예약은 취소될 수 있습니다.
예약확인을 위해 도보관광 사무국(02-6925-0777)에서 확인 연락이 진행됩니다.(최소 5일~한달 전)3회 이상 전화통화가 이뤄지지 않을 시 예약이 취소될 수 있습니다.
해설 진행 시 발생하는 안전사고에 대해서 도보관광 사무국과 서울문화관광해설사는 책임을 지지 않습니다.
미세먼지 비상저감조치 발령 및 기타 기상악화(폭염, 태풍, 폭우 등)로 인해 도보관광 운영이 어려운 경우 모든 예약은 일괄 취소됩니다. (관광일 전날 기준)
Read before Reservation
Reservation shall be made at least 3 days before the tour day.
Reservation for the next month is available after 15th of the previous month.
Reservation may be closed early during weekend, holiday, and peak season in spring and fall.
Seoul Guided Walking Tour Office and Seoul culture and tourism guide are not liable for the safety accidents during the Seoul Guided Walking Tour.
Reservation for unaccompanied tourist under 14 will be canceled on site.
All reservations are canceled when Seoul Guided Walking Tour is unavailable due to Particulate Matter Reduction Measure or other weather conditions (heat wave, typhoon, heavy rain). (As of the date before the tour day)
Read before Reservation
Reservation shall be made at least 1 week before the tour day.
The course is for tourists with mobility problems (Senior, people with disability, stroller user).
You may not use the course without an assistant (or companion)
※ At least one assistant shall accompany a tourist with mobility problem
※ In case of electric assisting device users (electric wheelchair, electric scooter users), one assistant may accompany up to 4 tourists with mobility problem
Reservation may be canceled when a guide is unavailable on the desired date and course.
Seoul Guided Walking Tour Office (02-6925-0777) will contact you to confirm reservation.
(At least 5 days~1 month before tour day) Reservation may be canceled when Seoul Guided Walking Tour Office cannot reach you for more than 3 times.
Seoul Guided Walking Tour Office and Seoul culture and tourism guide are not liable for the safety accidents during the Seoul Guided Walking Tour.
All reservations are canceled when Seoul Guided Walking Tour is unavailable due to Particulate Matter Reduction Measure or other weather conditions (heat wave, typhoon, heavy rain). (As of the date before the tour day)
预约前说明事项
观光日基准最少3日前方可进行预约。
下个月的预约可从前月15日开始。
周末及公休日、春秋旺季的预约可早期结束。
进行解说时,对于有可能发生的安全事故,徒步观光事务局和首尔文化观光
解说员概不负责。
未伴随保护者的未满14岁儿童游客,会在现场取消观光。
因发布微尘紧急低减措施及其他气象恶化(暴热、台风、暴雨等),无法运营 徒步观光时,所有预约会批量取消。
(观光前日基准)
预约前说明事项
观光日基准最少1日前方可进行预约。
本线路是为了行动不便者(行动不便的高龄者、残疾人、婴儿车利用者等)的路线。
无辅助人员(或同行人)伴随时,不可利用。
※ 步行不便者1名至少需要1名以上的辅助人员陪同。
※ 电动辅助器具(电动轮椅、电动独轮车等)使用者时,每一位辅助人员最多可陪同 4名步行不便者。
希望观光的日期及线路上无解说员时,预约有可能被取消。
为了确认预约,徒步观光事务局(02-6925-0777)会致电进行确认。
(最少5日~一个月前) 3次以上无法连接时,预约将被取消。
进行解说时,对于有可能发生的安全事故,徒步观光事务局和首尔文化观光解说员概不负责。
因发布微尘紧急低减措施及其他气象恶化(暴热、台风、暴雨等),无法运营 徒步观光时,所有预约会批量取消。
(观光前日基准)
預約前說明事項
觀光日基準最少3日前方可進行預約。
下個月的預約可從前月15日開始。
周末及公休日、春秋旺季的預約可早期結束。
希望观光的日期及线路上无解说员时,预约有可能被取消。
進行解說時,對於有可能發生的安全事故,徒步觀光事務局和首爾文化觀光解說員概不負責。
未伴隨保護者的未滿14歲兒童遊客,會在現場取消觀光。
因發布微塵緊急低減措施及其他氣象惡化(暴熱、臺風、暴雨等),無法運營 徒步觀光時,所有預約會批量取消。(觀光前日基準)
預約前說明事項
觀光日基準最少1日前方可進行預約。
本線路是為了行動不便者(行動不便的高齡者、殘疾人、嬰兒車利用者等)的路線。
無輔助人員(或同行人)伴隨時,不可利用。
※ 步行不便者1名至少需要1名以上的輔助人員陪同。
※ 電動輔助器具(電動輪椅、電動獨輪車等)使用者時,每壹位輔助人員最多可陪同 4名步行不便者。
希望觀光的日期及線路上無解說員時,預約有可能被取消。
為了確認預約,徒步觀光事務局(02-6925-0777)會致電進行確認。
(最少5日~壹個月前) 3次以上無法連接時,預約將被取消。
進行解說時,對於有可能發生的安全事故,徒步觀光事務局和首爾文化觀光 解說員概不負責。
因發布微塵緊急低減措施及其他氣象惡化(暴熱、臺風、暴雨等),無法運營 徒步觀光時,所有預約會批量取消。 (觀光前日基準)