>
Visit Seoul Service
>
See & Do
>
Tours
Hallyu
Yeouido: A Treasure Island Crafted by the Han River
Published Date : May 19, 2014 / Edited Date : Jul 14, 2021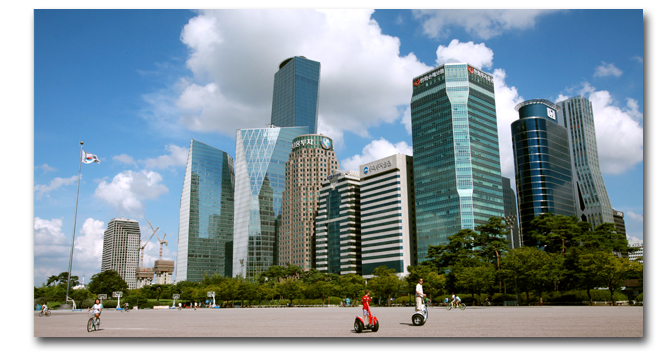 Yeouido
Yeouido is an island that is like a jewel crafted by the Hangang River. Once nothing more than a sandbar in the middle of the river, used primarily as a ranch to breed horses and sheep during the Joseon Dynasty, it is now the so-called "Manhattan of Seoul," home to the National Assembly (the national parliament of Korea) and other public institutions, broadcast media, financial companies and even an ecological park. The sprawling park in the center of the island brings to mind New York's Central Park---it's a forest where the city and nature breathe as one.
Yeouido is a great place for urban exploration, a place where you can take in the iconic skyscrapers and find all sorts of things to see, eat and enjoy. Renting a bike to circle the island is a good way to recharge, too. In spring there's the Cherry Blossom Festival, when the island's famous cherry trees along Yunjung-ro Road blossom in beautiful fashion. In early autumn the island hosts the Seoul International Fireworks Festival; thousands flock to the area around Yeouinaru for a fall evening of spectacular fireworks. From Yeouido you can also take a romantic cruise on the Hangang River or enjoy a wide range of water sports like waterskiing and yachting.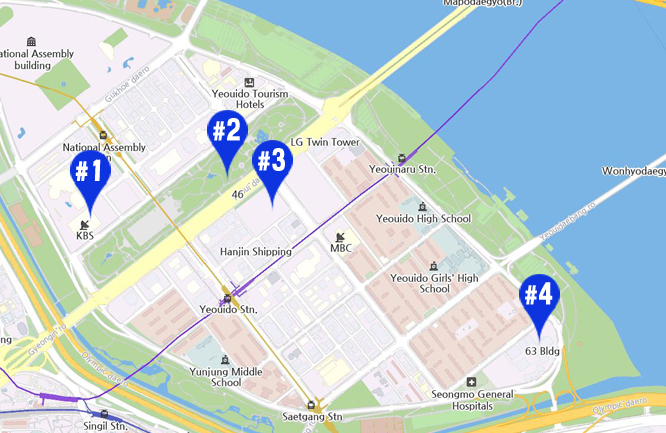 The Korean Wave is sweeping the world. Beginning in the late 1990s with the success of Korean dramas in China and Japan, the Korean Wave is now expanding to other cultural sectors such as K-pop---best exemplified by the extraordinary worldwide success of rapper Psy's hit song "Gangnam Style"---and cinema, with Korean films now an ubiquitous presence at the world's major film festivals. One of the epicenters of this phenomenon is Yeouido's own Korean Broadcasting System (KBS), one of the Republic of Korea's (ROK) biggest TV and radio stations. KBS ON, located in the southeast corner of KBS headquarters, is Korea's very first broadcasting exhibit hall/broadcasting museum, where you can experience both the past and present of ROK"s broadcast media. It's a popular destination for overseas visitors, too. First opened on Jan 1, 1977 as KBS's visiting center, the space was equipped with exhibit halls for 3D videos, holograms and characters in 2001. ON underwent a major overhaul in 2012, when it was turned into a media experience hall equipped with state-of-the-art video multitouch screens with which visitors can watch their favorite programs in even sharper detail. 。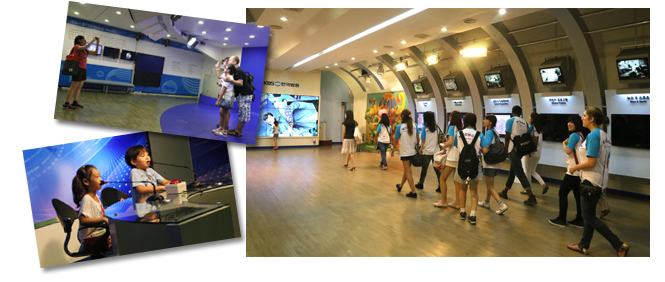 Walking the floors of the exhibition hall, we can re-experience our favorite dramas and entertainment programs of yesteryear---the shows may have ended, but they remain in our hearts. We can also see how it was these very programs that kicked off the Korean Wave. The popularity of Korean dramas like "Autumn in My Heart" and "Winter Sonata" spread from ROK to Japan, China and the rest of the world. The people who made these dramas were the generation that grew up watching the so-called "Hong Kong noir" of the 1970s and 1980s. In fact, it wouldn't be an exaggeration to say that this generation, who went wild about popular Chinese actors and envied the pop stars of the time, were the real leading men and women who got the Korean Wave started. While older visitors can relive fond memories, younger visitors can experience the thrill of becoming broadcasters themselves at the hall's mock studio and animation dubbing corner. A 3D video hall allows guests to experience the fun of media through a short---but thrill-packed---movie.


Here visitors can watch a film on the history of Korean broadcasting, which goes back to 1927, and the activities of Korea's news announcers, one of the most sought-after jobs in the country. You can also experience what it's like to put together a radio program. Visitors can observe the giant cameras that were used in the early days of broadcasting, Korea's first televisions, the endless development of microphones, and other points of historical interest. As you look at the old broadcasting equipment, which has evolved surprisingly quickly to bring you broadcasting of better and better quality, you begin to gain a deeper understanding of the generations that came before you.


Getting There :
Exit 4, National Assembly Station (Line 9)
Address :
13 Yeouigonwon-ro, Yeongdeungpo-gu, Seoul
Phone : T. +82-2-781-2224
Business Hours :
9:30am to 5:30pm (admission ends at 5pm). Closed every first Monday of the month as well as New Year's Day, Lunar New Year's and Chuseok.
Website : www.office.kbs.co.kr/on




| | |
| --- | --- |
| | A giant forest, Yeouido Park runs along the western side of Yeouido's central road. It's a favorite leisure spot of nearby office workers and residents. In 1916, a rough surface airfield was built in Yeouido. Korean independence activist Kim Ku---the last president of the Provisional Government of the Republic of Korea---used the airfield when he returned to Korea from China upon Korea's liberation from Japanese colonial rule in 1945. What is now Yeouido Park used to be the old runway. The airport closed in 1958, and the space was turned into a parade ground called Yeouido Square. Despite being covered in asphalt, it proved popular with families and couples who used the surface for bicycling and rollerblading. Yeouido Square was reborn as an ecological space named Yeouido Park on July 5, 1999. It is divided into four sections (listed south to north): Nature's Ecosystem Forest, Culture Square, Grass Square and Traditional Korean Forest. The park is ringed by 2.9km of bike paths and 2.5km of walking paths. Culture Square remains a paved surface where, like in the old days, you can enjoy rollerblading and other sports. Broadcasters make frequent use of the space to shoot TV entertainment programs, too. The various flowering plants and evergreens that greet you throughout the park serve as Yeouido's oxygen tank. In the Traditional Korean Forest there's a beautiful pond and pavilion where visitors can experience the naturalistic beauty of Korean traditional gardening. In the center of the park, a statue of King Sejong the Great (r. 1418--1450)---the beloved Joseon Dynasty monarch who, among other things, oversaw the creation of Korea's brilliant indigenous writing system, Hangeul---and sculptures dedicated to his accomplishments awaken a sense of pride in the Korean people. The landscape---couples walking along the narrow paths, parents playing with their children, office workers taking a moment off from their busy schedules, skyscrapers harmonizing with nature---is so beautiful it can remind you of Manhattan's Central Park. |


Getting There : A 10 minute walk from Exit 3 of Yeouido Station (Line 5) or Exit 3 of National Assembly Station (Line 9).
Address : 71 Yeouidogongwon-gil, Yeongdeungpo-gu, Seoul
Website : www.parks.seoul.go.kr



| | |
| --- | --- |
| The International Financial Center (IFC) is a composite space that includes three office buildings, the Conrad Seoul Hotel and one of Seoul's largest---and most unique---shopping malls. Planned from the very beginning to be a new Yeouido landmark, the IFC is now one of the hottest places in Yeouido. The IFC's main building might not have as many floors as its neighbor, the iconic 63 Building, but it is 30m higher. The mall, meanwhile, was designed by famous UK-based architecture and design house Benoy. Piercing the sky, the four towers of One, Two, Three IFC and the Conrad Seoul Hotel lend the Yeouido skyline an even greater beauty. The sculpture garden and art gallery at the entrance serve as an urban oasis, a good place to enjoy a bit of rest and relaxation. | |
| | |
| --- | --- |
| | The entrance of the IFC Mall, the Glass Pavilion is, as the name suggests, a glass structure standing 17m high. It fills the mall with natural light and provides unobstructed views. The feeling of coercion from the surrounding skyscrapers gives way to a feeling of natural lightness, as if you were gazing at the sky from a field. It provides a space were you can appreciate both architectural beauty and urban sophistication. A space for shopping, eating and cultural events, the IFC Mall is where you go to satisfy your inner fashionista. |

Getting There : Make use of the moving walkway as you come out of Exit 3 of Yeouido Station (Line 5 or 9).
Address : 10 Gukjegeumyong-ro, Yeouido-dong, Yeongdeungpo-gu, Seoul
Phone : T. +82-2-6137-5000
Business Hours : 10am to 10pm. Some shops my open earlier on the weekends; the street shop is open until 11pm. Closed every first Monday of the month as well as New Year's Day, Lunar New Year's and Chuseok.
Website : www.ifcmallseoul.com
<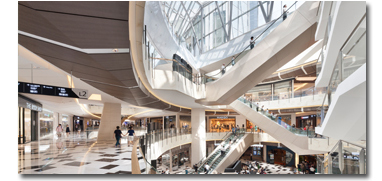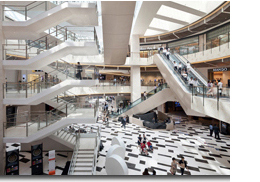 The IFC Mall is in the basement of Three IFC. It exudes an exotic charm thanks to its unique display methods and differentiated design that set it apart from existing shopping spaces. The natural light that floods in through the glass ceilings and smooth, simple pathways through the wide store spaces create a rhythmical flow as shoppers circulate the floors.Three floors deep, the natural sweep of the space in all directions is a feast for the eyes.The mall hosts major local and overseas SPA brands such as Zara, Massimo Dutti, popular Korean SPA brand 8seconds (especially popular with younger shoppers) and the first Korean branch of the US brand Hollister.
| | |
| --- | --- |
| | Other global fashion brands like Mango, Banana Republic and Gap are represented as well. In the 2nd underground floor you'll find a wide range of sporting good brands and a branch of major Korean booksellers Youngpoong Bookstore, where---like at most major Korean bookstores---you can purchase music albums, stationary and office supplies and, of course, books. |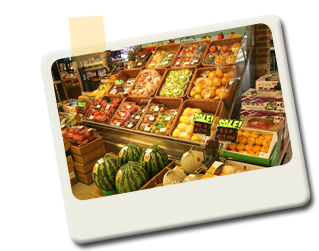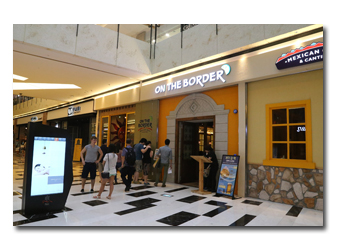 In the third underground floor there's a CGV movie theater and the Food Court, a row of restaurants selling foods from around the world. In the center of the Food Court is Olive Market, a very popular shop for premium foodstuffs run by Korean food and lifestyle channel Olive. Here you'll find fresh produce straight from the farm and a whole lot of country market charm. Expect to see long lines of people come to try out its wide range of new and hard-to-find foods. Indulge your inner epicurean.



A hotel is no longer simply a place to stay---it's a space that should provide a sense of awe and luxury. The Conrad Seoul really gained the public's attention when it frequently appeared in the popular 2013 Korean drama "Shark," in which a mysterious young man returns to Korea from Japan to seek vengeance against the owners of a hotel group, who are responsible for killing his father. It has since become a new Yeouido icon. You'll find few places in the city as romantic. Surrounded on all sides by class windows, the hotel provides wonderful views of the Hangang River, and the cuisine---prepared by top chefs---is first-rate.

Address : 10 Gukjegeumyong-ro, Yeouido-dong, Yeongdeungpo-gu, Seoul
Phone :T. +82-2-6137-7000
Website : www.conradseoul.co.kr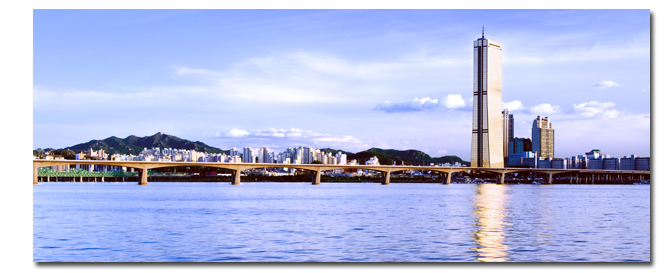 | | |
| --- | --- |
| | Its bronze silhouette dominating the skyline, the 63 Building---60 floors above ground with three underneath---was for years Korea's tallest building and is still one of Seoul's most popular tourist attractions. Housed in the iconic skyscraper, 63 City is a travel destination that combines views, food and fun. |
The Wax Museum, Sea World aquarium and buffet restaurant in the 3rd floor basement is always full of people. The basement is also where you take the high-speed elevator to the 60th floor observatory---moving at 540m per minute, the elevator takes just 25 seconds to reach the top. If you make a reservation, however, you can get the so-called Love Elevator all to yourself and someone you love---these slower trips take 1 minute, 20 seconds. In addition to the observatory, the 60th floor is also home to Sky Art, the world's highest art hall. Like New York's Empire State Building, the observatory provides stunning views over the city. The Walking on the Clouds sky lounge on the 59th floor offers fine food with fantastic views.

Getting There :
Leave Exit 1 of Yeouinaru Station (Line 5) and head straight along Yeouidong-ro Street. Likewise, you could leave Exit 3 of Saetgang Station (Line 9) and head straight along Yunjung-ro, following the Hangang Riverside.
Address : 50 63-ro, Yeongdeungpo-gu, Seoul
Telephone : T. +82-2-789-5663
Website : www.63.co.kr

The world's first wax museum was the famous Madame Tussauds in London. Marie Tussaud, who learned wax modeling from a Swiss doctor when she was young, was entrusted with making the death masks of the most illustrious victims of the Reign of Terror of the French Revolution, including Louis XVI and Marie Antoinette. Moving to London, she founded an exhibit in the city, today's Madame Tussauds.
The 63 Wax Museum occupies part of the 2nd and 3rd basement floors of the 63 Building. It contains about 70 wax models of world-famous celebrities, Korean leaders, famous artists and the like. Visitors are able to meet face-to-face with Korean independence activist Kim Ku, Korean presidents Park Chung-hee and Kim Dae-jung and US President Barack Obama. In the Artists' Section you can find Beethoven, Bach and Mozart. Maybe you'd like to have your photo taken with Pablo Picasso, Marilyn Monroe, James Dean, Bae Yong-joon, Leonardo DiCaprio and Elvis Presley? Be sure to check out the stars' personal possessions on display while you're here.

Business Hours : 10am to 10pm (admission ends at 9:30pm).
Admission : KRW 14,000 (adults), KRW 13,000 (children)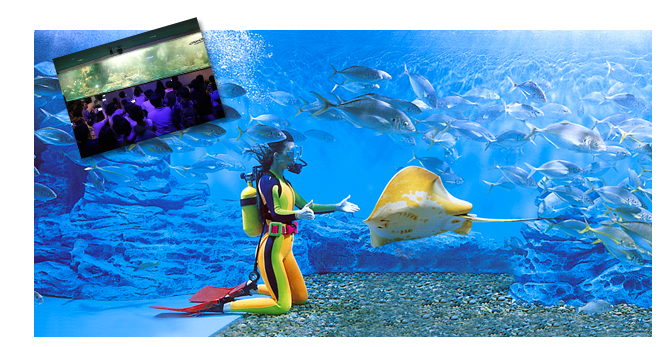 63 Sea World opened in 1985 as Korea's first aquarium. Among the stars here are the African penguins, fan favorites. An underwater ballet show (12:30pm, 1:30pm, 2:30pm, 3:30pm, 7pm and 8pm) is performed six times a day---set to tango music, the lively dancing will leave you breathless, and the female dancer in particular will bring to mind the mermaids of legend. As you watch, you'll feel as if you're swimming in the sea, too. Other events take place depending on the day of the week, like divers feeding the seals and sea lion talent shows. It's a great place to experience the mysteries of the sea.
Business Hours : 10am to 10pm (admission ends at 9:30pm).
Admission : KRW 19,000 (adults), KRW 16,000 (children)



An art gallery at the very top of 63 City, 63 Sky Art provides stunning views no matter which direction you look. Enclosed in class on all sides, you are afforded great views of all the major landmarks along the Hangang River, including the Wonhyo Bridge, Mapo Bridge and Hangang Railroad Bridge and Bamseom Island. The so-called Thrill Deck is worth experiencing, too. Making use of mirrors, the platform provides an exciting---and vertigo-inspiring---experience that's not unlike looking straight down from a height of 240m.

Business Hours : 10am to 10pm (admission ends at 9:30pm).
Admission : KRW 12,000 (adults), KRW 11,000 (children)

예약은 관광일 기준 최소 3일 전까지 가능합니다.
개인예약: 최대 10명
※ 경복궁/창경궁/창덕궁: 최대 20명
기존 등록된 예약 중 그룹별 정원을 초과하지 않는 예약에 한하여, 1일 전 17시까지 추가 예약 가능합니다.
코스별 정원을 초과하지 않는 경우, 다른 예약자와 함께 관광하게 될 수 있습니다.
서울도보해설관광 프로그램은 예약접수와 동시에 해설사가 배정되므로 신중하게 예약해주시기 바랍니다.
다음달 예약은 전달 15일 이후부터 가능합니다.
해설 프로그램 참여 시 코로나19 감염 예방을 위해 반드시 마스크를 착용하여 주시기 바랍니다.
발열 또는 호흡기 증상(열, 기침, 가래, 근육통, 코막힘, 인후통 등)이 있는 경우, 프로그램 참여를 삼가주시기 바랍니다.
보호자가 동반하지 않는 만 14세 미만의 아동 관광객의 경우, 현장에서 취소됩니다.
미세먼지 비상저감조치 발령 및 기타 기상악화(폭염, 태풍, 폭우 등)로 인해 도보관광 운영이 어려운 경우, 모든 예약은 일괄 취소됩니다. (관광일 전날 기준)
해설 진행 시 발생하는 안전사고에 대해서 서울도보해설관광 사무국과 서울문화관광해설사는 책임을 지지 않습니다.
한국어를 모국어로 사용하는 대한민국 국민의 경우, 외국어 해설 신청이 불가능합니다.
예약 후 불가피하게 참석이 어려운 경우, 관광시간 기준 최소 4시간 전에 예약을 취소하여 주시기 바랍니다. 관광시간이 4시간 미만으로 남은 상태에서 예약을 취소하는 일이 2회 이상 발생할 경우, 향후 예약이 제한될 수 있습니다.
개인예약은 1인부터 가능하나, 최소 출발 인원은 3인입니다. 관광일 2일 전까지 누적 예약인원이 3인 미만일 경우, 해당 예약은 자동 취소됩니다. 출발 확정 또는 예약취소의 경우, 문자로 안내해드리겠습니다.
예약은 관광일 기준 최대 6개월 전부터 최소 5일 전까지 신청 가능합니다.
단체예약 : 11명 이상
※ 경복궁/창경궁/창덕궁: 21명 이상
희망하시는 날짜 및 코스에 활동 가능한 해설사가 없는 경우, 예약은 취소될 수 있습니다.
특히 주말 및 공휴일, 봄(4~5월)/가을(9~11월) 성수기에는 예약이 조기마감될 수 있으니 유의하여 주시기 바랍니다.
예약확인을 위해 도보해설관광 사무국(02-6925-0777)에서 확인 연락이 진행됩니다. 관광일 기준 최소 5일 전~1달 전 3회 이상 전화통화가 이뤄지지 않을 시, 예약이 취소될 수 있습니다.
경복궁/창덕궁/창경궁/덕수궁 35인 이상 관람 시, 해당 궁궐 사이트에서 15일 전 단체 입장신청이 필요합니다.
해설 진행 시 발생하는 안전사고에 대해서 서울도보해설관광 사무국과 서울문화관광해설사는 책임을 지지 않습니다.
보호자가 동반하지 않는 만 14세 미만의 아동 관광객의 경우 현장에서 취소됩니다.
미세먼지 비상저감조치 발령 및 기타 기상악화(폭염, 태풍, 폭우 등)로 인해 도보관광 운영이 어려운 경우, 모든 예약은 일괄 취소됩니다. (관광일 전날 기준)
서울도보해설관광은 문화관광해설사의 자원봉사활동으로 운영되는 프로그램으로, 영리 목적의 신청을 엄격히 제한하고 있습니다.
예약은 관광일 기준 최소 1주일 전까지 가능합니다.
덕수궁의 경우 복지카드를 지참한 관광객에 한하여 무료입장이 가능합니다.
※ 중증(1~3급) 동반인 포함 2명 무료※ 경증(4~6급) 장애인 본인 1인만 무료
보호자 또는 보조자가 동반하지 않을 경우 이용이 불가능 합니다.※ 별도의 보조자가 없는 경우 사무국으로 문의 바랍니다. (02-6925-0777)
희망하시는 날짜 및 코스에 활동가능한 해설사가 없는 경우 예약은 취소될 수 있습니다.
예약확인을 위해 도보관광 사무국(02-6925-0777)에서 확인 연락이 진행됩니다.(최소 5일~한달 전)3회 이상 전화통화가 이뤄지지 않을 시 예약이 취소될 수 있습니다.
해설 진행 시 발생하는 안전사고에 대해서 도보관광 사무국과 서울문화관광해설사는 책임을 지지 않습니다.
미세먼지 비상저감조치 발령 및 기타 기상악화(폭염, 태풍, 폭우 등)로 인해 도보관광 운영이 어려운 경우 모든 예약은 일괄 취소됩니다. (관광일 전날 기준)
예약은 관광일 기준 최소 1주일 전까지 가능합니다.
덕수궁의 경우 복지카드를 지참한 관광객에 한하여 무료입장이 가능합니다.
※ 중증(1~3급) 동반인 포함 2명 무료
※ 경증(4~6급) 장애인 본인 1인만 무료
본 프로그램은 수화해설 중심으로 진행되며, 수화가 불가능한 경우 이용이 불가합니다.
희망하시는 날짜 및 코스에 활동가능한 해설사가 없는 경우 예약은 취소될 수 있습니다.
예약확인을 위해 도보관광 사무국(02-6925-0777)에서 확인 연락이 진행됩니다.
(최소 5일~한달 전)3회 이상 전화통화가 이뤄지지 않을 시 예약이 취소될 수 있습니다.
해설 진행 시 발생하는 안전사고에 대해서 도보관광 사무국과 서울문화관광해설사는 책임을 지지 않습니다.
미세먼지 비상저감조치 발령 및 기타 기상악화(폭염, 태풍, 폭우 등)로 인해 도보관광 운영이 어려운 경우 모든 예약은 일괄 취소됩니다. (관광일 전날 기준)
예약은 관광일 기준 최소 1주일 전까지 가능합니다.
본 코스는 보행약자(거동이 불편한 고령자, 장애인, 유모차 이용자 등)를 위한 코스입니다.
보호자를 동반하지 않을 시 이용이 불가능 합니다.※ 보행약자 1명당 보호자 최소 1인 이상 동반
※ 전동보장구(전동휠체어, 전동스쿠터 등) 사용자의 경우 보호자 1인당 보행약자 최대 4인까지 동반 가능
희망하시는 날짜 및 코스에 활동가능한 해설사가 없는 경우 예약은 취소될 수 있습니다.
예약확인을 위해 도보관광 사무국(02-6925-0777)에서 확인 연락이 진행됩니다.(최소 5일~한달 전)3회 이상 전화통화가 이뤄지지 않을 시 예약이 취소될 수 있습니다.
해설 진행 시 발생하는 안전사고에 대해서 도보관광 사무국과 서울문화관광해설사는 책임을 지지 않습니다.
미세먼지 비상저감조치 발령 및 기타 기상악화(폭염, 태풍, 폭우 등)로 인해 도보관광 운영이 어려운 경우 모든 예약은 일괄 취소됩니다. (관광일 전날 기준)
Reservations must be made at least 3 days prior to the tour date.
Individual: Up to 10 people
※ Gyeongbokgung/Changgyeonggung/Changdeokgung: 20 people (maximum)
Additional reservations are permitted for pre-existing reservations that do not exceed the limited number of the group by 5pm, one day prior to the tour date.
Other tourists may join your tour as long as it does not exceed the maximum number of the group.
Please be sure to select the date and time carefully as a tour guide is assigned immediately upon making a reservation.
Reservations for the following month are available from the 15th of the current month.
Masks are required for participation in all tour programs.
Please refrain from participating in any tour programs should you be experiencing any symptoms, including fever, coughing, congestion, muscle pain, stuffy nose, and/or sore throat.
Reservations for tourists under 14 years without an accompanying adult or guardian shall be canceled on site.
[As of one day prior to the tour date] All reservations shall be canceled in the event of emergency particulate matter reduction measures taken and/or inclement weather conditions (ex. excessive heat waves, typhoons, heavy rain, and more) that may impede Seoul Guided Walking Tour operations.
The Seoul Guided Walking Tour administration office and tour guide affiliates are not responsible for any accidents that happen to occur during the tour program.
If you are unable to go on a tour, please cancel the reservation at least 4 hours before the tour starts. If you cancel your reservation more than twice with less than 4 hours left, future reservations may be restricted.
Reservation shall be made at least 1 week before the tour day.
The course is for tourists with mobility problems (Senior, people with disability, stroller user).
You may not use the course without an assistant (or companion)
※ At least one assistant shall accompany a tourist with mobility problem
※ In case of electric assisting device users (electric wheelchair, electric scooter users), one assistant may accompany up to 4 tourists with mobility problem
Reservation may be canceled when a guide is unavailable on the desired date and course.
Seoul Guided Walking Tour Office (02-6925-0777) will contact you to confirm reservation.
(At least 5 days~1 month before tour day) Reservation may be canceled when Seoul Guided Walking Tour Office cannot reach you for more than 3 times.
Seoul Guided Walking Tour Office and Seoul culture and tourism guide are not liable for the safety accidents during the Seoul Guided Walking Tour.
All reservations are canceled when Seoul Guided Walking Tour is unavailable due to Particulate Matter Reduction Measure or other weather conditions (heat wave, typhoon, heavy rain). (As of the date before the tour day)
至少在观光当日前三天预约,方可预约成功。
个人预约:最多10名
*景福宫、昌庆宫、昌德宫:最多20名
在已登记的预约团体中,直接待不超过预约人数的团体,可在前一天17时前追加预约。
如果不超过每条路线的限定人数,可能会与其他预约者一同观光。
首尔徒步解说观光项目会在接受预约的同时分配解说员,请慎重预约。
如需预约下个月的观光解说,可在前一个月的15号以后预约。
为了预防新冠肺炎的扩散,参加徒步观光解说活动时必须佩戴口罩。
如有发热或呼吸道症状(发烧、咳嗽、痰液、肌肉痛、鼻塞、咽喉痛等),请避免参加解说活动。
未满14岁的儿童游客,如无监护人随行,则会在现场取消解说活动。
由于雾霾应急减排措施启动,或其他天气恶化(炎热、台风、暴雨等)导致徒步观光活动难以进行时,所有预约将一次性取消。(以观光当日前一天为基准)
对于解说活动中发生的安全事故, 首尔徒步解说旅游事务局和首尔文化观光解说公司不与负责。
以韩语为母语的韩国国民,不可申请外语解说。
若预约后不可避免地无法参加观光活动,请以观光时间为准至少4小时前取消预约。如果在观光时间前不足4小时的情况下取消预约两次以上的话,以后的预约可能会收到限制。
观光日基准最少1日前方可进行预约。
本线路是为了行动不便者(行动不便的高龄者、残疾人、婴儿车利用者等)的路线。
无辅助人员(或同行人)伴随时,不可利用。
※ 步行不便者1名至少需要1名以上的辅助人员陪同。
※ 电动辅助器具(电动轮椅、电动独轮车等)使用者时,每一位辅助人员最多可陪同 4名步行不便者。
希望观光的日期及线路上无解说员时,预约有可能被取消。
为了确认预约,徒步观光事务局(02-6925-0777)会致电进行确认。
(最少5日~一个月前) 3次以上无法连接时,预约将被取消。
进行解说时,对于有可能发生的安全事故,徒步观光事务局和首尔文化观光解说员概不负责。
因发布微尘紧急低减措施及其他气象恶化(暴热、台风、暴雨等),无法运营 徒步观光时,所有预约会批量取消。
(观光前日基准)
至少在觀光當日前三天預約, 方可預約成功。
個人預約: 最多10名
※ 景福宮、昌慶宮、昌德宮: 最多20名
在已登記的預約團體中, 直接待不超過預約人數的團體, 可在前一天17時前追加預約。
如果不超過每條路線的限定人數, 可能會與其他預約者一同觀光。
서首爾徒步解說觀光項目會在接受預約的同時分配解說員, 請慎重預約。
如需預約下個月的觀光解說, 可在前一個月的15號以後預約。
爲了預防新冠肺炎的擴散, 參加徒步觀光解說活動時必須佩戴口罩。
如有發熱或呼吸道症狀(發燒、咳嗽、痰液、肌肉痛、鼻塞、咽喉痛等)請避免參加解說活動。
未滿14歲的兒童遊客, 如無監護人隨行, 則會在現場取消解說活動。
由於霧霾應急減排措施啓動. 或其他天氣惡化(炎熱、颱風、暴雨等)導致徒步觀光活動難以進行時, 所有預約將一次性取消。 (以觀光當日前一天爲基準)
對於解說活動中發生的安全事故, 首爾徒步解說旅遊事務局和首爾文化觀光解說公司不與負責。
以韓語爲母語的韓國國民,不可申請外語解說。
若預約後不可避免地無法參加觀光活動, 請以觀光時間爲準至少4小時前取消預約。如果在觀光時間前不足4小時的情況下取消預約兩次以上的話, 以後的預約可能會收到限制。
觀光日基準最少1日前方可進行預約。
本線路是為了行動不便者(行動不便的高齡者、殘疾人、嬰兒車利用者等)的路線。
無輔助人員(或同行人)伴隨時,不可利用。
※ 步行不便者1名至少需要1名以上的輔助人員陪同。
※ 電動輔助器具(電動輪椅、電動獨輪車等)使用者時,每壹位輔助人員最多可陪同 4名步行不便者。
希望觀光的日期及線路上無解說員時,預約有可能被取消。
為了確認預約,徒步觀光事務局(02-6925-0777)會致電進行確認。
(最少5日~壹個月前) 3次以上無法連接時,預約將被取消。
進行解說時,對於有可能發生的安全事故,徒步觀光事務局和首爾文化觀光 解說員概不負責。
因發布微塵緊急低減措施及其他氣象惡化(暴熱、臺風、暴雨等),無法運營 徒步觀光時,所有預約會批量取消。 (觀光前日基準)