Travel Info Business & Partners Seoul-Tourism Startups New Project for Tourism Startups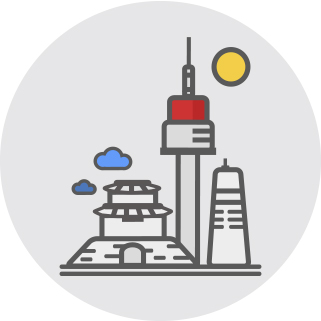 [Outstanding IT Services for Seoul Tourism]
dropin
An all-in-one map and public transportation app to help you find your way

Travel as you please with dropin
For visitors to Seoul wondering what to see, what to eat, and how to get there, the map-based app dropin makes it possible to enjoy a personalized experience of the city, providing the information tourists need, including tips on using public transportation. Dropin users can find the locations closest to them and detailed directions on how to get there. Dropin was selected by a panel of experts and foreign judges as the winner in the Outstanding IT Services for Seoul Tourism contest.
| | |
| --- | --- |
| For the best eats nearby | Dropin allows visitors to Seoul to have a good time in the city, even if they haven't done a lot of advance research. Just download the smartphone application to find detailed information on nearby tourist sites, restaurants, shopping hot spots, and hotels. After you decide where you're going, the directions function allows you to see your current location on a map, as well as the distance and time to your destination and the modes of transportation you can take to get there. |
| For directions to your next destination | To plan your itinerary, knowing how to use public transportation is key. Dropin provides detailed information on the routes that will get you to your desired destination via various modes of transportation: on foot or by subway, bus, KTX, or taxi. Of these, it recommends the quickest route from your current location. The subway and bus guidance also comes with transfer information and walking directions. Dropin gives you the freedom to explore on your own. |
| For assistance in your own language | When your desired destination isn't visible on a map or the map is entirely in Korean, it's difficult to find the right bus stop or subway station—not to mention the can't-miss store, the famous themed road, and other places on your go-to list. Dropin provides maps labeled in both Korean and a foreign language of your choice, for the entire country. With information on over eighty thousand major stores, tourist attractions, and other facilities, dropin is a useful resource for travel anywhere in the country. |
Using dropin
The dropin mobile application is free to download and provides services in English, simplified Chinese, and Japanese.
ㆍAndroid: https://play.google.com/store/apps/details?id=com.tour.activity


ㆍiOS: https://itunes.apple.com/kr/app/dropin/id1108282782?mt=8

Dropin helps you see the city close up

Comprehensive pedestrian routes
The Drop-in app offers information about walking paths in 149 Korean towns and cities, including Seoul, Busan, and Jeju Island. It displays detailed walking paths on the map, and it includes sidewalks, underground passages, pedestrian overpasses, crosswalks, and more. The pedestrian–oriented service allows users to make their walking trip safely while sightseeing around pedestrian paths. The service is offered in five languages: Korean, English, simplified Chinese, traditional Chinese, and Japanese. The service is updated on a regular basis, and the service has expanded to locations around the Winter Olympics sports venues. This will be especially convenient for foreigners who visit Gangwon-do province, the host region for the PyeongChang 2018 Winter Olympics.

Detailed location information
The app provides users with detailed, practical information. Users can see available translation services, photos, and basic information like business locations, hours, phone numbers, and menus. The Drop-in app is also planning to offer a payment function to allow users to pay for services directly through the app. Meanwhile, owners of restaurants, cafés, or hotels who want to promote their businesses to foreigners can register with the app for free.

Convenient taxi guide
The Drop-in app is also useful when taking a taxi. The app can show users the taxi route as well as the approximate duration and fare of the taxi ride in advance. The app can also find the fastest route from the starting point to destination, using time-based big data on traffic conditions. Drop-in app is also planning to link the service with other apps such as the Buxi app, which is an airport ride-sharing service.
*Updated November 2016

※ Inquiries: SNB SOFT, +82-2-566-8074 (Korean, English, Japanese, Chinese)
www.snbsoft.net, www.Talkyple.com, ethan@snbsoft.net