A Mecca for Craft Beer Lovers
Gyeongnidan Road

Gyeongnidan Road is the place to be for trendy young Seoulites in their 20s and 30s. The area is full of unique cafes, restaurants, bars, and pubs and is considered one of Seoul's more exotic corners, thanks to the large number of expats who call Gyeongnidan home. The famous nightlife hot spot, Itaewon, is just a 10 minute walk away from Gyeongnidan. Itaewon is best known for its nightlife, and Gyeongnidan Road is best known as being the birthplace of Korea's craft beer revival. In the early 2010s, a few pubs began to brew their own craft beer. Beers from these small breweries gained popularity and interest in craft brews began to grow in Seoul. Eventually, craft beer became popular not just in Seoul, but even in the Korean provinces. Craft beer in Korea was once seem as a niche trend, but what was once a craze has now entered the mainstream and changed the beer market in Korea. Go to Gyeongnidan to taste and discover Korea's craft beers.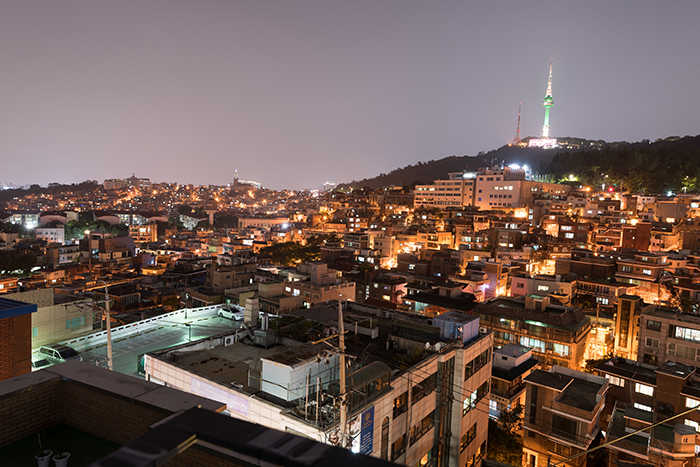 Real Beer Made with Unique Recipes
One reason the craft beer on offer at Gyeongnidan is so different from other beers in Korea is due to each beer being with unique recipes and techniques. Each brewer uses a different original and unique recipe so each brew ends up with its own flavor. If you prefer a light beer, try a pale ale. For a stouter drink, a porter ale is the way to go. There is a craft brew for every taste preference!




Try a Craft Beer Sampler
Many of Gyeongnidan's craft brewers offer beer samplers. It's a great way for those new to craft beer to get better acquainted with different lagers and ales. For the uninitiated, there's no better way to taste a variety of beers at once.
Lager VS Ale
What is the difference between lager and ale? Both are brewed from grain, but the main difference between these two is temperature. Lagers are brewed at a lower temperature than ales, between 4-10 degrees Celsius for a period of 6 to 10 days. Most beer in Korea could be considered lagers. Ales are brewed at a relatively higher temperature, between 16-21 degrees Celsius, for 3 to 6 days. Ale is lighter and fruitier than lager.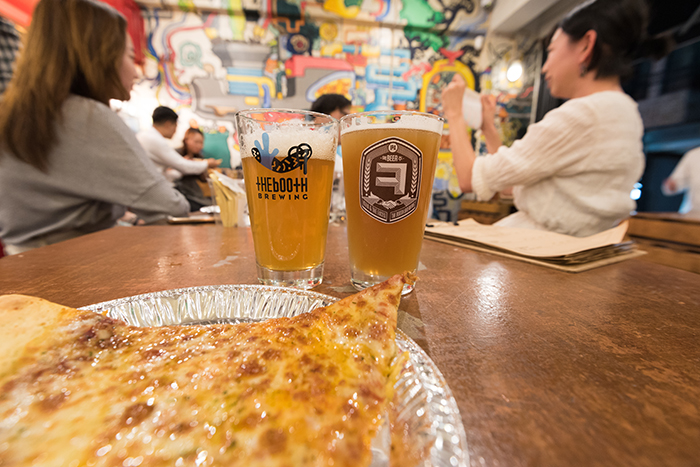 Pi-maek (Pizza + Beer)
One of Korea's most popular culinary trends is chi-maek, chicken and beer. Chi-maek is a portmanteau that combines the English word chicken, with the Korean word for beer, maekju. Chi-maek is also popular internationally thanks to the hit drama, "My Love From the Star." The drama starred Hallyu darlings Jun Ji-hyun and Kim Soo Hyun and was a huge hit in China. Chi-maek was a favorite of Jun Ji-hyun's character and after the show was broadcast, the popularity of chi-maek shot up. Pi-maek, pizza and beer, is another, newer culinary trend that's sweeping Korea. Pi-maek has grown especially popular amongst Koreans in their 20s and 30s. Craft beer is a natural fit for this trend. Pi-maek is said to have begun as a concept in a small, local Gyeongnidan restaurant. A slice of hot, tasty pizza and a cold brew makes for a wonderful meal.




Dining Alternatives for Non-Pizza Lovers
For people who don't enjoy pizza, there are many other foods that pair well with craft beers. Frankly, there are very few dishes that don't go well with beer. In Gyeongnidan, you won't be short of dining options. If pizza doesn't pique your interest, there are handmade burgers, calamari, fried food of all kinds, Italian cuisine, and much more.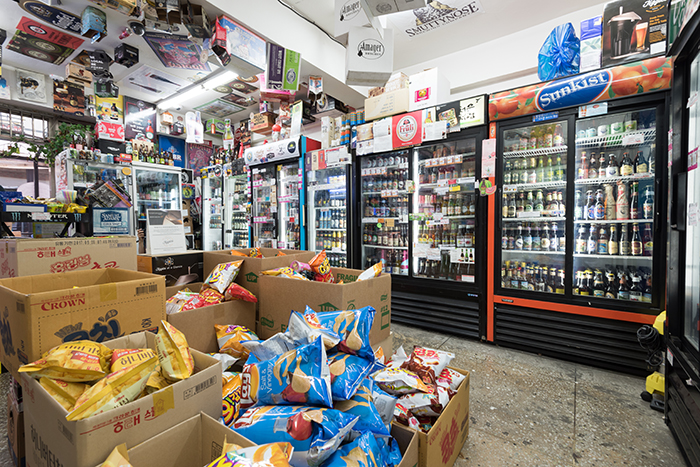 Enjoy Beers from All over the World
Gyeongnidan is a veritable treasure trove for beer-lovers. At the pubs, shops, and restaurants here, one can find uncommon beers here that are difficult to find anywhere else in Seoul. One shop seems like a normal supermarket, but once inside there are over 400 kinds of beer on sale. There are also tiny pubs with great atmospheres and restaurants with amazing food. Grab a beer and a bite in this hip and international area called Gyeongnidan.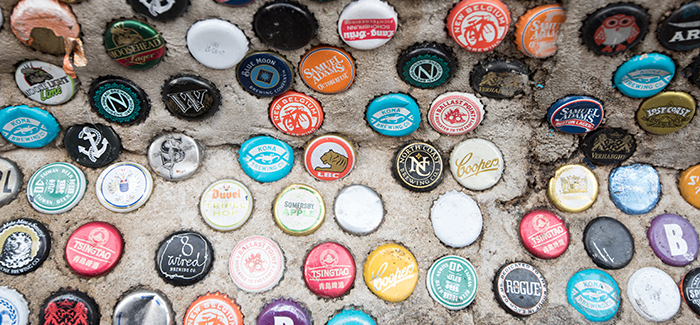 A Tip for Enjoying Gyeongnidan's Beers
Don't feel intimidated by the huge choice available when it comes to beer in Gyeongnidan. If at a loss about what to drink or buy, ask the owner or workers for recommendations. Supermarkets often have outdoor tables so that customers can buy their beers and enjoy them outside. Additionally, in Korea, snacks (referred to as anju) are usually eaten along with alcoholic drinks. Try drinking Korean-style by buying some snacks to have with your beer.


Gyeongnidan's Speciality Beers and Restaurants
Magpie Brewing Co.
One of the first craft breweries in Korea!
244-1 Noksapyeong-daero, Yongsan-gu, Seoul


+82-2-749-2703

15:00~1:00 (closed Mondays)
The Booth Brewing Co.
A popular pub known for its pizza and craft beer. Have a taste of a Korean culinary trend, pi-mek at the Booth Brewing Co.
7 Noksapyeong-daero 54-gil, 1st fl, Yongsan-gu, Seoul


+82-2-1544-4723

12:00~01:00 (open year round)
Craftworks Taphouse & Bistro
A hip, popular watering hole; a variety of beers are brewed on-site.
238 Noksapyeong-daero, Yongsan-gu, Seoul


+82-2-794-2537

Mon~Fri 14:00~24:00 (Sat, Sun 11:00~02:00, open year round)
the bottle shop
Tell the owner what your beer preferences are and get drink recommendations in return. There are both imported and domestic beers on offer here.
Itaewon-dong 707 bunji, Yongsan-gu, Seoul


+82-2-797-6425

15:00~23:00 (open year round)
Woori Supermarket
A supermarket? Yes, but not your average supermarket! Woori is famous amongst locals for the huge supply of imported and domestic beers sold here. Woori Supermarket is practically an international beer warehouse.
Itaewon-dong 704, Yongsan-gu, Seoul


+82-2-798-7367

11:00~02:00 (open year round)