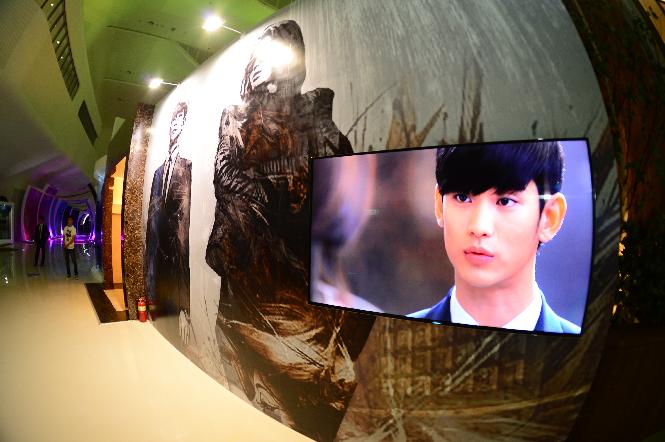 Following in the footsteps of an outer space alien stranded in Seoul might not seem like the best way to get to know the city, but popular K-drama "My Love from the Star" coolly proves otherwise. The recently ended sci-fi/rom-com series, which follows the last days of alien Do Min-jun (Kim Soo-hyun) on Earth, is a travel guide as much as a romance, and those who have watched the international hit series will know why: even antisocial, 400-year-old extraterrestrial Do Min-jun conspicuously hits up a few of Seoul's trendiest and most iconic spots before leaving Earth to return to his home on a distant star.
With the series over for good, it goes without saying that the next best thing for the show's fans to do isrelive their favorite moments in the show by taking to the city itself with this themed itinerary.
Do Min-jun and Chun Song-yi's favorite hangouts
Neither Do Min-jun nor Chun Song-yi were known for having a lot of friends they could trust. These celebrated Seoul locations are where they would meet the ones they did.
1. Hakrim Dabang
This historic dabang (an old-fashioned Korean term for coffee shop) was the filming location of a recurring scene that should be familiar to any "My Love from the Star" fans. A long-time fixture amidst fast-paced and capricious Seoul, Hakrim Dabang opened its doors in 1956, and is the very spot Do Min-jun and his long-time friend and lawyer Jang met to play mahjong and talk. Located in Daehakro, this quaint café has retained its 1950s charm, with a narrow and weathered staircase at the entrance leading up to a room with aged hardwood furniture, antique decorations and a record player in the corner serenely spinning classical music.
But just because their décor seems dated doesn't mean their food or drink is behind the times: their coffee is a specialty in-house roast, and their cream cheese cake offers modern flavors in a retro setting.
Take the subway to Hyehwa Station(line 4) and walk out of exit 3. Walk towards exit 4—Hakrim Dabang should be on your left.
2. Ggot Hyanggi Gadeukhan Manhwa Café (Flower Garden Comic Book Café)
Owned by Hong Bok-ja, Chun Song-yi's high-school friend who proves to be caring and affectionate underneath her prickly exterior, this comic book café is where Song-yi would go to pour her heart out to her only genuine friend. Located in Sinchon, a bustling university neighborhood, this comic book café offers the same kind of respite to weary travelers, furnished with comfortable armchairs and stocked with a wide selection of comic books. Following an afternoon immersed in manwha, venture out into the rest of Sinchon, where bars, restaurants, boutiques, and various entertainment venues stay open late into the night.
Take the subway to Sinchon Station (line 2), and exit the station via exit 3. Take the slight right down the big road and follow it until you reach Pascucci. Take a right and go straight down the left side of the road and take a left into the second alleyway to your left. Walk up the alleyway and the destination should be on the left.
3. Seoul Museum of Art(SeMA) – Seosomun Main Building
The picturesque promenade where lawyer Jang grouses about Do Min-jun's decision to get a cell phone for Song-yi (Jang is miffed that his friend resisted his same request over the past decade) can be found in front of one of Seoul's most renowned museums. If you've had your fill of art, head over to Deoksugung Palace, where you can admire the traditional Korean architecture by going on a scenic stroll through adjacent Jeongdonggil or Doldamgil. While you're in the area, check out Seoul's most iconic street (which also has the famous statue of the street's namesake, Sejong the Great), Sejongro. Alternatively, if you're looking for an even more spectacular, panoramic view of the city center, head up to Jeong-dong Observatory.

Take the subway to City Hall Station (line 2), and exit the station via exit 12. Follow the path ahead until you reach Deoksugungil and take a left. Follow Deoksugungil all the way down—the museum will be on your left.
Alien-approved eats
"My Love from a Star" boasts a diverse selection of restaurants that appear at every crucial turn in the story, and there's something to fit every mood.
1. Yurimmyun
This famous noodle joint by City Hall Station is where Do Min-jun and lawyer Jang head over for lunch following their rendezvous in front of the SeMA. It's been around for over 50 years, offering a no-frills selection of just four noodle dishes that have clearly stood the test of time. They're known for their sweet-and-sour buckwheat bibimguksu, but if you want the true "Do Min-jun experience", the naembiguksu is what you're looking for.

Take the subway to City Hall Station (line 2) and exit the station via exit 11. Turn around and take the first left. The restaurant will be on your left.
2. Luca 511
Specializing in upmarket European fare, this Cheongdam restaurant has an unmistakably ritzy air, with sets of majestic stone pillars greeting guests along the walkway up to the restaurant. Its interior layout is unique, reminiscent of a private residence rather than a restaurant.
Take the subway to Apgujeongrodeo Station (Bundang line) and exit the station via exit 2. Walk straight and turn left at the second side street. Walk down a bit and then take the first right. Continue down until you reach Luca 511 on your left hand side.
For a less stationary dining experience, hop aboard the Han River E-Land cruise ship, where you can enjoy a romantic dinner buffet surrounded by the sparkling nighttime cityscape. Keeping in mind that Chun Song-yi almost fell overboard in episode four, you might want to drink in moderation—and leave the glittery heels at home
.
Reservations can be made online (www.elandcruise.com) or in person at the E-land Cruise ticket office. To reach the ticket office, take the subway to Yeouinaru Station (line 5) and exit the station via exit 3. Walk straight down until you reach the office on your left.
4. Omokjip
Chun Song-yi finds herself at this famous jokbal (braised pigs' feet) restaurant in episode 17 in an effort to keep herself looking youthful. (Jokbal's high gelatin content is said to ward off wrinkles and promote healthy skin.) Although the restaurant's popularity might mean you have to wait a little bit to be seated, the complimentary refreshments offered to queued guests (maesil tea and ice cream) will keep your hunger pangs at bay.

Getting there: take the subway to Omokgyo Station and exit the station via exit 2. Walk straight until you reach the restaurant on your right.
5. Namsan Seoul Tower Restaurant: N Grill
A landmark that's impossible to miss in Seoul's skyline, the Namsan Seoul Tower restaurant offers upscale French cuisine in a tranquil setting, overlooking the city from its highest point. Comfortably removed from the bustle of the city and with a view well worth the trip out there, this place is as romantic as it gets—even the kitchen, which is run by a husband-and-wife duo, Michelin-starred chef Duncan Robertson and his partner Jeon Gyu-jeong.

View from N Grill
Namsan Seoul Tower is best reached by cable car. To take the cable car, take the subway to Myeong-dong Station (line 4) and exit the station via exit 3. Walk down the street on the right side of the Pacific Hotel and you will see the cable car boarding area. N Grill is on the fifth floor of the tower.
6. Chicken and Beer (Chimaek)
Chimaek,a Korean portmanteau word that combines "chicken" with maekju (beer), is proof of how prominent fried chicken is in Korean dining culture. With that said, it's not too surprising that fried chicken is a recurring motif in "My Love from the Star."For an authentic dine-in chimaek experience, head over to Ddobagi Chicken, a hole-in-the-wall fried chicken joint in trendy Sangsudong. Its unremarkable exterior may raise some eyebrows, but the place is a hidden gem with a strong word-of-mouth following amongst locals and netizens alike—the reason you will just have to taste for yourself.
But if you prefer convenience to authenticity, try one of BHC Chicken's many Seoul franchises, where you might glimpse Jun Ji-hyun (Chun Song-yi) on one of their posters. Other popular franchises include Gyochon Chicken and BBQ Chicken, both household names in the fried chicken scene. All three offer delivery options, so if you're staying at a guest house or a hotel, just ask the front desk to help you order—they might even want to join you.
To get to Ddobagi Chicken, take the subway to Sangsu Station (line 6) and exit the station via exit 4. Turn around and walk down the big road and take a right at the fourth side street. The restaurant will be on your right.
Recreated stage sets
Immerse yourself once more in the lives of Do Min-jun and Chun Song-yi by experiencing the behind-the-scenes magic: the stage set, props and other memorabilia.
This futuristic exhibition center is the place where Chun Song-yi is saved yet again by Do Min-jun following an ominous stage "accident" during her film shoot. In real life, however, the DDP is an exciting venue with a constantly changing selection of design and art exhibitions. Fans of the series will especially be thrilled to hear about their "My Love from the Star"-themed 3D exhibition (ends on August 15th), complete with a virtual reality simulation with the show's characters, recreated stage sets and other "My Love from the Star"-related activities.
The surrounding Dongdaemun area itself has lots to offer as well. Catch a live hologram K-pop concert at Klive, or explore Seoul's biggest one-stop shopping center, Dongdaemun Shopping Town and Dongdaemun Shopping Complex.
Getting there: to get to the DDP, take the subway to Dongdaemun History and Culture Park Station and exit the station via exit 1. The DDP will be on your left.
For Klive, leave the station via exit 11. The venue is on the ninth floor of Lotte FitIn. Concert schedules can be found on their website (http://www.klive.co.kr).
For Dongdaemun Shopping Town/Complex, take the subway to Dongdaemun Station (line 4) and exit the station via exit 9. The shopping center will be right in front of you.