[Recruiting announcement] Seoul Tourism Advisory Panel
Last Post :

2020.12.14
Poster name :

김다빈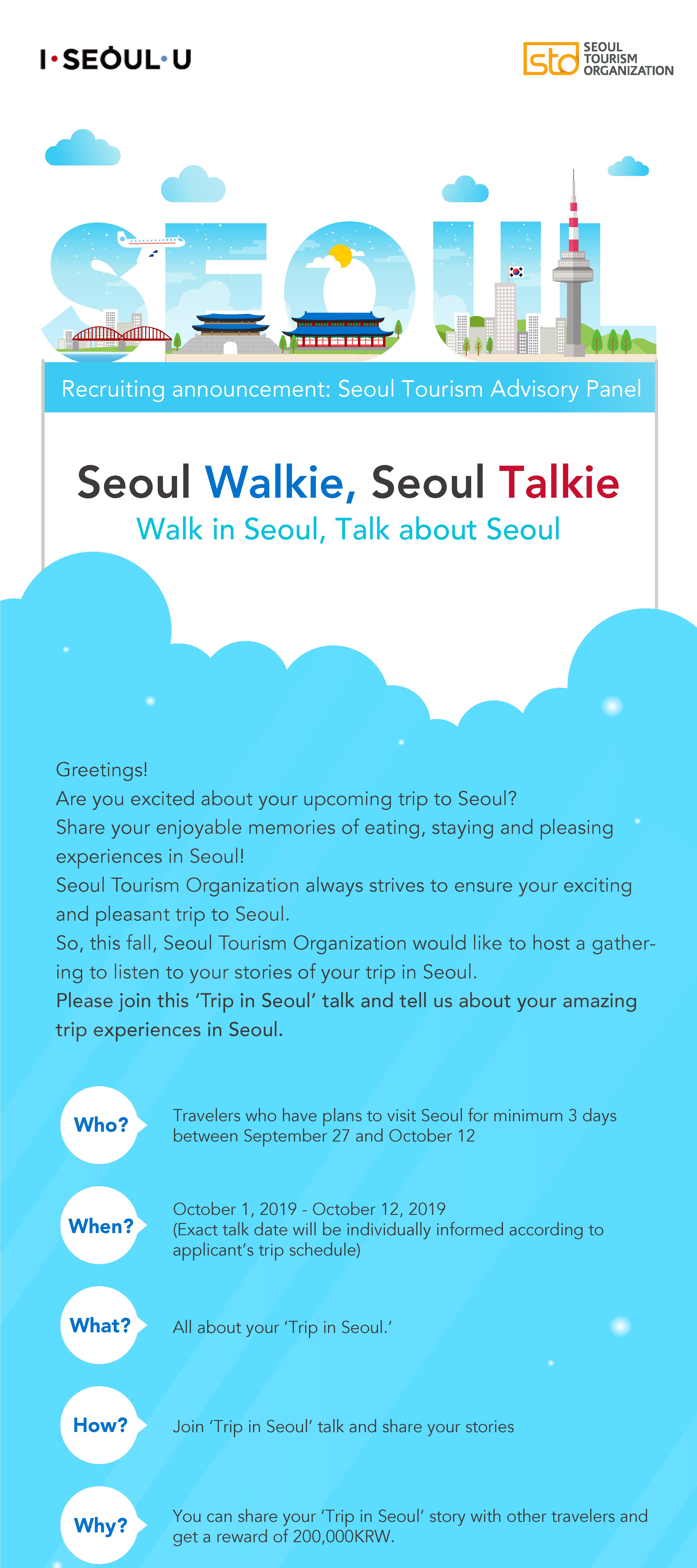 I SEOUL U
STO : SEOUL TOURISM ORGANIZATION
SEOUL Recruiting announcement : Seoul Tourism Advisory Panel
Seoul Walkie, Seoul Talkie Walk in Seoul, Talk about Seoul
Greetings! Are you excited about your upcoming trip in Seoul?
Share your enjoyable memories of eating, staying and pleasing experiences in Seoul!
Seoul Tourism Organization always strives to ensure your exciting and pleasant trip to Seoul
So, this fall, Seoul Tourism Organization would like to host a gathering to listen to your stories of your trip in Seoul
Please join this 'Trip in Seoul' talk and tell us about your amazing trip experiences in Seoul
Who? : Travelers who have plans to visit Seoul for minimun 3 days between September 27 and October 12
When? : October 1, 2019 - OCtober 12, 2019 (Exact talk date will be individually informed according to applicant's trip schedule)
What? : All about your 'tirp in Seoul'
How? : Join 'Trip in Seoul' talk and share your stories
Why? : You can share your 'Trip in Seoul' story with other travelers and get a reward of 200,000 KRW
Research Organization : dwhong@gallup.co.kr
Seoul Tourism Organization : hyehyung@sto.or.kr
Notes
- the talk will take place on the last day of your trip in Seoul and will be around 3 hours
- Venus will be announced later, and the schedule can be changed due to unexpected circumstances
- please be sure to bring a valid passport and flight ticket with you.
(Above information is to verify that you are a traveler, is not for other use.