>
Business & Partners
>
Seoul Tourism Certification Program
>
Newsletter(Seoul Tour+)
>
Seoul Tour+ articles
Seoul Tour+
10 Seoul Alleyways with a Hip Vibe
Published Date : Dec 28, 2020 / Edited Date : Feb 23, 2021

Trendy alleyways
The new year is here and yet, a stop has been put to travels to faraway places. However, spending all of our time at home has left us feeling deeply frustrated. Now, the general trend is the "slipper areas" where one can enjoy free time and convenience facilities in their slippers. It's a way of traveling without the need for heavy preparations. Let's take a walk through alleyways that are packed with the charms of everyday life in comfortable clothes. We'd like to introduce 10 'hip' alleyways of Seoul that are secluded but filled with things to see.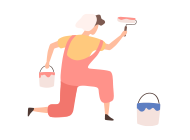 Street Museum in Pil-dong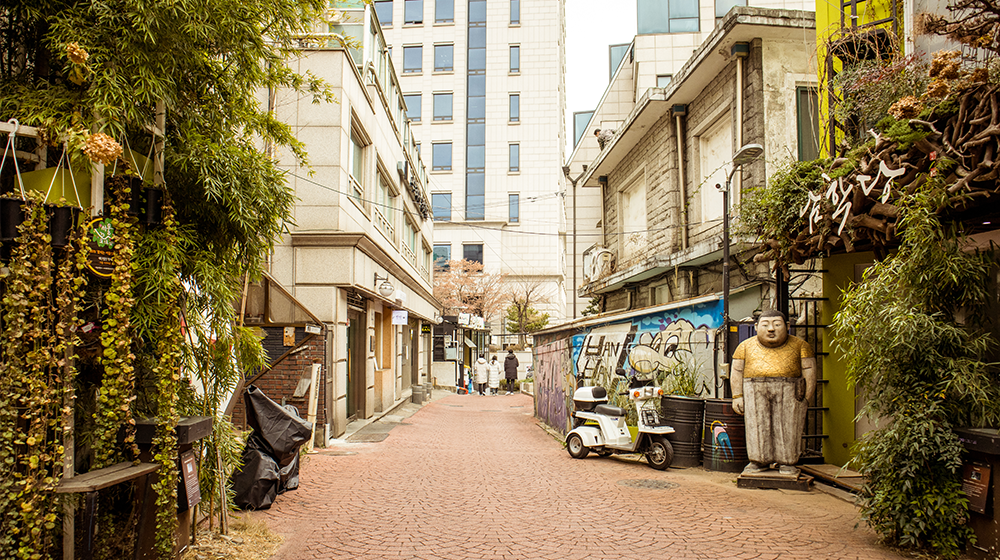 An art museum in the alleyway
When we hear the word "museum," we tend to think of elegant attire and formal etiquette, and picture pieces of fine artwork that hang on white walls. However, our preconception of museums was shattered when we visited StreetMuseum in an alleyway in Pil-dong, Chungmu-ro. As a non-profit gallery, StreetMuseum in Pil-dong transformed all of Namsangol Hanok Village, starting from Pil-dong, Jung-gu, into a cultural space. There aren't any fancy buildings, but the area is packed with impressive works. StreetMuseum is organized of eight spaces. Created under the themes of "Corner, Well, Connect, Alley, Nest, Space, Container, and Wall," each subject exhibits its unique charms. The artwork is fascinating as they are exhibited in the forms of paintings, installation art, media art, murals, and more. The fiercest artwork we saw was the self-portrait of artist Kang Hyung-koo, who is well known for his Self Portrait. The powerful shades of red and his unique features had us captivated and feeling overwhelmed. Such an emotion is one that can be felt while casually walking down an alleyway of Pil-dong, Chungmu-ro. An alleyway with displays of works seen with every step you take is what we might call a romantic place.
#ChungmuroMuseum #ChungmuroExhibition #ChungmuroPhotoSpot #StreetMuseum #ChungmuroDateCourse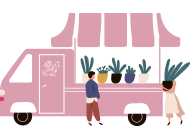 Ttukseom Station Shopping Street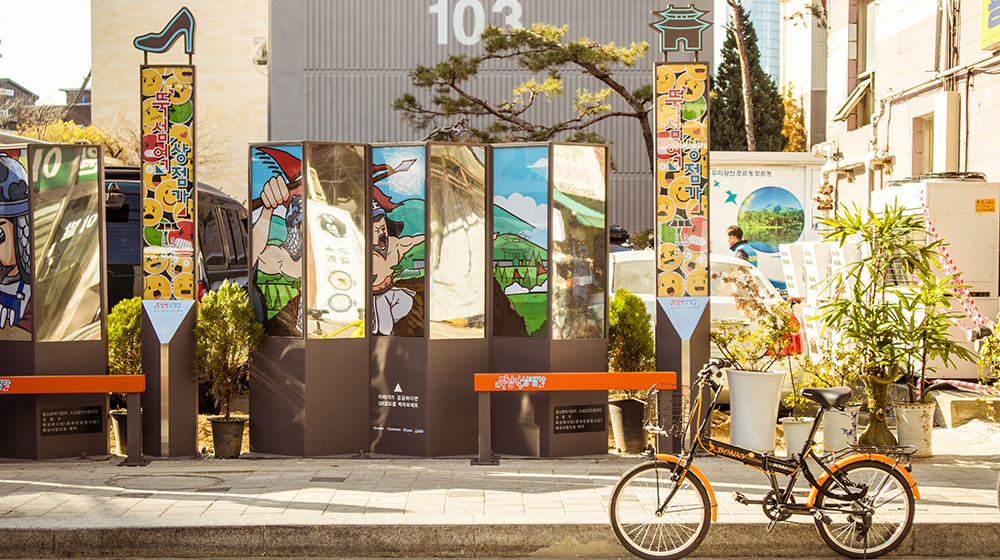 A place treasuring history
A guaranteed hot place in Seongsu-dong is the 500-meter street from Exit 3 of Ttukseom Station to Salgoji Bridge, which is known as Ttukseom Station Shopping Street. Seongsu-dong in Seoul is a place that encompasses the history of economic growth in Korean. In the 1960s, Seongsu-dong was an active subindustry zone with clusters of manufacturing factories, but the area eventually declined in the 1990s. In 2005, the Seoul Forest was formed in the vicinity and the area slowly became revitalized. Presently, the old and rusty manufacturing factories were transformed into hip cafes and shops to attract the younger generation. Along the two-lane roadsides of the Ttukseom Station Shopping Street are small and big shops. Next to a lovely café is an old industrial company, and next to a popular restaurant is an old print shop. The charms of the new and the retro create a harmonious balance in the area. Salgoji Bridge was used during the early Joseon dynasty as the main passageway that connected Hanyang and the southeast provinces. Living up to its name as the playground for the younger generation, the Ttukseom Station Shopping Street regularly holds various events like Neighborhood Market Outing as well as sketch contests, a flea market, and hands-on workshop experiences.
#SeongsudongTouristSpot #SeongsudongHotPlace #TtukseomStationAlleyway #SalgojiBridge #TtukseomStationCafe

Changsin-dong Cliff Alleyway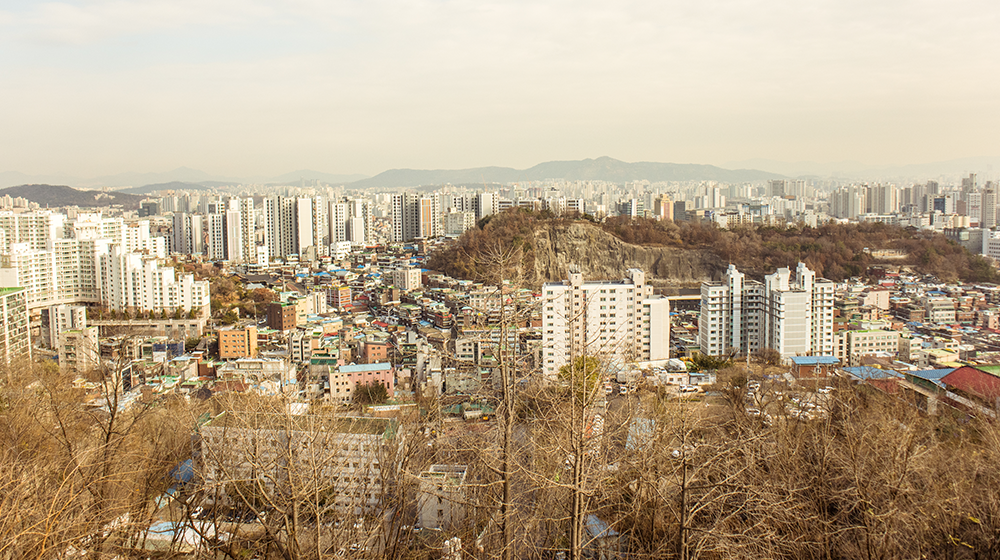 Rebirth of a quarry
In Changsin-dong today is a painful history that remains in the form of gray cliffs. During the Japanese Colonial Era in the 1910s, Japan began building stone buildings in Seoul that were made from granite. At the time, the Japanese became aware that there was a large supply of granite in Changsin-dong, and they built a quarry in Changsin-dong. The granite quarried from Changsin-dong were used to build the Japanese General Government of Korea, the old Seoul City Hall, and Seoul Station. People began to gather in Changsin-dong after the Korean War. The majority of the population that settled around Changsin Market and Dongdaemun Market were those who were searching for a place to do sewing work. Changsin-dong was designated a Seoul New Town in 2007 and was to be transformed into a field of apartments, but the area was ultimately designated the first urban regeneration area in 2014 after the opposition of the residents. Thanks to this change in plans, the story of Changsin-dong continues to be told today under the gray cliffs. The Quarry Observatory sits at the very top of the former quarry rockface. Visitors can order a cup of coffee and stand at the top of the gray cliffs to see a full view of Hanyangdoseong, the Seoul City Wall, and Seoul's skyline spread out under their feet.
#ChangsindongCliffAlleyway #CliffView #SeoulObservatory #RebirthOfaQuarry #PopularGraniteSite
Directions Subway Line 6, Changin Station, Exit 6 (11 mins on foot)
Quarry Observatory

Address Changsin-dong, Jongno-gu, Seoul

Hours Weekdays 13:00 – 22:00 & Weekends 10:00 – 22:00 (Closed Mondays)

Blog blog.naver.com/crcblog

Tel +82-70-8844-6364

Parking N/A (Public parking lot available for residents only)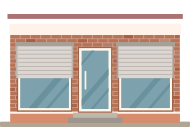 Eulji-ro Shutter Gallery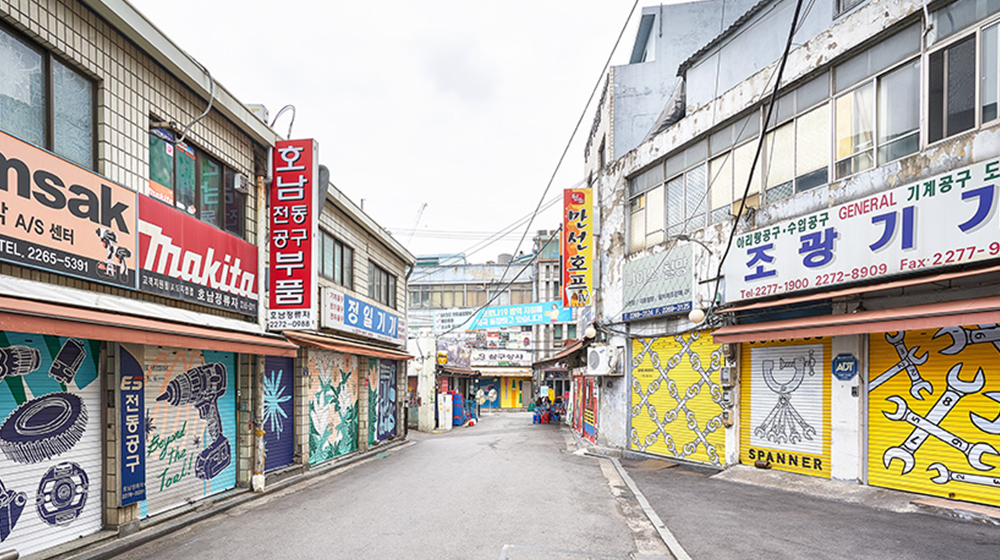 Transformation of Hipji-ro
Eulji-ro cannot be left out when discussing 'hip' alleyways. The newtro mood (new+retro) fills every single alleyway. One alleyway that stands out is the street that starts from Chungmu-ro 11-gil and goes past the Euljiro Nogari Street to Chungmuro 9-gil. This is the alleyway where the 'Eulji-ro Shutter Gallery' is located. This alleyway is home to tool, pottery, and tile shops with a 50-year history. At 6:00 p.m., the shop owners, who have completed their work for the day, pull down their shutters and head on home. This is then the opening time for the Eulji-ro Shutter Gallery. On the 43 old shutters of the 24 shops, visitors can appreciate drawings by young artists of items that are sold at these shops. Thanks to this exhibition, the street is active around the clock. The alleyway is filled with the sound of machines from morning to evening and later packed with visitors checking out the drawings on the shutters at night after the sun has gone down. One shutter has a full bloom of nine lilies while another tells the story of the shop with pottery, pliers, and power drills. The old, grayish alleyway found its aesthetic spirit thanks to the colorful drawings by artists.
#Euljiro #Hipjiro #EuljiroShutterGallery #AfterWorkHotSpot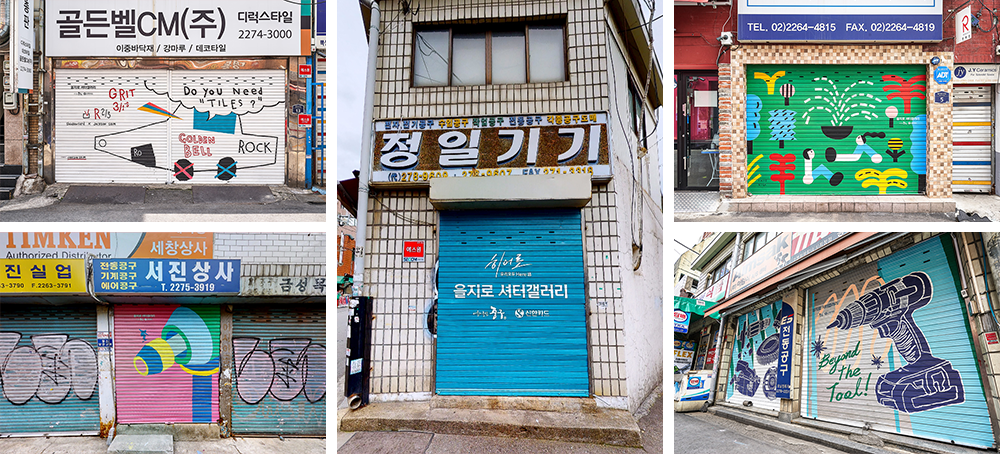 Directions Subway Line 2, Euljiro 3(sam)-ga Station, Exit 4 (From Chungmu-ro 11-gil to Chungmu-ro 9-gil)

Hours Open daily after 18:00, including the weekends

Website www.euljiro3ga.com
Guroadway
Culture and the arts
Manhattan is home to Broadway, and Seoul is home to Guroadway. Also known as the International Culture & Arts Street, Guroadway stretches from Exit 2 of Sindorim Station, past the UNESCO APCEIU, and to the International Food Street. Sculptures, lighting, photo zones, and cultural and artistic features were placed through the congested area around the subway station with crowds of people, shopping malls, markets, parks, and convenience facilities. There is a total of 13 locations that are considered a part of Guroadway, including Sindorim Opera House, the UNESCO APCEIU, the international organization with 47 member countries in the Asia-Pacific region, and 'Culture Railway 959,' a cultural space at Sindorim Station. Visitors can follow the guide in front of Exit 2 of Sindorim Station to embark on a fun course. As an essential part of any course, Guroadway offers the fun of eating delicious food. At the International Food Street across the street from the UNESCO APCEIU are barbeque restaurants, bars, pig's trotter restaurants, raw fish restaurants, and more.
#Guroadway #GuroStation #InternationalFoodStreet #SindorimOperaHouse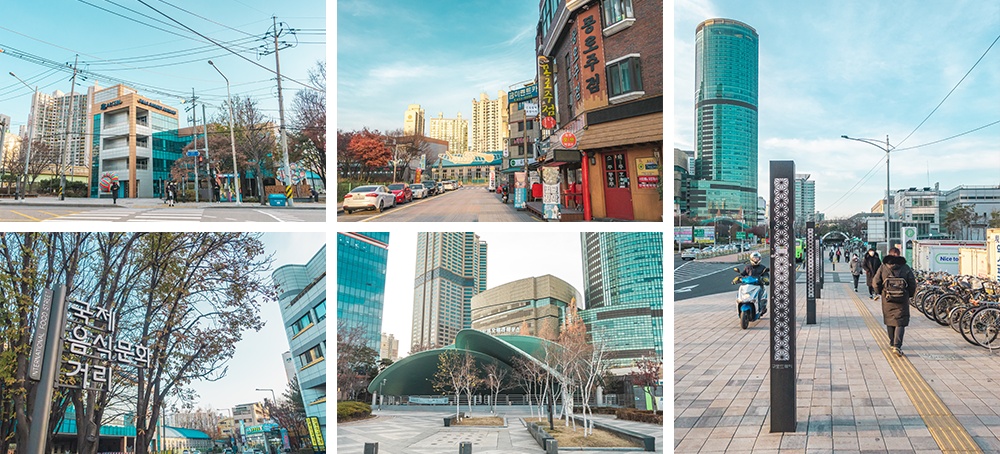 Directions Subway Lines 1 & 2, Sindorim Station, Exit 2 (Toward the International Food Street)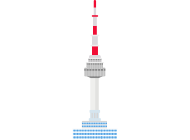 Huam-dong Alleyway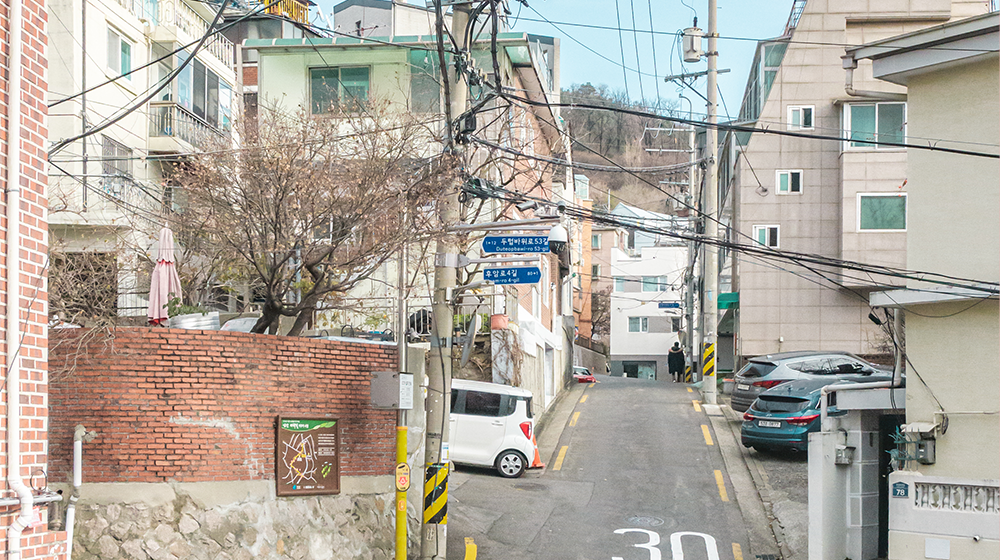 The alternate Gyeongnidan-gil
If you prefer low-built homes over tall buildings and a quiet neighborhood over bright sceneries, Huam-dong might be the place for you. The Huam-dong alleyway formed by small shops that merchants opened among low-built houses to avoid high rent prices in nearby Itaewon and Gyeongnidan-gil is known as the Second Gyeongnidan-gil. In addition to the friendly alleyway atmosphere, Huam-dong is even more special thanks to Namsan Mountain that stands in front of it. The tall Namsan Seoul Tower stands as a guide like a milestone. Walk from the Huam-dong Bus Terminal to the Namsan Mountain Trail and into the road that leads to Sowol-ro to arrive at Haebangchon's 108 Steps where there are both stairs and an elevator next to each other. Things that have become harder to find in Seoul, like old laundromats, hair salons, and supermarkets, are the small things that make Huam-dong shine.
#HuamdongWalk #SecondGyeongnidan-gil #NamsanMountainTrail #HomelyVibe #SeoulStationTouristSpot
Directions Subway Lines 1 & 4/Gyeonggi-Jungang Line/AREX, Seoul Station, Exit 12 (Vicinity of Huam-dong Bus Terminal Rotary)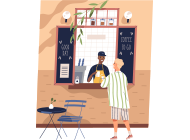 Yongnidan-gil (Food Street)
True popular house restaurants
The younger generation began crowding towards the Hangangno 2-ga alleyway between Sinyongsan Station and Samgakji Station after the opening of the new Amore Pacific Headquarters. Small cafes and restaurants that began to remodel and open in nearby houses became known as 'Yongnidan-gil (Food Street).' The way to enjoy Yongnidan-gil is easy. Come out of Exit 1 of Sinyongsan Station and explore the restaurants in the narrow alleyway. If you're looking for something more than an epicurean tour, visit the Holy Place of Waegogae (presently the Cathedral of Military Ordinariate of Korea) where clergymen and believers who were martyred the Byeongin Persecution are buried and step by Hwarang Street near Samgakji Station. In the vicinity of Exit 1 of Samgakji Station is a street known for cod soup with a 40-year history.

Directions Subway Line 4, Sinyongsan Station, Exit 1 (Toward the Yongsan Post Office Samgeori)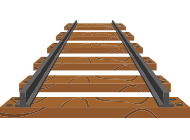 Yongsan Ttaengttaeng Street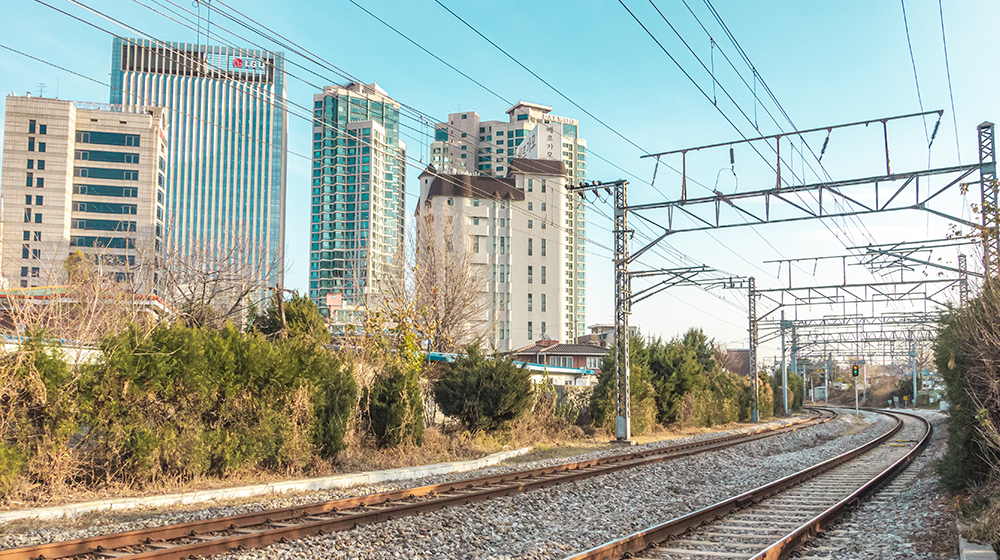 Memories along the railroad tracks
If you want to take a break from the business of the city, walk about 5 minutes from Yongsan Station Plaza of Line 1 and the Gyeongui-Jungang Line. If you see low buildings that are different from the shopping malls around Yongsan Station and hear the sound of bells, you have arrived near your destination. The train that passes by on railroad tracks while ringing the sound of bells reminds us of a scene out of a movie. The official name of this crossing that is also called Ttaengttaeng Street is the Baekbin Railroad Crossing. The name comes from the court lady of the family of Baek who lived near this area after leaving the palace during the Joseon Dynasty. The drama "My Mister" and other dramas were filmed at the old railroad crossing of Ttaengttaeng Street. It won't be hard to miss the sight of a train passing by as over 300 trains pass over the railroad crossing every day.
#YongsanTtaengttaengStreet #RomanticPhotoSpot #PhotosofSeoul #MyMisterFilmLocation #BaekbinRailroadCrossing
Address Ichon-ro 29-gil (Near Yongsan Mill)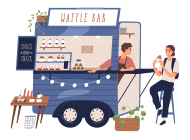 Haebangchon Sinheung Market
Seemingly resembles a market
Walk up the hill of Haebangchon and see the sign of Haebangchon Sinheung Market just when you're about to break out in a sweat. At the market are noodle restaurants, butcher shops, and raw fish restaurants, but the market has an interesting formation. At one section of the market are leather workshops, a Russian bar, and a tattoo sticker shop. There is also an arcade, handmade jewelry shops, and a one-table party room. Sinheung Market, which was the base of Vietnamese migrants after the war in 1953, was newly decorated into newtro restaurants and romantic cafes. Visitors will find some restaurants especially familiar. Sinheung Market appeared in Baek Jong-won's Alley Restaurant and as a filming location for When the Camellia Blooms. The market is small enough for visitors to circle the entire market in under 5 minutes, but it will certainly take longer when you check out each of the unique shops. Visit the market at sundown to see the night view of Seoul with the nearby Haebangchon Ogeori and Namsan Tower from the alleyway.
#HaebangchonMarket #NewtroVibe # WhentheCamelliaBloomsFilmLocation #HaebangchonJunction #NamsanTowerViewBonus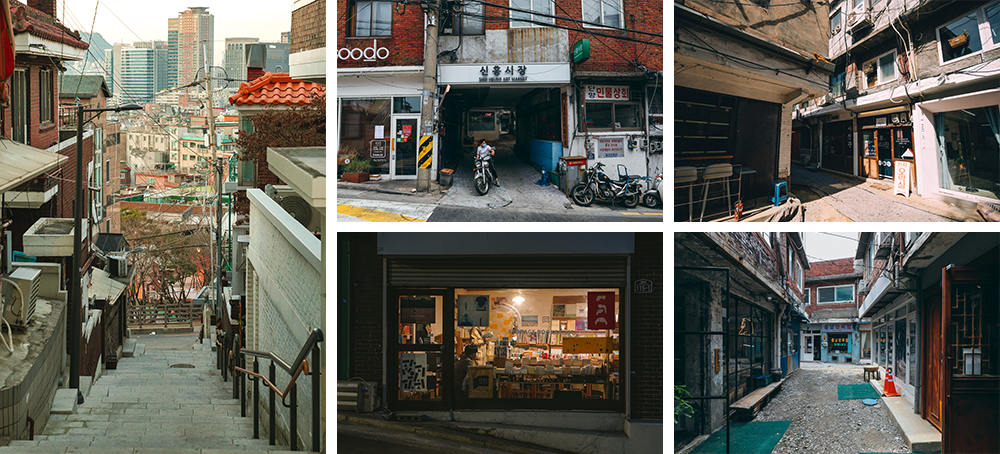 Address 95-9, Sinheung-ro, Yongsan-gu, Seoul

Tel +82-70-8692-1602

Website www.letshbc.com

Parking Yongsan 2-ga-dong Community Service Center Parking Lot (KRW 300 every 10 mins)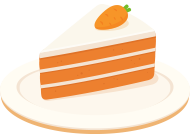 Bangbaesai-gil
Offers all you can imagine
Bangbaesai-gil, or Bangbae-ro 42-gil, certainly lives up to its name in that it is packed with things to see between the alleyways. The short, 300-meter street between the main roads are not only cafes and restaurants but also clothing stores, a cooking studio, workrooms/art shops, and workshops that are in business. Visitors can start at "Café Sairo" and enjoy their popular ice cream made with organic milk from Bumsan Dairy Farm. The café also sells warm-colored furniture like hardwood desks, stools, and storage closet for ice cream refrigerators. Don't miss out on the showroom of the petite boutique Gurm By H. The showroom features elegant clothes to all kinds of daily goods and cosmetics. Visitors can end their tour of the area at the veteran shop of Bangbaesai-gil, Ceci Cela Factory. Celebrating its 15th anniversary this year, Ceci Cela has an established reputation for its delicious carrot cakes. The cakes sold at all Ceci Cela branches throughout the country are made at this branch. Orders for whole cakes, and not slices, can only be made at this Bangbae branch. A cup of aromatic Americano and a slice of carrot cake will drive all your troubles away.
#BangbaeOuting #BoutiqueStreet #OrganicIceCream #ShoppingSpree #TastyCarrotCakeCafe

Address Bangbae-ro 42-gil, Seocho-gu, Seoul

Parking Bangbaejungang-ro Parking Lot (KRW 1,500 every 30 mins)
예약 전 안내사항
예약은 관광일 기준 최소 3일 전까지 가능합니다.
기존 등록된 예약 중 그룹별 정원을 초과하지 않는 예약에 한하여 1일 전 17시까지 추가예약 가능합니다.
최소 출발 인원은 3인부터 입니다. 관광일 2일 전 17시까지 누적예약인원이 3인 미만일 경우 예약은 자동 취소되며, 출발 및 취소 여부는 문자와 메일로 안내드립니다.
다음달 예약은 전달 15일 이후부터 가능합니다.
주말 및 공휴일, 봄 가을 성수기에는 예약이 조기 마감될 수 있습니다.
해설 진행 시 발생하는 안전사고에 대해서 도보관광 사무국과 서울문화관광해설사는 책임을 지지 않습니다.
보호자가 동반하지 않는 만 14세 미만의 하동 관광객의 경우 현장에서 취소됩니다.
미세먼지 비상저감조치 발령 및 기타 기상악화(폭염, 태풍, 폭우 등)로 인해 도보관광 운영이 어려운 경우 모든 예약은 일괄 취소됩니다. (관광일 전날 기준)
예약 전 안내사항
예약은 관광일 기준 최대 6개월 전부터 최소 5일 전 까지 신청 가능합니다.
희망하시는 날짜 및 코스에 활동가능한 해설사가 없는 경우 예약은 취소될 수 있습니다.
특히 주말 및 공휴일, 봄(4~5월) 가을(9~11월) 성수기에는 예약이 조기마감 되오니 이 점 유의하여 주시기 바랍니다.
예약확인을 위해 도보관광 사무국(02-6025-0777)에서 확인 연락이 진행됩니다.
(최소 5일~한달 전)3회 이상 전화통화가 이뤄지지 않을 시 예약이 취소될 수 있습니다.
경복궁, 창덕궁, 창경궁, 덕수궁 35인 이상 관람 시, 해당 궁궐 사이트에서 15일 전 단체 입장신청이 필요합니다. (2014.1.1.부터 시행)
해설 진행 시 발생하는 안전사고에 대해서 도보관광 사무국과 서울문화관광해설사는 책임을 지지 않습니다.
보호자가 동반하지 않는 만 14세 미만의 하동 관광객의 경우 현장에서 취소됩니다.
미세먼지 비상저감조치 발령 및 기타 기상악화(폭염, 태풍, 폭우 등)로 인해 도보관광 운영이 어려운 경우 모든 예약은 일괄 취소됩니다. (관광일 전날 기준)
예약 전 안내사항
예약은 관광일 기준 최소 1주일 전까지 가능합니다.
덕수궁의 경우 복지카드를 지참한 관광객에 한하여 무료입장이 가능합니다.
※ 중증(1~3급) 동반인 포함 2명 무료※ 경증(4~6급) 장애인 본인 1인만 무료
보호자 또는 보조자가 동반하지 않을 경우 이용이 불가능 합니다.※ 별도의 보조자가 없는 경우 사무국으로 문의 바랍니다. (02-6025-0777)
희망하시는 날짜 및 코스에 활동가능한 해설사가 없는 경우 예약은 취소될 수 있습니다.
예약확인을 위해 도보관광 사무국(02-6025-0777)에서 확인 연락이 진행됩니다.(최소 5일~한달 전)3회 이상 전화통화가 이뤄지지 않을 시 예약이 취소될 수 있습니다.
해설 진행 시 발생하는 안전사고에 대해서 도보관광 사무국과 서울문화관광해설사는 책임을 지지 않습니다.
미세먼지 비상저감조치 발령 및 기타 기상악화(폭염, 태풍, 폭우 등)로 인해 도보관광 운영이 어려운 경우 모든 예약은 일괄 취소됩니다. (관광일 전날 기준)
예약 전 안내사항
예약은 관광일 기준 최소 1주일 전까지 가능합니다.
덕수궁의 경우 복지카드를 지참한 관광객에 한하여 무료입장이 가능합니다.
※ 중증(1~3급) 동반인 포함 2명 무료
※ 경증(4~6급) 장애인 본인 1인만 무료
본 프로그램은 수화해설 중심으로 진행되며, 수화가 불가능한 경우 이용이 불가합니다.
희망하시는 날짜 및 코스에 활동가능한 해설사가 없는 경우 예약은 취소될 수 있습니다.
예약확인을 위해 도보관광 사무국(02-6025-0777)에서 확인 연락이 진행됩니다.
(최소 5일~한달 전)3회 이상 전화통화가 이뤄지지 않을 시 예약이 취소될 수 있습니다.
해설 진행 시 발생하는 안전사고에 대해서 도보관광 사무국과 서울문화관광해설사는 책임을 지지 않습니다.
미세먼지 비상저감조치 발령 및 기타 기상악화(폭염, 태풍, 폭우 등)로 인해 도보관광 운영이 어려운 경우 모든 예약은 일괄 취소됩니다. (관광일 전날 기준)
예약 전 안내사항
예약은 관광일 기준 최소 1주일 전까지 가능합니다.
본 코스는 보행약자(거동이 불편한 고령자, 장애인, 유모차 이용자 등)를 위한 코스입니다.
보호자를 동반하지 않을 시 이용이 불가능 합니다.※ 보행약자 1명당 보호자 최소 1인 이상 동반
※ 전동보장구(전동휠체어, 전동스쿠터 등) 사용자의 경우 보호자 1인당 보행약자 최대 4인까지 동반 가능
희망하시는 날짜 및 코스에 활동가능한 해설사가 없는 경우 예약은 취소될 수 있습니다.
예약확인을 위해 도보관광 사무국(02-6025-0777)에서 확인 연락이 진행됩니다.(최소 5일~한달 전)3회 이상 전화통화가 이뤄지지 않을 시 예약이 취소될 수 있습니다.
해설 진행 시 발생하는 안전사고에 대해서 도보관광 사무국과 서울문화관광해설사는 책임을 지지 않습니다.
미세먼지 비상저감조치 발령 및 기타 기상악화(폭염, 태풍, 폭우 등)로 인해 도보관광 운영이 어려운 경우 모든 예약은 일괄 취소됩니다. (관광일 전날 기준)
Read before Reservation
Reservation shall be made at least 3 days before the tour day.
Reservation for the next month is available after 15th of the previous month.
Reservation may be closed early during weekend, holiday, and peak season in spring and fall.
Seoul Guided Walking Tour Office and Seoul culture and tourism guide are not liable for the safety accidents during the Seoul Guided Walking Tour.
Reservation for unaccompanied tourist under 14 will be canceled on site.
All reservations are canceled when Seoul Guided Walking Tour is unavailable due to Particulate Matter Reduction Measure or other weather conditions (heat wave, typhoon, heavy rain). (As of the date before the tour day)
Read before Reservation
Reservation shall be made at least 1 week before the tour day.
The course is for tourists with mobility problems (Senior, people with disability, stroller user).
You may not use the course without an assistant (or companion)
※ At least one assistant shall accompany a tourist with mobility problem
※ In case of electric assisting device users (electric wheelchair, electric scooter users), one assistant may accompany up to 4 tourists with mobility problem
Reservation may be canceled when a guide is unavailable on the desired date and course.
Seoul Guided Walking Tour Office (02-6025-0777) will contact you to confirm reservation.
(At least 5 days~1 month before tour day) Reservation may be canceled when Seoul Guided Walking Tour Office cannot reach you for more than 3 times.
Seoul Guided Walking Tour Office and Seoul culture and tourism guide are not liable for the safety accidents during the Seoul Guided Walking Tour.
All reservations are canceled when Seoul Guided Walking Tour is unavailable due to Particulate Matter Reduction Measure or other weather conditions (heat wave, typhoon, heavy rain). (As of the date before the tour day)
预约前说明事项
观光日基准最少3日前方可进行预约。
下个月的预约可从前月15日开始。
周末及公休日、春秋旺季的预约可早期结束。
进行解说时,对于有可能发生的安全事故,徒步观光事务局和首尔文化观光
解说员概不负责。
未伴随保护者的未满14岁儿童游客,会在现场取消观光。
因发布微尘紧急低减措施及其他气象恶化(暴热、台风、暴雨等),无法运营 徒步观光时,所有预约会批量取消。
(观光前日基准)
预约前说明事项
观光日基准最少1日前方可进行预约。
本线路是为了行动不便者(行动不便的高龄者、残疾人、婴儿车利用者等)的路线。
无辅助人员(或同行人)伴随时,不可利用。
※ 步行不便者1名至少需要1名以上的辅助人员陪同。
※ 电动辅助器具(电动轮椅、电动独轮车等)使用者时,每一位辅助人员最多可陪同 4名步行不便者。
希望观光的日期及线路上无解说员时,预约有可能被取消。
为了确认预约,徒步观光事务局(02-6025-0777)会致电进行确认。
(最少5日~一个月前) 3次以上无法连接时,预约将被取消。
进行解说时,对于有可能发生的安全事故,徒步观光事务局和首尔文化观光解说员概不负责。
因发布微尘紧急低减措施及其他气象恶化(暴热、台风、暴雨等),无法运营 徒步观光时,所有预约会批量取消。
(观光前日基准)
預約前說明事項
觀光日基準最少3日前方可進行預約。
下個月的預約可從前月15日開始。
周末及公休日、春秋旺季的預約可早期結束。
希望观光的日期及线路上无解说员时,预约有可能被取消。
進行解說時,對於有可能發生的安全事故,徒步觀光事務局和首爾文化觀光解說員概不負責。
未伴隨保護者的未滿14歲兒童遊客,會在現場取消觀光。
因發布微塵緊急低減措施及其他氣象惡化(暴熱、臺風、暴雨等),無法運營 徒步觀光時,所有預約會批量取消。(觀光前日基準)
預約前說明事項
觀光日基準最少1日前方可進行預約。
本線路是為了行動不便者(行動不便的高齡者、殘疾人、嬰兒車利用者等)的路線。
無輔助人員(或同行人)伴隨時,不可利用。
※ 步行不便者1名至少需要1名以上的輔助人員陪同。
※ 電動輔助器具(電動輪椅、電動獨輪車等)使用者時,每壹位輔助人員最多可陪同 4名步行不便者。
希望觀光的日期及線路上無解說員時,預約有可能被取消。
為了確認預約,徒步觀光事務局(02-6025-0777)會致電進行確認。
(最少5日~壹個月前) 3次以上無法連接時,預約將被取消。
進行解說時,對於有可能發生的安全事故,徒步觀光事務局和首爾文化觀光 解說員概不負責。
因發布微塵緊急低減措施及其他氣象惡化(暴熱、臺風、暴雨等),無法運營 徒步觀光時,所有預約會批量取消。 (觀光前日基準)