>
Business & Partners
>
Seoul Tourism Certification Program
>
Newsletter(Seoul Tour+)
>
Seoul Tour+ articles
Seoul Tour+
10 Nostalgic Toy Stores for Kidults
Published Date : Jan 28, 2021 / Edited Date : Jun 03, 2021
Recently with social distancing and being stuck at home, "kidult" has become a huge buzzword and even a trendy lifestyle. "Kidult" is a portmanteau of "kid" and "adult"—it refers to those who are young at heart, with childlike senses and preferences. With long hours spent at home, adults are naturally turning to toys, comics, snacks and other objects that bring up memories of their past. People who face hardship in life turn to their childhood memories to relieve stress and gain emotional stability. There are stores all over Seoul that will definitely catch the eyes of kidults. Keep reading to discover 10 kidult stores in Seoul that will most certainly rejuvenate the teen spirit of adolescents.
Toy Jjurus (Konkuk University)
Toy Story fans' paradise
At Toy Jjurus, visitors of all ages can meet their favorite Disney and Pixar characters. The shop is heaven for those who are especially fans of Pixar's first featured animation, Toy Story. From the ceiling hangs Buzz Lightyear on a spaceship flying through outer space, and you can see Woody looking up at Buzz from down below. It seems almost as if this "store" is meant to be an "expo," making visitors gaze in awe at all the toys on display. Entering the store feels if entering a scene in an animated film. The store also features the Woody & Bo Peep Gift Set from Toy Story 2 (1999), Buzz Lightyear Popcorn Box sold at Tokyo Disney Sea, and other rare goods. The owner of the shop is a true fan of Toy Story who is almost always the first to receive the latest news on products and to secure new stock.
#ToyStory #Woody #Buzz #MeccaforDisneyFans #KonkukUniversityToyStore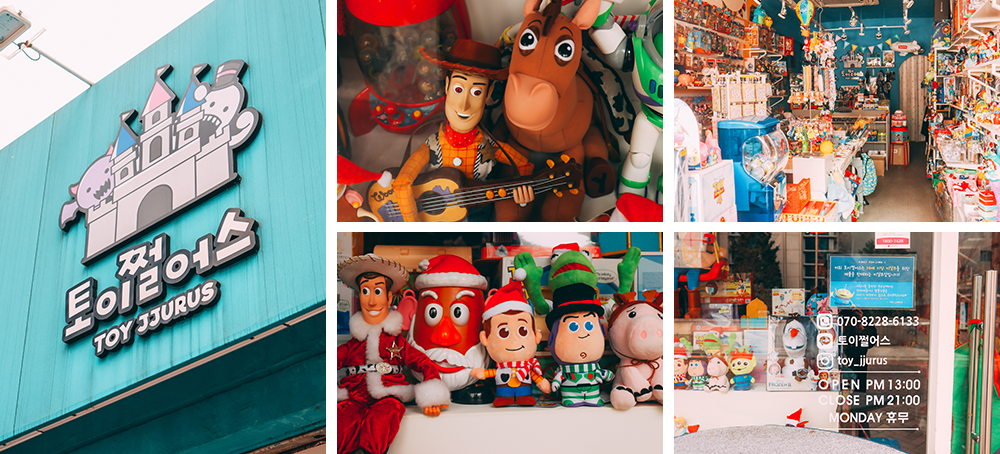 Address 8, Dongil-ro 20-gil, Gwangjin-gu, Seoul (1F)

Hours Daily 13:00 - 21:00 (Closed on Mondays)

Website www.toyjjurus.com

Instagram www.instagram.com/toy_jjurus

Tel +82-70-8228-6133

Language ENG

Parking One free storefront parking spot

Tamiya Plamodel Factory (Jamsil)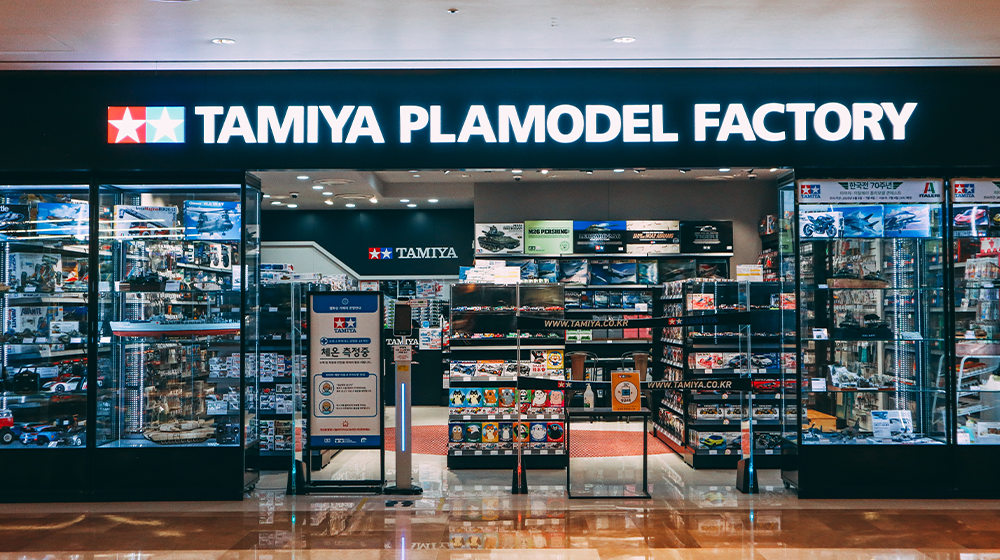 Racing through time
Tamiya Plamodel Factory is a store that features mini cars, RC cars, model cars, and plamodel cars. It is located on the first underground floor of Lotte World Mall in Jamsil, and features plamodels of planes, tanks, motorcycle and cars in addition to a space where visitors can assemble their plamodels. Mini cars are recommended to those who want to relive childhood memories, but find it troublesome to pursue a hobby that requires careful dexterity. Additional parts and materials to customize items can also be purchased to modify original models and assemble personalized mini cars. The highlight of visiting the shop is to race one's mini car on the mini car tracks. Make sure to buy a pass to race your car on the tracks! The sight of kidults watching and cheering on the mini cars speed by on the tracks will indubitably put a smile on your face.
#Plamodel #RCCars #MiniCarRace #KidultsPlayground #JamsilMiniCarRaceTracks

Address 300, Olympic-ro, Songpa-gu, Seoul (B1)

Hours Daily 10:30 - 22:00

Website www.tamiya.co.kr

Blog blog.naver.com/tamiya012

Tel +82-2-572-7777

Language ENG

Parking Lotte World Tower Mall Parking Lot (KRW 500 for every 10 min. / KRW 200 for every 10 mins from 20:00 to 10:00 [the following day])

Marvel Collection Enter 6 (Hanyang University)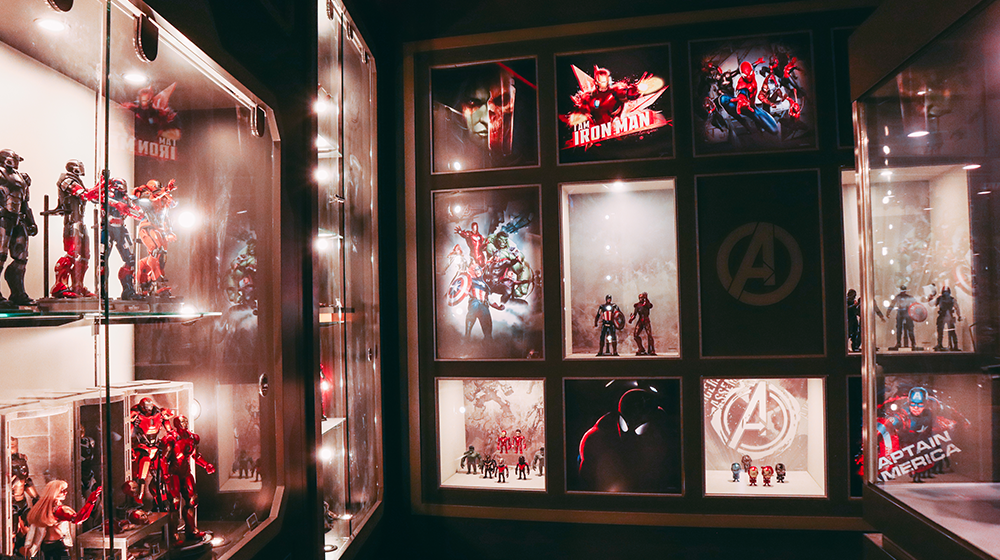 Meet the Avengers
Marvel's popularity can be summed up with the word "Avengers." At Marvel Collection Enter 6—Hanyang Univ. Store near Seoul Forest is the world's first official collection store by the Walt Disney Company, which currently owns Marvel. As an official store, the shop is packed with various figures of all the Avengers as well as an Iron Man suit. At the entrance is a figure of the majestic Captain America and along the walls are figures of Hulk and Iron Man. All these near-life-size figures leave visitors speechless. About one-third of the shop is filled with Hot Toys action figures with immaculate details. In addition to the cinematic diorama (a model representing a scene with three-dimensional figures), visitors can see the one and only Ant-Man figure in Korea. After appreciating the figures on display, visitors can also get a kick out of the available merchandise. Filled with Marvel goods, from smartphone cases and puzzles to notepads, pens, t-shirts and hats, this has got to be paradise for Marvel fans and the perfect place to buy gifts for your friends and loved ones who love Marvel!
#WorldsFirstMarvelStore #IronMan #Hulk #MarvelHotToyFigure #CaptainAmerica
Address 241, Wangsimni-ro, Seongdong-gu, Seoul (1F, Park Avenue Enter 6)

Hours Daily 12:00 – 20:00

Website www.marvelcollection.co.kr

Instagram www.instagram.com/marvelcollectionstore

Tel +82-2-6454-6130

Language ENG

Parking Park Avenue Enter 6 Parking Lot / Free on weekdays / Free for 30 mins on weekends and KRW 500 for every 10 mins (* Free 1-hour parking with purchase receipt)

Porong Porong Life Style Shop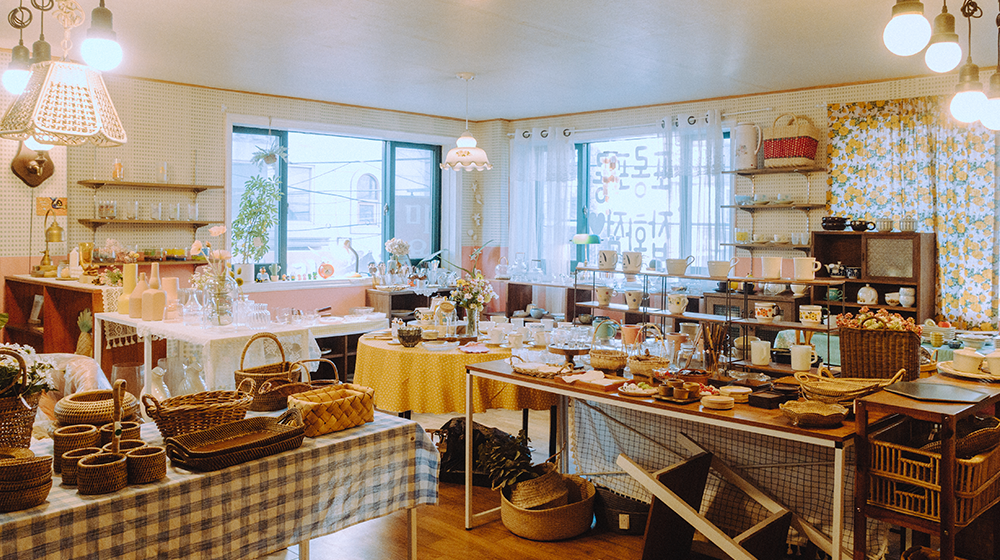 A homebody's bucket list
Porong Porong Life Style Shop is mecca for those who love to decorate their homes. Located in Mangwon-dong, a popular neighborhood for shops that sell toys and trinkets, this store captivates all visitors with its extremely picturesque ambiance. One can find tables covered with plates, coffee mugs, tableware, and tabletop pieces on the second floor. The store is also packed with things made from wood, glass, stainless steel and rattan, even in combination of materials and styles. Filled with the owner's personal tastes, anyone who walks through the doors almost always leaves with a cute and elegant item or two. The proud owner, who opened up the shop in Mangwon-dong in 2016 after quitting an office job, is attentive to detail and puts great care into curating every piece of tableware from across the country and overseas. Since most of the items are affordable and range from KRW 10,000-20,000, it's quite common for visitors to shop till they drop. If you'd like, check out Porong Porong's online store as well.
#MangwonToyStore #MangwondongLifestyleShop #MeccaforHomebodies #Nostalgia

Yomi Toy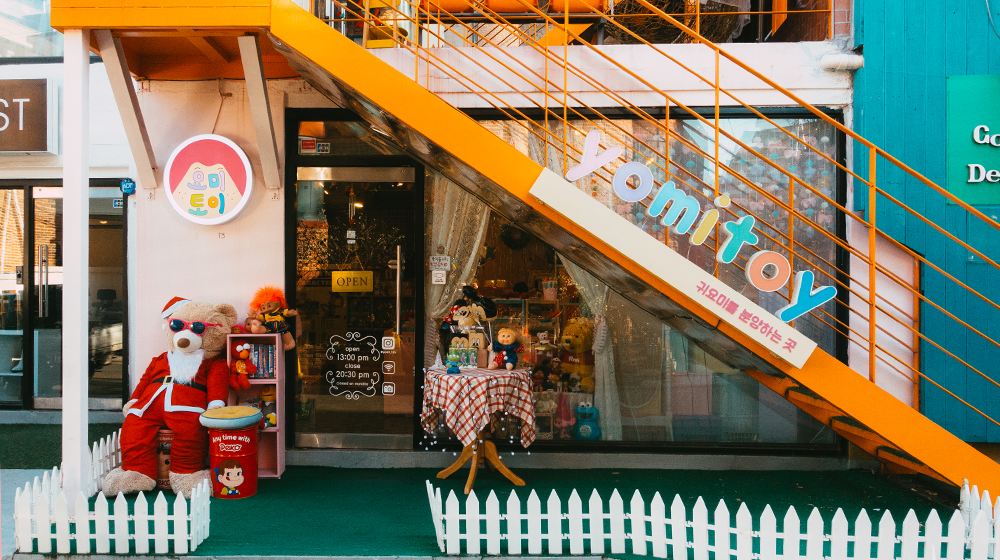 Cute toys for mini maximalists
How nostalgic it is to revisit your childhood by listening to the opening theme song of your favorite anime. Better yet, visit Yomi Toy to listen while you shop! Yomi Toy is miles from the word "minimalism," as the store is filled to the brim with toys in every nook and cranny. Pursue the numerous items on display, from dolls and stickers to stationery like tape, pens, postcards, pouches, and keyrings with characters from Toy Story, Mickey Mouse, the Trolls, and Winnie the Pooh. You will be reaching for your wallet in no time! Amidst the jam-packed store, the only empty spot is the photo spot. Sit on the couch with characters against the pink wall for the most perfect childhood snapshot. It's true that happiness can be found all around. Yomi Toy is also known by many as "the place to adopt cuteness."
#AdoptCuteness #HongdaeToyStore #Maximalist #StationeryHeaven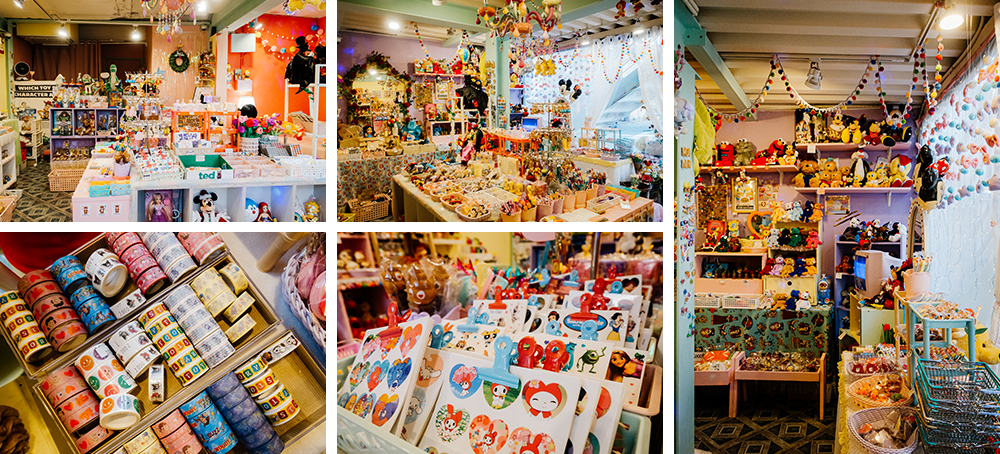 Address 13, Wausan-ro 29ga-gil, Mapo-gu, Seoul (1F)

Hours Daily 14:00 - 20:30 (Closed Mondays) * Currently reduced hours: Daily 14:00 - 20:00 / Sundays 14:00 - 19:00

Instagram www.instagram.com/yomi_toy

Tel +82-507-1323-5834

Language ENG

Parking N/A

Anseodang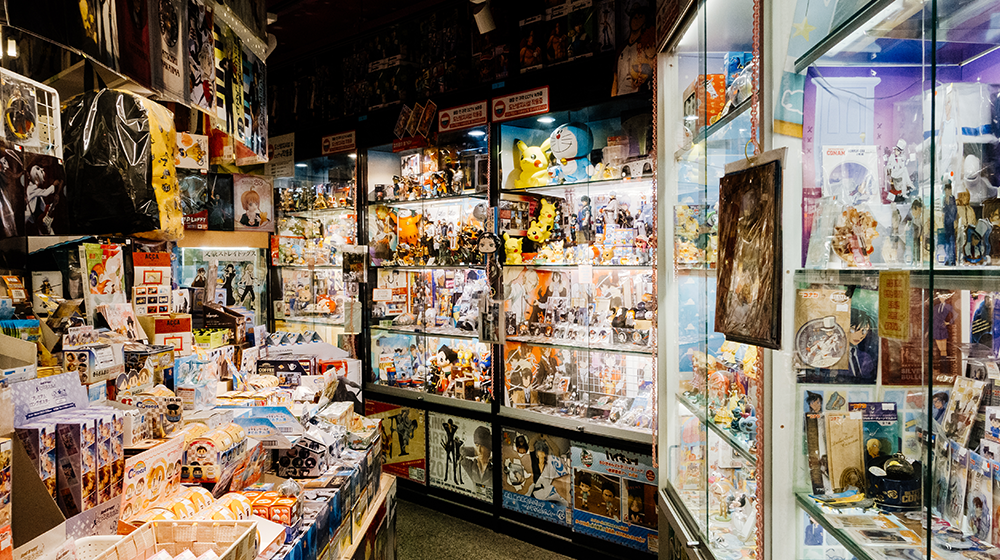 Underground world of otakus
On the underground floor of a villa in a quiet neighborhood near Hongik Univ. is a radiant world. Anseodang is the perfect store for those who enjoy Japanese anime, like Detective Conan, Pokémon, Haikyu, and Gintama. Follow the old claw machine down the stairs to the basement floor to hear various anime theme songs. On both walls are displays of small and big anime goods like figures, dolls, cards, pendants, keyrings, and badges. Although the store may appear messy, all the goods are actually arranged by character, which is helpful for customers to easily find what they are looking for. Within a 2 to 3-minute walking distance from the main Anseodang branch is the second branch, which is a collaboration between Anseodang and Ani Lounge (Anseodang X Lashinban), and the third branch of Anseodang, which only sells gacha capsules.
#MeccaforHaikyuFans #AnimeGoods #HongdaeGoodsShop #HongdaeFigureShop


The Gundam Base (Myeongdong)
Here comes Mazinger Z
The face of Unicorn Gundam at the entrance captivates the hearts of Gundam plamodel (Gunpla) fans. The Gundam Base opened at Lotte Young Plaza in March 2019. It features various Gunplas from the small 10-cm SD (Super Deformed) Gundam to the hand-sized, standard HG (High Grade) Gundam and the elaborate MG (Master Grade) Gundam. Popular models like Mazinger Z even have red "SOLD OUT" stickers on them. LIMITED EDITION! If you're a kidult whose heart beats with excitement at those two words, this is the perfect store for you. The Gundam Base in Myeongdong has limited edition models that can only be found here. In addition to Gundam are figures of familiar characters from One Piece, Dragon Ball Z, and Doraemon. Information on new products at The Gundam Base can be found weekly on the store website.
#MeccaforGunplas #LimitedEditionGundams #ActionFigureHeaven #MyeongdongFigureShop #MazingerZ

Address 67, Namdaemun-ro, Jung-gu, Seoul (B1, Lotte Young Plaza)

Hours Daily 11:30 - 20:30 (Closed on a Monday once a month)

Website kr.gundam.info

Tel +82-2-2118-5177

Language ENG

Parking Lotte Young Plaza Underground Parking Lot

Studio Ghibli Collection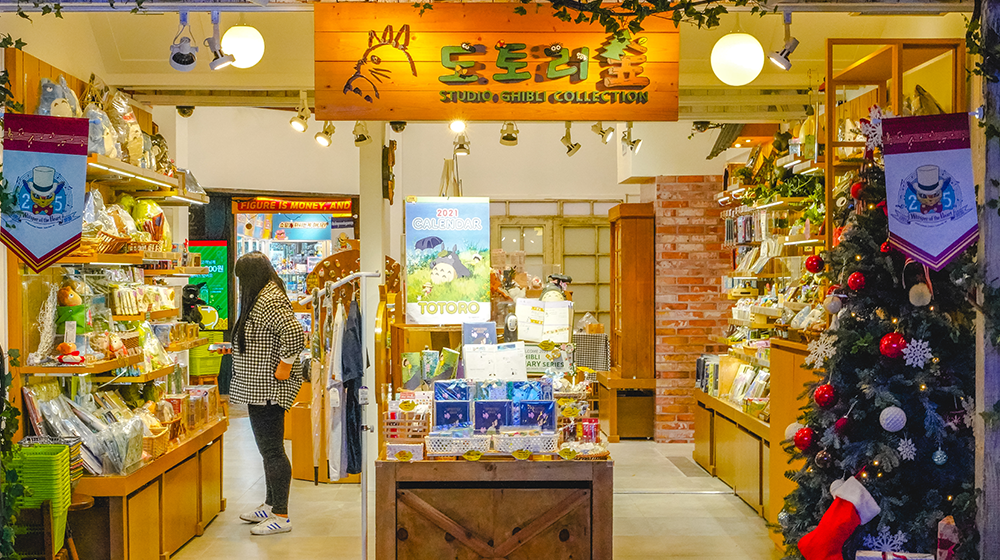 Your neighbor Totoro
Unicorn Gundam is to The Gundam Base in Myeongdong Store as the gigantic Totoro is to Studio Ghibli Collection in Yongsan. The official Studio Ghibli Collection store in Yongsan moved from the third floor of the Yongsan I'Park Mall to the sixth floor of Popcond Square last December. The store is now smaller in size and the photo zone with the bakery from the movie is gone, but all the goods have been better arranged for customers to easily find their desired products. Moreover, the store is filled with endless types of goods. Once you start reaching for the cute goods like cable covers, dessert handkerchiefs, keychains, mini coin wallets, vintage pouches, tote bags, postcards, lunch boxes and more, you'll need more than two hands to carry them all! The magnets of Ghibli characters from Spirited Away and Kiki's Delivery Service, and hand-colored finger dolls are among the store's most popular items.
#YongsanIParkMall #GoodsShop #TotoroDolls #KikisDiary #ShopTillYouDrop

Address 55, Hangang-daero 23-gil, Yongsan-gu, Seoul (6F, Popcond Square, I'Park Mall Living Park)

Hours Daily 10:30 – 21:00

Tel +82-2-6373-3369

Language ENG

Parking Yongsan I'Park Mall Parking Lot

Figure Museum W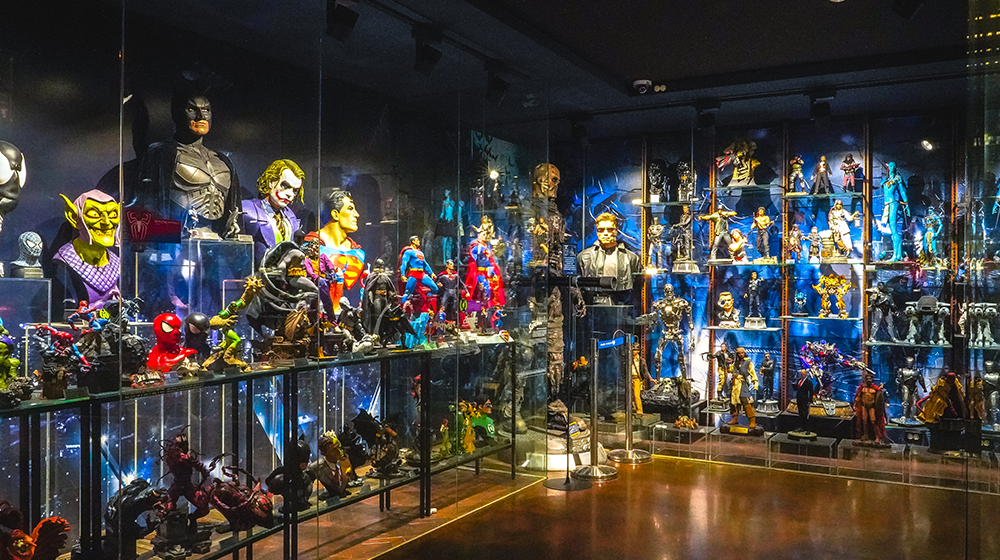 Playground for kidults
Your journey at Figure Museum W begins as you walk through the automatic doors like the doors in a spaceship. Figure Museum W is a museum slash theme park. In addition to the numerous photo zones and the fancy exhibition hall that give a theme park vibe, visitors are given admission wristbands. Touring the museum is very simple. Start at the fifth floor and make your way down to the second underground floor as you look around. On every floor are ornate figures from Marvel, Star Wars, Terminator, Gundam, Astro Boy, One Piece, and Supercar Die-cast vehicles (models made with pressurized metals). The museum seems to whisper, "Here's everything you want." The kiosk on the fifth floor offers information about limited edition figures, and visitors can see the leather outfit that Arnold Schwarzenegger actually wore in the movie, Terminator 3: Rise of the Machines. If you're a fan of The Dark Knight, don't miss out on a photo opportunity by the life-sized figure of the Joker on the second underground floor.
#ApgujeongRodeoHotSpot #SeoulIndoorDate #CallingMarvelFans #CallingStarWarsFans #SupercarDiecast #JokerFigure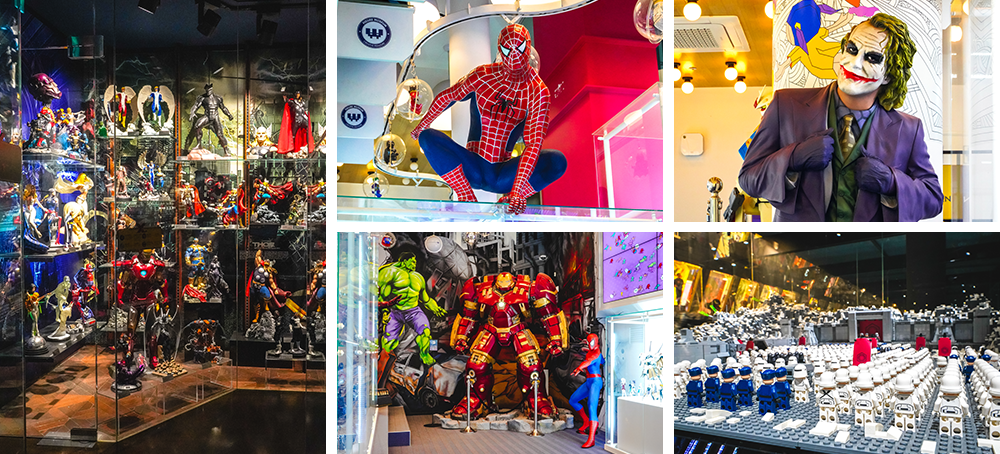 Address 3, Seolleung-ro 158-gil, Gangnam-gu, Seoul

Hours Daily 11:00 – 17:00 (Closed Mondays)

Website www.figuremuseumw.co.kr

Tel +82-2-512-8865

Language ENG

Parking Valet parking available
Lolli Pony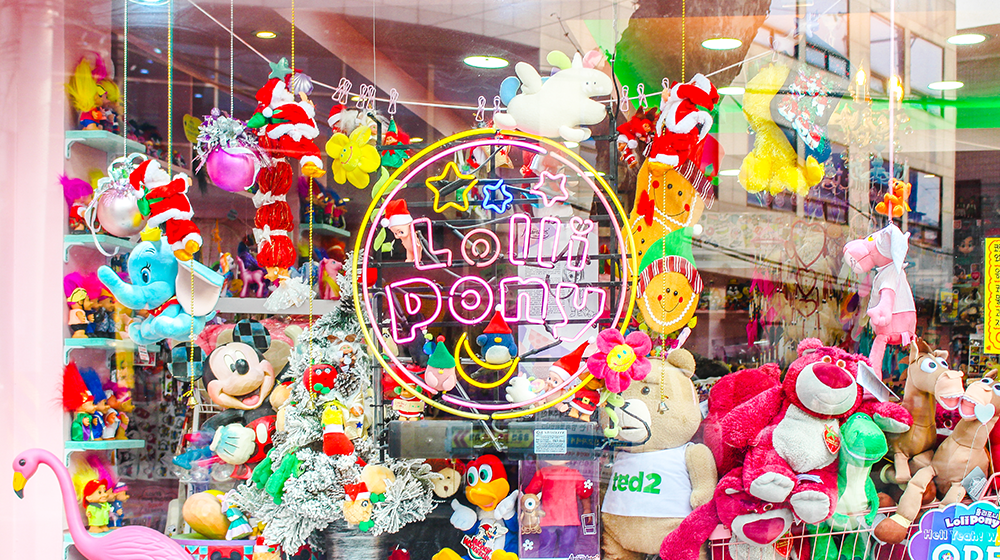 Rare grails of otakus
Lolli Pony is heaven for rare grails coveted by otakus. It boasts a collection of rare items that are difficult to find in Korea. Every corner of the store is packed with pretty and adorable goods, which is why visitors will find themselves spending a long time even though the store is small. In addition to memo pads, notebooks, and diaries, Lolli Pony also sells household and party goods as well as various accessories. The 20-year-old vintage teddy bear and secondhand toys from the 90s are also popular among visitors. Located in the alleyway in front of Sungshin Women's Univ., Lolli Pony is a must-visit frequented by university students. Goods from the store are also available for purchase online.
#SungshinWomensUniversity #ToyStore #DisneyKeyrings #VintageDolls #PinkToys #Captivating

Address 70, Bomun-ro 32-gil, Seongbuk-gu, Seoul

Hours Daily 14:00 - 20:00 (Closed Sundays)

Instagram www.instagram.com/lolli_pony

Language ENG

Parking Sungshin Women's University Parking Lot
예약 전 안내사항
예약은 관광일 기준 최소 3일 전까지 가능합니다.
기존 등록된 예약 중 그룹별 정원을 초과하지 않는 예약에 한하여 1일 전 17시까지 추가예약 가능합니다.
최소 출발 인원은 3인부터 입니다. 관광일 2일 전 17시까지 누적예약인원이 3인 미만일 경우 예약은 자동 취소되며, 출발 및 취소 여부는 문자와 메일로 안내드립니다.
다음달 예약은 전달 15일 이후부터 가능합니다.
주말 및 공휴일, 봄 가을 성수기에는 예약이 조기 마감될 수 있습니다.
해설 진행 시 발생하는 안전사고에 대해서 도보관광 사무국과 서울문화관광해설사는 책임을 지지 않습니다.
보호자가 동반하지 않는 만 14세 미만의 하동 관광객의 경우 현장에서 취소됩니다.
미세먼지 비상저감조치 발령 및 기타 기상악화(폭염, 태풍, 폭우 등)로 인해 도보관광 운영이 어려운 경우 모든 예약은 일괄 취소됩니다. (관광일 전날 기준)
예약 전 안내사항
예약은 관광일 기준 최대 6개월 전부터 최소 5일 전 까지 신청 가능합니다.
희망하시는 날짜 및 코스에 활동가능한 해설사가 없는 경우 예약은 취소될 수 있습니다.
특히 주말 및 공휴일, 봄(4~5월) 가을(9~11월) 성수기에는 예약이 조기마감 되오니 이 점 유의하여 주시기 바랍니다.
예약확인을 위해 도보관광 사무국(02-6025-0777)에서 확인 연락이 진행됩니다.
(최소 5일~한달 전)3회 이상 전화통화가 이뤄지지 않을 시 예약이 취소될 수 있습니다.
경복궁, 창덕궁, 창경궁, 덕수궁 35인 이상 관람 시, 해당 궁궐 사이트에서 15일 전 단체 입장신청이 필요합니다. (2014.1.1.부터 시행)
해설 진행 시 발생하는 안전사고에 대해서 도보관광 사무국과 서울문화관광해설사는 책임을 지지 않습니다.
보호자가 동반하지 않는 만 14세 미만의 하동 관광객의 경우 현장에서 취소됩니다.
미세먼지 비상저감조치 발령 및 기타 기상악화(폭염, 태풍, 폭우 등)로 인해 도보관광 운영이 어려운 경우 모든 예약은 일괄 취소됩니다. (관광일 전날 기준)
예약 전 안내사항
예약은 관광일 기준 최소 1주일 전까지 가능합니다.
덕수궁의 경우 복지카드를 지참한 관광객에 한하여 무료입장이 가능합니다.
※ 중증(1~3급) 동반인 포함 2명 무료※ 경증(4~6급) 장애인 본인 1인만 무료
보호자 또는 보조자가 동반하지 않을 경우 이용이 불가능 합니다.※ 별도의 보조자가 없는 경우 사무국으로 문의 바랍니다. (02-6025-0777)
희망하시는 날짜 및 코스에 활동가능한 해설사가 없는 경우 예약은 취소될 수 있습니다.
예약확인을 위해 도보관광 사무국(02-6025-0777)에서 확인 연락이 진행됩니다.(최소 5일~한달 전)3회 이상 전화통화가 이뤄지지 않을 시 예약이 취소될 수 있습니다.
해설 진행 시 발생하는 안전사고에 대해서 도보관광 사무국과 서울문화관광해설사는 책임을 지지 않습니다.
미세먼지 비상저감조치 발령 및 기타 기상악화(폭염, 태풍, 폭우 등)로 인해 도보관광 운영이 어려운 경우 모든 예약은 일괄 취소됩니다. (관광일 전날 기준)
예약 전 안내사항
예약은 관광일 기준 최소 1주일 전까지 가능합니다.
덕수궁의 경우 복지카드를 지참한 관광객에 한하여 무료입장이 가능합니다.
※ 중증(1~3급) 동반인 포함 2명 무료
※ 경증(4~6급) 장애인 본인 1인만 무료
본 프로그램은 수화해설 중심으로 진행되며, 수화가 불가능한 경우 이용이 불가합니다.
희망하시는 날짜 및 코스에 활동가능한 해설사가 없는 경우 예약은 취소될 수 있습니다.
예약확인을 위해 도보관광 사무국(02-6025-0777)에서 확인 연락이 진행됩니다.
(최소 5일~한달 전)3회 이상 전화통화가 이뤄지지 않을 시 예약이 취소될 수 있습니다.
해설 진행 시 발생하는 안전사고에 대해서 도보관광 사무국과 서울문화관광해설사는 책임을 지지 않습니다.
미세먼지 비상저감조치 발령 및 기타 기상악화(폭염, 태풍, 폭우 등)로 인해 도보관광 운영이 어려운 경우 모든 예약은 일괄 취소됩니다. (관광일 전날 기준)
예약 전 안내사항
예약은 관광일 기준 최소 1주일 전까지 가능합니다.
본 코스는 보행약자(거동이 불편한 고령자, 장애인, 유모차 이용자 등)를 위한 코스입니다.
보호자를 동반하지 않을 시 이용이 불가능 합니다.※ 보행약자 1명당 보호자 최소 1인 이상 동반
※ 전동보장구(전동휠체어, 전동스쿠터 등) 사용자의 경우 보호자 1인당 보행약자 최대 4인까지 동반 가능
희망하시는 날짜 및 코스에 활동가능한 해설사가 없는 경우 예약은 취소될 수 있습니다.
예약확인을 위해 도보관광 사무국(02-6025-0777)에서 확인 연락이 진행됩니다.(최소 5일~한달 전)3회 이상 전화통화가 이뤄지지 않을 시 예약이 취소될 수 있습니다.
해설 진행 시 발생하는 안전사고에 대해서 도보관광 사무국과 서울문화관광해설사는 책임을 지지 않습니다.
미세먼지 비상저감조치 발령 및 기타 기상악화(폭염, 태풍, 폭우 등)로 인해 도보관광 운영이 어려운 경우 모든 예약은 일괄 취소됩니다. (관광일 전날 기준)
Read before Reservation
Reservation shall be made at least 3 days before the tour day.
Reservation for the next month is available after 15th of the previous month.
Reservation may be closed early during weekend, holiday, and peak season in spring and fall.
Seoul Guided Walking Tour Office and Seoul culture and tourism guide are not liable for the safety accidents during the Seoul Guided Walking Tour.
Reservation for unaccompanied tourist under 14 will be canceled on site.
All reservations are canceled when Seoul Guided Walking Tour is unavailable due to Particulate Matter Reduction Measure or other weather conditions (heat wave, typhoon, heavy rain). (As of the date before the tour day)
Read before Reservation
Reservation shall be made at least 1 week before the tour day.
The course is for tourists with mobility problems (Senior, people with disability, stroller user).
You may not use the course without an assistant (or companion)
※ At least one assistant shall accompany a tourist with mobility problem
※ In case of electric assisting device users (electric wheelchair, electric scooter users), one assistant may accompany up to 4 tourists with mobility problem
Reservation may be canceled when a guide is unavailable on the desired date and course.
Seoul Guided Walking Tour Office (02-6025-0777) will contact you to confirm reservation.
(At least 5 days~1 month before tour day) Reservation may be canceled when Seoul Guided Walking Tour Office cannot reach you for more than 3 times.
Seoul Guided Walking Tour Office and Seoul culture and tourism guide are not liable for the safety accidents during the Seoul Guided Walking Tour.
All reservations are canceled when Seoul Guided Walking Tour is unavailable due to Particulate Matter Reduction Measure or other weather conditions (heat wave, typhoon, heavy rain). (As of the date before the tour day)
预约前说明事项
观光日基准最少3日前方可进行预约。
下个月的预约可从前月15日开始。
周末及公休日、春秋旺季的预约可早期结束。
进行解说时,对于有可能发生的安全事故,徒步观光事务局和首尔文化观光
解说员概不负责。
未伴随保护者的未满14岁儿童游客,会在现场取消观光。
因发布微尘紧急低减措施及其他气象恶化(暴热、台风、暴雨等),无法运营 徒步观光时,所有预约会批量取消。
(观光前日基准)
预约前说明事项
观光日基准最少1日前方可进行预约。
本线路是为了行动不便者(行动不便的高龄者、残疾人、婴儿车利用者等)的路线。
无辅助人员(或同行人)伴随时,不可利用。
※ 步行不便者1名至少需要1名以上的辅助人员陪同。
※ 电动辅助器具(电动轮椅、电动独轮车等)使用者时,每一位辅助人员最多可陪同 4名步行不便者。
希望观光的日期及线路上无解说员时,预约有可能被取消。
为了确认预约,徒步观光事务局(02-6025-0777)会致电进行确认。
(最少5日~一个月前) 3次以上无法连接时,预约将被取消。
进行解说时,对于有可能发生的安全事故,徒步观光事务局和首尔文化观光解说员概不负责。
因发布微尘紧急低减措施及其他气象恶化(暴热、台风、暴雨等),无法运营 徒步观光时,所有预约会批量取消。
(观光前日基准)
預約前說明事項
觀光日基準最少3日前方可進行預約。
下個月的預約可從前月15日開始。
周末及公休日、春秋旺季的預約可早期結束。
希望观光的日期及线路上无解说员时,预约有可能被取消。
進行解說時,對於有可能發生的安全事故,徒步觀光事務局和首爾文化觀光解說員概不負責。
未伴隨保護者的未滿14歲兒童遊客,會在現場取消觀光。
因發布微塵緊急低減措施及其他氣象惡化(暴熱、臺風、暴雨等),無法運營 徒步觀光時,所有預約會批量取消。(觀光前日基準)
預約前說明事項
觀光日基準最少1日前方可進行預約。
本線路是為了行動不便者(行動不便的高齡者、殘疾人、嬰兒車利用者等)的路線。
無輔助人員(或同行人)伴隨時,不可利用。
※ 步行不便者1名至少需要1名以上的輔助人員陪同。
※ 電動輔助器具(電動輪椅、電動獨輪車等)使用者時,每壹位輔助人員最多可陪同 4名步行不便者。
希望觀光的日期及線路上無解說員時,預約有可能被取消。
為了確認預約,徒步觀光事務局(02-6025-0777)會致電進行確認。
(最少5日~壹個月前) 3次以上無法連接時,預約將被取消。
進行解說時,對於有可能發生的安全事故,徒步觀光事務局和首爾文化觀光 解說員概不負責。
因發布微塵緊急低減措施及其他氣象惡化(暴熱、臺風、暴雨等),無法運營 徒步觀光時,所有預約會批量取消。 (觀光前日基準)