>
Business & Partners
>
Seoul Tourism Certification Program
>
Newsletter(Seoul Tour+)
>
Seoul Tour+ articles
Seoul Tour+
10 Unique Experiential Areas & Time Lapse Videos of Seoul
Published Date : Oct 29, 2020 / Edited Date : Nov 02, 2020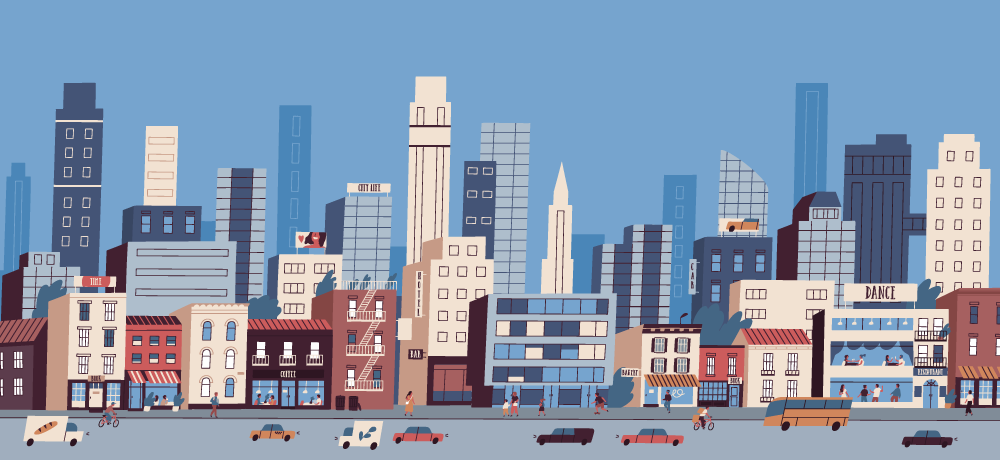 10 Unique Experiential Areas & Time Lapse Videos of Seoul
Seoul has a richer and broader spectrum than a rainbow. This spectrum is captured in space and time, in the form of various experiences and colorful videos, respectively. Whether it is an experience or a video, it will allow you to vividly experience the vibes of Seoul. Here are some unique experiential zones in Seoul where you can make extraordinary memories and time-lapse videos of Seoul that contain the time it takes to pass through the city.
5 Unique Experiential Areas in Seoul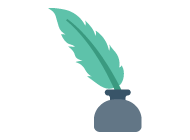 Monami Story Lab
Making your own ink
Create your own, never-before-seen color! The Monami Story Lab, run by the leading Korean stationery brand Monami, operates the Ink Lab where you can choose different kinds of ink and combine them to create your own fountain pen. As the name suggests, the space is designed in the concept of a lab. Your Ink Lab experience begins by testing the colors of various inks in this space surrounded by colorful beakers. When you get the color you want by mixing different colors, you can name as you wish, and this one-of-a-kind color is stored in the data of Monami Story Lab so that you can reorder ink of this color. Apart from the experience, the Monami Story Lab is one of the places you must visit in Seoul if you are enthusiastic about stationery. It is especially interesting to see various high-end products derived from Monami's iconic ballpoint pen "153."
#StoryLab #DIY #InkExperience #FountainPen #Monami #Monami153 #Souvenir

Address 49, Insadong-gil, Jongno-gu, Seoul

Hours Daily 10:00 - 22:00

Website www.monamimall.com

Instagram monami_official

Tel +82-6954-2880

Participation Fee KRW 25,000 per person (45 minutes - 30 ml of ink included) / Daily at 11:00, 14:00, 16:00 & 18:00 p.m. / 4 people per session / Online reservations or on-site registration available

Parking 2nd & 3rd basement floors of Annyeong Insa-dong Building (KRW 6,000 per hour & KRW 20,000 per day)

Languages ENG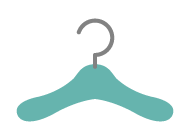 Musinsa Terrace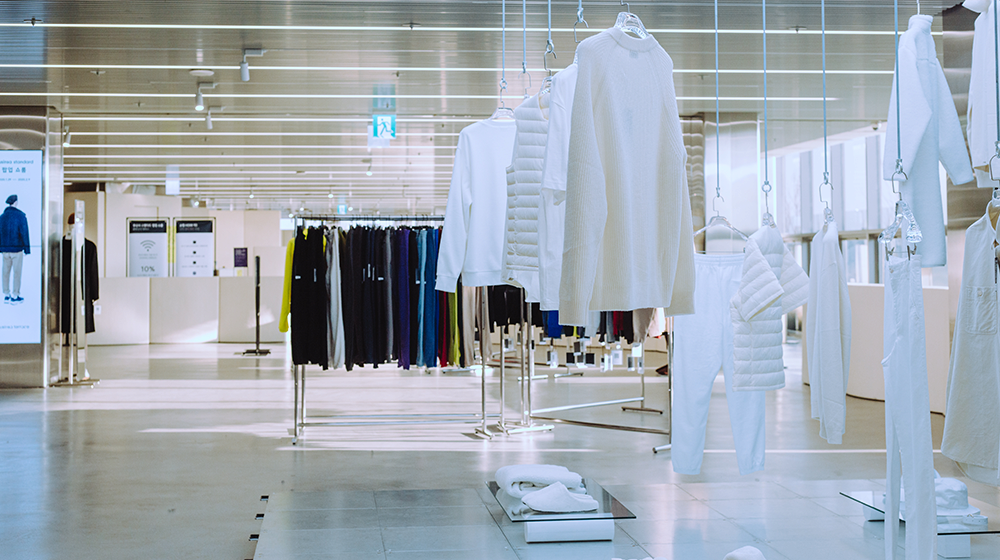 Enjoy shopping and a view in the same place
Forget about shopping in a closed, cramped space. Musinsa Terrace, located on the 17th floor of AK & Hongdae, consists of shopping and rooftop spaces. As an offline store for the online select fashion shop "Musinsa," it is divided into the four areas of the Shop for shopping, the Lounge where art exhibitions and events are held, the Kitchen that serves drinks and desserts, and the Park, which is an outdoor terrace. One of unique features of Musinsa Terrace is the purchase system that does not require customers to carry around their heavy shopping bags. You can freely try on clothes and then buy the ones you like on the application via the QR codes attached to the products. Along with clothing and accessories, you can also shop a variety of products including independent publications, LPs, and collaboration products with other brands. Don't forget to have a cup of Matchaspanner (Matcha + Einspanner) at the Terrace Kitchen, which has received many positive reviews from those who have already tried it. The view of the city from the Terrace Park through the window is worth seeing in person.
#MusinsaTerrace #Shopping #Musinsa #Hipster #VenueWithGreatView #HongdaeRooftop

Address 188, Yanghwa-ro, Mapo-gu, Seoul (17F)

Hours Daily 11:00 - 20:00 (Closed on rental event days & holidays)

Website www.musinsaterrace.com

Instagram musinsaterrace

Tel +82-70-4006-4573

Capacity 30 people at Musinsa Terrace Kitchen

Parking Aekyung Parking Tower (1 hour free with purchases over KRW 10,000 at Musinsa Terrace / 2 hours free with purchases over KRW 30,000 / 3 hours free with purchases over KRW 50,000)

Languages ENG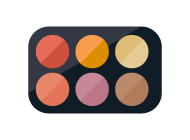 Leco_de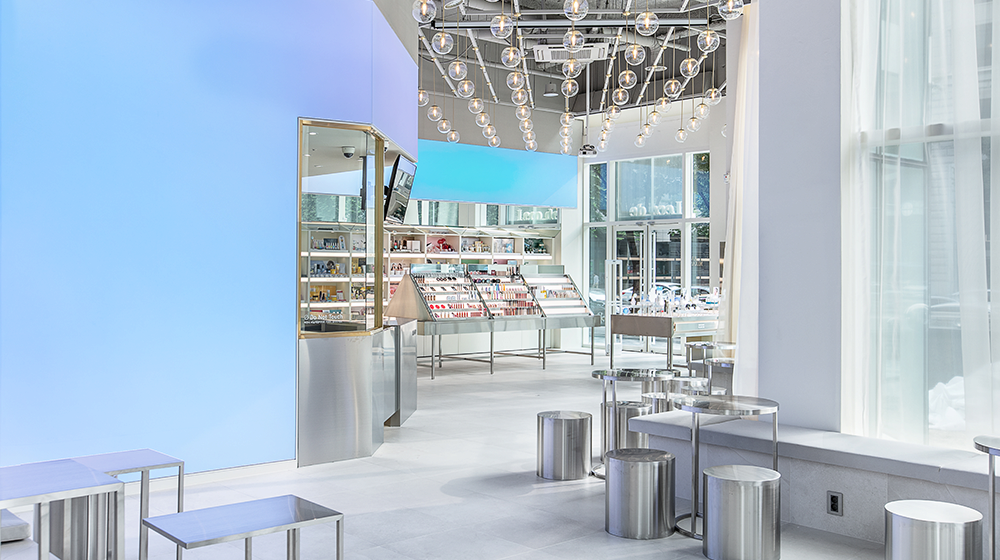 Beautiful both inside and out
If you want to find cosmetic products that have appeared in famous "beautuber" (beauty + YouTuber) videos, visit the POSCO Intersection between Samseong Station and Seolleung Station. In Leco_de, a beauty complex run by the beauty YouTuber management agency Leferi, you can find a wide range of the brands and product lines recommended by the creators of Leferi, freely testing out the products (on-site purchase will also be available soon). What distinguishes Leco_de from other cosmetics shops is that it focuses on beauty on both the inside and out. Leco_de Cafe, located next to the cosmetics shop, provides a menu consisting of a variety of healthy drinks under the theme of inner beauty. The most popular item on the menu is "UNA Beauster Premium Yogurt," which was created in collaboration with the popular beautuber UNA. It is especially popular with nearby office workers as it contains plenty of natural and organic ingredients such as camu camu and aronia. With the high ceiling and natural light seeping in through the glass walls, Leco_de always has a bright and cheerful atmosphere.
#Lecode #Makeup #InnerBeauty #Beautubers #Leferi #UNABeauster

Address 447, Teheran-ro, Gangnam-gu, Seoul

Hours Daily 08:00 - 20:00

Instagram leco_de_cafe

Tel +82-2-6252-8170

Price Range UNA Beauster Premium Yogurt: KRW 5,900 / Inner Peace Juice: KRW 4,500

Capacity Approx. 20 people at the cafe

Parking N/A

Languages ENG
Amore Seongsu
The beautiful transformation of a repair shop
More than 3,000 products from 30 brands of Amorepacific that have led K-beauty, including HERA, Sulwhasoo, LANEIGE, IOPE, and innisfree, are all gathered here. Amore Seongsu is a beauty lounge where you can find all the products of Amorepacific's brands in one place and is thus called a "beauty library." Before entering the shop, you are guided to the "cleansing room." After cleansing the makeup you are wearing, you can select and try out products of different brands and lines classified by texture and functionality, satisfying your own taste and needs. However, the purchase of products is not possible in Amore Seongsu since it operates with a focus on providing "experience," enabling customers to explore all products to find ones that match their skin best. Amore Seongsu was created by renovating an auto repair shop in Seongsu-dong. They preserved the old concrete walls of the repair shop, adding warmth to the space with green plants and lighting. On the second floor is the café OSULLOC boasting an outdoor terrace.
#AmoreSeongsu #KBeauty #Amorepacific #BeautyLibrary #SeongsudongHotSpot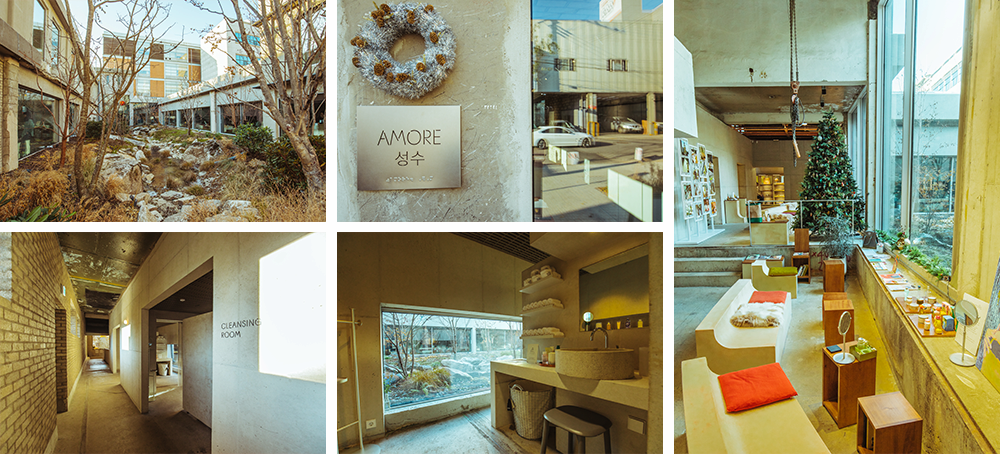 Address 7, Achasan-ro 11-gil, Seongdong-gu, Seoul

Hours Tuesday – Sunday 10:30 - 20:30 / * Closed Mondays, Seollal & Chuseok

Website www.amore-seongsu.com

Instagram amore_seongsu

Tel +82-2-469-8600

Capacity 35-40 people at OSULLOC on 2F (including terrace)

Parking N/A

Languages ENG
Space Wadiz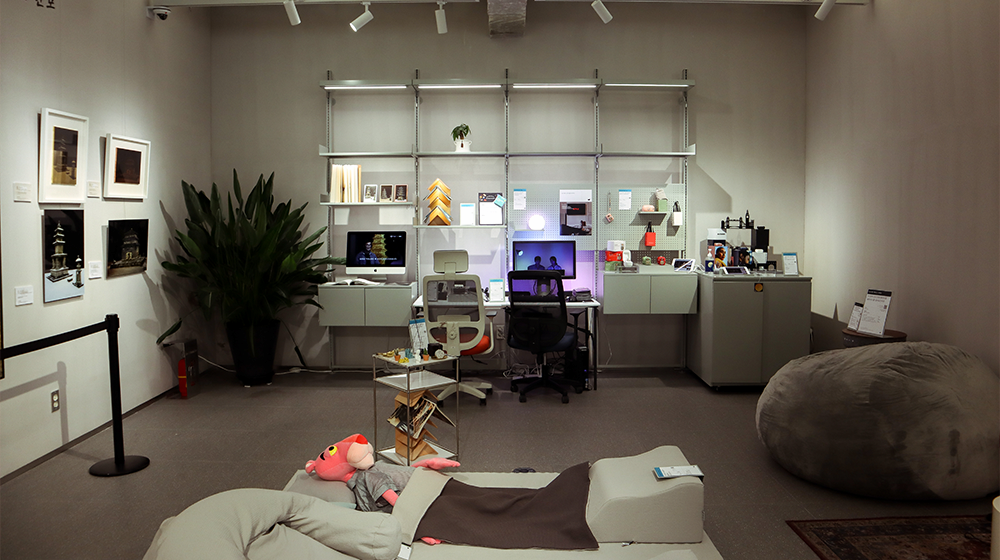 Rebirth of a paper mill
Wadiz is a company that has become synonymous with online crowdfunding in Korea. The crowdfunding platform has opened its showroom in Seongsu-dong. Space Wadiz is the offline space for communication between consumers and producers who have been interacted only online thus far. The old building where a paper mill and call center were located in the past was renovated and reborn as this new cultural space. Concrete, bricks, and sand were used to add charm to the old building. The interior consists of a total of 4 floors, from the 1st basement floor to the 3rd above-ground floor and the rooftop. The first basement floor (SQUARE) is a multi-purpose space where startup-related events can be held. The first above-ground floor (SPACE) displays products that are currently being funded through Wadiz. Here, customers can find these products and participate in funding via QR codes on site. The second floor (PLACE) consists of a maker store where you can purchase successfully funded products as well as a cafe where you can enjoy a cup of coffee. The rooftop on the 3rd floor is a space for relaxation in the atmosphere of Seongsu-dong. The space at the entrance, which is filled with white and mint-colored balls, was formerly the security room of the paper mill. Space Wadiz is full of new energy that stimulates the imagination.
#Wadiz #Crowdfunding #MakerStore #Rooftop #SeongsudongHotSpot

Address 7-1, Yeonmujang 1-gil, Seongdong-gu, Seoul

Hours Tuesday – Thursday 11:00 - 20:00 & Friday - Saturday 11:00 - 22:00 & Sundays 11:00 - 20:00 / * Closed on Monday

Website spacewadiz.com

Instagram gonggan_wadiz

Tel +82-507-1334-3604

Parking N/A

Languages KOR & ENG
Capture the passage of time
Top 5 Time-lapse Videos of Seoul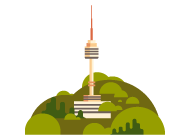 Autumn in Seoul
A five-minute video you can watch over and over
The old palaces and city wall trails embroidered with red and yellow autumn leaves, the Hangang River flowing at the foot of Namsan Mountain, and the night of Seoul that sparkles with countless lights. All these scenes are contained in this one short video. The trajectories of busy cars are reminiscent of shooting stars. Once you see this video, you will agree with a user who commented, "I should show this to my non-Korean friends." It took about a year and a half to shoot the video. Time-lapse is an arduous technique that requires the control of various variables as well as time, so patience is essential. The video was mainly filmed from viewing points that command panoramic views of Seoul, such as Bukhansan Mountain and Gwanaksan Mountain. "Weekdays are more beautiful in Seoul," the creator says. This is because of, according to the artist, the many citizens of Seoul who work late at night in numerous buildings. It is their passion for life that lights up the night of Seoul. Here is a tip for travelers: it is recommended to climb Bukhansan Mountain and Gwanaksan Mountain when the east wind blows in Seoul. When the western wind blows, your view can be blurred due to fine dust, but when the east wind blows, the mountains present you with a clear view of the city.
#SeoulTimeLapse #HyperLapse #SeoulLapse #AutumnVideoClips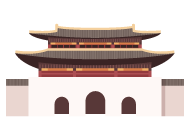 Seoul Without People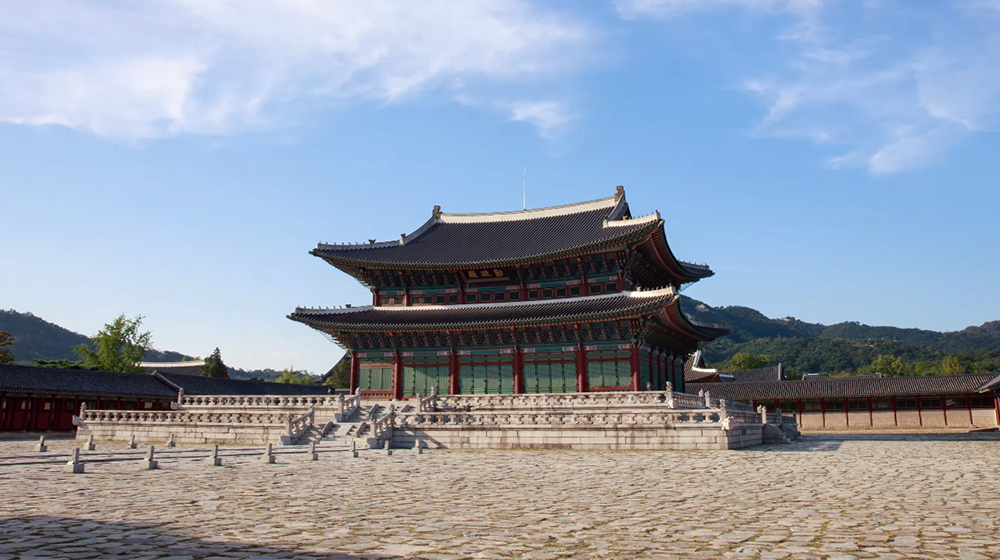 An unimaginable landscape
What would Seoul look like without any people? This video shows the empty streets of Seoul that you cannot even begin to imagine. Not a single person appears during the running time of 2 minutes and 20 seconds. You can only see time flowing, as usual, silently around the city. This video gives life to your vague imagination about what an uninhabited Seoul would look like. Let's find a different face of Seoul, appreciating how pleasant and clean the city is and thank the artist for their hard work erasing all human images by masking each frame, showing their artisan spirit.
#SeoulWithoutPeople #MyeongdongWithoutPeople #VideosWithoutPeople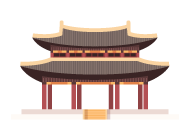 The magic of hyper-lapse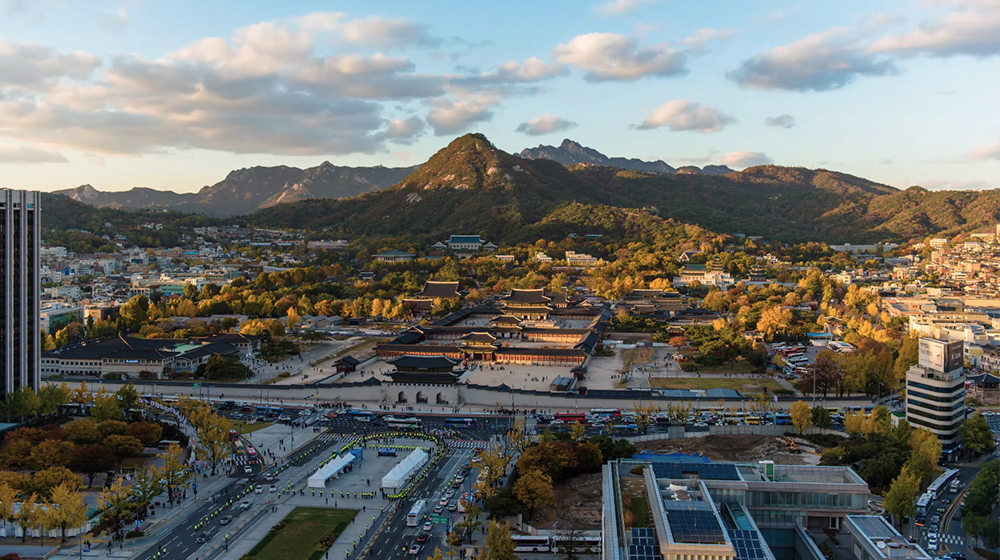 This is not a freeze frame
Hyper-lapse is a technique of taking pictures by moving the camera, and then displaying the images very quickly to make them look like a video. Unlike in time-lapse videos that feature fixed viewpoints, in hyperlapse videos, you can even feel the passage of this compressed time from different viewpoints. This feature offers an amazing sense of dynamics. The splendid editing skills add to catharsis. This video shows all of Seoul's representative tourist attractions such as Gwanghwamun Gate, Gyeongbokgung Palace, Dongdaemun Gate, Sangam-dong, N Seoul Tower, Lotte World Tower, and Saebitseom Island. The vividness of the images in the scene of Junghwamun Gate in Gyeongbokgung Palace at the beginning of the video makes the gate seem to pop out from the screen. The last scene that features Gwanghawmun Gate makes you feel as if you are being swallowed into the gate. The high precision 8K quality adds to the dynamics, making you feel as if you have watched the passing of a day in Seoul very quickly from an amusement park ride for about 4 minutes without a break.
#HyperLapse #GwanghwamunGate #GyeongbokgungPalace #SuperbVideo #TravelTo8KWorld #TravellingInsideMyRoom

Yeongdeungpo in Seoul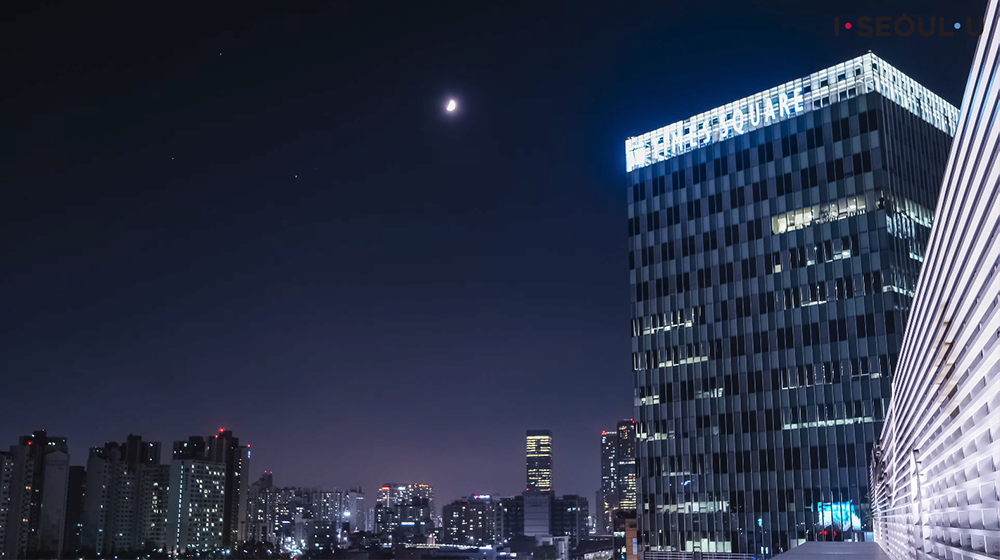 You are now in Yeouido
The beautiful sceneries of Yeongdeungpo-gu, the political and economic center of Seoul, has been captured with time-lapse and hyper-lapse techniques. Starting with Yeouido Hangang Park, various places such as Dangsan, the National Assembly, Seogangdaegyo Bridge, 63 Building, and Times Square show themselves one by one. This video is part of a series that also includes "Dongjak in Seoul" and "Jongno in Seoul." This 3-minute videos contrasts day with night in Yeongdeungpo-gu―the trajectories of cars like flowing like streams of water, the view at night reflected in the ripples of the river, buildings that are still under construction, citizens enjoying nightlife on the riverside, and the soft moonlight illuminating the National Assembly. This video expresses time passing around Yeongdeungpo-gu, which blooms splendidly at night, with vivid colors, emphasizing the energy of the area that is felt more at night than during the daytime.
#Yeongdeungpogu #YeouidoHangangPark #NationalAssembly #SeogangdaegyoBridge #63Building #SeoulTimesSquare

Jayubunbang TravelLog

Running Time 2 minutes, 53 seconds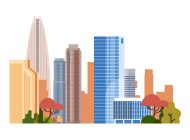 Landscapes of Inwangsan Mountain
Newer than images taken by a drone
One of the unique charms of Seoul is the harmony between the mountain and cityscapes. The various views at night of Seoul from Inwangsan Mountain, Guryongsan Mountain, and Gyeyangsan Mountain have been captured in this video. These sceneries are new and even different from views seen from a drone. The shade cast on the mountain ridges when the sun is hidden by clouds sways like a wave. Seoul's topographical features as a city surrounded by mountains stretching out around Namsan Mountain is well reflected in the frame. If you look at the landscape in the video for a long time, the city will eventually feel like a part of nature. This is because Seoul is a city harmoniously blended with its natural surroundings.
#InwangsanMountain #GuryongsanMountain #GyeyangsanMountain #MountainClimbing #PhotoSpots

Seoul View Channel

Running Time 2 minutes, 20 seconds
예약 전 안내사항
예약은 관광일 기준 최소 3일 전까지 가능합니다.
기존 등록된 예약 중 그룹별 정원을 초과하지 않는 예약에 한하여 1일 전 17시까지 추가예약 가능합니다.
최소 출발 인원은 3인부터 입니다. 관광일 2일 전 17시까지 누적예약인원이 3인 미만일 경우 예약은 자동 취소되며, 출발 및 취소 여부는 문자와 메일로 안내드립니다.
다음달 예약은 전달 15일 이후부터 가능합니다.
주말 및 공휴일, 봄 가을 성수기에는 예약이 조기 마감될 수 있습니다.
해설 진행 시 발생하는 안전사고에 대해서 도보관광 사무국과 서울문화관광해설사는 책임을 지지 않습니다.
보호자가 동반하지 않는 만 14세 미만의 하동 관광객의 경우 현장에서 취소됩니다.
미세먼지 비상저감조치 발령 및 기타 기상악화(폭염, 태풍, 폭우 등)로 인해 도보관광 운영이 어려운 경우 모든 예약은 일괄 취소됩니다. (관광일 전날 기준)
예약 전 안내사항
예약은 관광일 기준 최대 6개월 전부터 최소 5일 전 까지 신청 가능합니다.
희망하시는 날짜 및 코스에 활동가능한 해설사가 없는 경우 예약은 취소될 수 있습니다.
특히 주말 및 공휴일, 봄(4~5월) 가을(9~11월) 성수기에는 예약이 조기마감 되오니 이 점 유의하여 주시기 바랍니다.
예약확인을 위해 도보관광 사무국(02-6025-0777)에서 확인 연락이 진행됩니다.
(최소 5일~한달 전)3회 이상 전화통화가 이뤄지지 않을 시 예약이 취소될 수 있습니다.
경복궁, 창덕궁, 창경궁, 덕수궁 35인 이상 관람 시, 해당 궁궐 사이트에서 15일 전 단체 입장신청이 필요합니다. (2014.1.1.부터 시행)
해설 진행 시 발생하는 안전사고에 대해서 도보관광 사무국과 서울문화관광해설사는 책임을 지지 않습니다.
보호자가 동반하지 않는 만 14세 미만의 하동 관광객의 경우 현장에서 취소됩니다.
미세먼지 비상저감조치 발령 및 기타 기상악화(폭염, 태풍, 폭우 등)로 인해 도보관광 운영이 어려운 경우 모든 예약은 일괄 취소됩니다. (관광일 전날 기준)
예약 전 안내사항
예약은 관광일 기준 최소 1주일 전까지 가능합니다.
덕수궁의 경우 복지카드를 지참한 관광객에 한하여 무료입장이 가능합니다.
※ 중증(1~3급) 동반인 포함 2명 무료※ 경증(4~6급) 장애인 본인 1인만 무료
보호자 또는 보조자가 동반하지 않을 경우 이용이 불가능 합니다.※ 별도의 보조자가 없는 경우 사무국으로 문의 바랍니다. (02-6025-0777)
희망하시는 날짜 및 코스에 활동가능한 해설사가 없는 경우 예약은 취소될 수 있습니다.
예약확인을 위해 도보관광 사무국(02-6025-0777)에서 확인 연락이 진행됩니다.(최소 5일~한달 전)3회 이상 전화통화가 이뤄지지 않을 시 예약이 취소될 수 있습니다.
해설 진행 시 발생하는 안전사고에 대해서 도보관광 사무국과 서울문화관광해설사는 책임을 지지 않습니다.
미세먼지 비상저감조치 발령 및 기타 기상악화(폭염, 태풍, 폭우 등)로 인해 도보관광 운영이 어려운 경우 모든 예약은 일괄 취소됩니다. (관광일 전날 기준)
예약 전 안내사항
예약은 관광일 기준 최소 1주일 전까지 가능합니다.
덕수궁의 경우 복지카드를 지참한 관광객에 한하여 무료입장이 가능합니다.
※ 중증(1~3급) 동반인 포함 2명 무료
※ 경증(4~6급) 장애인 본인 1인만 무료
본 프로그램은 수화해설 중심으로 진행되며, 수화가 불가능한 경우 이용이 불가합니다.
희망하시는 날짜 및 코스에 활동가능한 해설사가 없는 경우 예약은 취소될 수 있습니다.
예약확인을 위해 도보관광 사무국(02-6025-0777)에서 확인 연락이 진행됩니다.
(최소 5일~한달 전)3회 이상 전화통화가 이뤄지지 않을 시 예약이 취소될 수 있습니다.
해설 진행 시 발생하는 안전사고에 대해서 도보관광 사무국과 서울문화관광해설사는 책임을 지지 않습니다.
미세먼지 비상저감조치 발령 및 기타 기상악화(폭염, 태풍, 폭우 등)로 인해 도보관광 운영이 어려운 경우 모든 예약은 일괄 취소됩니다. (관광일 전날 기준)
예약 전 안내사항
예약은 관광일 기준 최소 1주일 전까지 가능합니다.
본 코스는 보행약자(거동이 불편한 고령자, 장애인, 유모차 이용자 등)를 위한 코스입니다.
보호자를 동반하지 않을 시 이용이 불가능 합니다.※ 보행약자 1명당 보호자 최소 1인 이상 동반
※ 전동보장구(전동휠체어, 전동스쿠터 등) 사용자의 경우 보호자 1인당 보행약자 최대 4인까지 동반 가능
희망하시는 날짜 및 코스에 활동가능한 해설사가 없는 경우 예약은 취소될 수 있습니다.
예약확인을 위해 도보관광 사무국(02-6025-0777)에서 확인 연락이 진행됩니다.(최소 5일~한달 전)3회 이상 전화통화가 이뤄지지 않을 시 예약이 취소될 수 있습니다.
해설 진행 시 발생하는 안전사고에 대해서 도보관광 사무국과 서울문화관광해설사는 책임을 지지 않습니다.
미세먼지 비상저감조치 발령 및 기타 기상악화(폭염, 태풍, 폭우 등)로 인해 도보관광 운영이 어려운 경우 모든 예약은 일괄 취소됩니다. (관광일 전날 기준)
Read before Reservation
Reservation shall be made at least 3 days before the tour day.
Reservation for the next month is available after 15th of the previous month.
Reservation may be closed early during weekend, holiday, and peak season in spring and fall.
Seoul Guided Walking Tour Office and Seoul culture and tourism guide are not liable for the safety accidents during the Seoul Guided Walking Tour.
Reservation for unaccompanied tourist under 14 will be canceled on site.
All reservations are canceled when Seoul Guided Walking Tour is unavailable due to Particulate Matter Reduction Measure or other weather conditions (heat wave, typhoon, heavy rain). (As of the date before the tour day)
Read before Reservation
Reservation shall be made at least 1 week before the tour day.
The course is for tourists with mobility problems (Senior, people with disability, stroller user).
You may not use the course without an assistant (or companion)
※ At least one assistant shall accompany a tourist with mobility problem
※ In case of electric assisting device users (electric wheelchair, electric scooter users), one assistant may accompany up to 4 tourists with mobility problem
Reservation may be canceled when a guide is unavailable on the desired date and course.
Seoul Guided Walking Tour Office (02-6025-0777) will contact you to confirm reservation.
(At least 5 days~1 month before tour day) Reservation may be canceled when Seoul Guided Walking Tour Office cannot reach you for more than 3 times.
Seoul Guided Walking Tour Office and Seoul culture and tourism guide are not liable for the safety accidents during the Seoul Guided Walking Tour.
All reservations are canceled when Seoul Guided Walking Tour is unavailable due to Particulate Matter Reduction Measure or other weather conditions (heat wave, typhoon, heavy rain). (As of the date before the tour day)
预约前说明事项
观光日基准最少3日前方可进行预约。
下个月的预约可从前月15日开始。
周末及公休日、春秋旺季的预约可早期结束。
进行解说时,对于有可能发生的安全事故,徒步观光事务局和首尔文化观光
解说员概不负责。
未伴随保护者的未满14岁儿童游客,会在现场取消观光。
因发布微尘紧急低减措施及其他气象恶化(暴热、台风、暴雨等),无法运营 徒步观光时,所有预约会批量取消。
(观光前日基准)
预约前说明事项
观光日基准最少1日前方可进行预约。
本线路是为了行动不便者(行动不便的高龄者、残疾人、婴儿车利用者等)的路线。
无辅助人员(或同行人)伴随时,不可利用。
※ 步行不便者1名至少需要1名以上的辅助人员陪同。
※ 电动辅助器具(电动轮椅、电动独轮车等)使用者时,每一位辅助人员最多可陪同 4名步行不便者。
希望观光的日期及线路上无解说员时,预约有可能被取消。
为了确认预约,徒步观光事务局(02-6025-0777)会致电进行确认。
(最少5日~一个月前) 3次以上无法连接时,预约将被取消。
进行解说时,对于有可能发生的安全事故,徒步观光事务局和首尔文化观光解说员概不负责。
因发布微尘紧急低减措施及其他气象恶化(暴热、台风、暴雨等),无法运营 徒步观光时,所有预约会批量取消。
(观光前日基准)
預約前說明事項
觀光日基準最少3日前方可進行預約。
下個月的預約可從前月15日開始。
周末及公休日、春秋旺季的預約可早期結束。
希望观光的日期及线路上无解说员时,预约有可能被取消。
進行解說時,對於有可能發生的安全事故,徒步觀光事務局和首爾文化觀光解說員概不負責。
未伴隨保護者的未滿14歲兒童遊客,會在現場取消觀光。
因發布微塵緊急低減措施及其他氣象惡化(暴熱、臺風、暴雨等),無法運營 徒步觀光時,所有預約會批量取消。(觀光前日基準)
預約前說明事項
觀光日基準最少1日前方可進行預約。
本線路是為了行動不便者(行動不便的高齡者、殘疾人、嬰兒車利用者等)的路線。
無輔助人員(或同行人)伴隨時,不可利用。
※ 步行不便者1名至少需要1名以上的輔助人員陪同。
※ 電動輔助器具(電動輪椅、電動獨輪車等)使用者時,每壹位輔助人員最多可陪同 4名步行不便者。
希望觀光的日期及線路上無解說員時,預約有可能被取消。
為了確認預約,徒步觀光事務局(02-6025-0777)會致電進行確認。
(最少5日~壹個月前) 3次以上無法連接時,預約將被取消。
進行解說時,對於有可能發生的安全事故,徒步觀光事務局和首爾文化觀光 解說員概不負責。
因發布微塵緊急低減措施及其他氣象惡化(暴熱、臺風、暴雨等),無法運營 徒步觀光時,所有預約會批量取消。 (觀光前日基準)