>
Visit Seoul Service
>
See & Do
>
Tours
Hallyu
Look Inside Buddhist Temples and Travel Through Time
Published Date : Nov 12, 2014 / Edited Date : Nov 20, 2020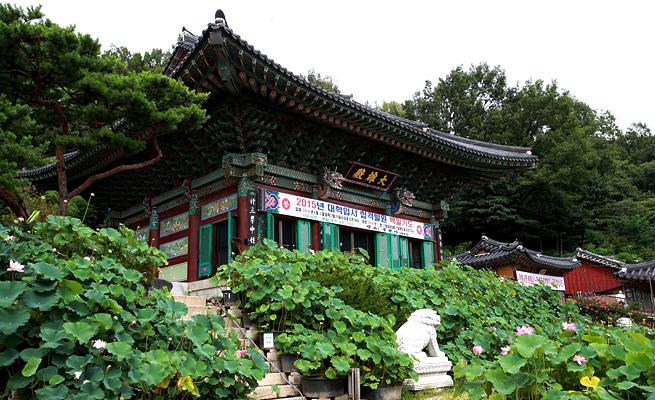 Traditional Buddhist Temples Look Inside and Travel Through Time
Seoul has many traditional temples from three different time periods. Buddhist temples have normally been placed in the deep mountains whereas temples in the middle of town are said to be places for meditating Buddhists caught up in the busy world. Exploring traditional temples is a good way to learn the architecture, cultural assets, and the history of Korean Buddhism. Your mind and soul can be cleansed and healed through visiting the temples when you're close enough to look deep inside the buildings and find the meanings behind them.

When going to the temple, there are certain etiquette practices to be aware of. For example, the pillar gate is the first entrance for the temple. One should remember a proper dress code and attitude. After passing the first gate, you can see a small clean watering pond. You are required to wash your hands as this symbolizes cleaning your body and soul. When you enter the Buddhist sanctuary, you should use the left or right ended gates instead of the middle one. A few nights at a Buddhist temple might be a memorable trademark for your visit to Korea.


Course Information
Course: Bongeunsa Temple → Yeonghwasa Temple → Jogyesa Temple → Bongwonsa Temple → Suengasa Temple
Duration : 7 to 8 hours
Course 1 Daily healing experience in body and soul at Bongeunsa Temple
Built during the Shilla Dynasty, Bongeunsa Temple is approximately 1,000 years old. However, Queen MunJeong (who was the second wife of King Jungjong of Joseon) revived the temple with Monk Bo-Woo. During this period, the national monk exams, which were taken every three years, were implemented again. Monk Hue-Jung became known for Suhsandaesa and Monk Yoo-Jung became known for Samyungdaesa. Bongeunsa Temple has attracted not only believers but also, tourists because of its downtown location.When you enter the one pillar gate, you can see the main sanctuary, the Buddhist shrine, and several edifices. Due to its' longevity, Bongeunsa Temple has many cultural assets. The left side of the main sanctuary is known for Pan-jeon. Pan- is the oldest building at Bongeunsa Temple. Preserved and engraved Buddha sayings are kept there. The letters on the front board are famous for being written by Junghee Kim, the master of calligraphy. It is also said that Junghee Kim was a frequent visitor then. The front sign on the main sanctuary was also written by Junghee Kim, who imitated the front sign on the main sanctuary at the Jin-Kwan Temple located on Bukhansan Mountain. Junghee Kim has shown a lot of affection for Bongeunsa Temple. While one tours the temple, one has to make an effort to detach from the desire to pray for peace in one's heart. If you can discover just an ounce of peace, then the trip has been meaningful for you.

Address : Seoul, Gangnam-gu, Samseong-dong 73, 135-090
Phone Number : 02-544-2141
Homepage : www.bongeunsa.org (Korean)
How to get there: Take line 2 and exit at Samseong Station in the direction of Coex Mall for 10 minutes, Take line 7 and get off at Cheongdam Station in the direction of Coex Mall for 10 minutes

TIP
Seonjeongneung Royal Tomb is the place of royal tombs where King Sung-Jong, his second wife, Queen Junghyun, and their son, King Chung-Jong are buried. The tomb of the King Chung-Chong has relocated by his one of wives, Queen Munjung, who wanted to be buried near her husband. This is a popular place to visit because Seonjeongneung Royal Tomb is not far from the Bongeunsa Temple and is surrounded by 500 year old guardian pine trees.
How to get there : Line 2 or the Bundang Line, Exit 8
Address : Seoul, Gangnam-gu, Samseong -dong 131
Phone number : 02-568-1291
Open Times : 06:00~21:00 Holidays : Every Monday Entrance Fee : Adult(1000Won), Child(500Won)
Website : http://seonjeong.cha.go.kr

How to get from Course 1 to Course 2
Take Line No 2 at Samseong station straight to Guui Station, Leave Exit no 1 and take the bus 03 until you get to the Yeonghwasa Temple Entrance

Course 2 Yeonghwasa Temple, the historical site of Mountain Ah-Cha.
Yeonghwasa Temple is located at the foothills of Achasan Mountain. Built by a King in 672, it took tremendous effort for the temple to be built at the time.
From the center, you can see Daeungjeon Hall. From there, if you keep going up the mountain ridge a few more steps, you will come across Mireukjeon. There is a gigantic stone Buddha on natural rock in the Mireukjeon. This stone Buddha, Mireuk is known for being been built in the Goryeo Dynasty and being painted white. The legend behind the stone Buddha goes that King SeJo of Joseon Dynasty had an incurable skin disease which was instantly healed by praying at the stone. As a result of the legend, there are so many visitors who bring wishes, especially during national college exams. Even if you are not a Buddhist and don't have special desires to pray, this temple is a good place to drop by on your way to Achasan Mountain.
Address : Seoul, Gwangjin-gu, Guui2-dong, Yeonghwasa-ro 107
Phone Number : 02-444-4321
How to Get There : Take Line no 5 at Achasan Station and walk 15 minutes from Exit 1
TIP
Achasan Mountain is one of branches of the mountain ranges of Baegak. Although it is not high, it is known for a wonderful view of the Hangang River from the top. You can see the remnants of the fortress and the remains of 15 different bastions. The mountain peak tells a sad history of the fall of the Baekje kingdom with the death of King Gaero (수정 from the battle with the northern rival kingdom Goguryeo. You can also watch the clay fortress of Mongchontoseong and Pungnaptoseong easily from the top. There is the Goguryeojeong Pavillon dedicated to the memory of the Goguryeo Dynasty at the top and The Museum of Goguryeo at the bottom of the mountain.

How to go from Course 2 to Course 3
From Yeonghwasa Temple Entrance walk towards Achasan Station on Line 5. Transfer at Jongno 5(o)ga station for line 3 to Anguk Station. Use Anguk Station Exit 6 and walk ten minutes

Course 3 Jogyesa Temple, where Buddha's Goodness sits amongst the Metropolitan
The Jogyesa Temple serves as the headquarters to the Korean Jo-Gye order which has a long history of 1,700 years and is located in Gyeonji-dong, Jongno-gu. The monk poem, Han Young-un involved to build Gakhwangsa Temple with several members in 1910. Gakhwangsa Temple moved into its' present location and was renamed to Taegosa. Taegosa temple was renamed with the Buddhist Purfication Movement in order to clear away the vestiges of Japanese colonial era.
When you enter the gate, you can feel how quiet it is steps away from the busy downtown center. The main sanctuary is well known for being the biggest sized one story building in Korea and for its view of the Buddha. The calligraphy sign upfront on the board is imitated by rubbing Hwaeomsa Temple, which is located in the Jeollanam-do Province. The calligraphy on the board is one of Prince Ue-Chang, who was the eighth son of King Seonjo. The main sanctuary has a large Buddha Triad (Samjonbul); the center is Buddha Sukga, the west Amida and the eastern Yu rae are both sides. You can see the monk preaching to followers in the main sanctuary.
You can also see the seven storied stone tower which is sealed in the sacred relics of Buddha. There is a 500 years old white pine tree which has been preserved as one of Korea's natural treasure assets. Jogyesa Temple also has several tangible cultural properties such as a wooden sculptured Buddha statue and more. There is another 450 year old tree and locusts trees which cover almost the entire front yard at the main sanctuary. The Central Buddhist Museum is located behind the main sanctuary.
Jogyesa Temple holds many Buddhism events over the year because it is located in the center of Seoul. Near temple, there are many Buddhism related shops and restaurants. There is also an information center at the Temple for any questions you might have about Buddhist cultures and foods.

Address: Seoul, Jongno-gu, Ujeongguk-ro 55
Phone NUmber : 02-732-2115
Homepage : www.jogyesa.kr
How to get there : Walk 10 minutes to Exit 6 of Line 3, Anguk Station, Line 1 Jonggak Station
Walk 10 minutes from Exit 2

TIP
UjeongChongGuk, located beside Jogyesa Temple, is where the modern postal service began and used to be the place where Jeonuigam practiced making medicines and herbs. UjeongChongGuk was founded on the recommendation from Youngsik Hong who toured abroad according to the command of King Gojong in 1884. During the inaugural party celebration, Gapsin Jeongbyeon (Gapsin coup d'état) took place so postal service went on hold at that time. We assume that there were several buildings but now only one house remains
Address : Seoul, Jongro-gu 59
Phone Number : 02-734-8369
Open Times : 09:00~18:00 Holidays : January 1st, Lunar New Year, Chuseok

How to get from Course 3 to Course 4
Walk 10 minutes towards Jongak Station, take line 1, arrive at Seoul Station and use exit 9-1 Take Bus 7024 until you get to Bongeunsa Temple

Course 4 The long history of old temple on Mountain Ansan, Bongwonsa Temple
Bongwonsa Temple is the headquarters of Taego Order of Korean Buddhism. Great master Doseon built Banyasa Temple, now where Yonsei University is, during in the era of Queen Jinseong of Shilla dynasty. Banyasa Temple flourished during the Shilla dynasty through the Goryeo dynasty. The temple was renamed Bongwonsa Temple since Banyasa Temple was moved into the present place in the era of King Yeongjo of Joseon. It is said that the front letters on the main sanctuary were given by King Yeongjo himself.
Standing at over one thousand years old, Bongwonsa Temple, supplies a clean and beautiful view to guests because of its location on Ansan Mountain. The old zelkova tree stands to welcome for visitors at the entrance of main sanctuary. Lotuses in the front yard awaken the Buddhist spirit to visitors. It provides a graceful view of the architectural design connecting lines with small houses and mountain branches.
Bongwonsa Temple has many historical stories and events. It has roots in the enlightenment party as led by Kim, Okgyun and Park, Younghyo. It is also the place that the Korean Research Institute and the former Hangul Institute in 1908 was founded. This is where Yeongsanjae, the event for world peace and uniting Korea, is held.

Address : Seoul, Seodaemun-gu, Bongwon-dong, san 1
Phone Number : 02-392-3007~8
Homepage : http://bongwonsa.or.kr
How to get there : Take bus 7024 to the last stop and walk 5 minutes to Bongwonsa Temple

TIP
Dongnimmun located in Seodaemun Independece Park is the first Western piece of architecture in Korea. The gate imitated the Triumphal Arch in Paris. Although in Korea, we often associate the word 'independence' as one from Japan, this is not the case. The gate was originally built for independence from China. The gate was called Yeongeunmun during the Joseon dynasty and used to welcome the ambassadors from Ming Dynasty of China. It was originally the symbol of independence from China. The place was renovated and opened for the public as Seodaemun Independence Park in 2009. It is good place for learning the trace of independent movement.
Address : Seoul, Seodaemun, Tongil-ro 17, 32-7
Phone Number : 02-360-8590
Homepage : www.sdm.go.kr

How to get from Course 4 to Course 5
Take Bus 7024 from Bongwonsa Temple until you get to Seoul Bus Transfer Center. Take Bus 7022 until you get to the Institute for the Translation of Korean Classics, Walk 30 minutes or take a shuttle bus from the front of the Institute

Course 5 Sueng-Ga Temple, Guarded by the Memorial Stone of King Jinhueng Sunsoo
Temple Sueng-Ga was built in 756 (King Kyungduck 15, Shilla dynasty). It is listed as the same location with the memorial stone of King Jinhuengsunsoo under Beebong in Mount Bukhan. High Monk of Shilla, Won-Hoe judged that the place of Sueng-Ga Temple was the best of the best place, and predicted if it had been built a temple, it could bring peace and abundance to nation and people. People followed his words and Sueng-Ga Temple is that result. It is said that high monk Daegakguksa Usa visited this place and the master calligrapher, Kim, Jung-Hee stayed here. Kim, Jung-Hee found out the memorial stone of Jinjuensunsoo here and stayed for encrypted the meaning of the letters on the stone for 7days.

During Korean War, almost all the buildings here were destroyed. The cultural assets of the temple are the treasure #1000, the stone statue Suenggadaesasang in the house of Yaksa and the treasure # 215, a seated bronze statue of Gugidong Buddha. Monk Suengga, the high monk of India went to China and delivered his beliefs at the time of the Dang dynasty. People wanted to memorialize his achievements so that it was built the statue of Nahan and renamed into temple Seung-Ga here in Korea. The pond, besides the statue of Suengga has a legend Queen Sohen, the wife of Great King SeJong who was healed after drinking water. This has encouraged many people to drink water here.

If you go up 108 stairs along with the house of Yaksa, you will find a seated bronze statue of Gugidong Buddha at the end of those stairs. Number 108 symbolizes is the number of human agony suffering on living. Not only are there 108 stairs, one should bow 108 times and ring the bell 108 times. When you go up the 108 stairs, you can meet the mental world and human understanding of Buddha.

Address : Seoul, Jongro-gu, Bi-bong 4, 213
Phone Number : 02-379-2996
How to get tehre : Take Line no 3 from Gyeongbukgung Station, go in the direction of Gugi Tunnel, get off after 5 stops and walk 30 minutes. Walk 30 minutes or take a shuttle bus from the front of the Institute for the Translation of Korean Classics

TIP
Jingwansa Temple was built by high monk Jingwan Daesa During the period of King HyeonJong of Goryeo dynasty and well known for being one of the four best temples near the Seoul area. The first King of Joseon dynasty, Taejo, built Suryuksa and had a comfort ceremony for the fallen royal family from Goryeo dynasty. The Great King Sejong made a research library here and helped scholars such as Sung Sammun, Shin Sukju, Park Paengnyeon etc create Hanguel. Jingwansa Temple is suitable for a one night experience because of the beautiful view. The guest houses are newly built for guests and hold several Buddhism programs such as chamseon , bowing 108 times, and barugongyang.
Address : Seoul, Eunpyung gu 354
Phone Number : 02-359-8410
Homepage : http://www.jinkwansa.org (Korean)
How to get there : Take Bus 7024 from the Yeonghwasa Entrance, get to Yeongcheon Market, transfer to bus 701 and get off at Hana High School and walk in the direction of Jingwansa Temple

예약은 관광일 기준 최소 3일 전까지 가능합니다.
개인예약: 최대 10명
※ 경복궁/창경궁/창덕궁: 최대 20명
기존 등록된 예약 중 그룹별 정원을 초과하지 않는 예약에 한하여, 1일 전 17시까지 추가 예약 가능합니다.
코스별 정원을 초과하지 않는 경우, 다른 예약자와 함께 관광하게 될 수 있습니다.
서울도보해설관광 프로그램은 예약접수와 동시에 해설사가 배정되므로 신중하게 예약해주시기 바랍니다.
다음달 예약은 전달 15일 이후부터 가능합니다.
해설 프로그램 참여 시 코로나19 감염 예방을 위해 반드시 마스크를 착용하여 주시기 바랍니다.
발열 또는 호흡기 증상(열, 기침, 가래, 근육통, 코막힘, 인후통 등)이 있는 경우, 프로그램 참여를 삼가주시기 바랍니다.
보호자가 동반하지 않는 만 14세 미만의 아동 관광객의 경우, 현장에서 취소됩니다.
미세먼지 비상저감조치 발령 및 기타 기상악화(폭염, 태풍, 폭우 등)로 인해 도보관광 운영이 어려운 경우, 모든 예약은 일괄 취소됩니다. (관광일 전날 기준)
해설 진행 시 발생하는 안전사고에 대해서 서울도보해설관광 사무국과 서울문화관광해설사는 책임을 지지 않습니다.
한국어를 모국어로 사용하는 대한민국 국민의 경우, 외국어 해설 신청이 불가능합니다.
예약 후 불가피하게 참석이 어려운 경우, 관광시간 기준 최소 4시간 전에 예약을 취소하여 주시기 바랍니다. 관광시간이 4시간 미만으로 남은 상태에서 예약을 취소하는 일이 2회 이상 발생할 경우, 향후 예약이 제한될 수 있습니다.
개인예약은 1인부터 가능하나, 최소 출발 인원은 3인입니다. 관광일 2일 전까지 누적 예약인원이 3인 미만일 경우, 해당 예약은 자동 취소됩니다. 출발 확정 또는 예약취소의 경우, 문자로 안내해드리겠습니다.
예약은 관광일 기준 최대 6개월 전부터 최소 5일 전까지 신청 가능합니다.
단체예약 : 11명 이상
※ 경복궁/창경궁/창덕궁: 21명 이상
희망하시는 날짜 및 코스에 활동 가능한 해설사가 없는 경우, 예약은 취소될 수 있습니다.
특히 주말 및 공휴일, 봄(4~5월)/가을(9~11월) 성수기에는 예약이 조기마감될 수 있으니 유의하여 주시기 바랍니다.
예약확인을 위해 도보해설관광 사무국(02-6925-0777)에서 확인 연락이 진행됩니다. 관광일 기준 최소 5일 전~1달 전 3회 이상 전화통화가 이뤄지지 않을 시, 예약이 취소될 수 있습니다.
경복궁/창덕궁/창경궁/덕수궁 35인 이상 관람 시, 해당 궁궐 사이트에서 15일 전 단체 입장신청이 필요합니다.
해설 진행 시 발생하는 안전사고에 대해서 서울도보해설관광 사무국과 서울문화관광해설사는 책임을 지지 않습니다.
보호자가 동반하지 않는 만 14세 미만의 아동 관광객의 경우 현장에서 취소됩니다.
미세먼지 비상저감조치 발령 및 기타 기상악화(폭염, 태풍, 폭우 등)로 인해 도보관광 운영이 어려운 경우, 모든 예약은 일괄 취소됩니다. (관광일 전날 기준)
서울도보해설관광은 문화관광해설사의 자원봉사활동으로 운영되는 프로그램으로, 영리 목적의 신청을 엄격히 제한하고 있습니다.
예약은 관광일 기준 최소 1주일 전까지 가능합니다.
덕수궁의 경우 복지카드를 지참한 관광객에 한하여 무료입장이 가능합니다.
※ 중증(1~3급) 동반인 포함 2명 무료※ 경증(4~6급) 장애인 본인 1인만 무료
보호자 또는 보조자가 동반하지 않을 경우 이용이 불가능 합니다.※ 별도의 보조자가 없는 경우 사무국으로 문의 바랍니다. (02-6925-0777)
희망하시는 날짜 및 코스에 활동가능한 해설사가 없는 경우 예약은 취소될 수 있습니다.
예약확인을 위해 도보관광 사무국(02-6925-0777)에서 확인 연락이 진행됩니다.(최소 5일~한달 전)3회 이상 전화통화가 이뤄지지 않을 시 예약이 취소될 수 있습니다.
해설 진행 시 발생하는 안전사고에 대해서 도보관광 사무국과 서울문화관광해설사는 책임을 지지 않습니다.
미세먼지 비상저감조치 발령 및 기타 기상악화(폭염, 태풍, 폭우 등)로 인해 도보관광 운영이 어려운 경우 모든 예약은 일괄 취소됩니다. (관광일 전날 기준)
예약은 관광일 기준 최소 1주일 전까지 가능합니다.
덕수궁의 경우 복지카드를 지참한 관광객에 한하여 무료입장이 가능합니다.
※ 중증(1~3급) 동반인 포함 2명 무료
※ 경증(4~6급) 장애인 본인 1인만 무료
본 프로그램은 수화해설 중심으로 진행되며, 수화가 불가능한 경우 이용이 불가합니다.
희망하시는 날짜 및 코스에 활동가능한 해설사가 없는 경우 예약은 취소될 수 있습니다.
예약확인을 위해 도보관광 사무국(02-6925-0777)에서 확인 연락이 진행됩니다.
(최소 5일~한달 전)3회 이상 전화통화가 이뤄지지 않을 시 예약이 취소될 수 있습니다.
해설 진행 시 발생하는 안전사고에 대해서 도보관광 사무국과 서울문화관광해설사는 책임을 지지 않습니다.
미세먼지 비상저감조치 발령 및 기타 기상악화(폭염, 태풍, 폭우 등)로 인해 도보관광 운영이 어려운 경우 모든 예약은 일괄 취소됩니다. (관광일 전날 기준)
예약은 관광일 기준 최소 1주일 전까지 가능합니다.
본 코스는 보행약자(거동이 불편한 고령자, 장애인, 유모차 이용자 등)를 위한 코스입니다.
보호자를 동반하지 않을 시 이용이 불가능 합니다.※ 보행약자 1명당 보호자 최소 1인 이상 동반
※ 전동보장구(전동휠체어, 전동스쿠터 등) 사용자의 경우 보호자 1인당 보행약자 최대 4인까지 동반 가능
희망하시는 날짜 및 코스에 활동가능한 해설사가 없는 경우 예약은 취소될 수 있습니다.
예약확인을 위해 도보관광 사무국(02-6925-0777)에서 확인 연락이 진행됩니다.(최소 5일~한달 전)3회 이상 전화통화가 이뤄지지 않을 시 예약이 취소될 수 있습니다.
해설 진행 시 발생하는 안전사고에 대해서 도보관광 사무국과 서울문화관광해설사는 책임을 지지 않습니다.
미세먼지 비상저감조치 발령 및 기타 기상악화(폭염, 태풍, 폭우 등)로 인해 도보관광 운영이 어려운 경우 모든 예약은 일괄 취소됩니다. (관광일 전날 기준)
Reservations must be made at least 3 days prior to the tour date.
Individual: Up to 10 people
※ Gyeongbokgung/Changgyeonggung/Changdeokgung: 20 people (maximum)
Additional reservations are permitted for pre-existing reservations that do not exceed the limited number of the group by 5pm, one day prior to the tour date.
Other tourists may join your tour as long as it does not exceed the maximum number of the group.
Please be sure to select the date and time carefully as a tour guide is assigned immediately upon making a reservation.
Reservations for the following month are available from the 15th of the current month.
Masks are required for participation in all tour programs.
Please refrain from participating in any tour programs should you be experiencing any symptoms, including fever, coughing, congestion, muscle pain, stuffy nose, and/or sore throat.
Reservations for tourists under 14 years without an accompanying adult or guardian shall be canceled on site.
[As of one day prior to the tour date] All reservations shall be canceled in the event of emergency particulate matter reduction measures taken and/or inclement weather conditions (ex. excessive heat waves, typhoons, heavy rain, and more) that may impede Seoul Guided Walking Tour operations.
The Seoul Guided Walking Tour administration office and tour guide affiliates are not responsible for any accidents that happen to occur during the tour program.
If you are unable to go on a tour, please cancel the reservation at least 4 hours before the tour starts. If you cancel your reservation more than twice with less than 4 hours left, future reservations may be restricted.
Reservation shall be made at least 1 week before the tour day.
The course is for tourists with mobility problems (Senior, people with disability, stroller user).
You may not use the course without an assistant (or companion)
※ At least one assistant shall accompany a tourist with mobility problem
※ In case of electric assisting device users (electric wheelchair, electric scooter users), one assistant may accompany up to 4 tourists with mobility problem
Reservation may be canceled when a guide is unavailable on the desired date and course.
Seoul Guided Walking Tour Office (02-6925-0777) will contact you to confirm reservation.
(At least 5 days~1 month before tour day) Reservation may be canceled when Seoul Guided Walking Tour Office cannot reach you for more than 3 times.
Seoul Guided Walking Tour Office and Seoul culture and tourism guide are not liable for the safety accidents during the Seoul Guided Walking Tour.
All reservations are canceled when Seoul Guided Walking Tour is unavailable due to Particulate Matter Reduction Measure or other weather conditions (heat wave, typhoon, heavy rain). (As of the date before the tour day)
至少在观光当日前三天预约,方可预约成功。
个人预约:最多10名
*景福宫、昌庆宫、昌德宫:最多20名
在已登记的预约团体中,直接待不超过预约人数的团体,可在前一天17时前追加预约。
如果不超过每条路线的限定人数,可能会与其他预约者一同观光。
首尔徒步解说观光项目会在接受预约的同时分配解说员,请慎重预约。
如需预约下个月的观光解说,可在前一个月的15号以后预约。
为了预防新冠肺炎的扩散,参加徒步观光解说活动时必须佩戴口罩。
如有发热或呼吸道症状(发烧、咳嗽、痰液、肌肉痛、鼻塞、咽喉痛等),请避免参加解说活动。
未满14岁的儿童游客,如无监护人随行,则会在现场取消解说活动。
由于雾霾应急减排措施启动,或其他天气恶化(炎热、台风、暴雨等)导致徒步观光活动难以进行时,所有预约将一次性取消。(以观光当日前一天为基准)
对于解说活动中发生的安全事故, 首尔徒步解说旅游事务局和首尔文化观光解说公司不与负责。
以韩语为母语的韩国国民,不可申请外语解说。
若预约后不可避免地无法参加观光活动,请以观光时间为准至少4小时前取消预约。如果在观光时间前不足4小时的情况下取消预约两次以上的话,以后的预约可能会收到限制。
观光日基准最少1日前方可进行预约。
本线路是为了行动不便者(行动不便的高龄者、残疾人、婴儿车利用者等)的路线。
无辅助人员(或同行人)伴随时,不可利用。
※ 步行不便者1名至少需要1名以上的辅助人员陪同。
※ 电动辅助器具(电动轮椅、电动独轮车等)使用者时,每一位辅助人员最多可陪同 4名步行不便者。
希望观光的日期及线路上无解说员时,预约有可能被取消。
为了确认预约,徒步观光事务局(02-6925-0777)会致电进行确认。
(最少5日~一个月前) 3次以上无法连接时,预约将被取消。
进行解说时,对于有可能发生的安全事故,徒步观光事务局和首尔文化观光解说员概不负责。
因发布微尘紧急低减措施及其他气象恶化(暴热、台风、暴雨等),无法运营 徒步观光时,所有预约会批量取消。
(观光前日基准)
至少在觀光當日前三天預約, 方可預約成功。
個人預約: 最多10名
※ 景福宮、昌慶宮、昌德宮: 最多20名
在已登記的預約團體中, 直接待不超過預約人數的團體, 可在前一天17時前追加預約。
如果不超過每條路線的限定人數, 可能會與其他預約者一同觀光。
서首爾徒步解說觀光項目會在接受預約的同時分配解說員, 請慎重預約。
如需預約下個月的觀光解說, 可在前一個月的15號以後預約。
爲了預防新冠肺炎的擴散, 參加徒步觀光解說活動時必須佩戴口罩。
如有發熱或呼吸道症狀(發燒、咳嗽、痰液、肌肉痛、鼻塞、咽喉痛等)請避免參加解說活動。
未滿14歲的兒童遊客, 如無監護人隨行, 則會在現場取消解說活動。
由於霧霾應急減排措施啓動. 或其他天氣惡化(炎熱、颱風、暴雨等)導致徒步觀光活動難以進行時, 所有預約將一次性取消。 (以觀光當日前一天爲基準)
對於解說活動中發生的安全事故, 首爾徒步解說旅遊事務局和首爾文化觀光解說公司不與負責。
以韓語爲母語的韓國國民,不可申請外語解說。
若預約後不可避免地無法參加觀光活動, 請以觀光時間爲準至少4小時前取消預約。如果在觀光時間前不足4小時的情況下取消預約兩次以上的話, 以後的預約可能會收到限制。
觀光日基準最少1日前方可進行預約。
本線路是為了行動不便者(行動不便的高齡者、殘疾人、嬰兒車利用者等)的路線。
無輔助人員(或同行人)伴隨時,不可利用。
※ 步行不便者1名至少需要1名以上的輔助人員陪同。
※ 電動輔助器具(電動輪椅、電動獨輪車等)使用者時,每壹位輔助人員最多可陪同 4名步行不便者。
希望觀光的日期及線路上無解說員時,預約有可能被取消。
為了確認預約,徒步觀光事務局(02-6925-0777)會致電進行確認。
(最少5日~壹個月前) 3次以上無法連接時,預約將被取消。
進行解說時,對於有可能發生的安全事故,徒步觀光事務局和首爾文化觀光 解說員概不負責。
因發布微塵緊急低減措施及其他氣象惡化(暴熱、臺風、暴雨等),無法運營 徒步觀光時,所有預約會批量取消。 (觀光前日基準)