>
Visit Seoul Service
>
See & Do
>
Tours
Seoul's Youth Culture: Sinchon, Ewha, Hongdae
Published Date : Feb 22, 2016 / Edited Date : Feb 13, 2019
Seoul's Youth Culture:
Sinchon, Ewha, Hongdae
Not surprisingly, no age group represents Korea's fast-forward embrace of the future better than its young people. From their love of the latest high tech gadgets, to their creative fashion, the teens and 20-somethings that frequent the neighborhoods around Seoul's universities are trendsetters not just in Korea, but across much of Asia.
Following this tour will allow you to see and experience some of Seoul's vibrant youth culture. In particular, the culture of the university neighborhoods Ewha, Sinchon and Hongdae. They are some of Seoul's most colorful and energetic areas, filled with fun sights and sounds, not to mention delicious food that won't drain your budget! This tour is for the young and the young at heart!
Course Map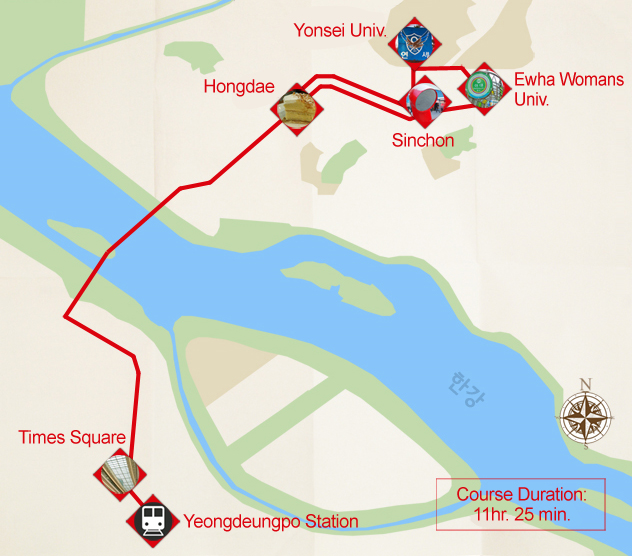 Course Overview
We'll start our tour of Seoul's most popular neighborhoods for young folks just outside the Yeongdeungpo train and subway station. From there, we'll make the short trek to the Times Square shopping complex. After visiting some of the great shops and maybe even catching an IMAX movie, we'll hop on the bus to Ewha, home of the world's largest women's university. Ewha Womans University is among Seoul's most beautiful campuses, with its mix of old, Gothic-style buildings and a very modern Ewha Campus Center (ECC). After checking out the ECC and nearby Fashion Street, we'll make our way over to Sinchon's other big campus, Yonsei University. Yonsei has its own beautiful and historic quadrangle.
After the campus tour, we'll enjoy the bright lights and energy of the Sinchon neighborhood. We'll visit some of the photo booth stores, outdoor games and fortunetellers that are popular among students. After that, we'll indulge in a cheap and delicious dinner. Afterwards, we'll take the short subway ride over to Hongdae, where we'll enjoy some of Seoul's café culture at a cozy coffee house. To conclude our youth-themed tour, we'll wrap things up by revving things up with a trip to one of Hongdae's popular noraebang singing rooms!

Times Square - Ewha Womans Univ. : Times Square (the Seoul Version)
When you hear the name "Times Square," New York City's famous intersection, Times Square most likely comes to mind. It's where huge electronic signboards compete for space amidst one of the world's most expensive and iconic pieces of real estate. It's not quite the same as New York's, but Seoul has its own Times Square, and it's also a destination that's popular among young people. Opened in 2009, Times Square is a huge hybrid shopping mall that was created to make something akin to Tokyo's Rappongi Hills or Hong Kong's Pacific Place in Yeongdeungpo. A once important part of the city, it had lost some of its luster and it was hoped that Times Square would bring back the area's shine. The complex has managed to do just that and is now a popular eating and shopping spot. The 370,000 sq. meter site includes a department store, wedding hall, shopping mall, fitness center, movie theater, offices and even a Marriott hotel. Modernity and luxury didn't come cheap however. The developer's total cost was a staggering 600 billion won! However, a visit to Times Square doesn't cost a thing. Even if you're not in the mood to actually shop, it's a lot of fun to walk around Times Square, thanks to its wide, white and brightly lit interior spaces. For example, a huge glass atrium complete with two sky bridges makes Times Square a special destination. No matter your budget, you can shop for good deals (E-Mart) or luxury goods (Louis Vuitton, Cartier and Gucci). Spend a couple of hours browsing. You'll also find a branch of the popular Kyobo Bookstore, (170,000 titles, 13,000 CDs and DVDs and 55,000 kinds of stationery and other gifts) and a 12-screen movie theater boasting one of the world's largest screens!

Info: Opening hours are from 10:30-22:00 (the 5th fl. CGV is open until 3:00am on weekdays and 4am on weekends); wheelchairs can be rented on the 1st floor at the information desk.
Directions :
1. Exit Times Square through the same door you entered through.
2. Cross the road, back in the direction you came from (towards Yeongdeungpo Station).
3. About 300m away, you will see a bus stop.Take bus #5714 (pay either in cash or with a T-Money card). Ride the bus for about 30 minutes and depart when you reach Ewha Womans Univ.
4. Cross the road to get to Ewha's Fashion Street.
Ewha - Yonsei Univ. : a Neighborhood for Women
① A beatiful campus.
② Ewha Womans Univ. campus.
③ A gothic style building.


The neighborhood around Ewha Womans University is called "Edae," an abbreviation of the school's name in Korean. The university is the world's largest women's college and was established by American Methodist missionaries with the permission of King Gojong some 120 years ago. The beautiful campus is a great place to visit at any time of the year, thanks to its beautiful architecture. Its Gothic style buildings are reminiscent of buildings from other great universities around the world. This international flavor is maybe best felt in one of the campus's newest additions, the huge 66,000 sq. meter, 5-story Ewha Campus Center (ECC). At a cost of 100 billion won ($102 million), the big project was designed by Paris-based architect Dominique Perrault. As you walk down into the glass and granite canyon, don't be afraid to step inside! The mostly underground complex holds restaurants, shops, a bank, study and performance stages. There's also parking and even a cinema!
After walking to the back of the ECC, try taking the glass-walled elevator located near the Starbucks. It rises up through a fascinating chamber of reflecting steel to release you atop it all outside. From there, you can explore the beautifully landscaped upper campus, or follow the patchwork stone path back to central Edae.

On your way back, it probably won't surprise you that Edae is well known for great shopping. The two streets that meet at the university's front gate feature a fun atmosphere of beauty shops, salons, restaurants and boutiques with reasonably-priced clothing. Walk deeper into those narrow alleys to find even more hole-in-the-wall shops. For the true shopper, Edae is a great place to find trendy fashion at reasonable prices.
It seems like no matter where you go around the world, universities are frequently among a city's most beautiful places. Be it ivy-covered old buildings or acres of open lawn, there's something special about the college campus. Here are three of some of Seoul's most attractive campuses.


Ewha Womans University
Named after the pear blossom, Ewha's architectural mix of old and ultra-modern on immaculately landscaped grounds makes it a favorite campus for many.
Kyung Hee University
One of Korea's top colleges, this private university's campus is much loved for its forested grounds, the huge gray Grand Peace Palace Auditorium and Central Library.
Korea University
Set on 190 acres, the prestigious college's castle-like main hall and central library were built in a classic Tudor-Gothic style.
Directions :
1. Walk downhill past Sinchon Train Station and the Megabox Movie Theater.
2. On the right, you will see a tunnel with colorful graffiti.
3. Pass through the tunnel. At the end of the tunnel, turn left and follow the main road as it winds around to the right.
4. Walk about 250m, you will see Yonsei University. Cross the street to enter the campus.
Yonsei University - Sinchon : The Blue Eagle's Nest
As you walk around the Yonsei campus, you'll probably realize that the students have a lot of pride in their school. Students wear lettermen's jackets with a big letter "Y" sewn on the front. Hanging from the sides of large classroom buildings are huge blue banners with eagles announcing that Yonsei is the "first and best" school in Korea. Indeed, along with Seoul National University and Korea University, Yonsei is part of the "S.K.Y." trinity, the three top universities in Korea. Throughout the year, the campus hosts school spirit events and each year there's a festival that celebrates their long rivalry with Korea University. Even when it's not festival time, however, Yonsei's campus is a nice place to take a stroll. For example, at the end of the campus's long main road is its most picturesque location. A complex of Gothic style buildings built in 1885 by American Presbyterian missionaries, the vines of ivy that cover the brick walls of the buildings are a favorite place for photographers. If you keep walking, the wooded trails work their way up Ansan Mountain. If you make it to the very top, you'll be rewarded with great views of the city.


"Yongojeon" (Yonsei University vs. Korea University)
If you haven't already noticed, a lot of Koreans have a lot of school spirit. If you think about it, it makes sense since where one goes to college in Korea plays a huge role in determining the future. One of the best examples of school spirit can be seen at the so-called "Yongojeon," the Yonsei-Korea University games that take place each autumn. Since 1929, sports teams from the rival schools clad in Yonsei blue and Korea Univ. crimson battle it out for the glory of declaring victory in one of Korea's longest-running college rivalries!

Directions :
1. Once at Yonsei's front gate, cross the street.
2. Walk through the tunnel into the Sinchon neighborhood.
Sinchon - Hongdae : A Playground for Youth
Once you've finished admiring the Yonsei campus, it's time to pick things up a bit with a return to the heart of Sinchon. From Yonsei's front gate, it's a short walk through the tunnel before you're greeted with a seemingly never-ending line-up of signs that advertise everything a college student could want – cheap meals, phones, clothes, drinks, games, fortune tellers, books… you name it! The sidewalks are crowded with students heading to or from class or maybe just a study break in one of Sinchon's cozy coffee shops. Although the word "Sinchon" means "new village," it's actually one of Seoul's older neighborhoods. Sinchon's epicenter is just outside Hyundai Department Store's U-Plex shopping mall (Look for the huge hook shaped, fire engine red sculpture). From there, five streets go in every direction. While the road you came from connects Yonsei with the busy Sinchon Rotary, the perpendicular road to the left is called the "Sinchon Walking Street." Lined in cherry trees, each spring they sprinkle the sidewalks with their pink petals. Behind it is a grid of busy alleys that are some of the best places in the city to find cheap and delicious barbeque pork restaurants (among many other options)!
On the topic of food, a favorite dinner option among many college students (not to mention foreigners, too) is dak-kalbi (spicy stir-fried chicken). The pan-fried boneless chicken pieces are prepared with cabbage and other vegetables, hot sauce and a whole bunch of other toppings of your choice (try adding jolmyeon noodles and cheese). Just when you think you're done, your waiter will probably ask if you want to mix what's left with rice… if you answer "yes," get ready for some of the most delicious fried rice you've ever eaten! One more tip: while in Sinchon, before or after dinner, make sure you visit some of Sinchon's other fun spots, like the video arcade, the always-funny sticker photo booths or even the baseball cage located along Sinchon-ro. Chances are, whatever the activity, if young people like it, you can do it in Sinchon!
Directions :
1. From Sinchon Rotary, enter Sinchon Station. Take the train that is headed towards Hongik Univ. Station.
2. Ride for one stop, then exit at Hongik Univ. Station.
3. Leave the station via exit 5.
예약은 관광일 기준 최소 3일 전까지 가능합니다.
개인예약: 최대 10명
※ 경복궁/창경궁/창덕궁: 최대 20명
기존 등록된 예약 중 그룹별 정원을 초과하지 않는 예약에 한하여, 1일 전 17시까지 추가 예약 가능합니다.
코스별 정원을 초과하지 않는 경우, 다른 예약자와 함께 관광하게 될 수 있습니다.
서울도보해설관광 프로그램은 예약접수와 동시에 해설사가 배정되므로 신중하게 예약해주시기 바랍니다.
다음달 예약은 전달 15일 이후부터 가능합니다.
해설 프로그램 참여 시 코로나19 감염 예방을 위해 반드시 마스크를 착용하여 주시기 바랍니다.
발열 또는 호흡기 증상(열, 기침, 가래, 근육통, 코막힘, 인후통 등)이 있는 경우, 프로그램 참여를 삼가주시기 바랍니다.
보호자가 동반하지 않는 만 14세 미만의 아동 관광객의 경우, 현장에서 취소됩니다.
미세먼지 비상저감조치 발령 및 기타 기상악화(폭염, 태풍, 폭우 등)로 인해 도보관광 운영이 어려운 경우, 모든 예약은 일괄 취소됩니다. (관광일 전날 기준)
해설 진행 시 발생하는 안전사고에 대해서 서울도보해설관광 사무국과 서울문화관광해설사는 책임을 지지 않습니다.
한국어를 모국어로 사용하는 대한민국 국민의 경우, 외국어 해설 신청이 불가능합니다.
예약 후 불가피하게 참석이 어려운 경우, 관광시간 기준 최소 4시간 전에 예약을 취소하여 주시기 바랍니다. 관광시간이 4시간 미만으로 남은 상태에서 예약을 취소하는 일이 2회 이상 발생할 경우, 향후 예약이 제한될 수 있습니다.
개인예약은 1인부터 가능하나, 최소 출발 인원은 3인입니다. 관광일 2일 전까지 누적 예약인원이 3인 미만일 경우, 해당 예약은 자동 취소됩니다. 출발 확정 또는 예약취소의 경우, 문자로 안내해드리겠습니다.
예약은 관광일 기준 최대 6개월 전부터 최소 5일 전까지 신청 가능합니다.
단체예약 : 11명 이상
※ 경복궁/창경궁/창덕궁: 21명 이상
희망하시는 날짜 및 코스에 활동 가능한 해설사가 없는 경우, 예약은 취소될 수 있습니다.
특히 주말 및 공휴일, 봄(4~5월)/가을(9~11월) 성수기에는 예약이 조기마감될 수 있으니 유의하여 주시기 바랍니다.
예약확인을 위해 도보해설관광 사무국(02-6925-0777)에서 확인 연락이 진행됩니다. 관광일 기준 최소 5일 전~1달 전 3회 이상 전화통화가 이뤄지지 않을 시, 예약이 취소될 수 있습니다.
경복궁/창덕궁/창경궁/덕수궁 35인 이상 관람 시, 해당 궁궐 사이트에서 15일 전 단체 입장신청이 필요합니다.
해설 진행 시 발생하는 안전사고에 대해서 서울도보해설관광 사무국과 서울문화관광해설사는 책임을 지지 않습니다.
보호자가 동반하지 않는 만 14세 미만의 아동 관광객의 경우 현장에서 취소됩니다.
미세먼지 비상저감조치 발령 및 기타 기상악화(폭염, 태풍, 폭우 등)로 인해 도보관광 운영이 어려운 경우, 모든 예약은 일괄 취소됩니다. (관광일 전날 기준)
서울도보해설관광은 문화관광해설사의 자원봉사활동으로 운영되는 프로그램으로, 영리 목적의 신청을 엄격히 제한하고 있습니다.
예약은 관광일 기준 최소 1주일 전까지 가능합니다.
덕수궁의 경우 복지카드를 지참한 관광객에 한하여 무료입장이 가능합니다.
※ 중증(1~3급) 동반인 포함 2명 무료※ 경증(4~6급) 장애인 본인 1인만 무료
보호자 또는 보조자가 동반하지 않을 경우 이용이 불가능 합니다.※ 별도의 보조자가 없는 경우 사무국으로 문의 바랍니다. (02-6925-0777)
희망하시는 날짜 및 코스에 활동가능한 해설사가 없는 경우 예약은 취소될 수 있습니다.
예약확인을 위해 도보관광 사무국(02-6925-0777)에서 확인 연락이 진행됩니다.(최소 5일~한달 전)3회 이상 전화통화가 이뤄지지 않을 시 예약이 취소될 수 있습니다.
해설 진행 시 발생하는 안전사고에 대해서 도보관광 사무국과 서울문화관광해설사는 책임을 지지 않습니다.
미세먼지 비상저감조치 발령 및 기타 기상악화(폭염, 태풍, 폭우 등)로 인해 도보관광 운영이 어려운 경우 모든 예약은 일괄 취소됩니다. (관광일 전날 기준)
예약은 관광일 기준 최소 1주일 전까지 가능합니다.
덕수궁의 경우 복지카드를 지참한 관광객에 한하여 무료입장이 가능합니다.
※ 중증(1~3급) 동반인 포함 2명 무료
※ 경증(4~6급) 장애인 본인 1인만 무료
본 프로그램은 수화해설 중심으로 진행되며, 수화가 불가능한 경우 이용이 불가합니다.
희망하시는 날짜 및 코스에 활동가능한 해설사가 없는 경우 예약은 취소될 수 있습니다.
예약확인을 위해 도보관광 사무국(02-6925-0777)에서 확인 연락이 진행됩니다.
(최소 5일~한달 전)3회 이상 전화통화가 이뤄지지 않을 시 예약이 취소될 수 있습니다.
해설 진행 시 발생하는 안전사고에 대해서 도보관광 사무국과 서울문화관광해설사는 책임을 지지 않습니다.
미세먼지 비상저감조치 발령 및 기타 기상악화(폭염, 태풍, 폭우 등)로 인해 도보관광 운영이 어려운 경우 모든 예약은 일괄 취소됩니다. (관광일 전날 기준)
예약은 관광일 기준 최소 1주일 전까지 가능합니다.
본 코스는 보행약자(거동이 불편한 고령자, 장애인, 유모차 이용자 등)를 위한 코스입니다.
보호자를 동반하지 않을 시 이용이 불가능 합니다.※ 보행약자 1명당 보호자 최소 1인 이상 동반
※ 전동보장구(전동휠체어, 전동스쿠터 등) 사용자의 경우 보호자 1인당 보행약자 최대 4인까지 동반 가능
희망하시는 날짜 및 코스에 활동가능한 해설사가 없는 경우 예약은 취소될 수 있습니다.
예약확인을 위해 도보관광 사무국(02-6925-0777)에서 확인 연락이 진행됩니다.(최소 5일~한달 전)3회 이상 전화통화가 이뤄지지 않을 시 예약이 취소될 수 있습니다.
해설 진행 시 발생하는 안전사고에 대해서 도보관광 사무국과 서울문화관광해설사는 책임을 지지 않습니다.
미세먼지 비상저감조치 발령 및 기타 기상악화(폭염, 태풍, 폭우 등)로 인해 도보관광 운영이 어려운 경우 모든 예약은 일괄 취소됩니다. (관광일 전날 기준)
Reservations must be made at least 3 days prior to the tour date.
Individual: Up to 10 people
※ Gyeongbokgung/Changgyeonggung/Changdeokgung: 20 people (maximum)
Additional reservations are permitted for pre-existing reservations that do not exceed the limited number of the group by 5pm, one day prior to the tour date.
Other tourists may join your tour as long as it does not exceed the maximum number of the group.
Please be sure to select the date and time carefully as a tour guide is assigned immediately upon making a reservation.
Reservations for the following month are available from the 15th of the current month.
Masks are required for participation in all tour programs.
Please refrain from participating in any tour programs should you be experiencing any symptoms, including fever, coughing, congestion, muscle pain, stuffy nose, and/or sore throat.
Reservations for tourists under 14 years without an accompanying adult or guardian shall be canceled on site.
[As of one day prior to the tour date] All reservations shall be canceled in the event of emergency particulate matter reduction measures taken and/or inclement weather conditions (ex. excessive heat waves, typhoons, heavy rain, and more) that may impede Seoul Guided Walking Tour operations.
The Seoul Guided Walking Tour administration office and tour guide affiliates are not responsible for any accidents that happen to occur during the tour program.
If you are unable to go on a tour, please cancel the reservation at least 4 hours before the tour starts. If you cancel your reservation more than twice with less than 4 hours left, future reservations may be restricted.
Reservation shall be made at least 1 week before the tour day.
The course is for tourists with mobility problems (Senior, people with disability, stroller user).
You may not use the course without an assistant (or companion)
※ At least one assistant shall accompany a tourist with mobility problem
※ In case of electric assisting device users (electric wheelchair, electric scooter users), one assistant may accompany up to 4 tourists with mobility problem
Reservation may be canceled when a guide is unavailable on the desired date and course.
Seoul Guided Walking Tour Office (02-6925-0777) will contact you to confirm reservation.
(At least 5 days~1 month before tour day) Reservation may be canceled when Seoul Guided Walking Tour Office cannot reach you for more than 3 times.
Seoul Guided Walking Tour Office and Seoul culture and tourism guide are not liable for the safety accidents during the Seoul Guided Walking Tour.
All reservations are canceled when Seoul Guided Walking Tour is unavailable due to Particulate Matter Reduction Measure or other weather conditions (heat wave, typhoon, heavy rain). (As of the date before the tour day)
至少在观光当日前三天预约,方可预约成功。
个人预约:最多10名
*景福宫、昌庆宫、昌德宫:最多20名
在已登记的预约团体中,直接待不超过预约人数的团体,可在前一天17时前追加预约。
如果不超过每条路线的限定人数,可能会与其他预约者一同观光。
首尔徒步解说观光项目会在接受预约的同时分配解说员,请慎重预约。
如需预约下个月的观光解说,可在前一个月的15号以后预约。
为了预防新冠肺炎的扩散,参加徒步观光解说活动时必须佩戴口罩。
如有发热或呼吸道症状(发烧、咳嗽、痰液、肌肉痛、鼻塞、咽喉痛等),请避免参加解说活动。
未满14岁的儿童游客,如无监护人随行,则会在现场取消解说活动。
由于雾霾应急减排措施启动,或其他天气恶化(炎热、台风、暴雨等)导致徒步观光活动难以进行时,所有预约将一次性取消。(以观光当日前一天为基准)
对于解说活动中发生的安全事故, 首尔徒步解说旅游事务局和首尔文化观光解说公司不与负责。
以韩语为母语的韩国国民,不可申请外语解说。
若预约后不可避免地无法参加观光活动,请以观光时间为准至少4小时前取消预约。如果在观光时间前不足4小时的情况下取消预约两次以上的话,以后的预约可能会收到限制。
观光日基准最少1日前方可进行预约。
本线路是为了行动不便者(行动不便的高龄者、残疾人、婴儿车利用者等)的路线。
无辅助人员(或同行人)伴随时,不可利用。
※ 步行不便者1名至少需要1名以上的辅助人员陪同。
※ 电动辅助器具(电动轮椅、电动独轮车等)使用者时,每一位辅助人员最多可陪同 4名步行不便者。
希望观光的日期及线路上无解说员时,预约有可能被取消。
为了确认预约,徒步观光事务局(02-6925-0777)会致电进行确认。
(最少5日~一个月前) 3次以上无法连接时,预约将被取消。
进行解说时,对于有可能发生的安全事故,徒步观光事务局和首尔文化观光解说员概不负责。
因发布微尘紧急低减措施及其他气象恶化(暴热、台风、暴雨等),无法运营 徒步观光时,所有预约会批量取消。
(观光前日基准)
至少在觀光當日前三天預約, 方可預約成功。
個人預約: 最多10名
※ 景福宮、昌慶宮、昌德宮: 最多20名
在已登記的預約團體中, 直接待不超過預約人數的團體, 可在前一天17時前追加預約。
如果不超過每條路線的限定人數, 可能會與其他預約者一同觀光。
서首爾徒步解說觀光項目會在接受預約的同時分配解說員, 請慎重預約。
如需預約下個月的觀光解說, 可在前一個月的15號以後預約。
爲了預防新冠肺炎的擴散, 參加徒步觀光解說活動時必須佩戴口罩。
如有發熱或呼吸道症狀(發燒、咳嗽、痰液、肌肉痛、鼻塞、咽喉痛等)請避免參加解說活動。
未滿14歲的兒童遊客, 如無監護人隨行, 則會在現場取消解說活動。
由於霧霾應急減排措施啓動. 或其他天氣惡化(炎熱、颱風、暴雨等)導致徒步觀光活動難以進行時, 所有預約將一次性取消。 (以觀光當日前一天爲基準)
對於解說活動中發生的安全事故, 首爾徒步解說旅遊事務局和首爾文化觀光解說公司不與負責。
以韓語爲母語的韓國國民,不可申請外語解說。
若預約後不可避免地無法參加觀光活動, 請以觀光時間爲準至少4小時前取消預約。如果在觀光時間前不足4小時的情況下取消預約兩次以上的話, 以後的預約可能會收到限制。
觀光日基準最少1日前方可進行預約。
本線路是為了行動不便者(行動不便的高齡者、殘疾人、嬰兒車利用者等)的路線。
無輔助人員(或同行人)伴隨時,不可利用。
※ 步行不便者1名至少需要1名以上的輔助人員陪同。
※ 電動輔助器具(電動輪椅、電動獨輪車等)使用者時,每壹位輔助人員最多可陪同 4名步行不便者。
希望觀光的日期及線路上無解說員時,預約有可能被取消。
為了確認預約,徒步觀光事務局(02-6925-0777)會致電進行確認。
(最少5日~壹個月前) 3次以上無法連接時,預約將被取消。
進行解說時,對於有可能發生的安全事故,徒步觀光事務局和首爾文化觀光 解說員概不負責。
因發布微塵緊急低減措施及其他氣象惡化(暴熱、臺風、暴雨等),無法運營 徒步觀光時,所有預約會批量取消。 (觀光前日基準)